For your upcoming day at the beach, you've likely thought about looking at beach utility wagons to help you haul all of your beach gear. But, to find the right beach utility wagon, there are features to consider before choosing the perfect one. 
Beach Wagons Benefits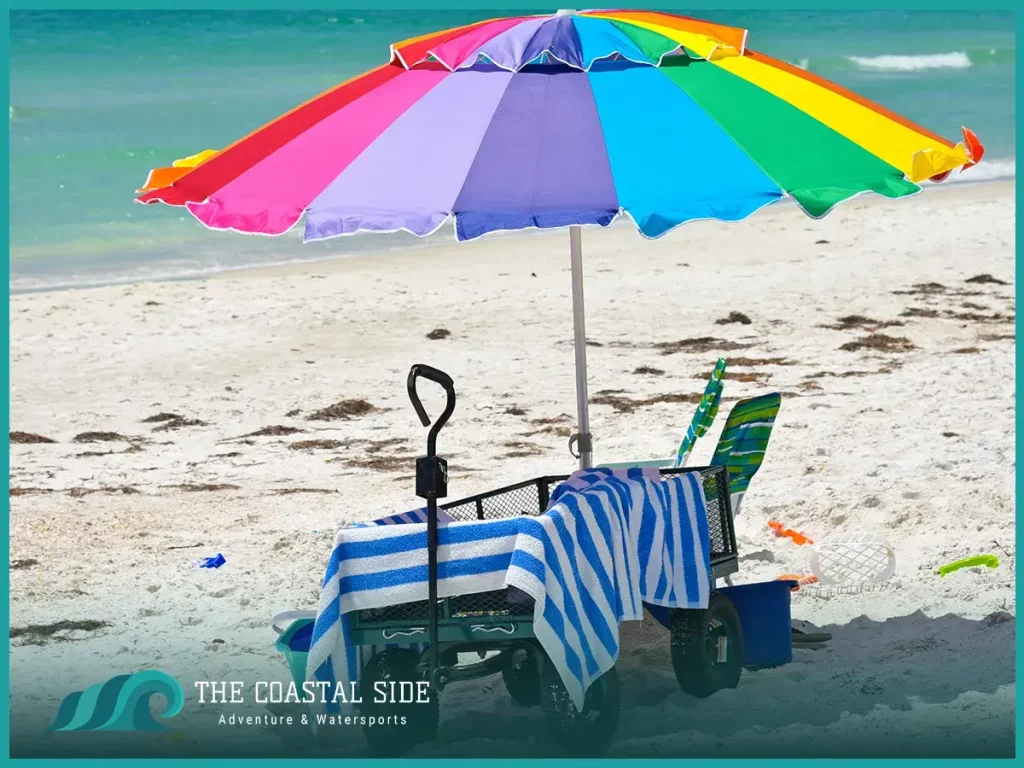 From beach chairs, beach blankets, beach towels, and your favorite beach snacks, there's plenty to carry for a day at the beach with family and friends.
You don't want to have to lug all of your beach gear in multiple trips– that's where investing in a well-made beach wagon comes in handy!
What you can toss in a beach wagon
Thankfully, you don't have to juggle the pile of loads because the best beach utility wagons will accommodate it all for you.
Kids' stuff– toys, buckets, shovels, a diaper bag… you name it

Umbrellas, tents or canopies

Coolers

Towels

First aid kit and sunscreen

Boogie boards
How the right wagon can help
Sometimes, there are so many beach necessities that you can't stuff into a bag and will have to load your hands with those without a beach wagon. 
No issues falling or tripping when your arms aren't stacked with gear

A beach wagon offers plenty of room to hold everything

A beach cart has a heavy duty frame and its high-quality materials will haul items smoothly to your picnic spot

Uneven ground is no issue when you find a cart with the right kind of wheels
Features to Consider When Shopping for Beach Utility Wagons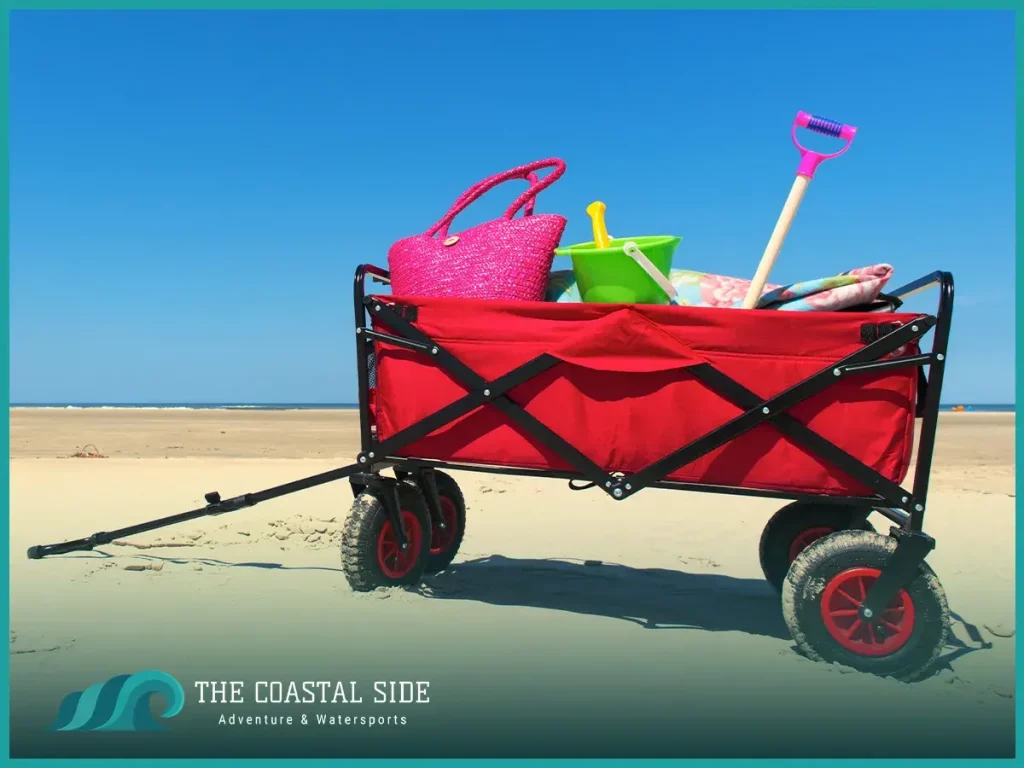 A beach wagon is that multi-purpose carriage that comes in handy for everyone. Be it an all-terrain beach wagon or a folding wagon cart, they're great for for more than just the beach. You can haul garden tools to the backyard or front yard, carry your sports essentials or haul your beach essentials.
Since a beach wagon is such a multi-functional tool, it is important to choose the right one– but only after giving due consideration to the features.
If you pick a product randomly, it may have missing features or limited functionality that might not be too helpful. For instance, if your wagon does not have sturdy wheels, you can only use the cart by hauling it behind you. You may also come home with what you think may be the right wagon only to discover that it does not have rotational wheels. Hence, it is important to refer to a buying guide to decide which beach wagon is best for you.
Mesh Cup Holders
If you're looking for an outdoor utility wagon, perhaps considering a wagon with mesh cup holders is important. Additional mesh cup holders will give you a safe place to keep your water bottles, juice bottles, or beverage cups where there's no other available space. You can also use the mesh cup pockets as extra storage options for your belongings so that your hands remain free. Most beach wagons have these but it doesn't hurt to confirm.
Telescoping or Retractable Handle
A telescopic handle gives you the liberty to haul your wagon easier and anywhere you wish to. This feature means you get an adjustable handle so that you can fix the height to suit your convenience. Regardless of whether you have to haul it on loose sand or soft sand, adjustable handles make it easier to move the product.
Collapsible Option
The best beach wagon is one that has a collapsible structure– when you are not using the product, you can simply fold it and store it in your living room, car, cabinet, or on garage shelves so that it does get in the way. A collapsible structure does not mean that it is a lighter wagon; it only means that the product has easy storage space features.
Rotating Wheels
If you're looking for the best beach wagon, you may want to consider one with rotational wheels. There are many products whose front wheels rotate at 360 degrees, without altering their position. If greater maneuverability is what you want, you must get a wagon with rotational wheels that will help you change positions with ease.
Double Wheels
Some models feature two rear wheels for greater durability and strength. They could be big wheels or smaller wheels but choosing models with double wheels helps users rest assured that the wagon won't buckle under the weight it's carrying. If you wish for greater weight capacity and do not want structural deformation or instability, consider this feature.
All-terrain Wheels
For the best beach wagon, you may also consider models with all terrain wheels. These are wagons that are suitable for all terrain types, such as concrete, rocky surfaces, loose soil, mud, or beach sand. Regardless of whether it's a boardwalk wagon or a double-decker wagon; as long as it has double wheels, it will accompany you with any problems on any terrain type.
These models also have a higher tolerance to wear and tear and do not succumb easily to damages. Besides, this feature guarantees a smooth ride with your wagon each time.
Handle Grip
The handle grip matters greatly. If you don't wish to lose control of your wagon, you must ensure that it has a properly designed handle. Sudden movements may cause the wagon to fall out of your control but sturdy handles will prevent that from happening. Imagine trying to use one hand to pull the wagon and your other hand to hold onto your dog's leash or your child's hand while pulling the wagon down the shore– you'll want to make sure you have full control. 
Material
When considering options for beach wagons, you will come upon many features. From radio flyer wagon, and oversized wheels to heavy duty wagon, the many elements might confuse you. Hence, it is important to learn beforehand what are the best options to choose from.
Most importantly, pay attention to what materials the beach utility wagons are made with. For starters, the best product will have a powder-coated steel frame so that it is sturdy enough to stay put under the weight you give it. Secondly, the best wagon must also have 600D, high-quality polyester manufacturing for the walls and base. You will find other wagons with alloy steel frames too, which although light, are competent under wear and tear.
The best beach wagon will also have a PVC lining on its exterior surface so that water spills and abrasions do not cause any damage to the product.
Portability
The greater the portability, the easier it would be to transport your wagon from place to place. Wagons that collapse and fold easily are a bonus. You can look for the level of portability you want to be based on the weight of your product. I recommend choosing a wagon with a lighter construction if you will be transporting it more frequently.
Load-Handling Capacity 
If you often plan outings on the beach with the family or friends in tow each time, then you must consider the load handling capacity while shopping for beach utility wagons. Now if you intend to put your beach gear and everything from the family's beach packing list in the wagon too, including your swimsuits, beach towels, beach blankets, infant car seat, sunscreen, hats, and shoes in the wagon, then you need a greater load-handling product.
Best Beach Wagons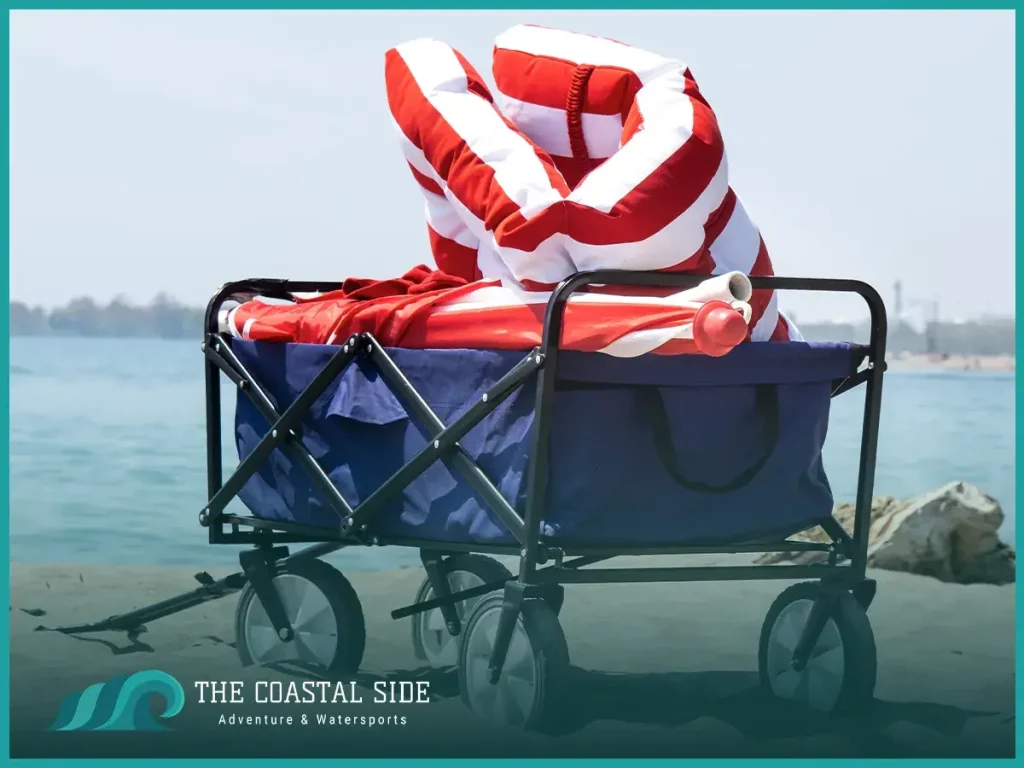 We've put together a list of some beach utility wagons we think may fit the bill for this summer's trip to the beach. Take a look at these beach wagons to start considering which style or type will be best for you and your family.
Foldable Beach Wagon by VIVOSUN
VIVOSUN Heavy Duty Collapsible Folding Wagon Utility Outdoor Camping Garden Cart with Universal Wheels & Adjustable Handle, Black
Big Carrying Capacity: With its large storage space and sturdy, well-crafted build, this folding wagon makes a powerful addition to your yard; Dimensions unfolded: 36.22 x 21.65 x 14.96; Folded dimensions: 11.42 x 9.06 x 24.41; Constructed of a heavy-duty metal frame that can carry up to 80 kg; Includes two drink holders so your gardening work can be even more relaxing

Highest Quality: This collapsible wagon is made of 600D Oxford fabric and PVC materials that are durable, waterproof, and won't tear when you put something sharp inside; Easy to disassemble and clean

Adjustable Handle: Built with an adjustable handle that rotates smoothly rotates as you need; The handle locks in place with a joint so it won't drop, and there's no need to worry about an out-of-control wagon

Rotating Front Wheels: Designed with 360° rotating front wheels that move smoothly over all kinds of terrain; No matter which direction you want to go, you'll have no trouble wheeling this bad boy around

Quick to Fold and Store: With a compact design, the VIVOSUN collapsible folding wagon folds to fit in one hand, saving time and space, and making it convenient to carry around your gar
Prices pulled from the Amazon Product Advertising API on:
Product prices and availability are accurate as of the date/time indicated and are subject to change. Any price and availability information displayed on [relevant Amazon Site(s), as applicable] at the time of purchase will apply to the purchase of this product.
The VIVOSUN beach wagon is great for outdoor use because it has a larger storage space. It has well-crafted parts too with a sturdy metal frame. From adjustable handle, PVC material, and height adjustability, there are great features in this wagon.
Beach Cart by Magic Union
MAGIC UNION Folding Wagon Collapsible Utility Big Wheels Shopping Cart for Beach, Outdoor Camping, Garden– Canvas Fabric All-Terrain Heavy Duty Portable Grocery Cart Buggies Adjustable Handle (Navy)
LARGE CAPACITY: This outdoor wagon has a large storage space and well-crafted parts that make it a powerful addition to your yard.This collapsible utility wagon cart inside size is 36.2Lx19.7Wx11.8H,folded dimensions is 10.6Lx16.5Wx29.5H,constructed of a heavy-duty metal frame that can hold up to 70kg

HIGHEST-QUALITY: This beach wagon is made of 600D Oxford fabric and PVC material that are durable, waterproof, and won't tear when you put something sharp in it; easy to disassemble and clean,camping wagon cart frame material steel,the outdoor utility wagon cart sturdy black steel frame is more stable

INSTANT SET UP & FOLDS :No assembly required, just push the bottom and open the collapsible wagon in one second,the folds also can be finished very soon with the drawstring in the middle. You can simply fold it with one hand, saves time and space and is convenient to carry all of your garden needs

360 DEGREES FRONT WHEELS & ADJUSTABLE HANDLE: The folding wagon come with heavy duty solid wheels - rotates 360 of the front wheel, the spacing of the wagon cart wheels can be adjusted randomly to suit different road surfaces. Telescoping handle provides an easy control on most terrains, camping wagon cart handle can be adjusted height and adapted to the different height person push the cart

ACCESSORY DESIGN & MULTIPLE OCCASIONS:The pad on the bottom of this shopping wagon is better for placing items,All-terrain utility wagon can be used outdoors, such as camping, beach, laundry room, garden, shopping, and football stad
Prices pulled from the Amazon Product Advertising API on:
Product prices and availability are accurate as of the date/time indicated and are subject to change. Any price and availability information displayed on [relevant Amazon Site(s), as applicable] at the time of purchase will apply to the purchase of this product.
This one has a large storage space with excellently crafted parts. It also features a robust metal frame with weatherproofing qualities. It is also a collapsible wagon, with a telescoping handle and rotational wheels.
This wagon does not require assembling and opens within a second with the push of a button. The drawstring in the middle does a great job at removing the folds within seconds too. Moreover, this model offers height adjustability, rotational wheels, and adjustable handles too. Hence, people of all heights can conveniently use it for their outdoor jams.
Heavy Duty Beach Cart by Mac Sports
Mac Sports Heavy Duty Collapsible Folding All Terrain Utility Beach Wagon Cart, Blue/Black
ROOMY INTERIOR - Large capacity Wagon opens to approx. 36.2 x 21.4 x 24.6 and sets up in seconds - no assembly required!

CONVENIENT COMPACT STORAGE - Wagon folds to Only 9.7 thick! folded size approx. 31.5 x 21.4 x 9.7 and includes a carry case. Weighs 24.5 Lbs, maximum weight in deep sand: 50 pounds

LIGHTEN THE LOAD! - The heavy duty frame allows loads up to 150 lbs., and the Durable 600D Fabric can be easily cleaned. UV resistant

FUNCTIONAL FEATURES - Adjustable handle for effortless transport and 2 mesh cup holders keep your beverages secure. Attractive Blue Fabric with Black Frame

EASY TRANSPORT - Extra large wheels for hauling gear to the beach, outdoor sporting events, concerts, picnics in the park, and around the house. Please note that it is NOT made to transport child
Prices pulled from the Amazon Product Advertising API on:
Product prices and availability are accurate as of the date/time indicated and are subject to change. Any price and availability information displayed on [relevant Amazon Site(s), as applicable] at the time of purchase will apply to the purchase of this product.
This one requires no assembling, comes together within seconds, and has a large capacity. It features mildew and UV resistance, with telescoping handles for easy transportation and mesh holders. The extra pockets for holding beverage cups come in handy when there's no bench seating available at your favorite beach spot.
The extra-large wheels are also beneficial when you have to haul your beach stuff or carry outdoor necessities for your gatherings such as parks, concerts, or picnics.
Final Thoughts
A beach wagon is the best option for hauling your heavy loads for a day at the beach. It can be quite challenging to transport everything to your outdoor picnic spot if not for these super convenient wagons.
From beach tents or canopies, beach umbrellas, and beach chairs to the endless food items, beverages, and beach gear, you can trust a robust, sturdy, and weather-resistant wagon to carry it all for you. Your arms wouldn't have to carry the loads each time you have to make it with the things from the parking lot to the sandy stretches to set up your beach blanket at your picnic spot.
All you need to do is look for the key features to ensure that your choice of wagon is sturdy, portable, resistant to damage from various elements, and competent to carry larger loads.