There is little that can beat a road trip to the beach with your best friends—soaking up the sun is one of the best therapies you can get.
But before you embark on your vacation, you need to make sure you don't forget all the requisite beach gear for your road trip.
The last thing you want is to end up stranded at the beach without a towel, dry clothes, or a bathing suit—or, even worse, to be bored on the way there.
In this article, we will break down everything you might need for a road trip to the beach with friends. These include the necessities of a road trip to the beach and the gear necessary for some fun in the sun.
Road Trip Snacks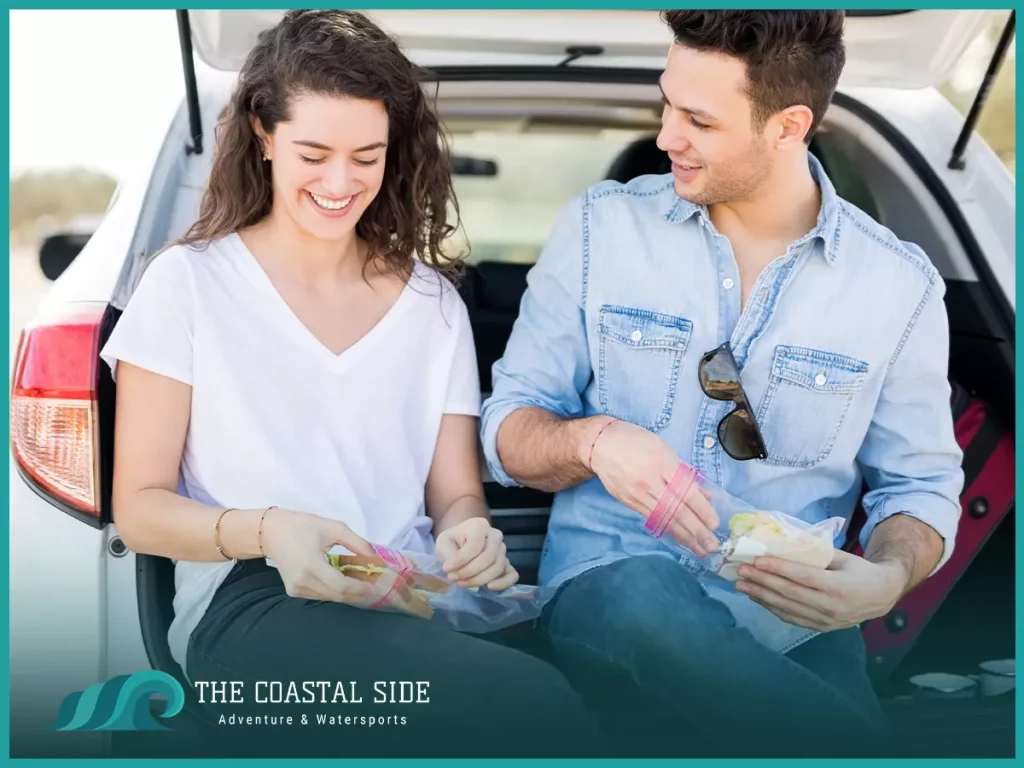 First, you will need to ensure that you have enough food to ride out a road trip to the beach. Whether you have a healthy appetite or the visit will extend for many hours, snacks are road trip necessities with you and your good friends.
Keep in mind, though, that you cannot settle for just any snacks. Make sure that you pack filling foods that don't make you feel bloated—that wouldn't make for a fun time at the beach. On top of that, always spring for healthy food to keep you nourished. As tempting as it might be to pick an unhealthy snack, you want to be rested and relaxed for your beach trip.
Finally, make sure that your road trip snacks withstand a long car ride. Nobody wants melted chocolate or stale bread.
Beach Towels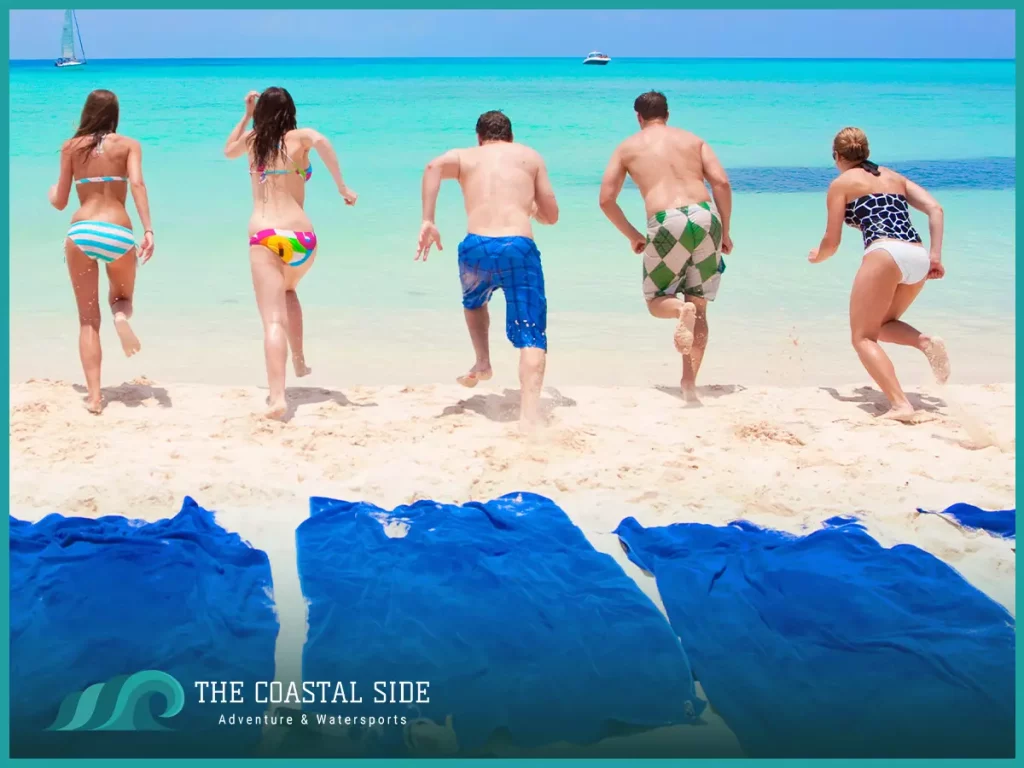 Next up, imagine you're sitting under your beach umbrella. You've finished swimming in the clear water of the summer sea, and suddenly, you realize you do not have a towel.
Towels are a high-priority item in your beach bag, and for good reason, you can't forget to bring them. As nice as it is to dry out in the sand, lingering water can cause problems for the upholstery in your car if you don't dry off with a towel.
Sand free beach blankets are also a great idea– you can set up a base camp and put your towels on them to keep them dry and free of sand.
Sunscreen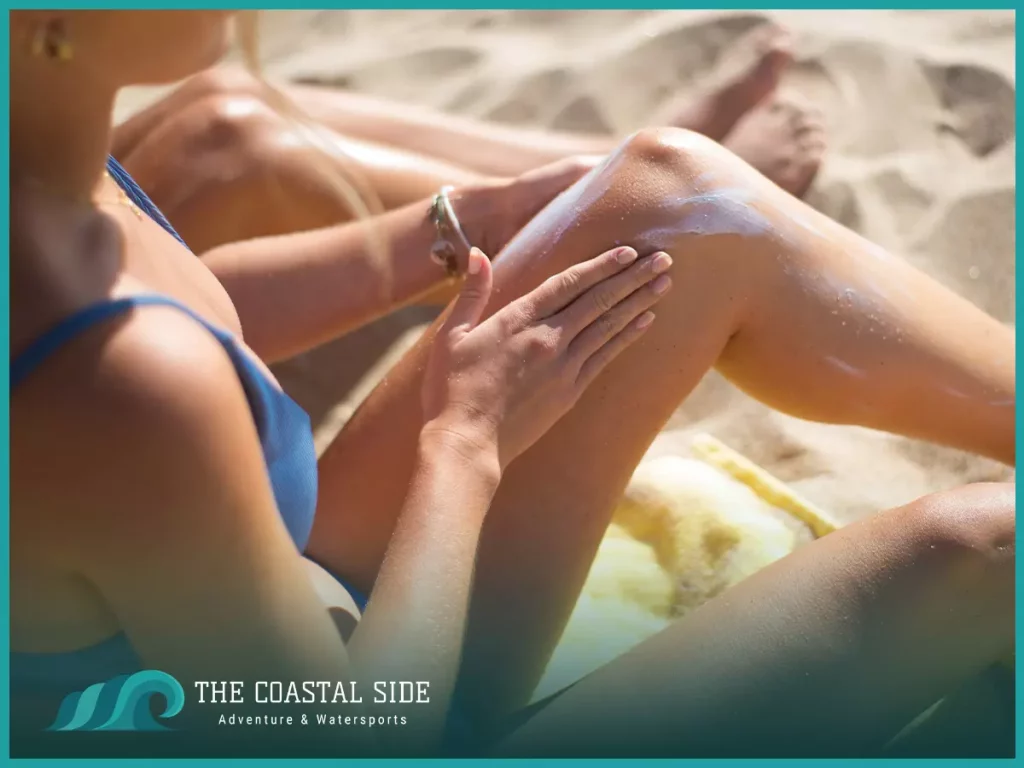 Next up on our list is an item that's a matter of safety, more than anything else: sunscreen.
It's all too tempting to head out into the sand and relax under the sun, but the truth is that exposure to UV rays is extraordinarily harmful to your skin. Without using proper protection, you can experience severe skin problems and other health issues—not to mention tan lines.
When you're picking out the sunscreen for your visit, always go for one that balances UV protection against other chemical compounds. SPF 100 is the strongest option on the market, but SPFs 30 through 50 work fine, even for people with sensitive skin. They can be lower on chemical compounds. Look for a mineral sunscreen that is free from harmful ingredients.
Beach Games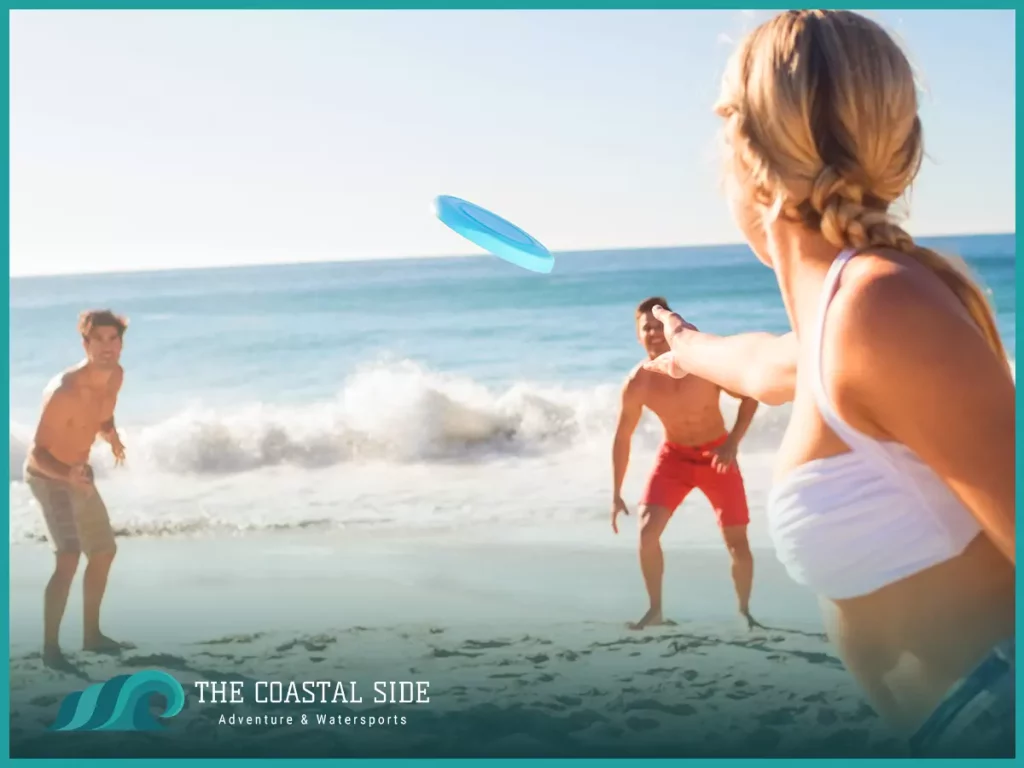 On a happier note, beach life requires beach games.
For many people, a trip to the beach means loafing in the sun in a beach daze. However, it's always good to keep a beach game on hand. If you want something low-budget, you can always pick a football, baseball, or frisbee to play catch. 
If you're in the market for something more sophisticated, you could bring tidal ball, cornhole or bocce ball. You might even choose a game that you can play by yourself, like a crossword puzzle or word search.
The important thing is to pick a fun game that does not take up a lot of space—you want to select your beach gear economically.
Backup Clothes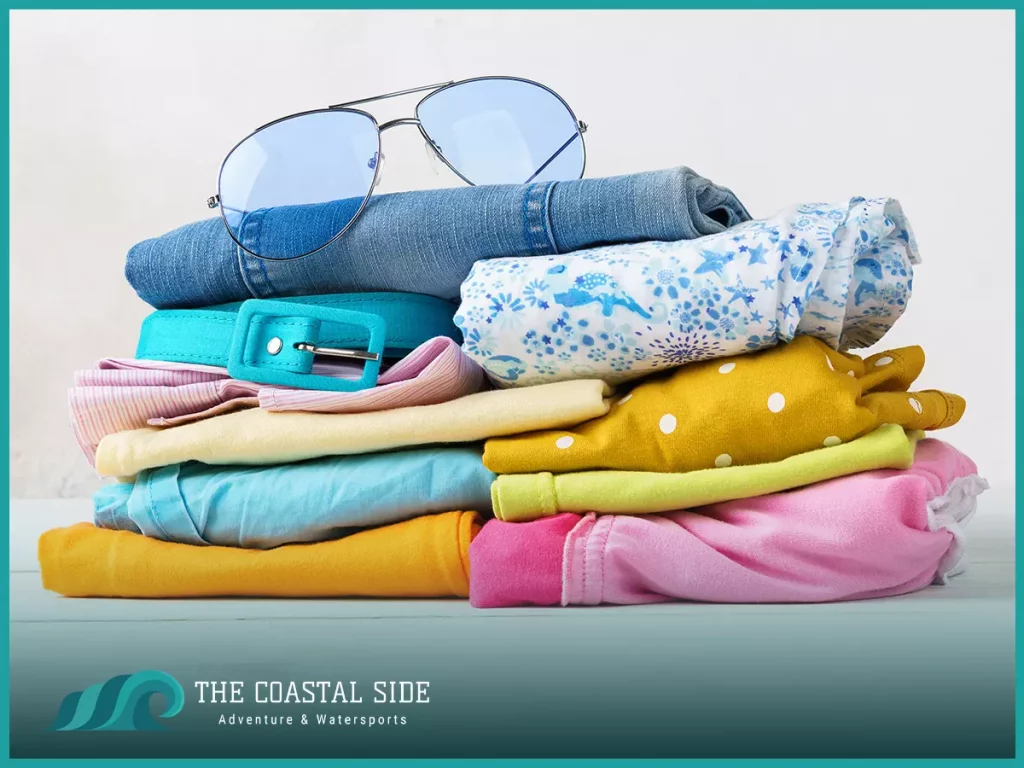 Many who have gone on a beach vacation have gone through the age-old conundrum: you're having a great time in the sand and the shore, and suddenly you need to leave—but now your clothes are wet and sandy.
When you're packing for a road trip with friends, get a lightweight pair of backup clothes. Keep it relatively simple—you don't need to plan a million extra outfits or make any formal arrangements.
It's also important to have gear for different weather conditions. A sweater, an umbrella, a light cover-up, and sunglasses are all items to keep in mind when packing for your trip.
A Good Book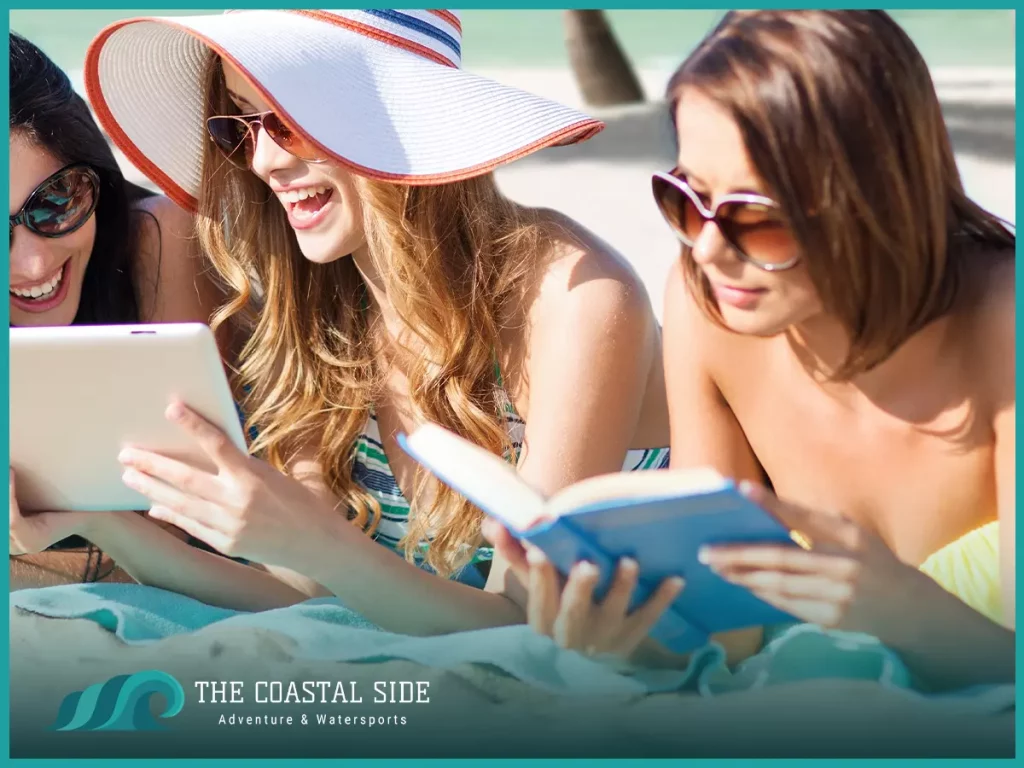 Going to the beach with friends is a good chance to decompress with your favorite story. When you're prepping for a beach trip, make sure you capitalize on this opportunity by picking a book to read on the beach.
Cultivate your beach read carefully. There's a time and place to read a heady, intellectual book, but the beach can be rather distracting—you might not find it the best place to read your favorite experimental modernist novel.
Instead, dip into the eponymous genre of beach reads—books that aren't too heavy and that keep the mood high for a day of beach fun. If you pick carefully, you can also choose a book that works for your road trip.
Speaker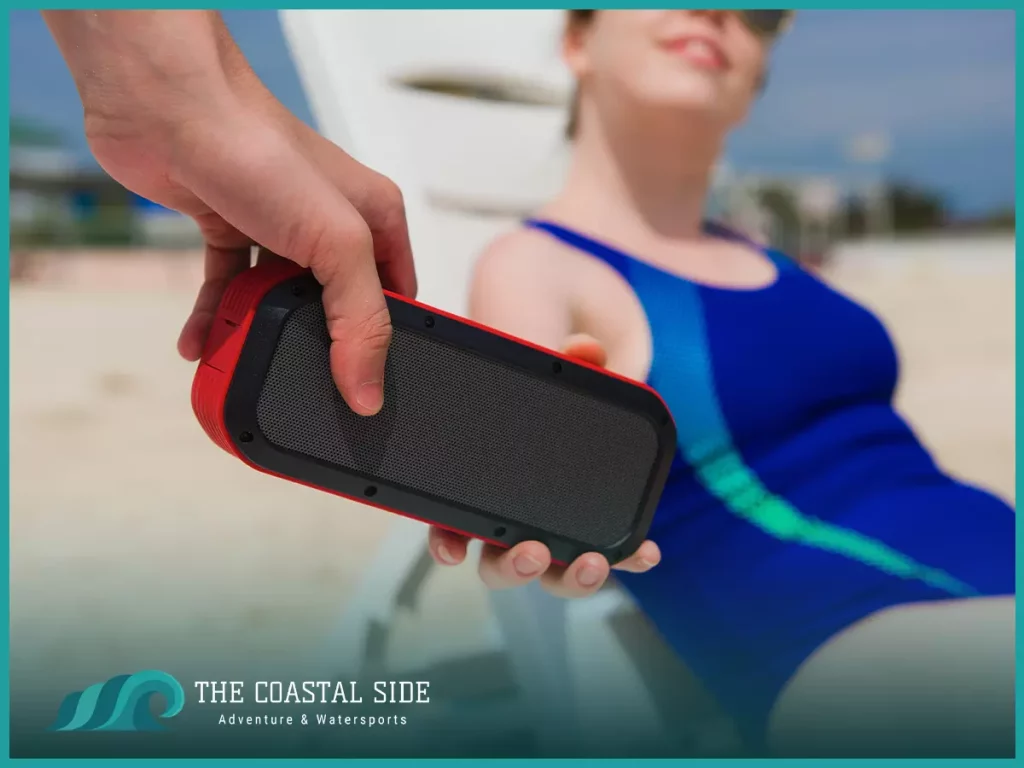 Beach friends, cold drinks, and wonderful music on the beach is a trifecta that is hard to top. Music is one of those special additions that make the whole atmosphere of a beach trip more fun, and by getting a portable speaker, you can make sure that the party doesn't stop.
There are lots of portable speaker options, from the low-budget to the premium. You might also pick out a speaker based on your beach vacation needs. 
If you're partying with a big group of good friends, select a speaker with high volume. If it will be a more intimate affair with your best friends, you can pick a smaller speaker with a lower price tag.
Drinks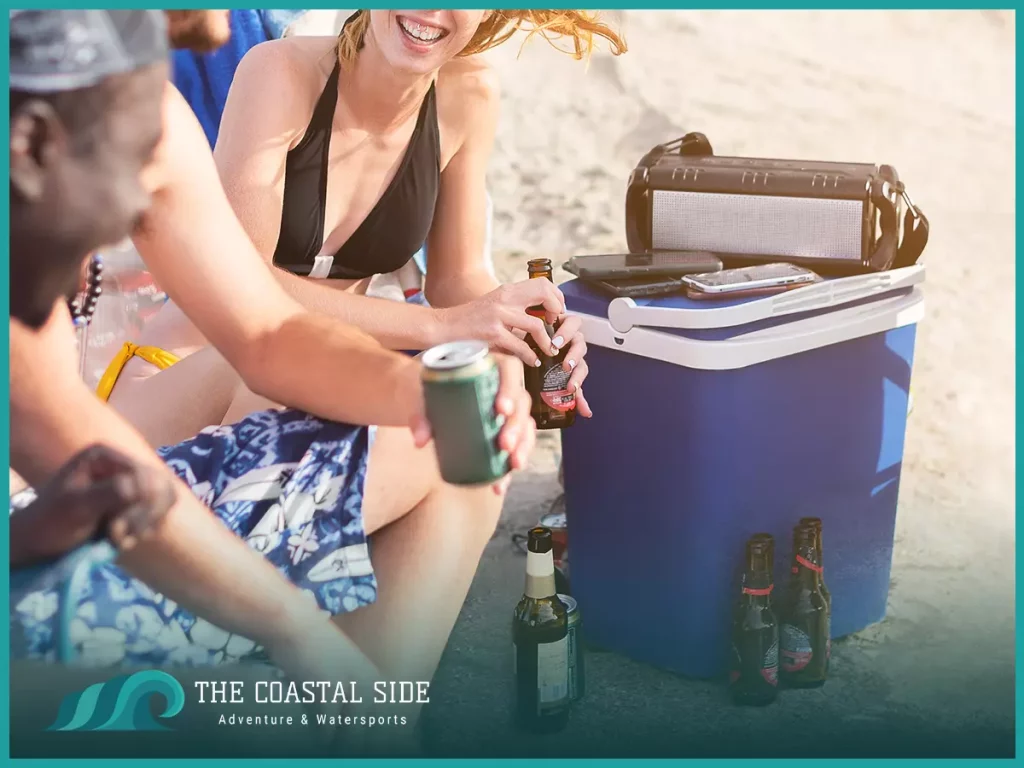 Next up on the list of beach necessities: some crisp, delicious beverages. Whether you're looking to share beers with friends, sip on a glass of lemonade, or refresh yourself with some ice-cold water, drinks are of high priority for living life under the hot sun and watching the waves.
When picking out your drinks, certain factors should influence your decision. Some beaches don't allow you to drink beer out of open containers, and others prohibit alcohol entirely. What's more, you want to pick drinks that can last through the day—this isn't the place to take a smoothie.
Ultimately, no matter what you pick, be sure to stow your drinks in a nice cold beach cooler.
Power Bank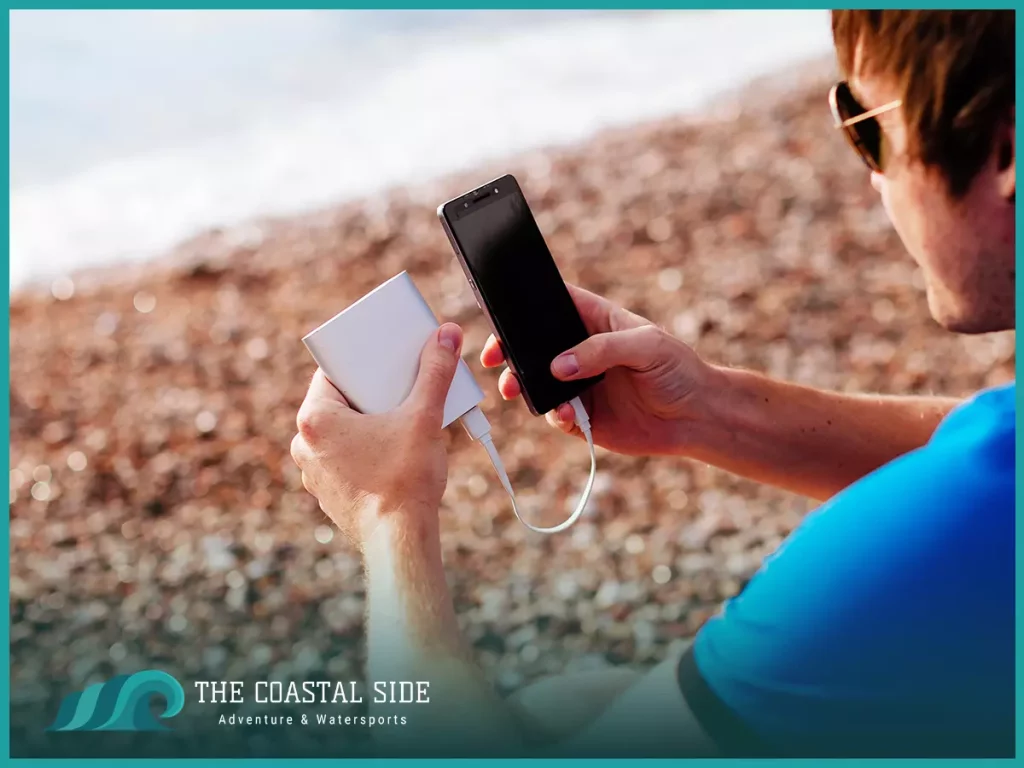 A power bank, also called a portable charger, is a modern innovation that allows users to charge their phones while on the go. It's also one of the best things to ensure a happy vacation.
It's not common to find an electrical outlet at the beach, which means that it's all too easy to end up with a dead phone or camera by the end of the day. Using a portable charger circumvents this problem, ensuring that your phone or camera stays full-up on juice all day long. 
 Before you venture out on your beach trip, make sure that your power bank is charged. Most power banks only need about a night to charge up, so it's a snap to keep your phone on all day. Another option is to bring a solar powered power bank for your phone so the sun keeps your phone charged!
Wet Bag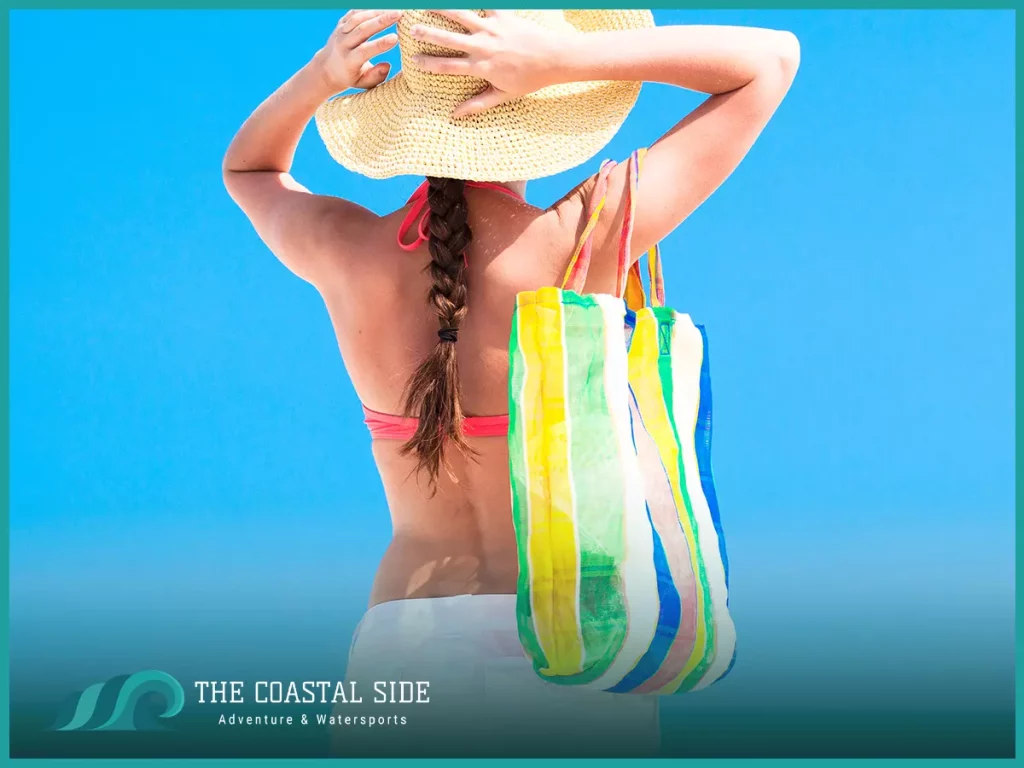 One of the many unfortunate situations that can spoil a would-be beach vacation is having a sopping wet bathing suit soak your bag. 
Everyone's excited about a dip into the ocean on a beach trip, but few people think of what happens afterward. When your day at the beach is over, you'll still have towels and swimwear that's full of sand and water.
A wet bag can solve all these issues. Don't intermingle your wet, sandy clothes with your other supplies. Instead, throw them into a dedicated wet bag. Once you get home, toss it directly into the washing machine—and just like that, you have kept your trip to the beach clean.
Emergency Supplies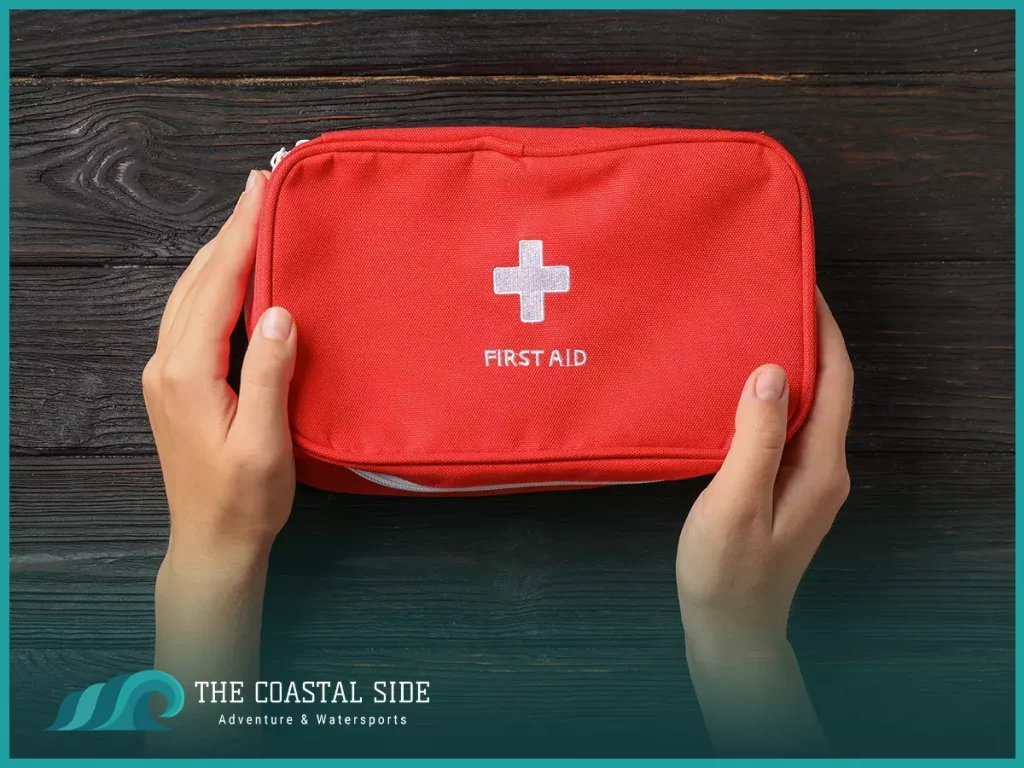 Before you head out, there's one more road trip necessity you'll need to check off your list. It's all too easy to jump in the car with your snacks and your beach gear. However, you'll want to be sure you put in the proper road trip emergency prep work before setting out on your adventure. 
Consider packing these items so you don't spend your vacation on the highway shoulder instead of the sandy shore:
Spare tire kit

Jumper cables

Water

First aid kit

Roadside assistance contact information 
Wrap Up
There are many considerations to keep in mind when you are planning a road trip to the beach with your best friends. Perhaps most important is the proper beach gear. Draw from this list, though, and you will be good to go!