Dogs love the beach. And beaches make excellent places to play with your dog, whether they're chasing tennis balls or a splashy dog beach accessory.
However, some dog gear and dog beach accessories can help protect your dog and ensure they have fun while visiting your local dog beach.
13 Dog Beach Accessories For Every Dog Owner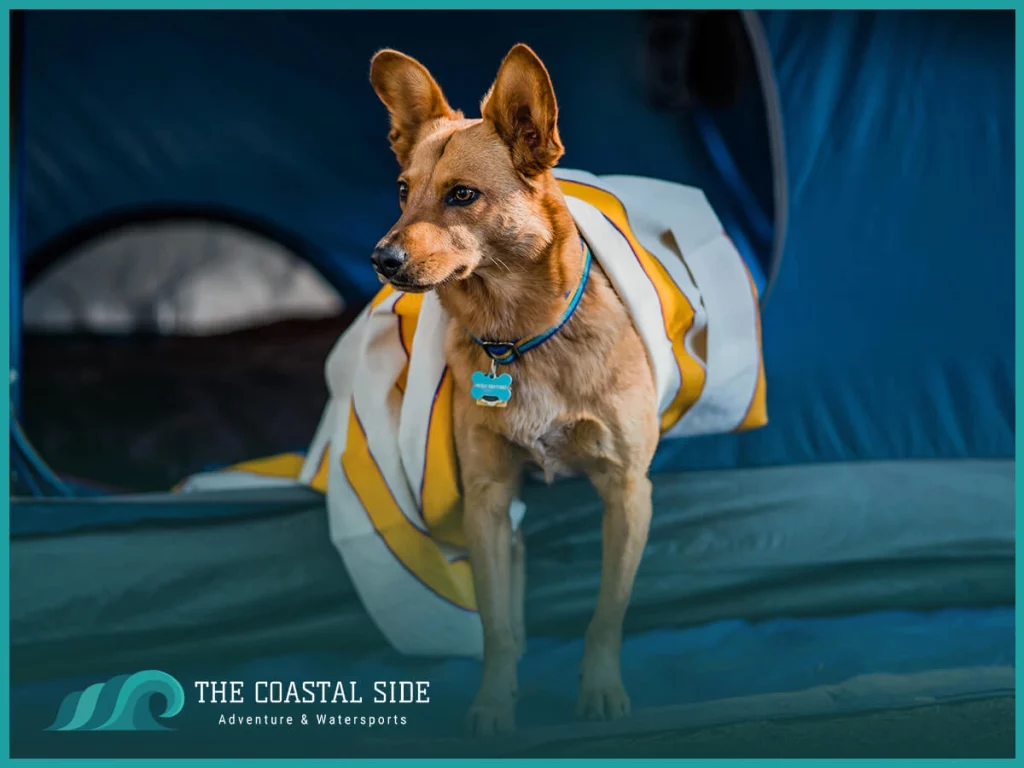 From how to keep sand out of your dog's fur to beach accessories all dogs love, we've investigated a range of products. Here is a list of 13 dog beach accessories that are essential and offer the latest tips to help you and your dog get the most out of your beach vacation.
1. Dog Sunscreen
Many pet owners don't realize their pups are as susceptible to the sun's harmful rays as their humans. It's easy to forget because many dogs have thick, furry coats. But even dogs with heavy coats have sensitive areas when it comes to the sun.
One of the biggest of these is your dog's nose.
Dog sunscreen helps protect their paws, tails, and noses from harmful UV rays. It's non-toxic for pets, which is vital when choosing dog sunscreen. 
2. Water Bowl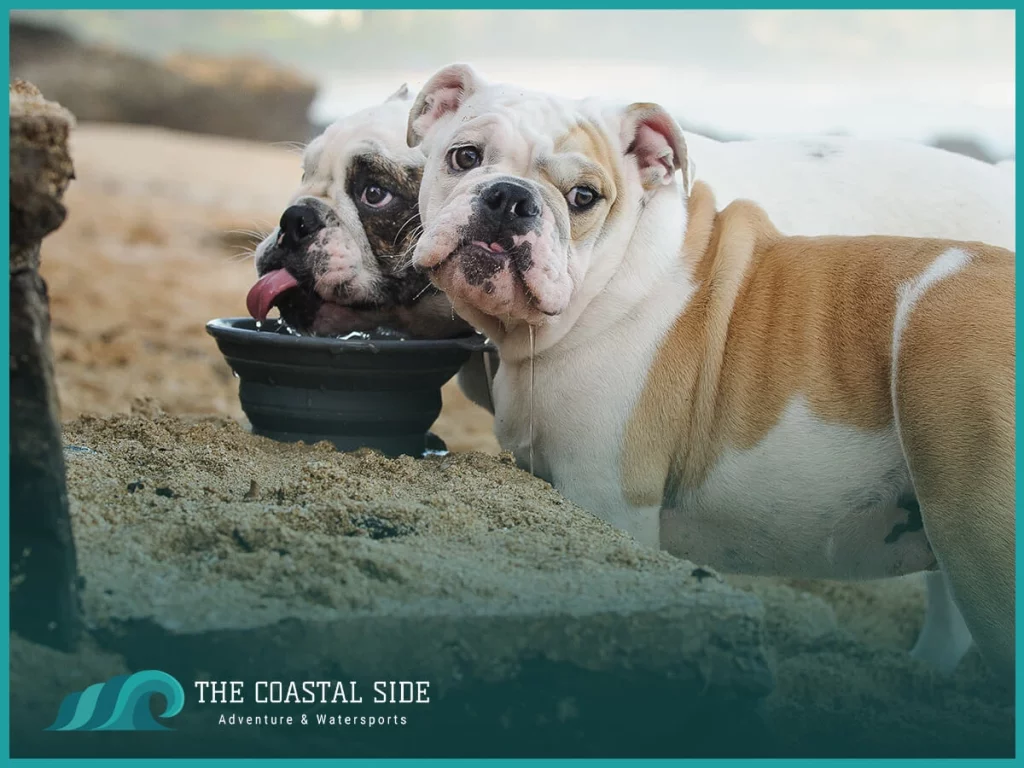 This dog beach accessory is another essential item on your list. Whether your dog plans to spend all day playing fetch or swimming in fresh water lakes, making sure they stay hydrated is important.
Some dog beaches have communal water bowls. But, many vets discourage these. You have no way of knowing what's in the water, or if a sick dog drank from it last. 
Instead, they suggest bringing your own water bowl. A good water bowl should be:
 Heat/Cold-resistant

 Collapsible
Remember, you don't just need a dish for your furry friend to drink out of. To keep your dogs safe from infections like Giardia, you should also bring a water bottle along.
This is important if you are near the ocean because dogs that lap up salt water risk salt water toxicity. 
The best way to avoid that is to have a supply of fresh water nearby that they can drink from safely. Best of all, when you're ready to head home, the dish can easily fold up and fit in your dog's beach bag.
3. Dog Beach Towel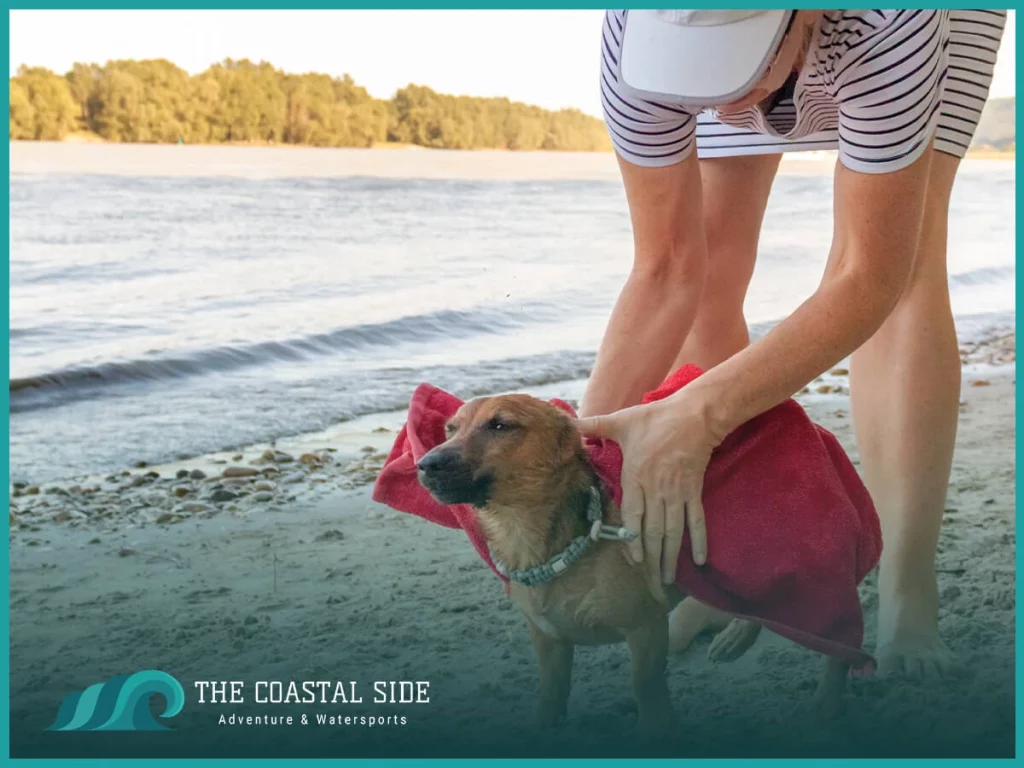 A dog beach towel is another necessary dog beach accessory for your trip.
Before we were dog owners, we were campers, and that's how we discovered microfiber towels. Just like waterproof beach blankets for you, microfiber towels are perfect beach accessories because they're super absorbent and great for drying off your pet. It also reduces the amount of sand stuck to their paws.
The other advantage of microfiber towels is that they are compact. Once you dry off your dog's coat, the towel rolls into a tight ball, saving space in your dog beach bag for other dog beach accessories.
If you don't have a seat protector for your car, throwing a dog beach towel onto the back seat also helps absorb excess sand and water.
4. Grooming Wipes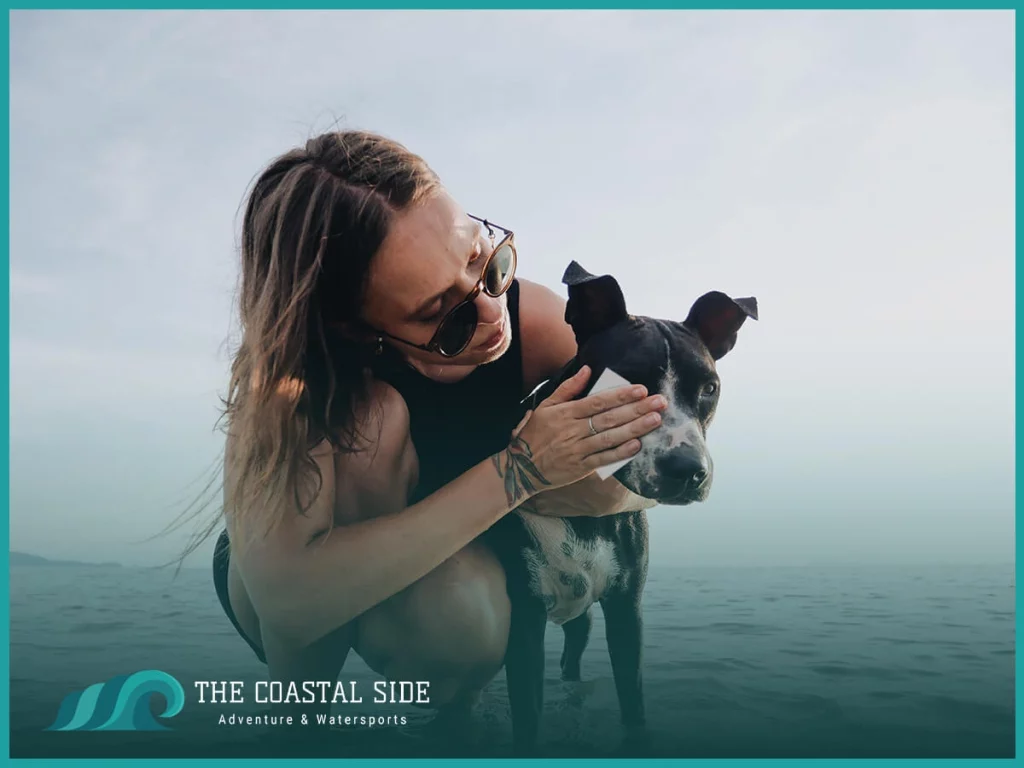 Grooming wipes are another dog beach accessory designed to help get sand out of your dog's coat and keep your dog clean is grooming wipes.
There are various options available, but we try to find unscented dog grooming wipes since not every pet enjoys smelling floral.
Additionally, if you don't have a seat protector in your car, grooming wipes can help get the excess grit and sand off of your car seats once you're home.
 

5. Paw Balm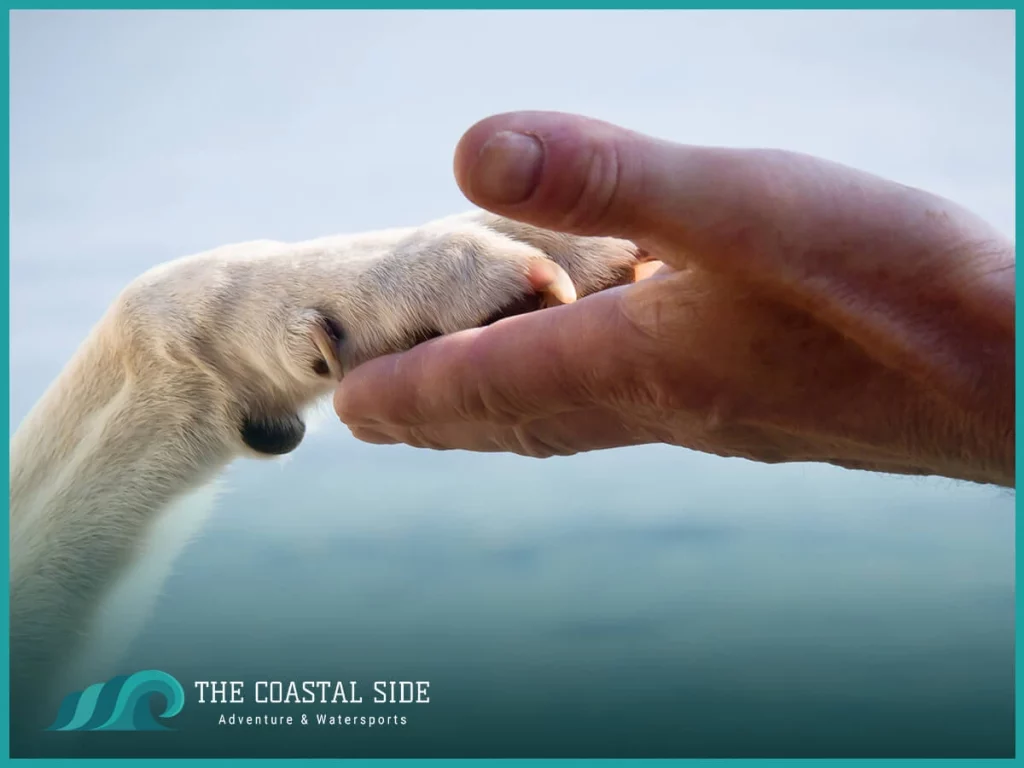 Protecting the pup's paws is another thing to consider when planning your beach trip. Paw balm is a dog beach accessory we always take with us when we take our pets to the beach.
Paws are one of the most sensitive areas of your dog's body and are extremely reactive to hot and cold weather. Rubbing a paw balm onto your pup's paw pads before heading to the beach is a convenient way to protect your dog's paws from hot surfaces like:
It also ensures your furry friends can enjoy a dog-friendly beach in comfort.
There are lots of paw balms to choose from. Musher's paw balm is our favorite for our pets because it's:
 Suitable for all seasons

 Fragrance-free 

 Fast-acting and drying
6. Beach Umbrella or Tent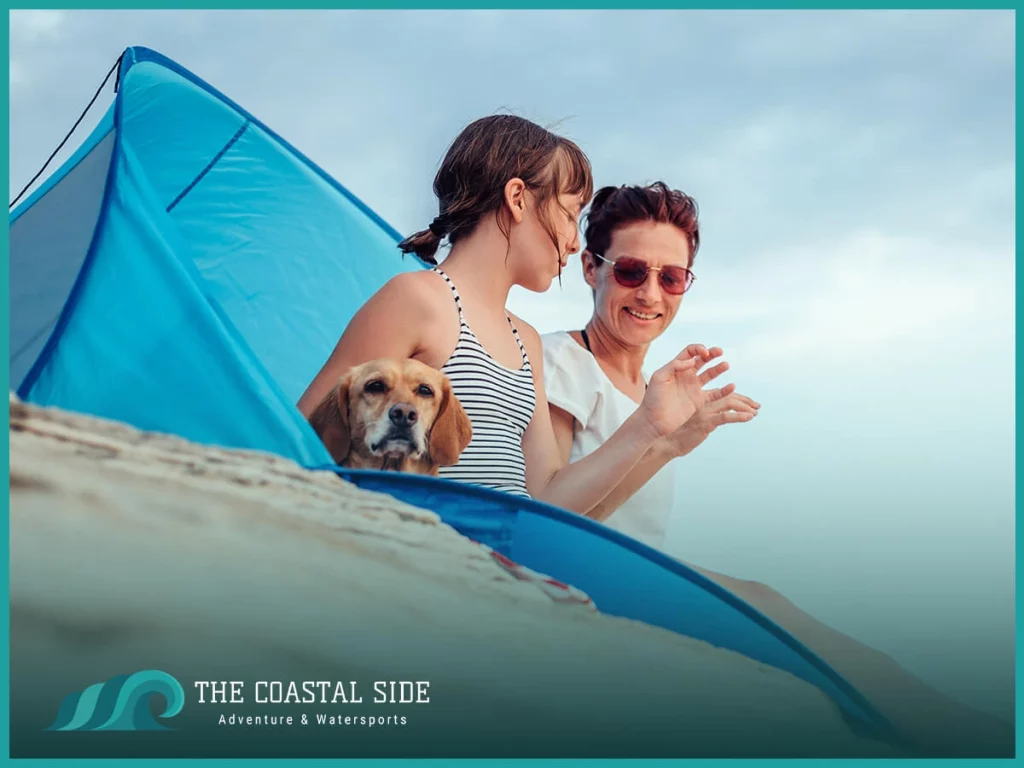 When heading out with your beach chair and cooler to a dog-friendly beach in summer, a good source of shade is essential. A beach umbrella or alternative shelter is the perfect solution to this problem. 
Some dog breeds are more heat intolerant than others. It's important to know how well your pup copes with hot weather before driving the car to a dog beach. 
The other reason for a shady shelter like a beach tent is that it gives your dog somewhere to cool down after swimming in the ocean water. Although fur helps regulate body temperature, your dogs can still suffer from heat stroke if they spend too much time in the sun.
Not only that, but a safe shelter gives your pup somewhere to retreat to when attention from other dogs becomes too much.
7. Cooling Bandana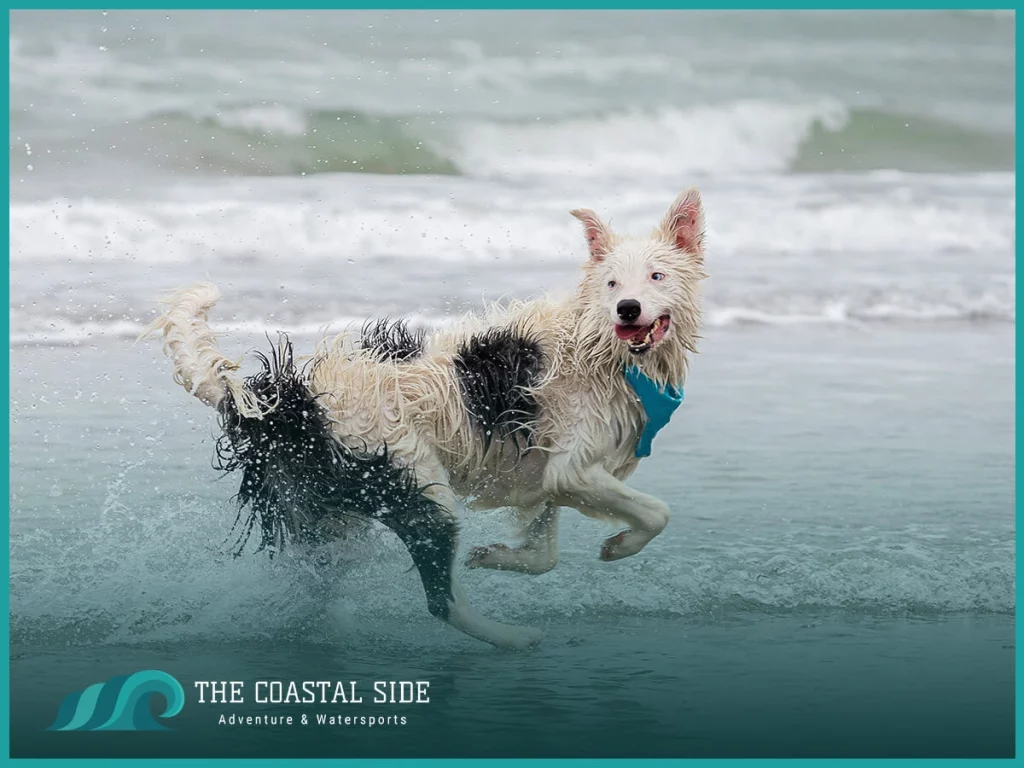 Prevent heat exhaustion by using a cooling collar or cooling bandana on your pet during your beach vacation. A cooling bandana is one of those dog beach accessories you won't want to leave home without.
Typically, these are collars with gel capsules inside that you freeze to get to an appropriate temperature for your pet. While many pet owners worry they may be too cold for their dogs, they are an effective way of ensuring you keep your dogs cool on hot days.
8. Comfortable Harness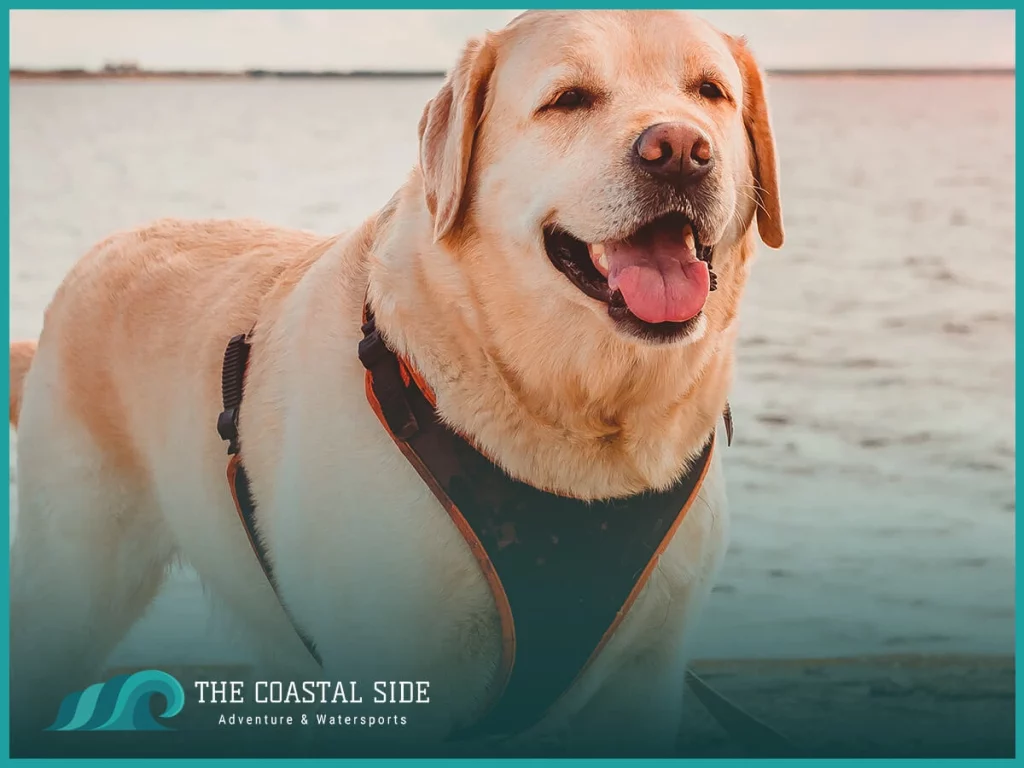 In addition to other dog beach accessories we've mentioned, you need a comfortable harness for your pup. Harnesses reduce friction when your dog moves, making walks on dog-friendly beaches and games of fetch more enjoyable.
Keep in mind that as you try to find a comfortable harness for your dogs, some breeds can be tricky to fit. 
We have two dachshunds, and their distinctive shape meant that after much trial and error we invested in harnesses designed for their elongated backs and short bodies. 
The additional cost was worth it when we saw how much more the dogs enjoyed long sessions walking with us.
9. Dog Poop Bags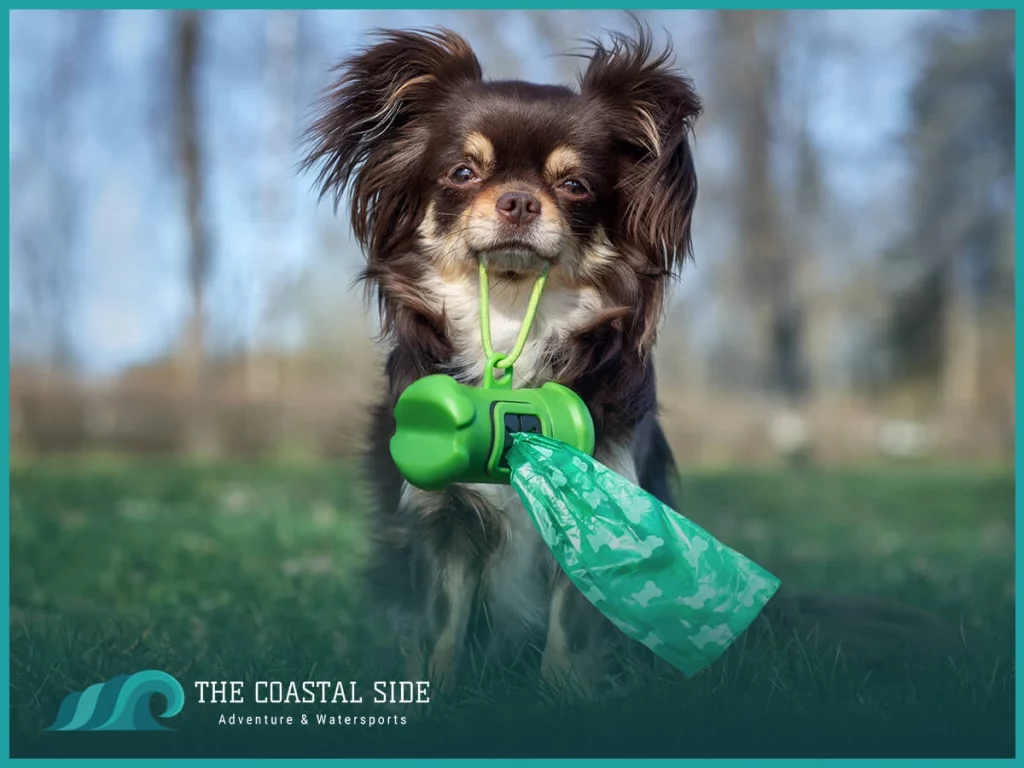 These unique dog beach accessories are necessary for basic dog owner beach etiquette. It's inevitable that while enjoying the sun and the beach, your pet will go about their business, and when that happens you need to have dog poop bags ready.
We favor compostable poop bags and they can be purchased in bulk. Additionally, you can find them available in both scented or unscented, giving you plenty of choices.
10. Dog Life Jacket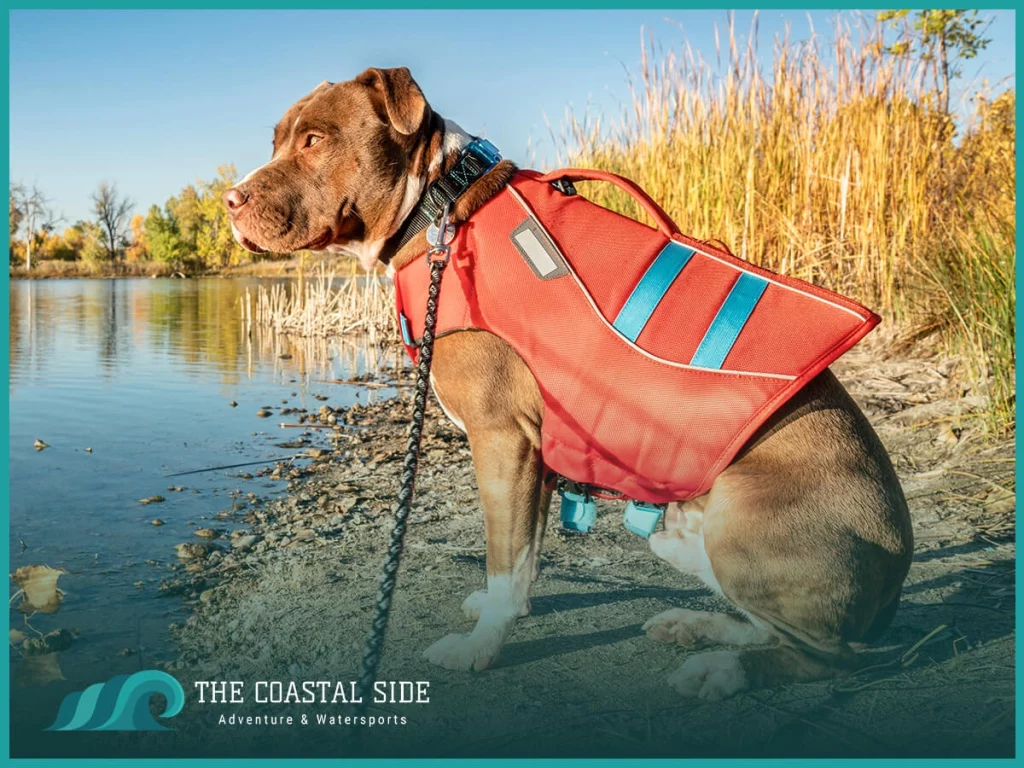 Not all dogs are natural swimmers. These dog beach accessories aren't as fun as others on the list, but they're extremely useful. You can even have matching dog and owner accessories by purchasing a similar life vest for yourself. 
Small dogs tend to sink in the water. That makes a dog life jacket one of the more crucial dog beach accessories on your list if you're planning any watery adventures.
A dog life jacket can also be handy if you find it hard to keep control of bigger dogs or an exuberant pet when in the water.
11. Kong Dog Toy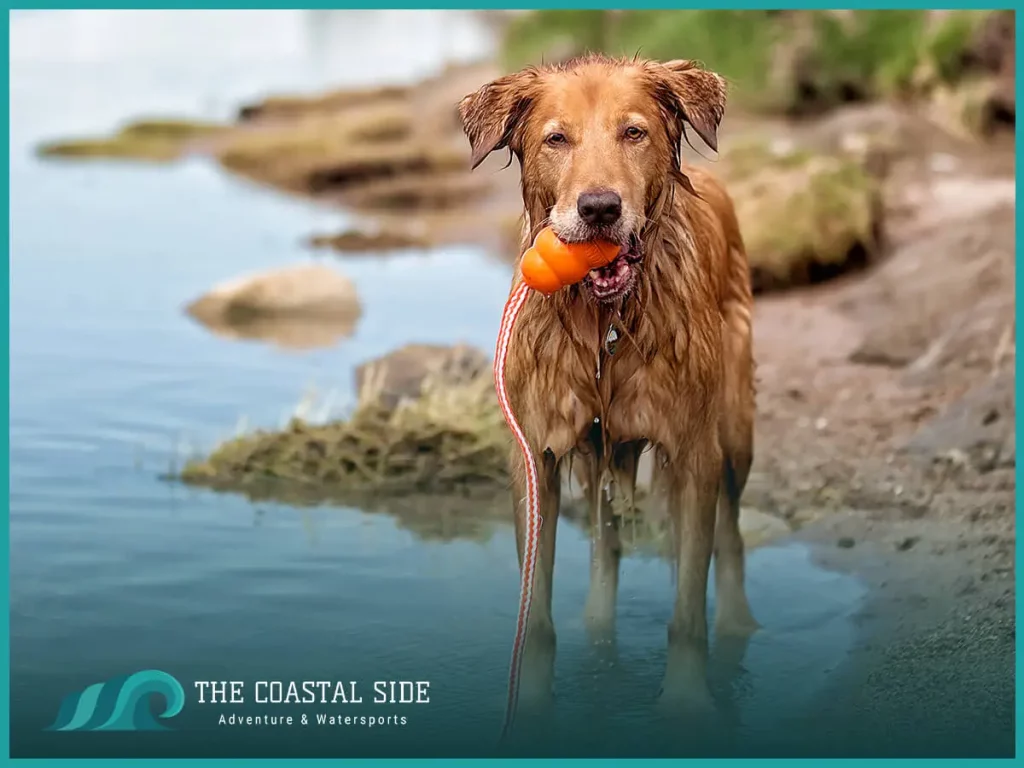 Kong training toys are a great toy for the pup that loves to play fetch on the beach. They offer hours of enjoyment, and it's easy to wipe sand off of them.
If your dog wants to get out of the sun for a bit, these dog toys are still ideal dog beach accessories, because you can stuff them with treats or favorite food and watch your pup retreat to a shady spot for a snack. 
Since your pet needs to work to get the food out of the dog toy, dogs playing with a kong still get a bit of exercise, even when not actively chasing after it.
12. Beach Bag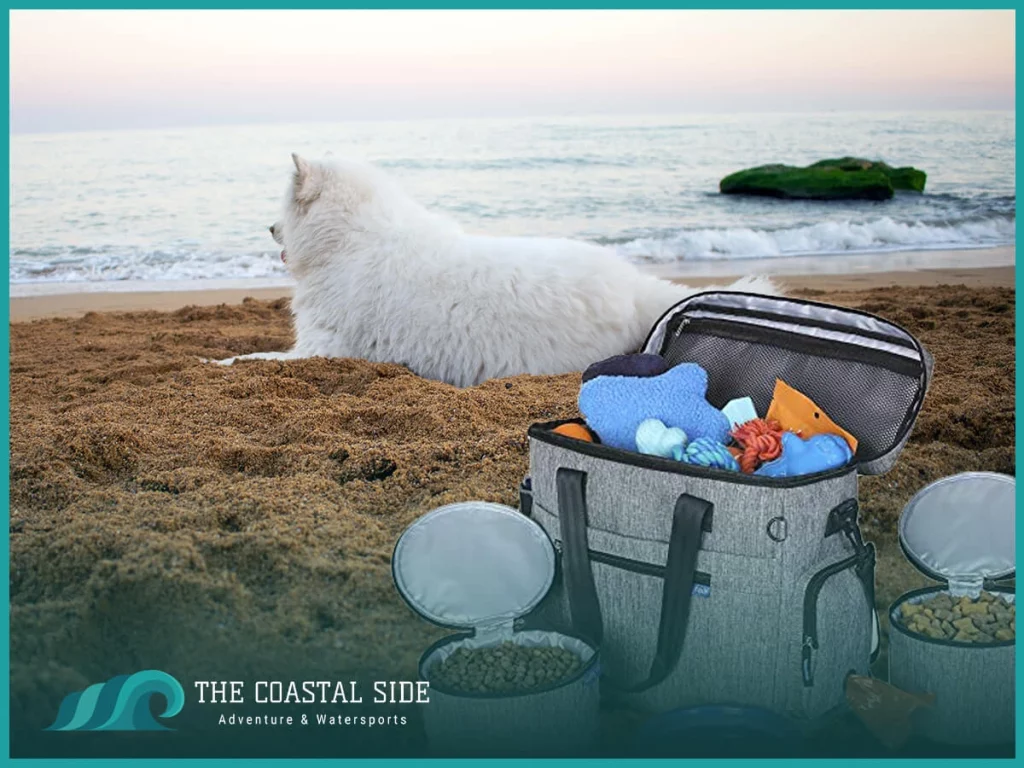 A dog beach bag is the ideal way to protect your assorted beach accessories not only from the sun, but soft mouth carrying and chewing by your dog.
Dogs are naturally curious, and liable to wander off with treats and toys if they have access to them. (When it comes to keeping their water bottles cold, though, you can always pop them into your own beach cooler.)
Luckily, many beach bags are designed specifically to keep your dogs out of mischief and your food and water cool, despite the sun.
Look for bags that:
Keep dog products out of the sun

Have sturdy shoulder straps 

Have lids 
13. Dog First Aid Kit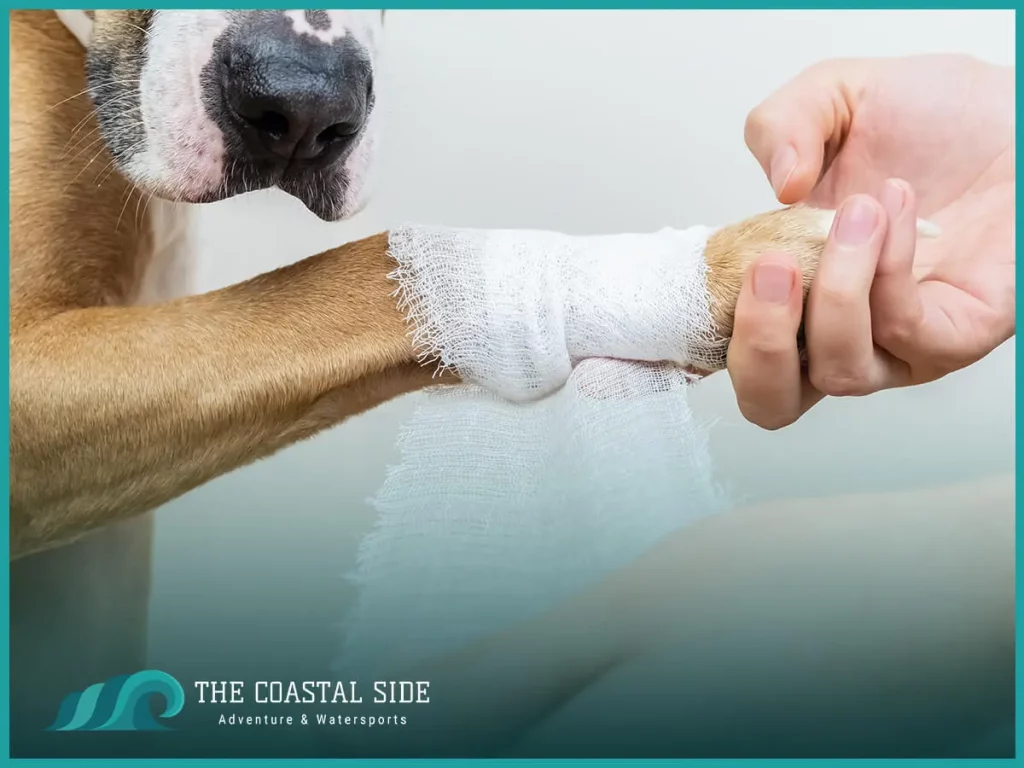 Finally, when compiling your dog beach accessories, you can't go without a dog first aid kit. Every dog loves an adventure but that comes at a cost. 
A medical aid kit made especially for your dog is a perfect solution for treating the resultant injuries your pet may develop.
Conclusion
Various dog beach accessories help keep your pet safe and comfortable during a trip to the beach. 
When packing the car, take a minute to ensure you have everything. Dog toys are a must, as are water, treats and poop bags.
However, there are less obvious supplies, too, like life jackets and first aid equipment. Once at the beach, the important thing is that you and your dog have fun!
So, pick a sunny spot, set up your dog beach accessories, and enjoy the exercise and the warm weather.