When kids kayak, there are precautions you can take to keep them safe. 
When the proper steps are taken, kayaking is safe for young children. 
Follow these several tips for keeping your young kids safe while kayaking and your family can enjoy the leisure and ambiance of kayaking without worrying about safety.
Kayaking Is a Family Sport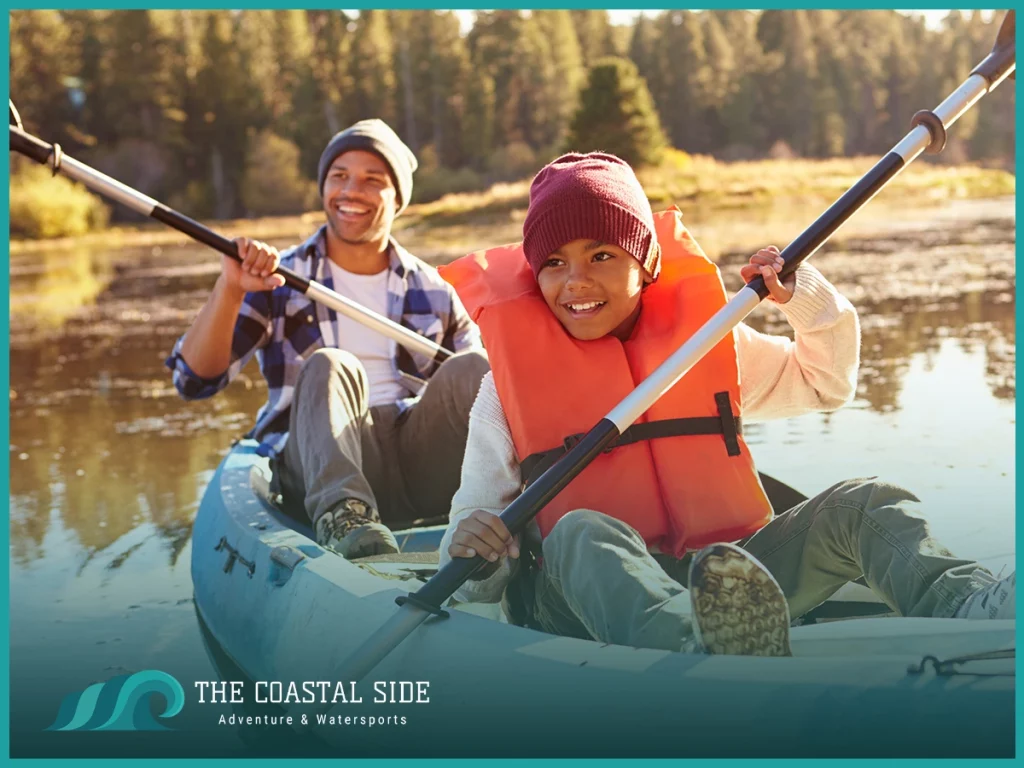 Some people may think of a bachelor crusading across white water rapids when they think of kayaking, but kayaking can be a team sport. Several kayak types are used on the water, including one-person or tandem kayaks.
If keeping your child motivated by giving them their own boat, your children can have a great family kayaking experience. The best kayak for kids is a sit-on-top kayak which can help you teach younger paddlers. Another good choice is a kayak that makes paddling easier for them like a swim-up step kayak. 
A tandem kayak may work best in other scenarios as you can control how your kids will behave and how to keep them safe. As an added benefit, kayaking as a family can help everyone stay in shape and get everyone to exercise!
10 Tips To Keep Kids Safe While Kayaking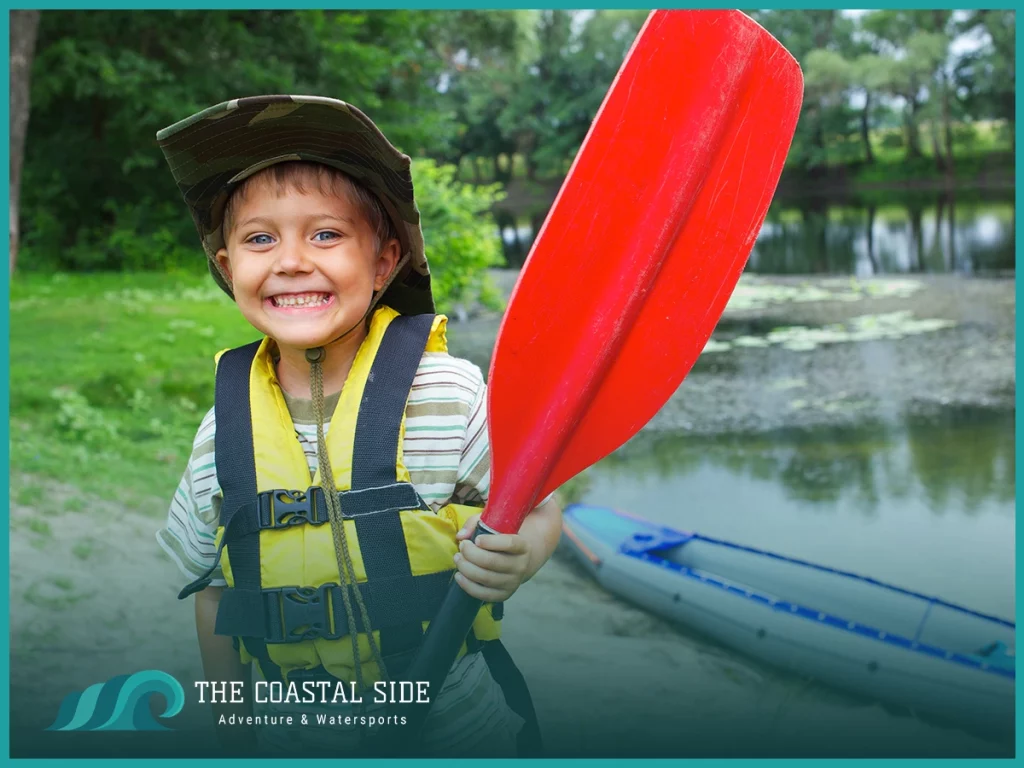 Keeping your kids safe while kayaking may sound daunting, but it can be simple. You will need to keep an eye out for danger and injuries, but by following these tips you can be ready to prevent any disasters and keep your kids safe while kayaking.
Get The Right Size Kayak For Solo Riders
If your kids are old enough for their boat, you will need to research the perfect kayak for your kids. Many kayaks come with an included paddle, making shopping easier for older children.
The best kids kayaks are constructed from polyethylene construction and have a carry handle, drainage holes, and adjustable footrests. These youth kayaks may also have padded seats and a removable skeg. These features will help older kids as they grow with the kayaking experience.
A kayak with self bailing scupper holes may also help your child ease the pressure of water against the hull. A swim up deck, swim up step, or an easy paddling kayak may also be the right size for your child.
Another consideration for a solo kids kayak is the kayak's weight capacity. The weight capacity on a kids kayak can suit their weight and can easily tow. Weight capacity is important since kayaking can change body structure and you want to ensure comfort and proper growth.
While optional, a beneficial addition is an adjustable backrest, molded finger handles, a padded seat, and a safety flag. Let your child browse kayaks and see which option your kid decides they like most. They may be more cooperative with a family kayaking experience if they have a hull design they enjoy.
Get The Right Tandem Kayak For Younger Children
While you may be paddling solo, letting your younger children sit in the front of your tandem kayak can help you keep them safe and experience an adult kayak before they try out a youth kayak.
An inflatable kayak can also give them the experience you both may be looking for, but you will need a hand pump to blow it up. Other kayak options include a sit on top kayak, which can be perfect for young children who are just learning to kayak.
There is also plenty of sit inside kayaks that can help young paddlers reach the water better. These are usually the best kayaks for kids in a tandem kayak with their parents.
Invest In The Right Size Life Jackets
A life jacket can save your life and that of your children. Most kayakers check the weather before embarking on a trip, but sometimes the weather can be unpredictable, and accidents can happen. Sometimes, younger children can be clumsy and simply fall out of their kayak.
Have A Tow Rope Handy
A kids kayak with plenty of storage space is a necessity, especially when kayaking with young children. You will need somewhere to store a safety flag, a tow rope, and a collapsible aluminum paddle.
Keep Kids In The Front
When using a tandem kayak, always keep kids in the front. Keeping your children in front will ensure their safety and create easy transport of your kayak. A child's weight in the front of your kayak will help keep them safe and help you steer the kayak better. This weight distribution will also help children enjoy their time. A padded seat would not hurt, either.
Discuss The Rules
Before setting out on the water, the best thing you can do to ensure that you and your kids enjoy kayaking is to discuss all the rules they must follow. They must understand that they cannot stand in the kayak or play with the paddle.
Not only will this distract you from steering the kayak, but it can be dangerous. Kids will fall out easier if standing or leaning over the side. They may also get hurt in the fall or run into troublesome wildlife. Because of this, a sit in design is one of the safest and best kids kayak.
Choose An Easy Route
Beginner kayaks will work perfectly for your kid's first adventure on the water and may come with all the amenities you need, including a tow system.
Youth kayaks and kids kayaks are built to withstand easy routes, but inflatable kayaks may work as they are one of the best kayaks for kids, but they require a hand pump.
However, these kayaks are extremely portable and have carry handles. It may also give you an idea of what they can handle and if you will be paddling solo for a while.
The perfect kids kayak may have a paddle included and a swim up deck or swim up step. A sit on top kayak or adult kayaks may be the best beginner kayak for kids. You may also want to browse budget kayak options.
Often, the best youth kayak is a kids kayak is one with an I beam floor and has multiple footrest positions. Growing paddlers will need kayaks and a paddle that match their body weight and ability. Paddling can be difficult for a sit inside design when a kayak or paddle is too big for a child.
Get The Right Size Paddle
Finding the right kayak paddle can be difficult. Many sit inside kayaks come with a paddle included, but paddling can still be difficult for young kids. Even adults may struggle to paddle when they do not have the right equipment. A kayak and paddle should have a high density polyethylene construction.
The best kayak paddle may come with a kids kayak or youth kayak, however. You will want to browse paddles that will not damage the kayak's hull.
The Wave Youth kayak is a great kayak for kids and often has a paddle included. The Lifetime Youth Wave kayak is ideal as it has all the amenities a kayak needs and is one of the best kayaks for kids. The Heron Junior Kayak and Town Heron Junior are also some of the best kayaks for kids.
Take Many Breaks
Taking many breaks will be necessary until you see your child's stamina improve. You may have to use a tow system or tow rope less often. A kids kayak or youth kayak can help assuage a towing concern.
Again, the Lifetime Youth Wave Kayak and Intex Challenger K1 are some of the best kayaks for kids and have carry handles. These kayaks are of polyethylene construction and can make breaks less frequent, especially for older children. They are the best when teaching your kids to kayak and have a great weight capacity.
Make Sure They Dress Right
Sunscreen, a change of clothes, and shorts are vital. Using anything heavy like hoodies or jackets will only dehydrate young paddlers. When younger children kayak, they get tired and dehydrated, they may have a problem carrying their kayak paddle, meaning more paddling for you and work for your kayak.
Kayaking With Kids Can Be Safe And Fun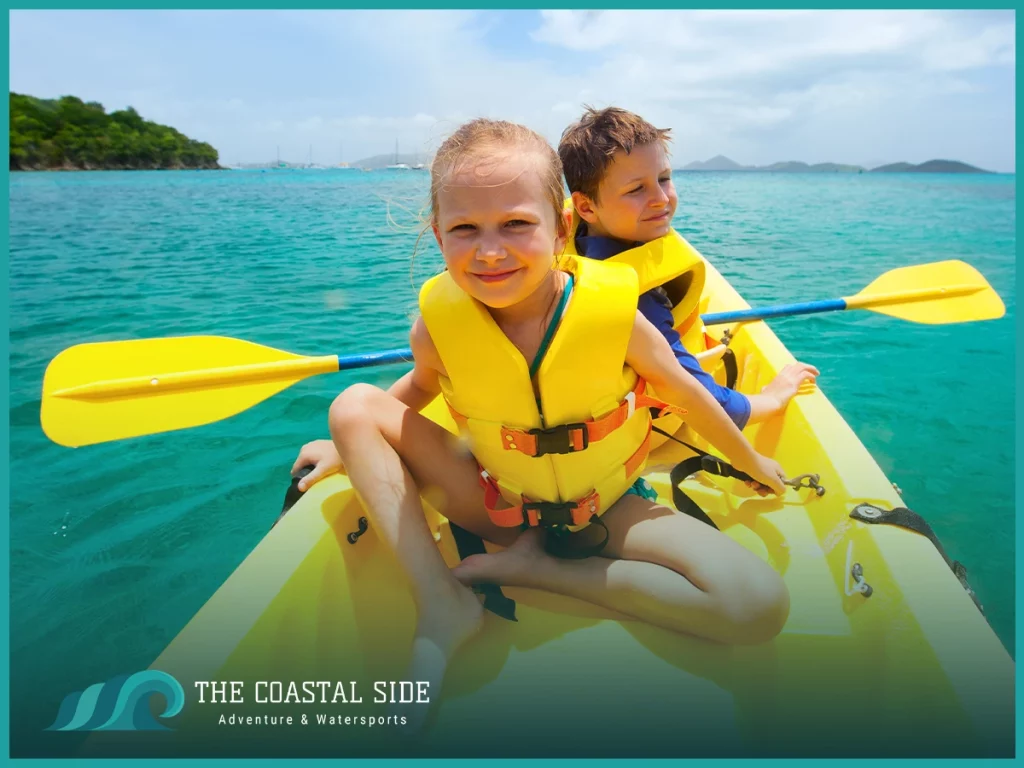 Be sure to find the right kayak for kids, such as Lifetime Youth Wave Kayak, Heron Junior Kayak, Town Heron Junior Kayak, Wave Youth Kayak, Old Town Kayak, or Intex Challenger K1 Kayak. Having the right kayak can make paddling easier and safer. These kayak options are the top kids kayaks.
As long as you practice these many safety tips and rules with your kids on the water, you and your family can have a fun experience without worrying about injuries or mishaps, like losing a paddle. Additionally, you'll experience benefits like increased exercise and improved metabolic performance.
Kids may be inclined to stand up or play with the kayak paddle but discussing the rules with them ahead of time can stop them from engaging in these challenging behaviors without being on the water. It may not be an easy start, but it can be fun regardless. Kayaking is a perfect family sport that can help you and your kids connect!