When the pandemic started, I thought kayaking would be the perfect way to get out of the house while keeping my distance from other people. It would allow me to embark on an outdoor adventure and get a little workout.
The problem was that I was new to this whole thing, and I'd never bought a kayak before, so I had no idea where to start.
There are so many kayak companies out there that it can be overwhelming to try and find the best brands to fit what you're looking for. But I did some digging and ended up with an excellent kayak for my pandemic adventures, and I'm here to share my expertise with you.
Types of Kayaks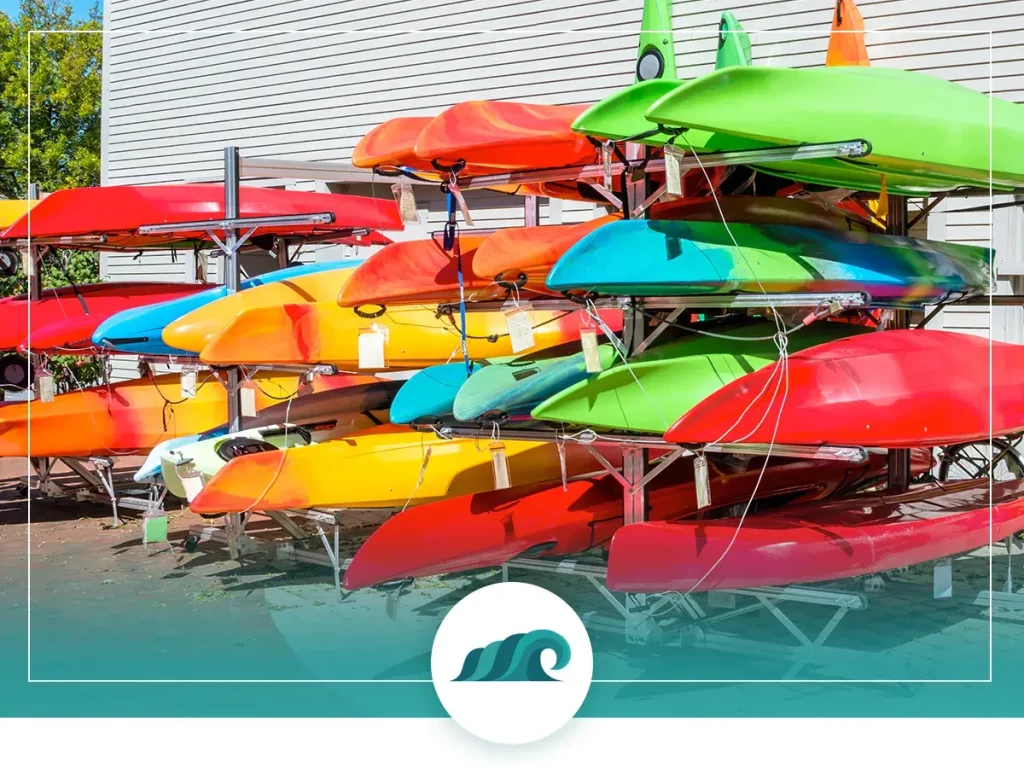 Before we even get into the top kayak brands list, we need to figure out what kind of kayak you want.
There are many different kinds, and they're suitable for different adventures, such as scuba diving or helping fishing enthusiasts get to a prime location. According to the American Kayaking Association, there are two main types of kayaks, and those break down further into sub-types.
Flat Water
Flat water kayaks are great for a more leisurely ride in areas like a smooth river, a lake, or a bay. There are five different kinds of flat water kayaks.
Sit on top kayaks are an excellent option for intermediate kayakers because they're easy to board – you don't have to get inside; you just climb on top. However, one thing to consider with these is that you'll likely get wetter during your ride than on other kayak models.
Recreational kayaks enable you to fit inside. They have a large opening that you climb into, allowing some air (and the occasional splash) inside. These sit-inside kayaks are shorter, usually no longer than 10 feet.
Touring kayaks are bigger, usually longer than 12 feet, and narrower boats with a smaller opening for you to sit. People use these in more athletic settings, allowing you to simply roll over while staying inside the kayak if you tip in the water.
Inflatable flat water kayaks are not going to be the highest-quality option. Still, they offer one key feature that can be incredibly useful: they deflate and fold up into a compact space that should fit in the trunk of your car and can be easily stored in a closet if needed.
Pedaling kayaks are much easier on your upper body, as you control them with pedals instead of a paddle. There are two kinds of pedaling kayaks: One controlled by a propeller and one controlled by flippers.
Fishing kayaks are just as they sound. A fishing kayak typically features added space for all of your gear and a spot to mount your rod. If you've never gone kayak fishing or used a fishing kayak before, it's a great new way to experience the leisurely pastime and learn more about the kayak fishing industry.
Whitewater
Building kayaks for whitewater enables them to handle rougher water conditions, such as heading out for some sea kayaking on an ocean kayak. Four kinds of kayaks can optimally withstand whitewater, and there are various excellent sea kayak brands to consider.
Playboats are small, usually only about 6 feet long. They're used for much more athletic purposes and are great for anyone looking for ocean kayaks to do tricks through the waves.
River runners are a little longer than playboats, about 7 or 8 feet long. Creek boats are usually longer than 8 feet and can handle drops a bit better than the others.
Old School kayaks are usually 10 to 12 feet long. These longer boats are great for straight stretches of water but can make tighter turns tricky. They have a smaller space to sit in, which can make them a bit uncomfortable.
Inflatable kayaks, or duckies, have the same benefit as their flat water counterpart: easy transportation and storage. They are also more comfortable than the hard-shelled option and make excellent sea kayaks.
Kayak Companies & Brands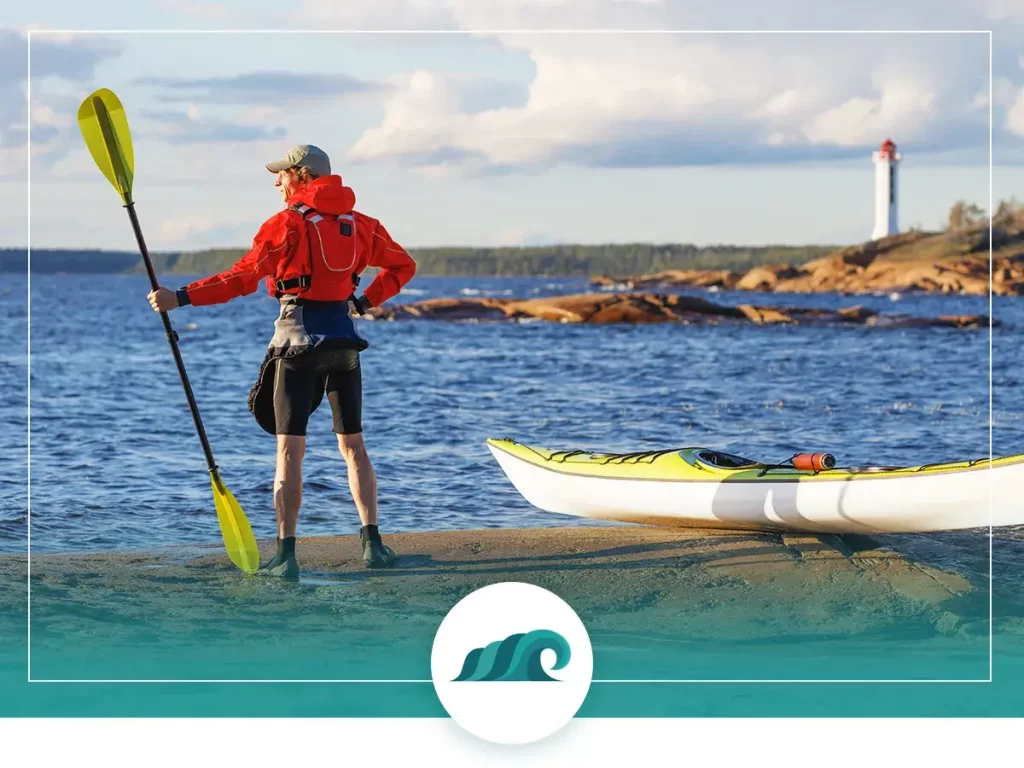 Now that you've figured out what kind of kayak you're looking for let's dive into the kayak companies and brands list. There are a variety of kayak manufacturers out there producing anything from folding kayaks to youth kayaks to a top-notch ocean kayak option. 
Some brands are well-rounded, while others have more niche specializations, such as making excellent fishing kayaks.
Here are some of the best kayak brands on the market today.
Pelican Sport
Pelican Sport is one of the more well-known recreational kayak brands. This good kayak brand offers a wide range of styles that aren't too expensive.
The Canadian kayak brand has been selling equipment since 1968 and uses RAM-X technology to ensure that their boats are lightweight and easy to transport. Pelican kayaks also prioritize the environment and recycle 99 percent of their discarded plastic.
Lifetime Kayaks
Lifetime is another well-known option with a wide range of recreational-style kayaks. The company started in Utah after a man wanted to build a better basketball hoop for his family and has grown to a large company that offers a variety of outdoor activity equipment.
Lifetime stays true to its name. The company is confident in its build quality, offering a lifetime warranty on its products.
Wilderness Systems Kayaks
Wilderness Systems has strived to achieve its tagline – "chasing perfection" – since the kayak company started in 1986. This kayak maker primarily sells touring and recreational-style quality kayaks, and they do a great job producing a perfect kayak.
Eddyline Kayaks
Eddyline has been around since 1971 and has perfected its quality manufacturing processes over the years. The company started with fiberglass whitewater kayaks and now uses a similar but stronger material called Carbonlite which they introduced in 1994.
Eddyline is a reputable brand that provides high-quality and lightweight modern kayaks.
FeelFree Kayaks
FeelFree is a North Carolina-based company that's been around for over three decades. They offer a variety of epic kayaks, including a fishing kayak and one that features an extra seat on the front for a child or pet to join you safely.
Intex
Intex is the way to go if you're looking to buy an inflatable kayak because they encompass great brand awareness. The company started making beach balls more than 50 years ago, then moved on to pool floats and inflatable kayaks.
They only offer three models, but they're all made of puncture-resistant material, and the solo-size kayak costs less than $100.
Summary
There are many different kayak companies and brands, and they all have distinct features that make them unique. Whether you're an outdoor enthusiast looking for a sturdy kayak to race down a river or an intermediate kayak angler looking for an inexpensive option you can keep in your trunk, there's a great option out there for you. You could even look into the unique benefits of tandem kayaks!
When you're considering which is the best kayak brand for you, look at the price range, the types of kayaks they offer, and the reputation they have among their previous customers.
Good luck, and bon voyage on your kayaking adventure!