If you're about to take a spontaneous holiday and are wondering how you can pack last minute for a family beach vacation, we've got your back.
Beach vacations are relatively straightforward to pack for, and as long as you know which items to include, you'll be ready to hit the airport in no time.
However, depending on your trip, beach destination, family makeup, and overall preferences, you may need a few specific items.
For example, you need to remember your passport, power adapter, and neck pillow if you're flying to Bali, but you don't need those items if you're taking a road trip to Florida.
We will provide detailed information on how to pack at the last minute without forgetting anything important. Read on for packing lists and tips to ensure your next beach trip starts as smoothly as possible.
Should You Pack Last Minute for a Family Beach Vacation?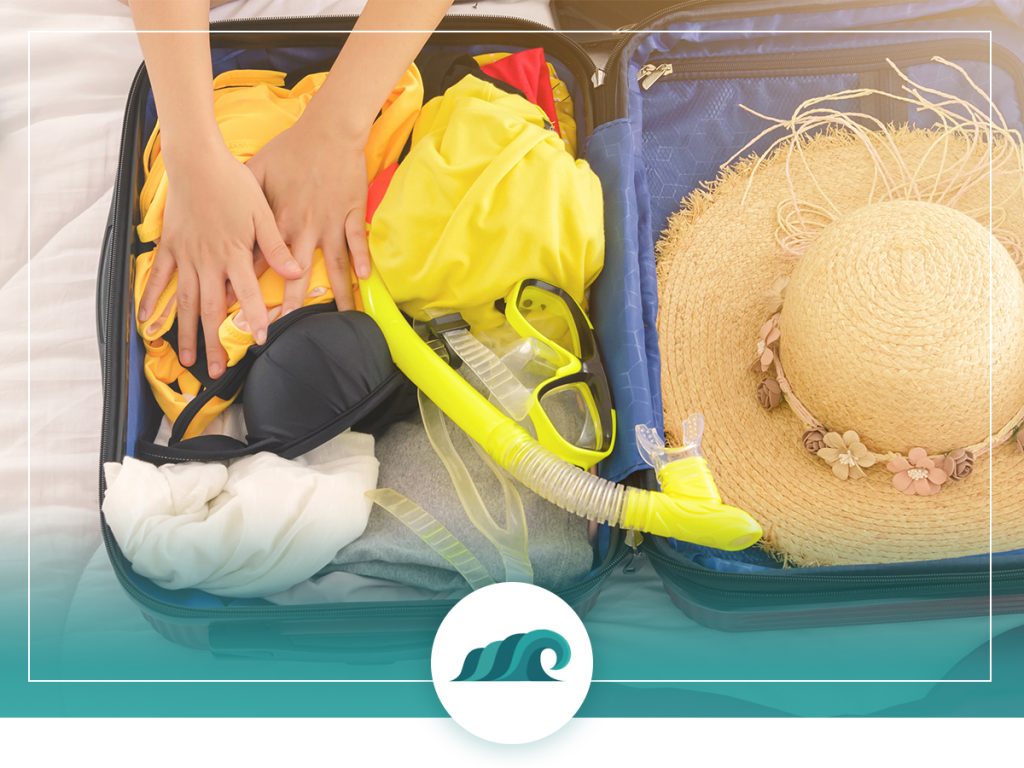 It's not a great idea to pack for anything last minute, as this action increases the chance of forgetting important items.
And if you fail to remember essential items, you may be left spending more money at your travel destination, feeling uncomfortable during your stay, or even missing your flight.
That said, there are several reasons why you and your family may need to pack last minute:
You won a surprise getaway and only have a few days before you have to leave.
You found a cheap flight ticket and must depart as soon as possible.
You're going on a business trip and were just notified of your travel plans.
There is an emergency where you live, and you need to leave town immediately.
You're going on an impromptu road trip with your family for bonding time.
Whatever the reason for leaving at the last minute on your beach trip, if you're lucky enough to be able to take a family getaway, then having to pack in a bit of a rush is only a small price to pay!
How To Pack Last Minute for Beach Vacations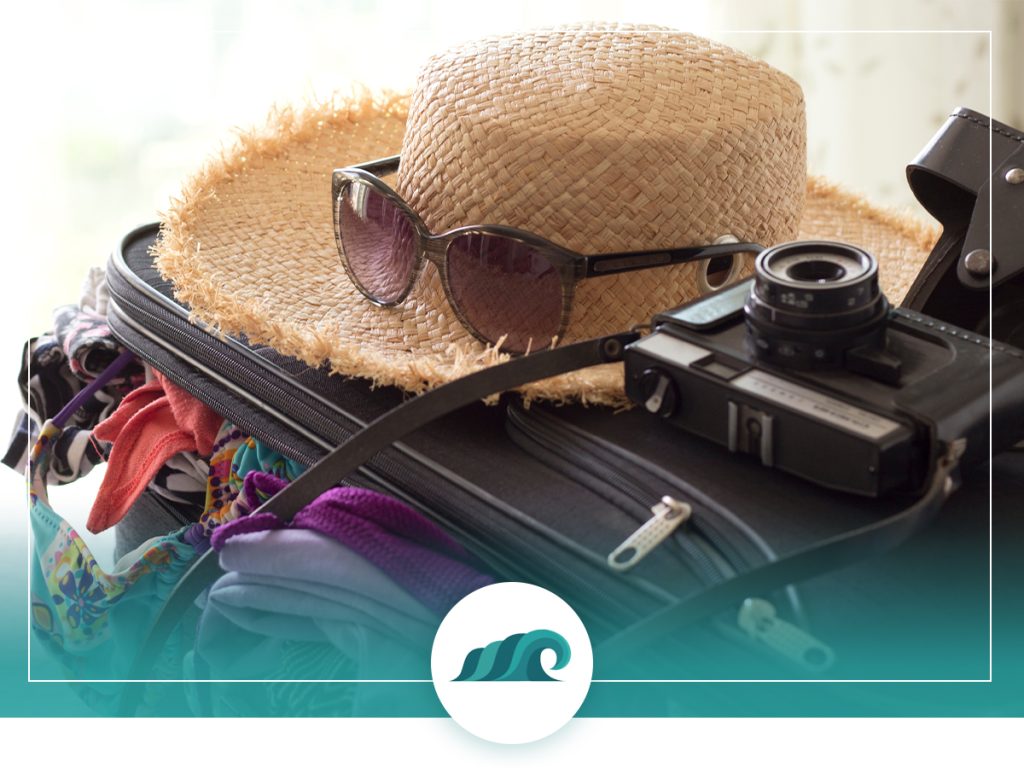 When it comes to packing for the perfect vacation for beach lovers, there are certain items you'll need to include, no matter where you're going or how long you'll be gone.
These items are essential for any beach vacation and should be packed first, as they'll likely take up the most space in your baggage.
Beach essentials include:
Swimsuits
Beach towel
Water bottle
Sunscreen with 30+ UV protection
Insect repellent
Sunglasses
Hats
Beach bag to hold your beach gear
Flip flops
ID cards
Light clothing (tank tops, shorts, etc.)
Cell Phones
While essentials are always important, other circumstances will require additional items.
Non-Essential Beach Vacation Items
Depending on your family's destination and trip preferences, you may or may not want to include other items. 
Some of these items are helpful and convenient, while others are solely to enhance entertainment – especially if you're looking to enjoy various beach and outdoor activities.
Swim goggles
Large bag to carry your beach towel and other beach items
Packing cubes to organize your belongings
Waterproof camera
Water bottles
Water shoes
Beach chairs
Beach toys (if you have young kids)
A good book
Beach tents
Dry bag
International Beach Vacation
If you're traveling internationally for your beach vacation, there are other crucial items you do not want to forget, including:
Passports
Visas
Tickets
Power adapter
Neck pillow
First-aid kit
Emergency contacts
International driver's license if required at your planned destination
Packing for a Baby or Toddler
If you're packing for a baby or toddler, in addition to the essential and specific items above, you'll want to make sure to include:
Diapers
Swim diapers
Wipes
Baby powder
Baby food and formula
Extra clothes
Blankets
Toys
Sunscreen for babies
Beach tent
Pack and Play
Stroller
Packing for a Pet
If you're bringing along a pet, don't forget to include:
Food and water bowls
Leash and collar
Pet bed
Sand toys
Poop bags
Food and treats
Vet records
ID tag with your contact information
Toiletries
It's usually relatively easy to remember your items, especially if you already use a dedicated toiletry bag. But just in case, here are all the essentials to carry along with you so that you don't have to purchase these items when you get there:
Toothbrush
Toothpaste
Body wash 
Shaving cream
Aloe vera 
Lip balm
Extra Safety
Whether you're staying at a hotel room, an Airbnb, or a beach house, certain things will ensure extra safety on your trip.
Items that are vital to have on any trip, but especially if you're traveling with young children, have health conditions, or are visiting a foreign country include:
Life Jacket
Medicines and Prescriptions
Inhaler
Emergency Contact Information
Extra Cash and Change
Safe travel bag
Phew! That's a lot to remember, but feel free to reference this beach vacation packing list and cross off the list items as you pack them to keep track. If you are not going anywhere any time soon, you can bookmark the family travel blog for future reference.
Packing Tips for Last-Minute Beach Vacationers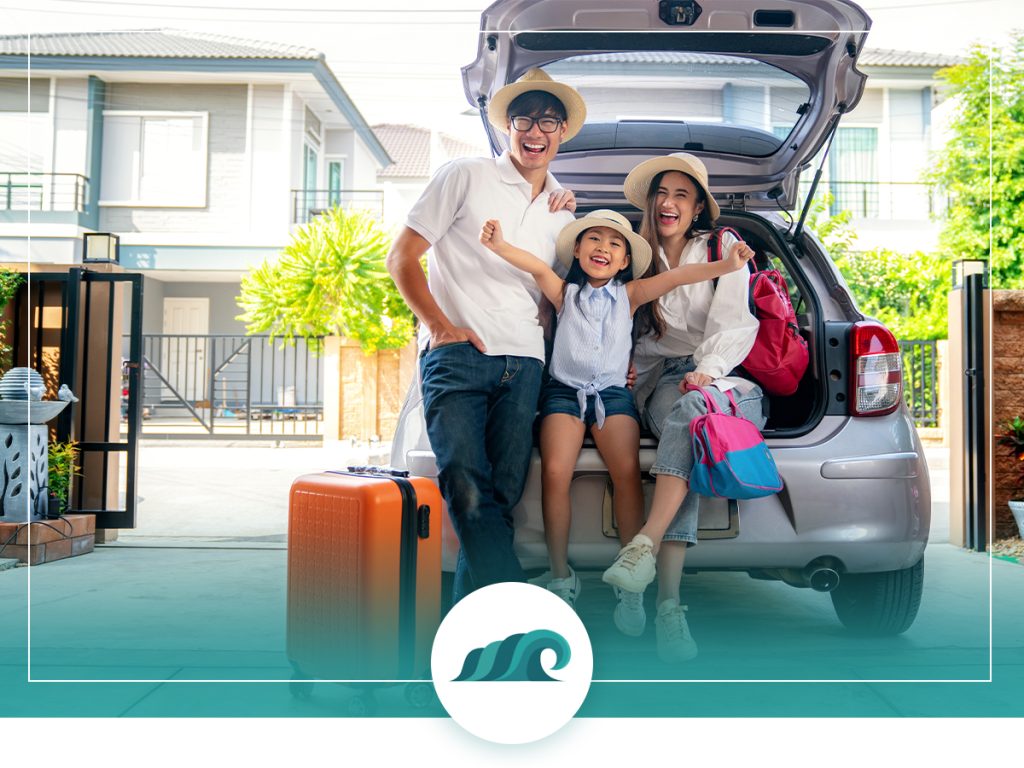 Here are some helpful tips for packing last minute for a family vacation to the beach:
Choose versatile clothing items that can be worn multiple ways.
Pack smart by rolling your clothes instead of folding them. Rolling will save space and prevent wrinkles.
Consider packing light in a carry-on-sized suitcase or zippered beach bag to avoid checked baggage fees. If you travel light, this shouldn't be a problem.
Take advantage of any space in your luggage by filling it with smaller items such as socks and underwear.
Don't forget the basics! Pack essential items such as sunscreen, swimsuits, and hats.
Check to see what your hotel rooms include (like a beach chair) so that you don't have to worry about carrying those things with you.
Keep in mind how many days you are away. If this is a 3-day weekend getaway, you will only need about three tops, three bottoms, one or two bathing suits, and perhaps one formal outfit for evening dinners.
Alternatively, if you are going on a 7-day vacation, you will need to bring more than that. However, you don't necessarily have to bring double the items because you can mix and match your tops and bottoms and wash your clothes and swimsuits in the middle of the week.
Final Thoughts
You can learn how to pack last minute for a family beach vacation stress-free, even if it's last minute. Just make sure to start as early as you know you'll be leaving, follow a beach packing list, and pack versatile clothing items. Most importantly, don't forget your sun care.
We hope you have a great vacation that the whole family will enjoy!