If you're not prepared when taking your baby to the beach, your vacation can turn sour quickly. Here are the best beach hacks for babies when heading to the shore so everyone can enjoy their time away.
Little ones can be a trifle tricky to handle when they're out of their comfort zones. Since everyone wants their time on a beach vacation to be stress-free, enjoyable, and relaxing, the key is to be prepared and think outside of the sandbox, so to speak.
I have learned from years of experience in the beach vacation industry that the more prepared one goes with all the essentials, pre-planning for play activities and other baby needs, the smoother the trip goes.
Let's delve into the best beach hacks for babies!
Prepare a Beach Bag and Baby Beach Gear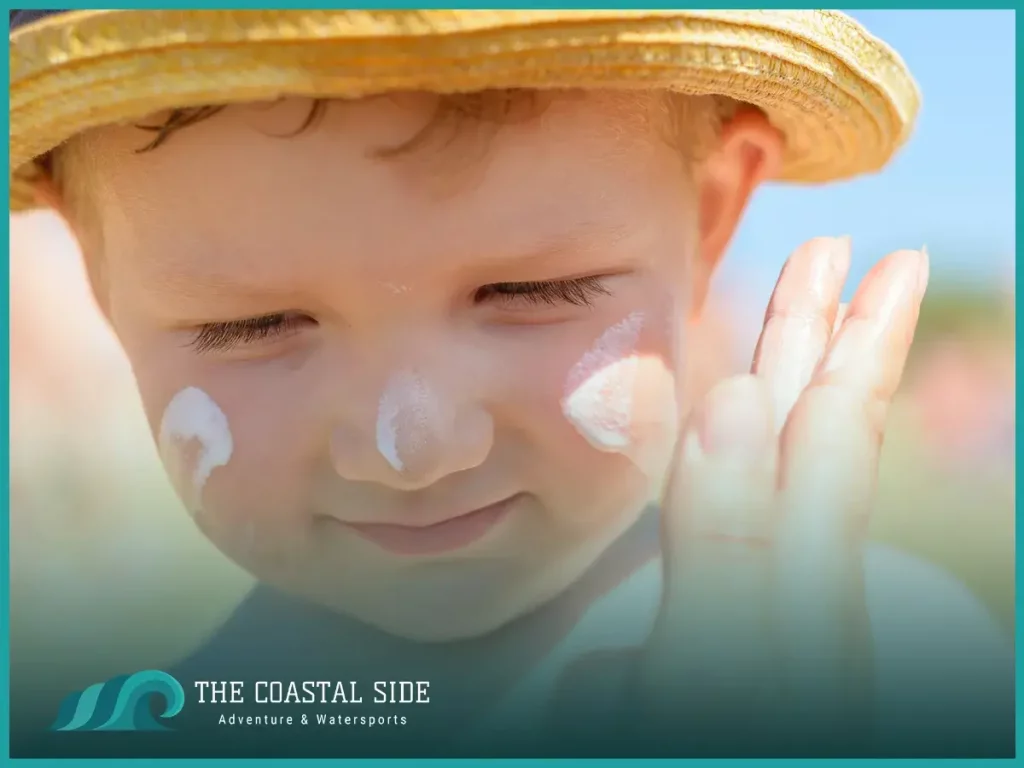 The very first thing you will need is to arrange a good-sized beach bag. If you wish to combine your baby's essential stuff with yours, find a beach bag that is large enough to accommodate all your stuff.
I do not recommend stashing all of the beach toys in your bag, too, for those will occupy too much space. But what you can do is to put one or two favorite toys inside the bag, so they're readily available for the little ones when you go gallivanting.
To avoid extra trips back and forth from the car to the beach, you may want to invest in a quality beach wagon. All of your gear can be tossed in there at once.
Essentials to include:
Sunscreen
The very first thing to go in your baby beach gear is a good baby sunscreen. Even if you plan to keep your little one in the shade throughout, you cannot skip sunscreen. Remember that the sun rays can easily reach the skin by reflecting off the water and sand, too, despite the shade.
Sunglasses
Baby sunglasses look super cute but are also super protective for the little eyes.
Hats
Try to carry at least two baby hats in the beach gear. You have to keep your baby cool. Sun hats do a splendid job of covering the head, neck, and back.
Rash Guards
Whether your little one will be swimming in the waters or the baby pool, you will need swimming suits with rash guards.
Swim Diapers
Even if you don't plan to keep your baby in the water for too long, you must keep a swim diaper bag on hand. You must also only put these on before your little one gets into the water.
Baby Powder, Diapers & Wipes
Baby powder, regular diapers, and baby wipes are essential for younger kids. Take as many of these as you think you will need to last the entire trip. Trust me, you will be truly grateful when the baby powder helps you wipe wet sand off the baby at the end of the beach day.
Milk, Formula & Bottles
Whether it's a single beach day or a several-days long trip, carry enough milk to last. Your baby needs to stay hydrated in the hot sun, so you will need lots of formula milk bottles or breastmilk.
Bring a Mesh Beach Bag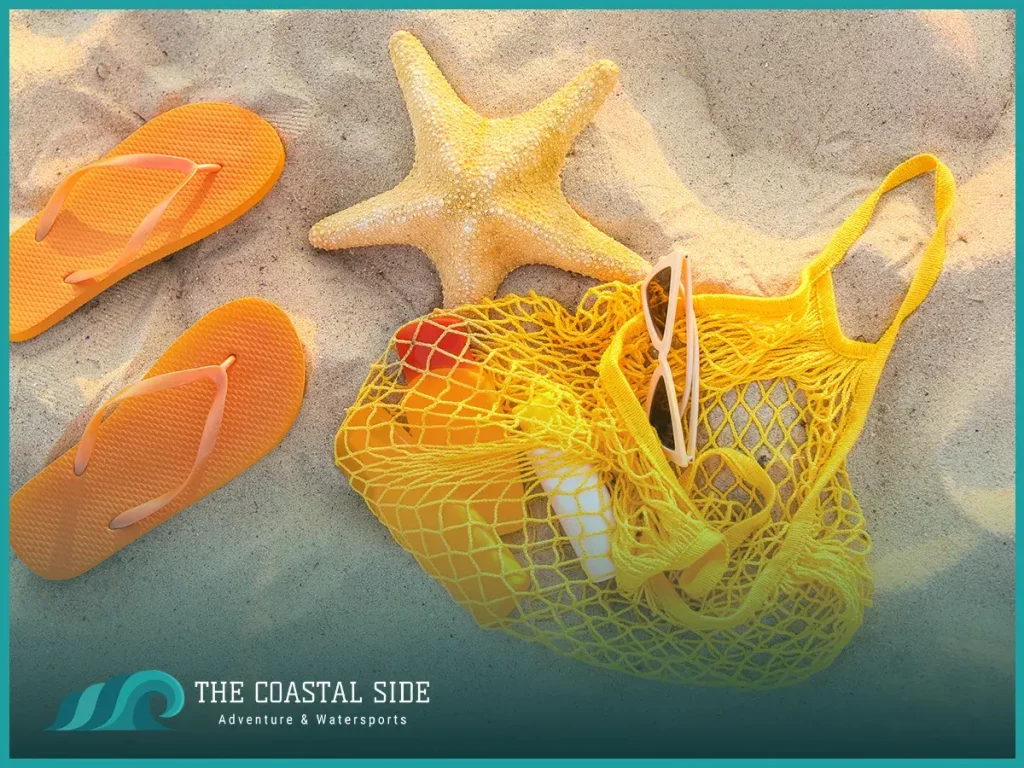 A mesh bag is the handiest tool to prevent all the sand accompanying you home from a beach outing. The fact is that every time your baby goes out to play on a beach day, the sand is sure to stick or accumulate inside the toys.
By carrying a mesh bag or even a mesh laundry bag, you can put the toys in there after shaking the sand off. In fact, you can put all the baby things that are wet from the pool or ocean water inside the mesh bag for easier cleaning up.
Pack an Inflatable Pool with Sufficient Shade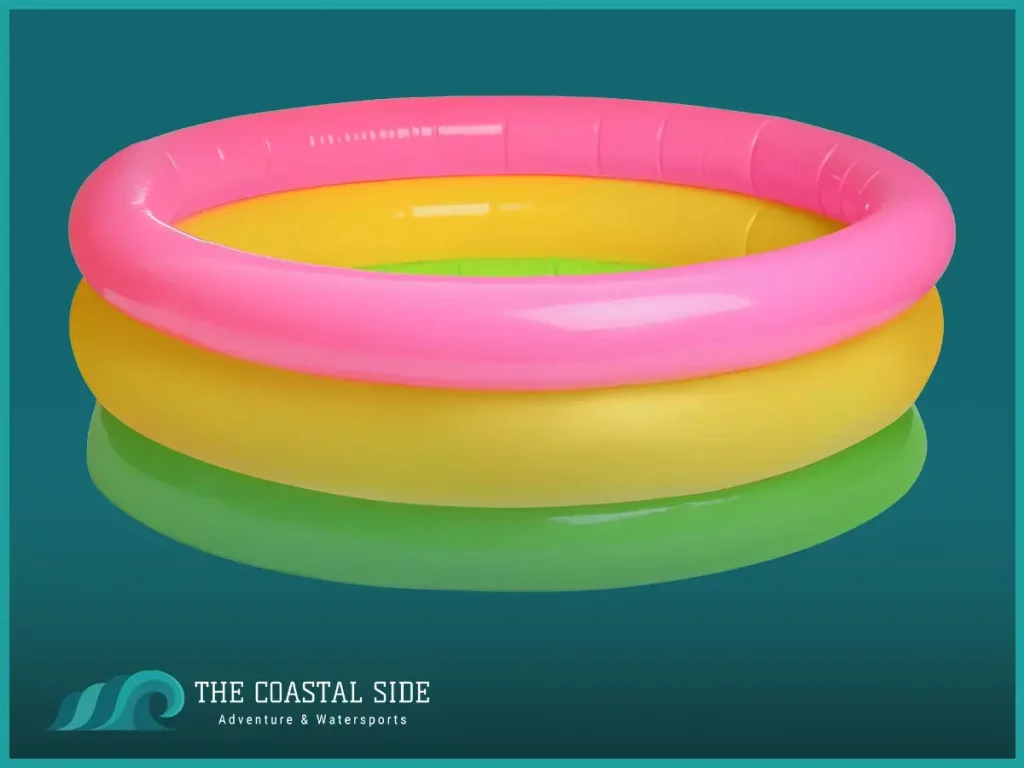 The ocean breeze can be quite overpowering at times, or perhaps your baby might be too little for a complete ocean-water experience yet. Hence, carrying an inflatable pool will ensure your baby gets in the water like everyone else, but in a controlled amount. You could add in some bath toys to have the little one enjoy more.
This is especially a bonus for parents with small babies and new crawlers who tend to put every in their mouths. Surely you don't want to worry about the little one putting rocks and sand in their mouth. A baby pool under the beach tent will ensure your little one remains contained while keeping the sand and rocks off his/her reach.
Take Toys and Gear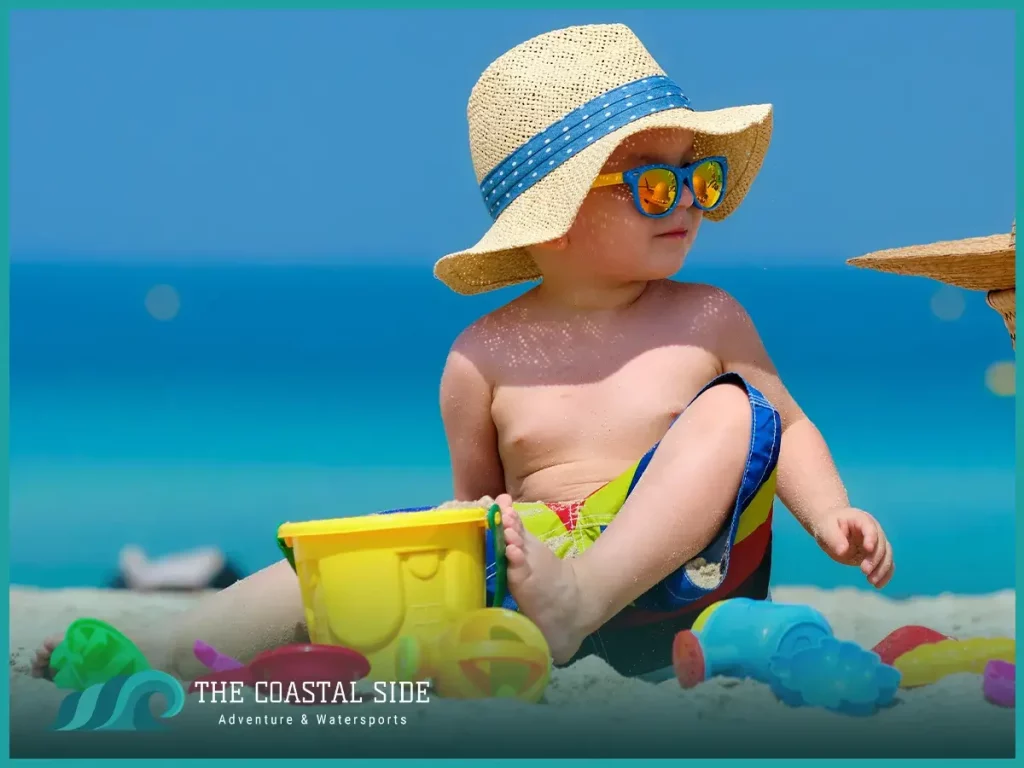 Take plenty of sand toys, beach toys, baby powder, and arrange sensory experiences.
When planning your next vacation on the beach with your little one, you can save money by purchasing beach toys from the local dollar store. Wait till you reach your beach destination to look for a local store. You will find incredible beach toys at pocket-friendly prices, I tell you.
You must organize sensory play experiences for your baby on the beach too. It will engage the young being and keep them occupied, leaving no room for unnecessary tantrums and cranky mood swings.
You could collect rocks and shells and introduce the baby to their colors and textures. Keep an eye for choking hazards, but sensory play experiences like sand fall and so help boost engagement.
A Beach Umbrella is a Must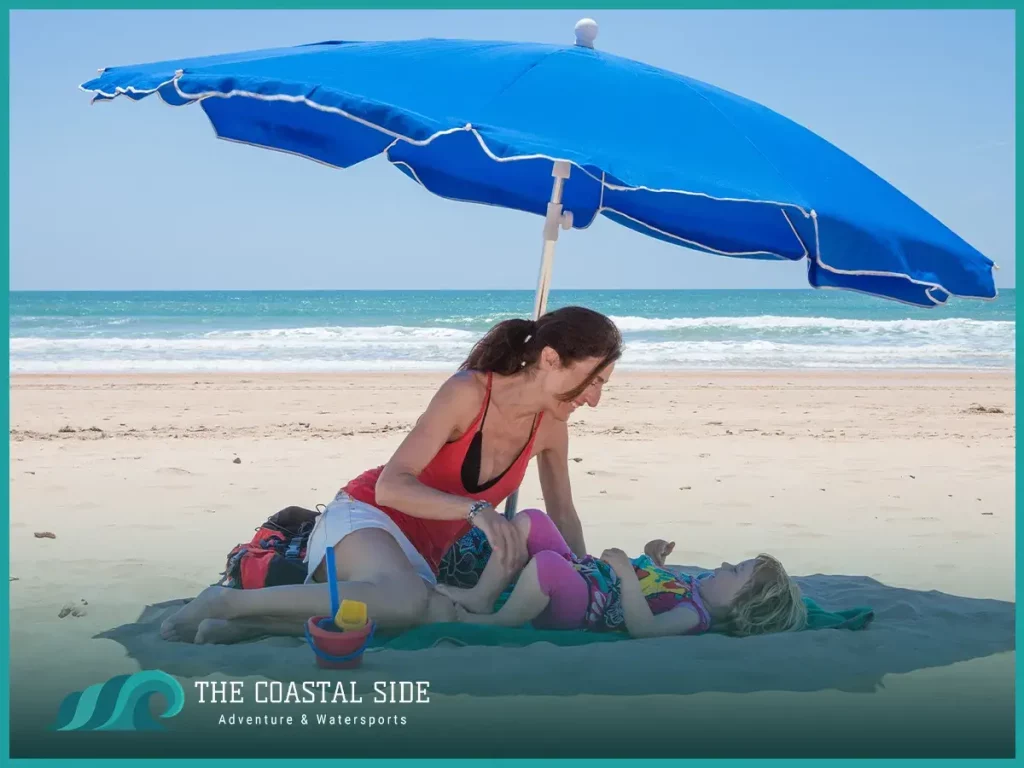 If there is one thing I absolutely insist upon, it is a beach umbrella. Never head out for a beach trip with your baby without a beach umbrella.
It will ensure the baby and the adults, too, will always have an available shady spot on the sunny beach. Constant exposure to the sun can make the skin vulnerable to harmful UV rays for everyone. Hence, an umbrella ensures the family comes cool from the sun and gives their skin a break from too much IV rays exposure too. An umbrella will also help keep your little one cool and contained on the vast beach.
Pre-Freeze Snacks for Your Little One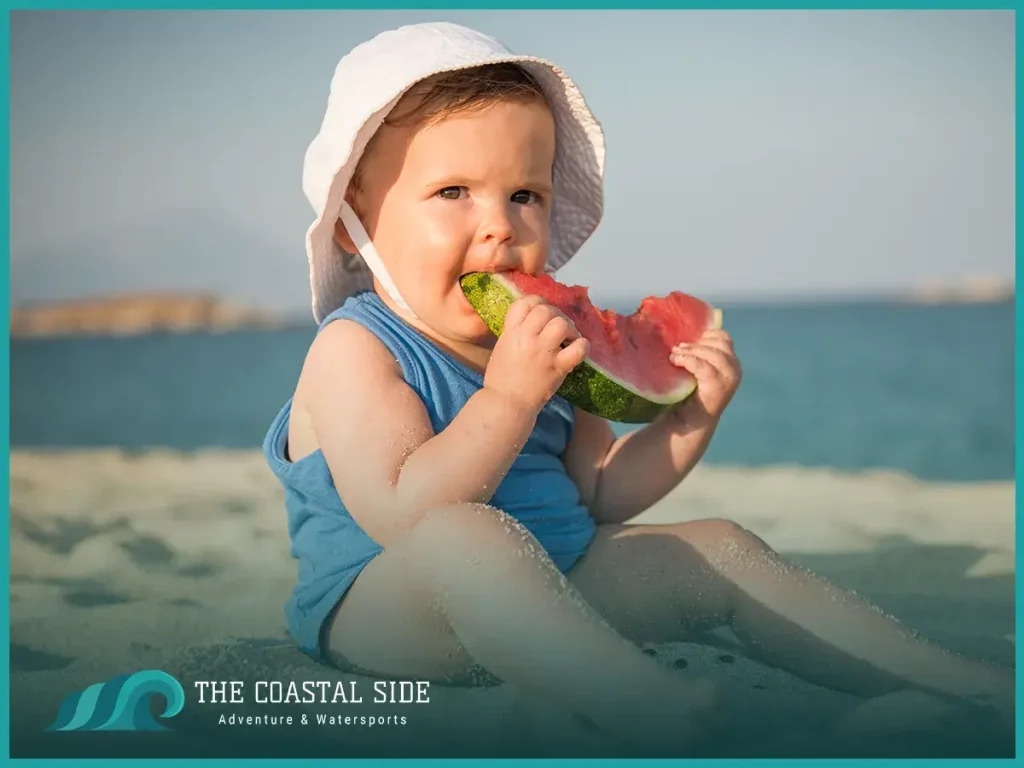 Whether it's a day at the beach you have planned with the baby or an entire vacation trip, you will have to pre-freeze water bottles, snacks, and baby food. This is especially helpful if your baby is on solid foods. Plus another advantage of freezing water bottles, snacks, and baby food for the family and little ones is that you will have cool, refreshing food to eat at the hot beach.
In fact, if the weather is humid, the family and the little one will enjoy the cool treats even more. Isn't that a great way to keep everyone comfortable and happy? Use a zippered lock bag to freeze the foods and a cooler bag for the water bottles.
Cornstarch for the Win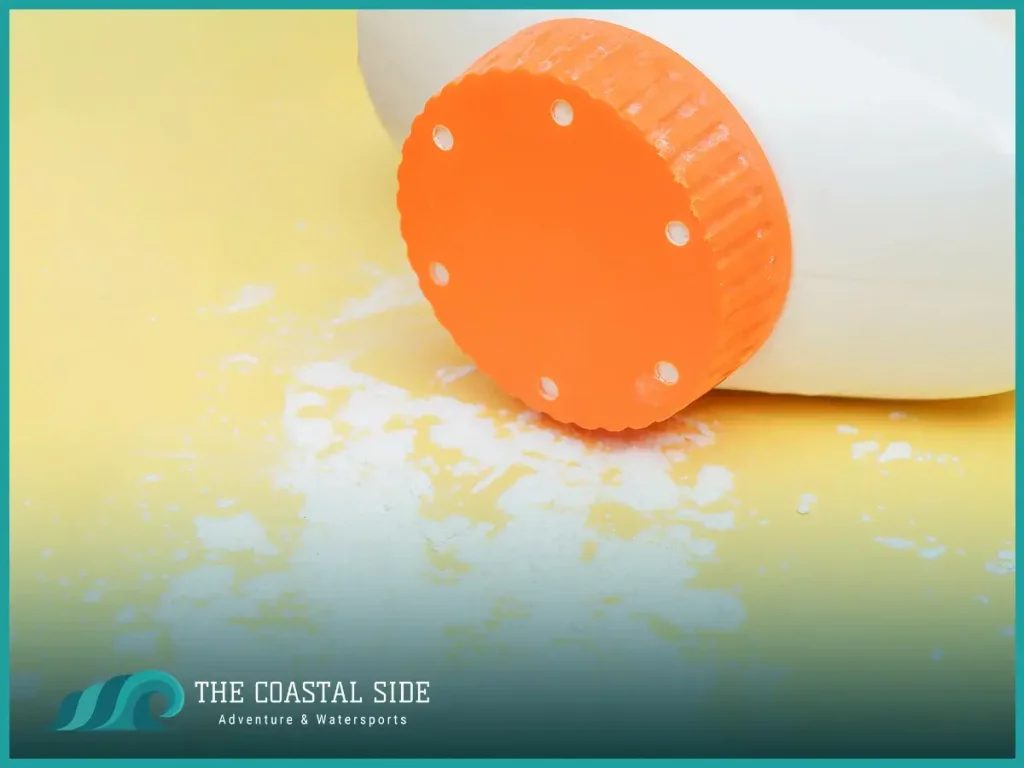 If you want to best baby beach hacks, I've got one for you right here! It is true that babies can often feel quite uncomfortable on beaches when you have to wipe sand off them time and again.
Cornstarch is your best friend in this case. You must put a small amount of it in a sock and use it to wipe the sand off your baby. This will cause zero irritation on the baby skin, keeping them happy and super comfortable.
Pack a Small Pop Up Tent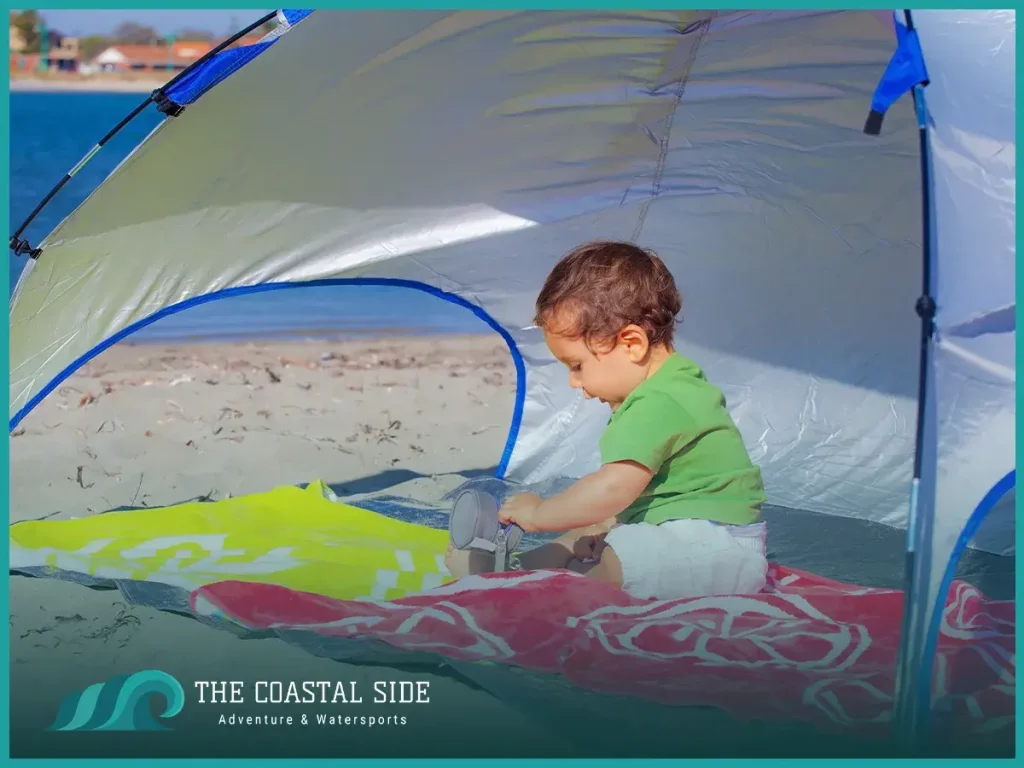 Never head out for a day at the beach without a beach tent or small pop-up tent.
You could use a beach wagon to store in the tent, but however you carry it, do remember to take a beach tent along. A tent is the best source of shade and privacy for mealtimes for the family and nap times, too, especially for the baby.
It will help keep you and the little one relaxed and well-rested throughout the trip. Experience tells us that the well-fed and well-slept babies generally have a sweeter and calmer disposition all the time.
Apple Cider Vinegar for Sunburn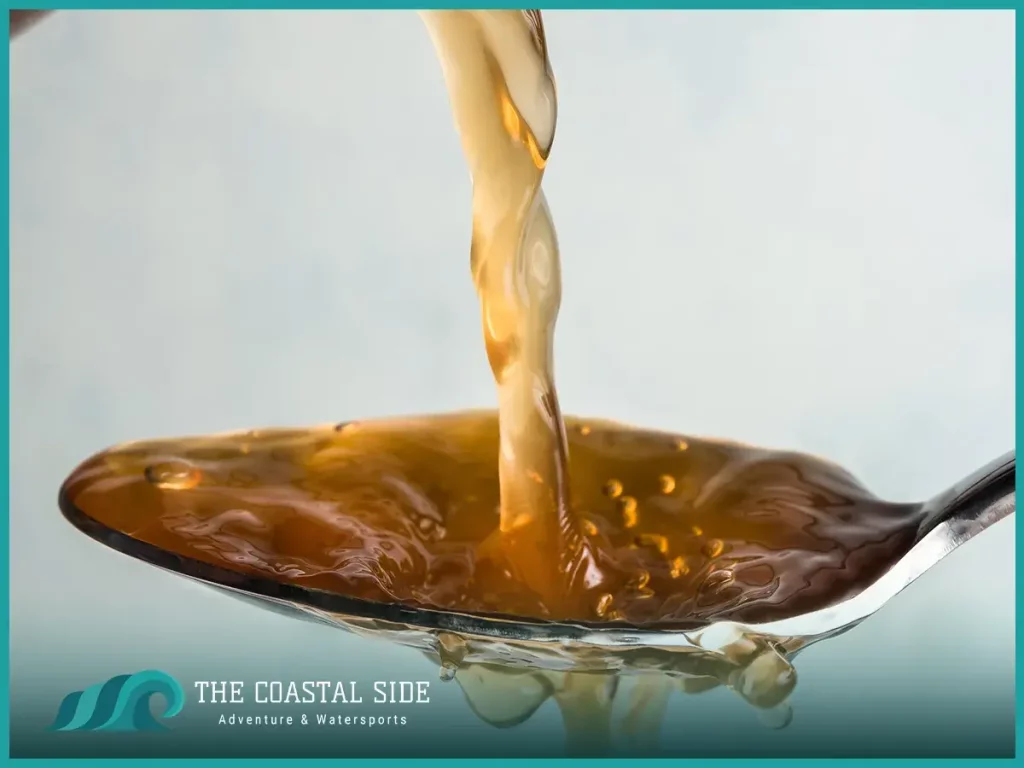 Of course, there's nothing like a good baby sunscreen and plenty of shade for the little one on the beach. But in the event your baby gets a slight sunburn while playing on the sand, you need not panic away.
Carrying apple cider vinegar is one of the best baby beach hacks. Adding a bit of this helpful ingredient to your baby's bath will help treat the sunburn effects. Before you know it, your baby's skin will feel soothed and the little one comfortable again.
Bring Extra Towels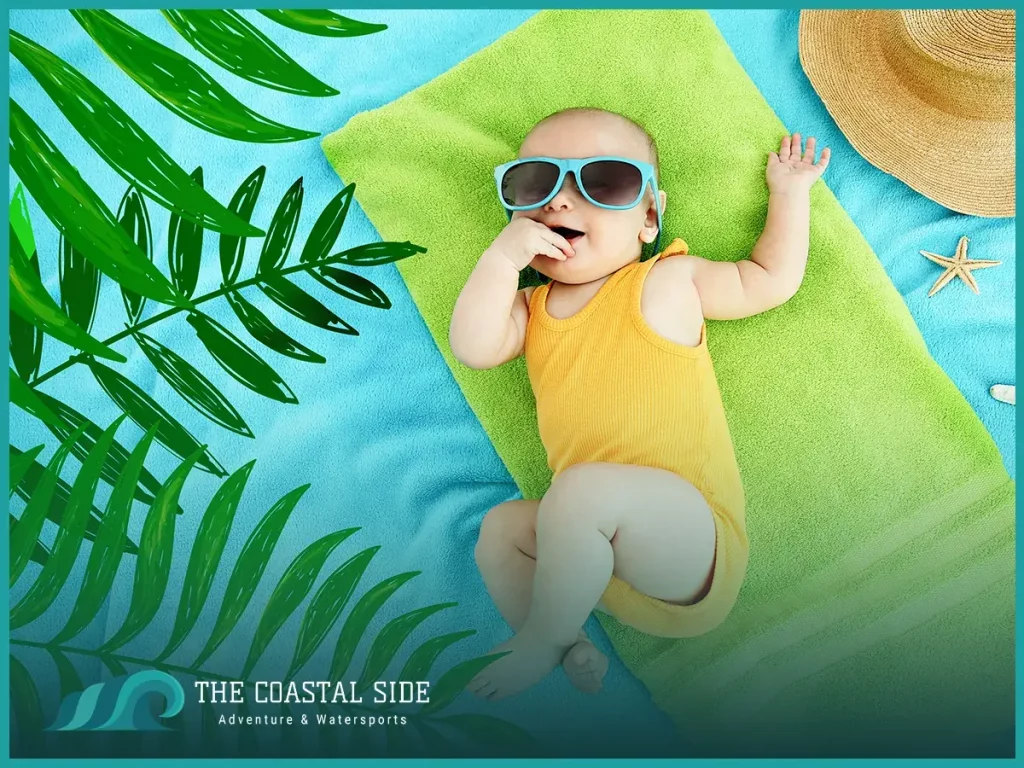 Remember to leave extra towels in your car. They'll always come in handy when you have to warm up your little one's chilled, wet body.
Remember to include hand towels in it too. You could place those in the car seats before your baby sits to make the ride home comfortable.
Tote a Water Cooler on Wheels and a Invest in a Small Fan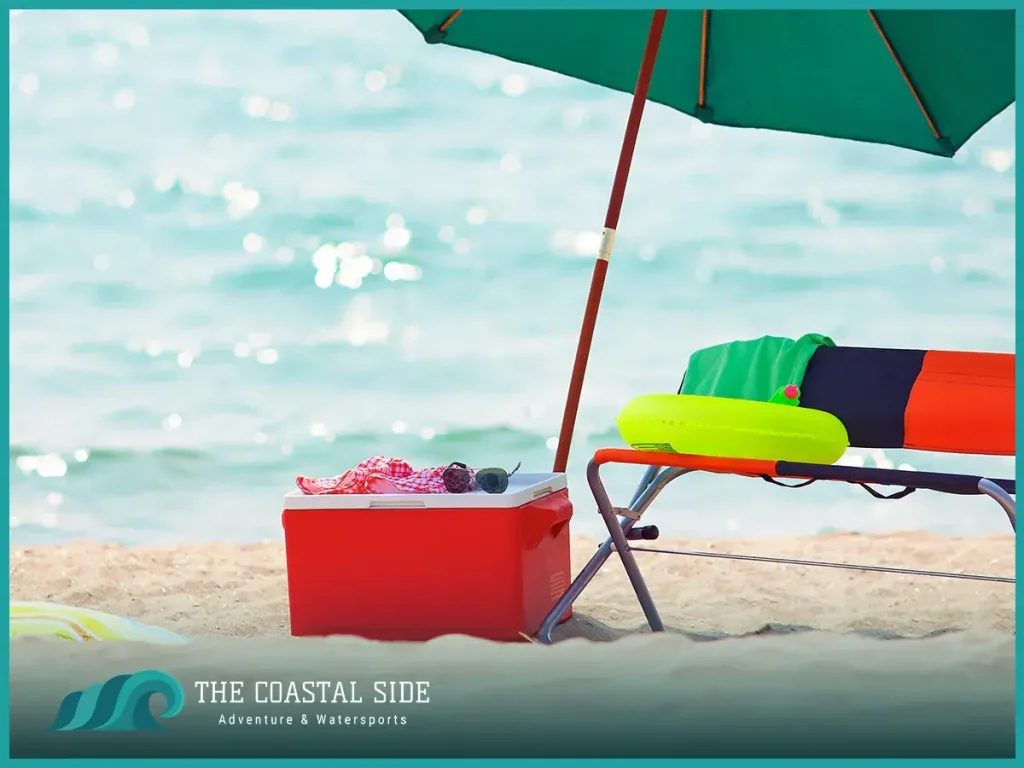 A smart parent is the one who rolls out a water cooler on wheels for a beach trip with a baby. This essential tool comes with lots of storage pockets so that you can load up all the extras in them, leaving your hands free for the little one.
Always a bonus when the heat is getting to the little one and making him/her cranky. A small, battery-operated fan will keep the baby comfortable and cool and also facilitate dozing off easily during nap times.
Pack Well Before the Beach Vacation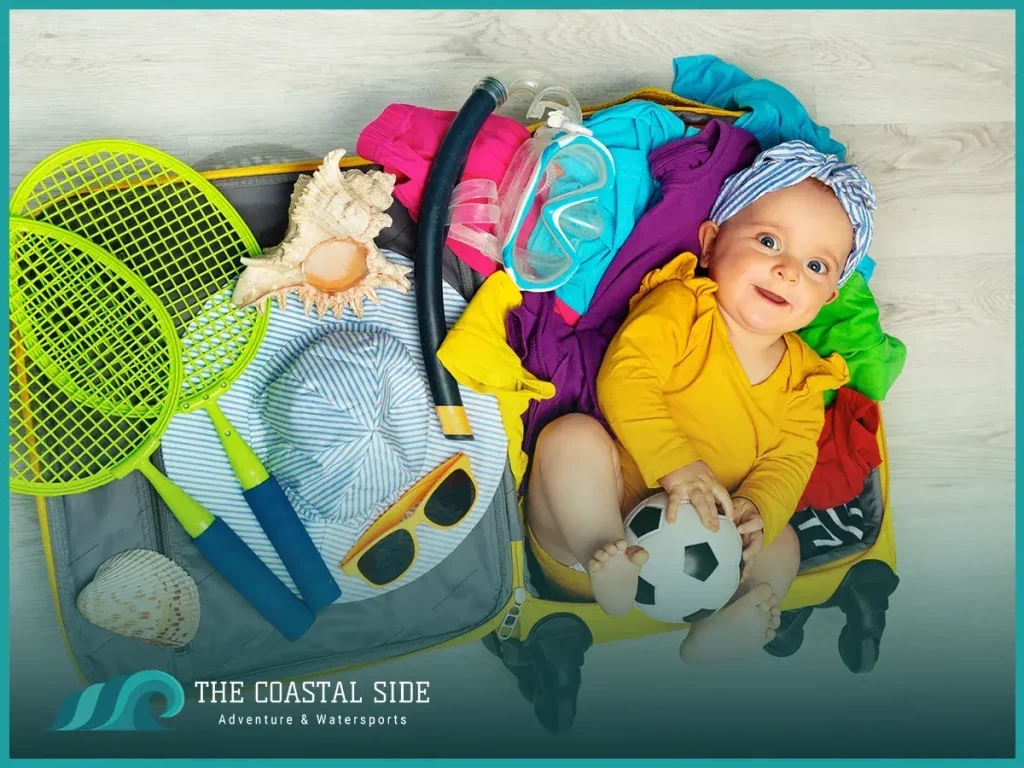 If you want to make sure you leave nothing out or are not under-prepared for the beach trip you've been longing for, then I recommend packing well in advance. Prepare a beach packing list before you begin, have your partner and other family members double-check it to add whatever you've forgotten to list.
Then pack a couple of days in advance of the trip, so you have plenty of time to make rounds to the store to buy what's out of stock at home for the trip.
Final Thoughts
Planning a baby beach trip can be an intimidating challenge, but it need not be so.
A few helpful hacks can make you sail through the entire experience and have an exceptionally enjoyable time at the beach with your baby.