Going on a beach vacation can be a stressful experience, especially when you do not know what items to bring with you. But after learning from my past stressful experiences, I decided to create this list of family beach vacation packing hacks.
Every time I get excited about taking my kids out on a fun family beach vacation, I quickly dread it because of the packing.
I realized I always rushed my packing, packed too much for our car, and everything would get messy because of sand or sunscreen. Hopefully, this packing list will help you pack all your stuff for your next beach vacation with minimal stress. 
Time-Saving Beach Packing Hacks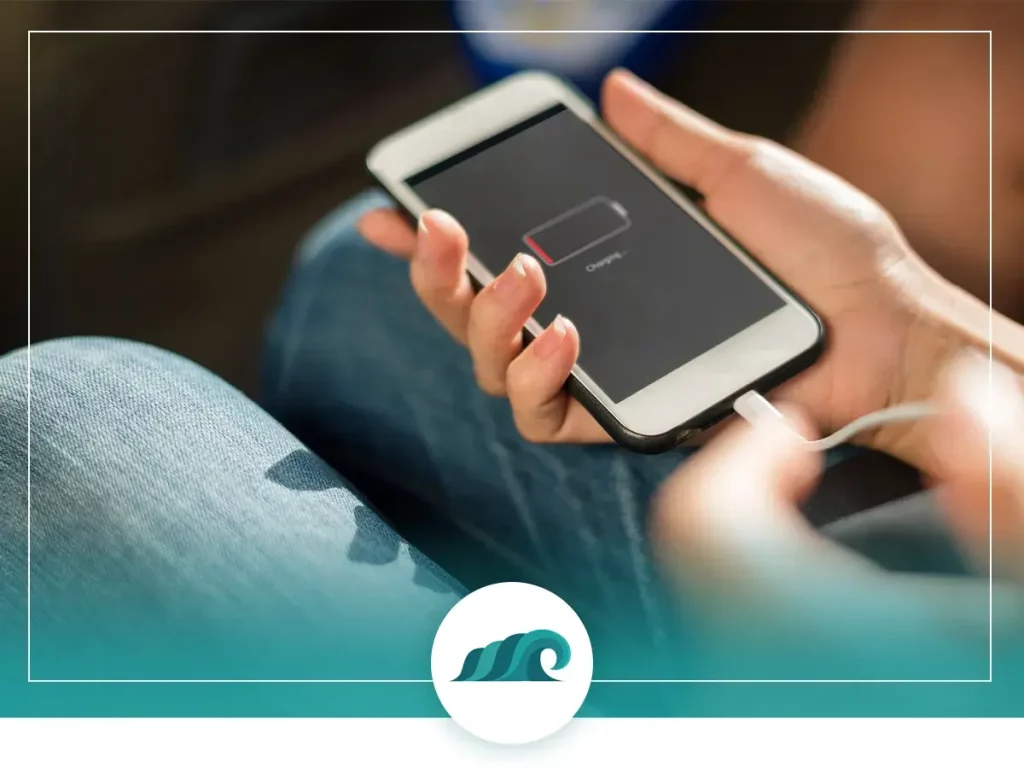 Getting ready for your family beach day is a process that should start long before you get to the beach. So it is a no-brainer that preparing for the beach the night before at the latest is the first hack. If you want to avoid rushing, you should consider packing the whole day before you visit the beach.
Pack whatever you can in advance. This includes food, a change of clothes, baby wipes, a wet bag, a first aid kit, water bottles, and other essentials on your packing list.
Charge Your Electronics
Another good idea to do the night before is to charge anything electronics including portable chargers, speakers, and of course, your cellphone. Remember to pack them before you leave for the beach!
Plan Outfits
Have you ever accidentally forgotten one of your kids' rash guards? Or perhaps their favorite hat? Maybe you did pack everything, but your kids are upset with what you packed. Try planning outfits for each family member for your next beach day.
An even better hack is getting your kids to choose their swimsuits and beach outfits. If they choose their clothes, they are less likely to get upset if they forget something. Your kids may even be less fussy about their clothes knowing they chose them!
Keep Inventory
Your list before and after you pack for your beach trip might be different. So it is a good idea to ensure you update your initial list with your final inventory. Keeping a final inventory will make your life easier, especially if you have young kids who lose things easily.
Space-Saving Beach Packing Hacks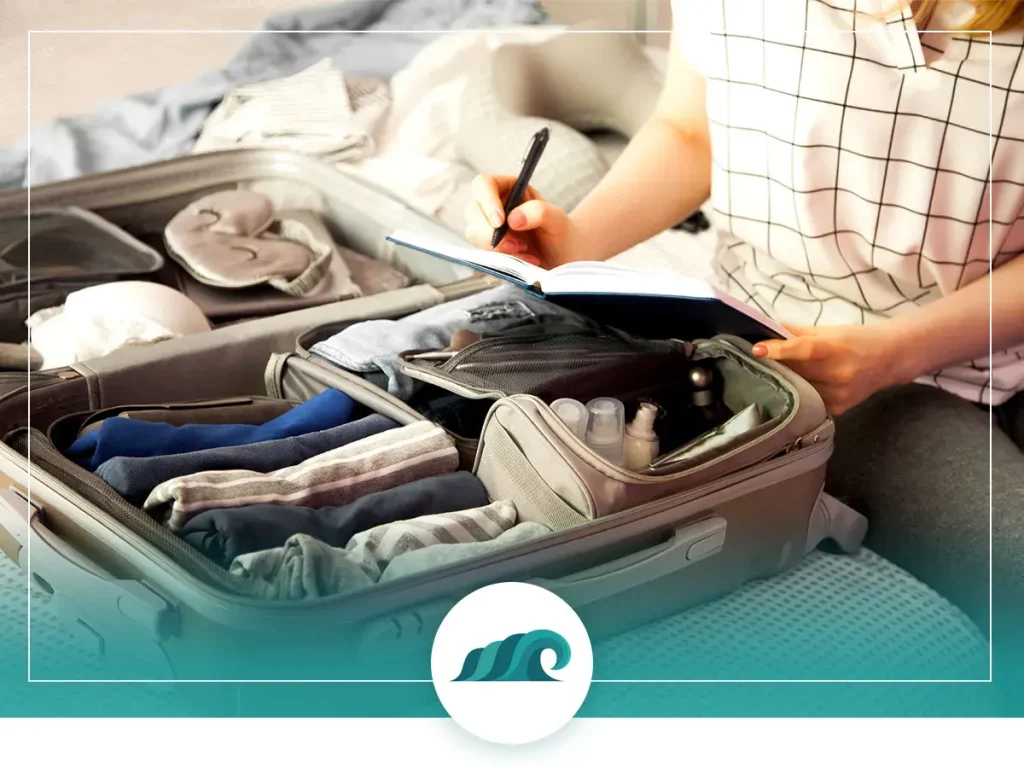 Your beach bags could get bulky or disorganized when packing for yourself and your kids. Here are ways to save space in your beach bag.
Roll Instead of Fold
Rolling up towels and clothes is a tried and true method when it comes to saving space in your bags. This hack will smooth out wrinkles and air as you tightly roll up your towels and clothes making them more compact. If you need to keep them in place, wedge your rolled towels and clothes between items in your beach bag.
Fitted Sheet Hack
One way to lighten your suitcase is to use a fitted sheet as your beach blanket. Fitted sheets are less bulkier than beach blankets and double as a makeshift playpen for younger kids.
To do this hack, lay out your fitted sheet on the sand and place a heavier item in each corner to act as a sand anchor. Then, fit the sheet over your belongings. This will ensure your sheet does not fly away on windy days.
Packing Beach Hacks To Keep Your Belongings Clean and Dry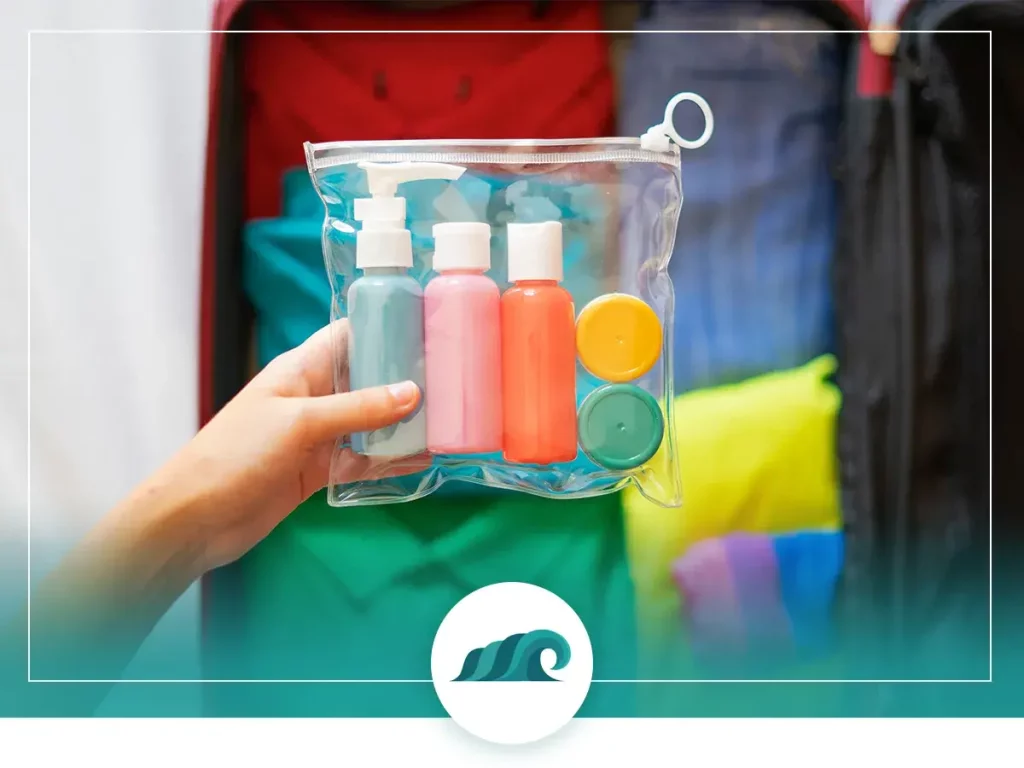 We all love tons of fun in the sun at the beach. What we do not love is water and sand ruining our belongings. 
Wrap Your Shoes and Flip Flops in Shower Caps
After you wear flip flops and water shoes at the beach and want to pack them up, wrap them in shower caps. Unlike plastic bags, shower caps have an elastic that will snugly fit your shoes and keep them from dirtying other things in your suitcase. 
Protect Your Valuables
No one wants their belongings to be a victim of water and sand damage. Luckily, there are easy ways to prevent them from getting wet or sandy. Any plastic container with a lid or can close will secure your valuables, including:
Zip lock bags
Plastic Tupperware
Clean plastic jars with lids
You can also search for and invest in dry bags, smartphone pouches, or waterproof beach bags with a lock to secure your things while you go out for a swim. Of course, the ultimate hack is to leave valuables in your house or hotel so that you don't have to keep watch at the beach. 
Contain Your Liquids and Creams
Protecting your valuables from external elements is as crucial as the internal ones like your sunscreen, aloe vera, or any other liquid you plan on bringing to the beach. This hack involves two items you most likely already have in your pantry: zip lock bags and plastic wrap.
First, use plastic wrap for extra protection for liquids and creams with screw-on lids. To do this, remove the lid of your liquid or cream, put plastic wrap over the opening, and then screw the lid back on. 
Second, place your liquids and creams in zip lock bags. You may have to use multiple zip lock bags to carry your liquids and creams. You might also want to bring an extra bag if one rips or breaks. Remove the plastic wrap when you need to apply sunscreen or use any of your liquids and creams. Just make sure to put the plastic wrap back on to prevent spills.
You can also use this hack for baby powder if you have little ones.
Baskets for the Sand
No beach day is perfect without sand toys, beach balls, frisbees, boogie board, and whatever beach gear you and your kids use for fun activities. Unfortunately, they all end up wet, covered in sand, and can be bulky to pack. This is where baskets come in handy.
For those with extra space in the car, use any plastic laundry basket to throw in beach toys, boogie boards, frisbees, and whatever else you plan on bringing. You can also use a foldable mesh hamper to carry your beach gear if you do not have enough trunk space.
If you do not have any baskets, you can use mesh bags, which can be overpacked into a large suitcase and taken out whenever you need them.
Summary 
Admittedly, packing for any family travel can be stressful and make you forget essentials and little details, but it does not have to be.
Rest assured that with this list of family vacation packing tips, you are ready for any beach vacation that you and your kids will be spending quality time in the sun in no time.