The Intex Explorer K2 is one of the most popular inflatables on the market and is priced with budget-conscious kayakers in mind. It's by no means a kayak for rapids or heavy-duty use, but when it comes to recreational kayaking on lakes, ponds, and rivers, you'll have a tough time finding a better bang for your buck.
I had the opportunity to test it out on several occasions, and have been seriously impressed with its design, performance, and overall value. Let's review the Intex Explorer K2 Kayak in more detail.
Specifications
Weight Capacity: 400 lbs.
Length: 10 feet 3 inches
Width: 3 feet
Weight: 6 lbs.
Capacity: 2 persons
Intex Explorer K2 Kayak – Review
First Impressions
The whole kit – which includes two collapsible paddles, a high output air pump, a skeg, two inflatable seats, and a repair patch kit – comes in a large duffel-style transport bag.  The bag is roomy and has enough space to stash a few extras like dry bags, life jackets, and electronics.
Upon unfolding the kayak, you'll notice the vinyl material feels relatively tough and durable. It's not the heavy-duty tarp-like material you'll find on expensive inflatables, but it's significantly tougher than cheap toy inflatable material.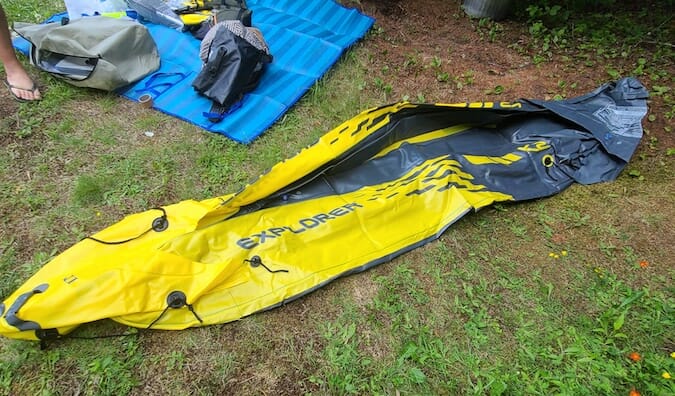 The kayak has three main inflatable chambers – the two sides and the I-beam floor. This design provides a decent level of rigidity and ensures that should a leak or puncture occur, the craft will still remain afloat.
Set-Up
Setting up the kayak is fairly straightforward, with the full setup taking about 10 minutes. The included air pump works well, but if you want to increase the inflation speed you may want to upgrade to an electric pump.
Both side air chambers feature Boston valves – which work well and won't allow any air to escape as you inflate them. The seats and floor chamber unfortunately don't feature this type of valve but are still fairly easy to inflate as long as you're careful to keep the pump in position.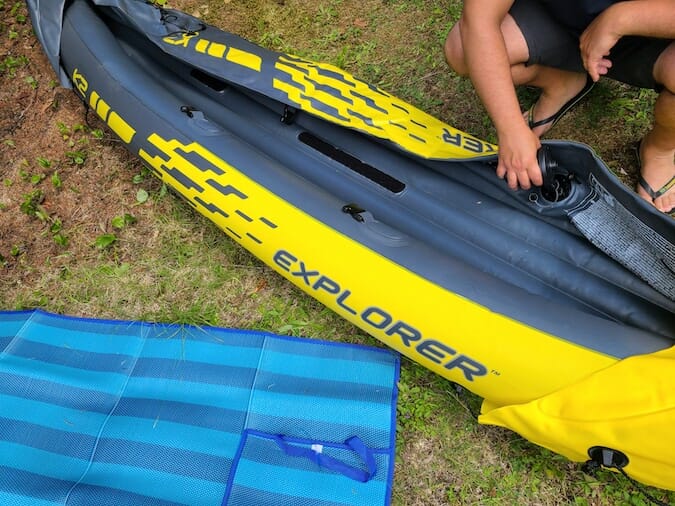 One cool feature Intex has included is a measurement scale that gives an indication of when you've hit the correct level of air pressure. To use it, simply place the clear plastic strip on top of the indicator printed on the side of the air chamber. When the two scales line up, you've achieved the ideal level of air pressure. This removes any guesswork when you're inflating, and prevents issues from over or under-inflation.
Both the bow and stern of the kayak feature small inflatable spray decks. These will help keep water from working its way into the hull when you're in choppy water. They're a little on the small side though, so don't expect them to keep your craft dry in rapids or whitewater.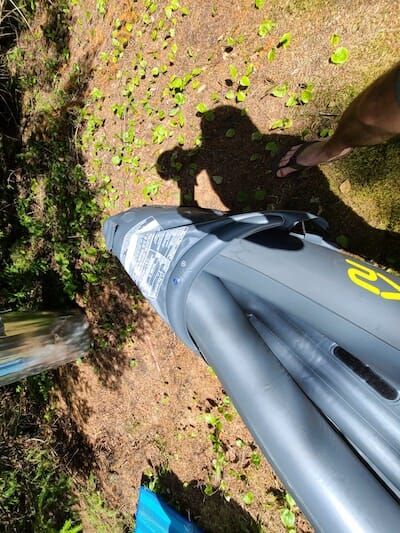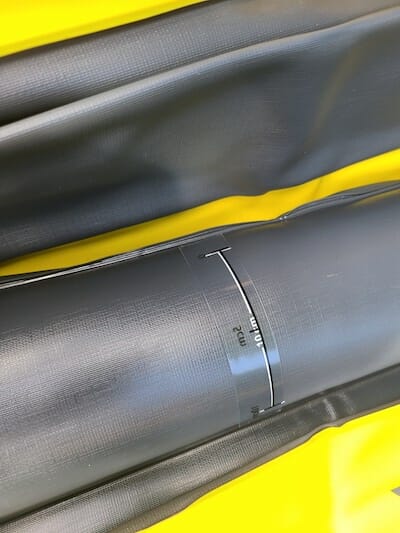 Another useful feature is a string line around the perimeter of the spray decks. This is useful for attaching fishing accessories, dry bags, floaties, and other items that you may not have room for inside your craft. You can also use these string lines for tying the craft to a dock or even to another kayak.
Seats
The inflatable seats are another strong point for the kayak and are especially impressive considering the kayak's price point. Inflating and installing them takes just a few minutes, and they're actually pretty comfortable to sit in for long periods of time.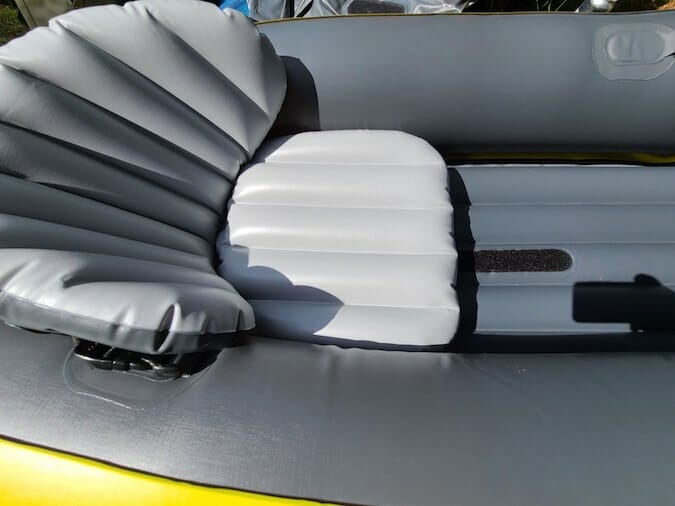 Securing the seats to the floor is done with a Velcro system – which also allows you to adjust the forwards and backward positioning of the seat. The seatbacks are secured to the side chambers with an adjustable buckle, so you can set the exact positioning of the backrest.
Paddles
The two included aluminum five-piece paddles collapse down to the length of the paddle blade. This makes them highly portable, but they're not the most solid feeling paddles out there. They have a decent level of play to them, but that's to be expected with paddles of this type.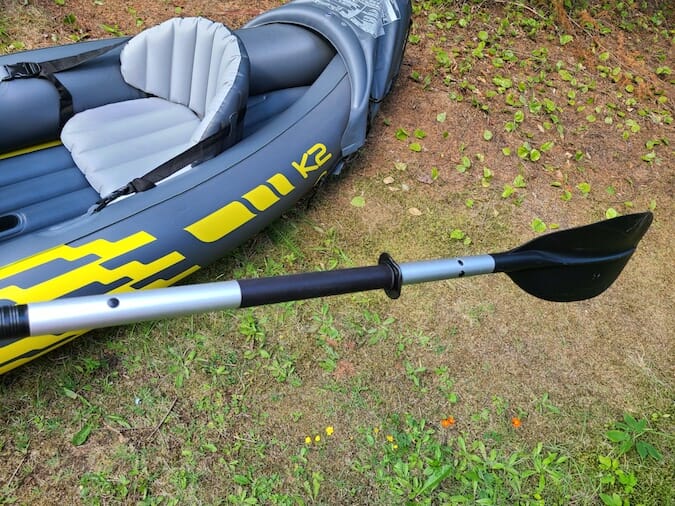 If you're looking for one item in the kit to upgrade, I'd recommend ditching the included paddles and getting something a bit more solid.
Skeg
The included skeg mounts to a slot on the bottom of the kayak. This is a nice feature for a cheaper recreational kayak and is key if you're going to paddle in flat water lakes or ponds.
Performance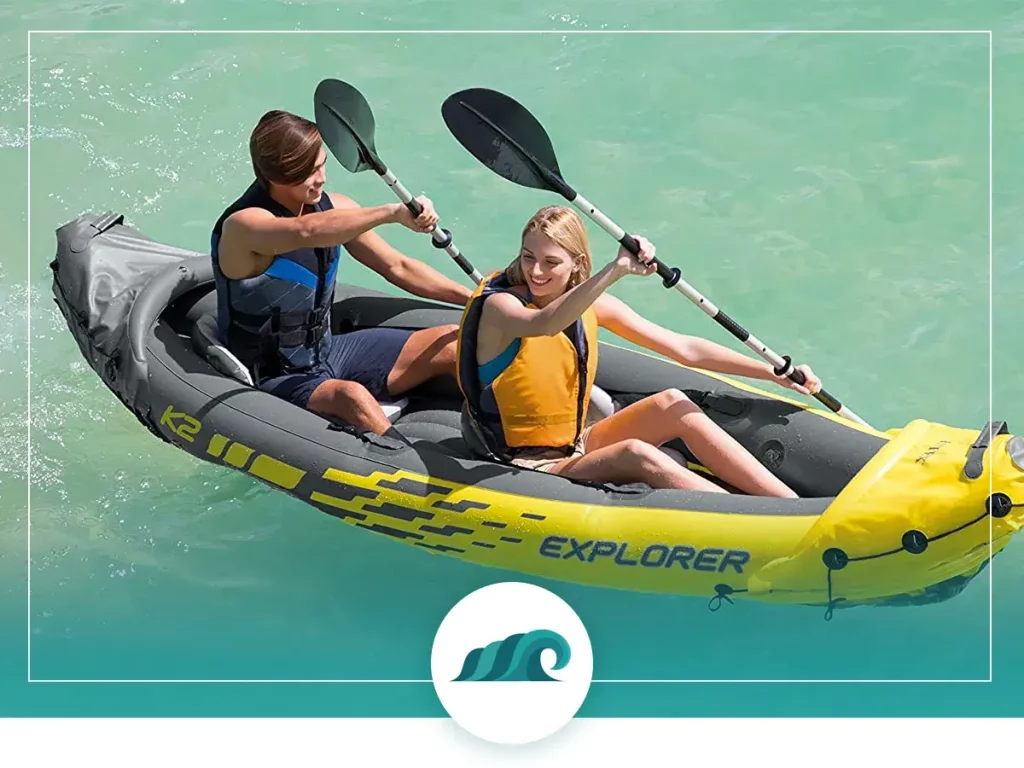 Getting in the kayak is fairly easy, as the wide beam provides plenty of stability. Carry handles on both the bow and stern allow two people to easily transport the craft down to the water.
As you get in the craft and start paddling, the first thing you'll notice is how comfortable and smooth the kayak is. There's enough room for two full-grown adults to sit and paddle comfortably, but don't expect much extra storage space.
The side chambers provide a stable and comfortable platform to paddle from. Paddling is fairly comfortable and efficient, and the craft moves through the water surprisingly smoothly for an inexpensive inflatable.
If your paddling on a lake or pond, I'd highly recommend using the included skeg. This will keep the craft tracking effectively and will lower the effects of wind. Paddling without the skeg is a bit inefficient, as the craft tends to drift from side to side as you paddle.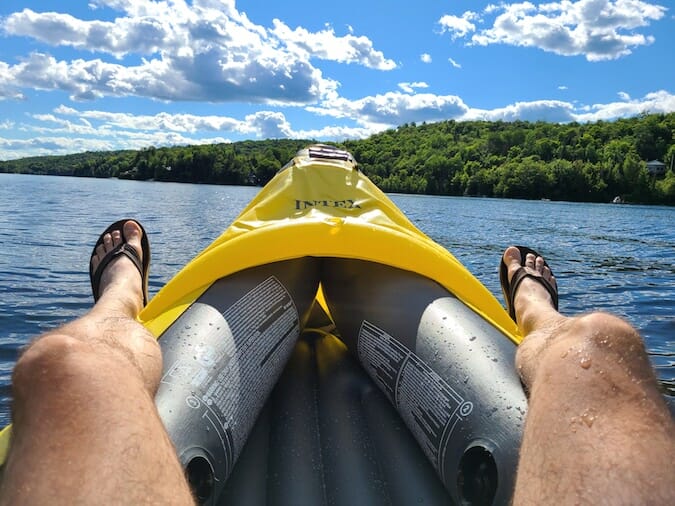 You can achieve a good pace when paddling tandem, but don't expect to get the same level of efficiency as you would from a hard-bodied kayak. Overall, the craft performs above expectations for a basic recreational inflatable, and could also be used for fishing or even light river use.
The craft also works well when paddling solo, and the adjustable and removable seats allow you to easily set it up for solo paddling.
Deflating and Packing Up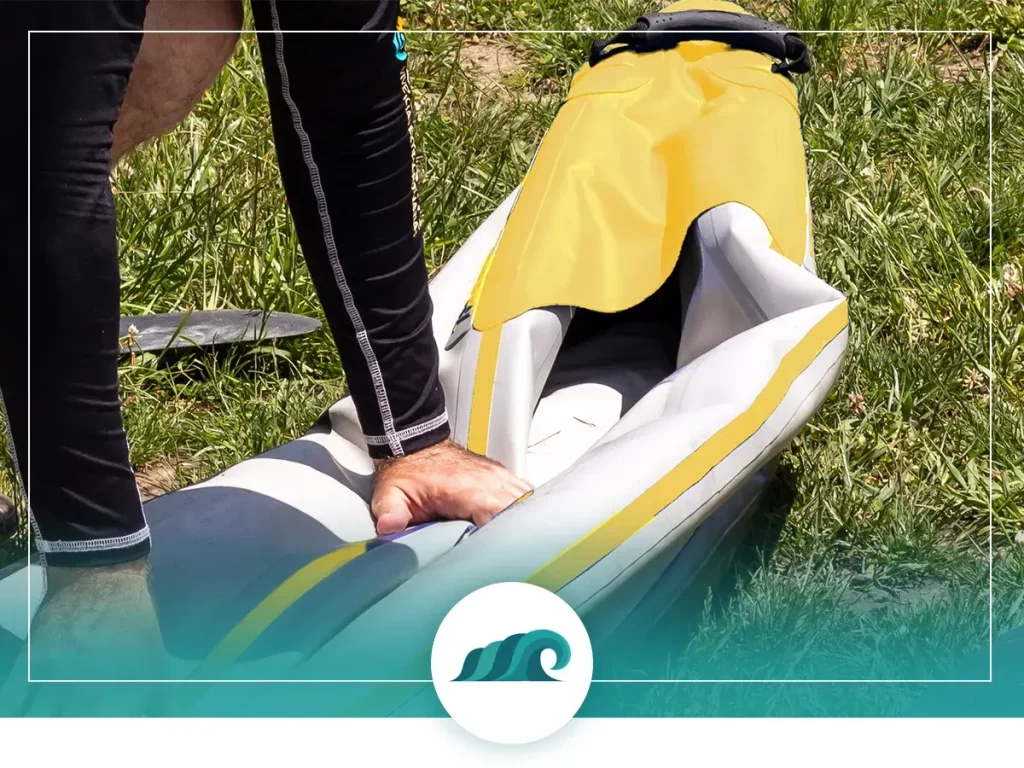 When it comes time to pack up and take off for the day, the Intex Explorer K2 is quick and easy to deflate. The Boston valves on the two side air chambers allow you to rapidly deflate the main air chambers, while a quick drain valve on the floor allows you to rapidly remove any water that's collected inside the craft.
Like other inflatables, you'll want to let the entire craft dry off completely before folding it up and packing it away for good.
Accessories
One of the major pluses of the Intex Explorer K2 is the included accessories. For a relatively budget price you get a solid kayak plus a full set of kayaking accessories. In addition to the paddles, seats, and skeg discusses above, the kit also comes with a high output pump, a patch kit, and a carry bag.
The high output pump works well and allows you to inflate the entire boat in less than 10 minutes. An electric air pump will definitely make inflating and deflating faster, but if you're planning to use the craft occasionally the included pump will work fine.
I haven't had the opportunity to use the patch kit – knock on wood – but the fact that it comes included is a nice little bonus. If you happen to find yourself somewhere remote with a leak in the craft, you'll be able to repair it yourself without much trouble.
The carry bag is decent quality and has enough room to stash some extra kayaking gear.
Wrap Up
In review, if you're looking for an inexpensive inflatable kayak for casual use, you'll have a tough time beating the Intex Explorer K2. It's easy to set up and tear down, performs well in a variety of paddling situations, and comes with a full set of accessories.
Intex Explorer K2 Kayak, 2-Person Inflatable Kayak Set with Aluminum Oars and High Output Air Pump
Comfortable for anyone: Kayak includes an adjustable inflatable seat with backrest; Cockpit designed for comfort and space

Dimensions: Inflated size 10 feet 3 x 3 feet x 1 feet 8 inch; Maximum weight capacity: 400 pounds

Directional stability: Removable SKEG for directional stability

Increased visibility: In case of emergency, bright yellow color helps visibility

Made for smaller bodies of water: Explorer k2 is made for smaller bodies of water including lakes and mild riv
Prices pulled from the Amazon Product Advertising API on:
Product prices and availability are accurate as of the date/time indicated and are subject to change. Any price and availability information displayed on [relevant Amazon Site(s), as applicable] at the time of purchase will apply to the purchase of this product.
It's one of the best values you'll find as far as inflatables go, so if you're looking for a decent inflatable without spending an arm and a leg, look no further. If you're looking for an inflatable that can handle longer trips, whitewater use, or serious fishing, then you'll want to step up to a heavier-duty model.