One of the great challenges that can sap the fun out of any family beach vacation is avoiding over-packing. This article covers packing tips for how to get organized for your next family beach vacation trip or any future beach vacations, be it for one afternoon or an entire vacation.
Between beachwear, regular clothes, food, towels, toys, etc., it is easy to end up with much more stuff than you will ever use. It may seem as if overpacking is inevitable.
The best way to avoid overpacking for trips is to define your limits, be highly organized and consolidate everywhere you can once you know what you need.
It is also good advice for anyone planning a trip, even if they are going solo.
In this article, we'll help you learn how to assess what you typically need for your beach destination and how much of it you will actually use. Additionally, we'll show you how to organize for optimum utilization and point out useful minimalist packing tips to help you pack smarter. And lastly, we'll identify what you can do without, how you can consolidate, and how to create a packing list to save time when packing.
With these tips, you'll surely know how to not overpack for a family beach vacation.
Figure Out Your Packing Limits for Your Beach Vacation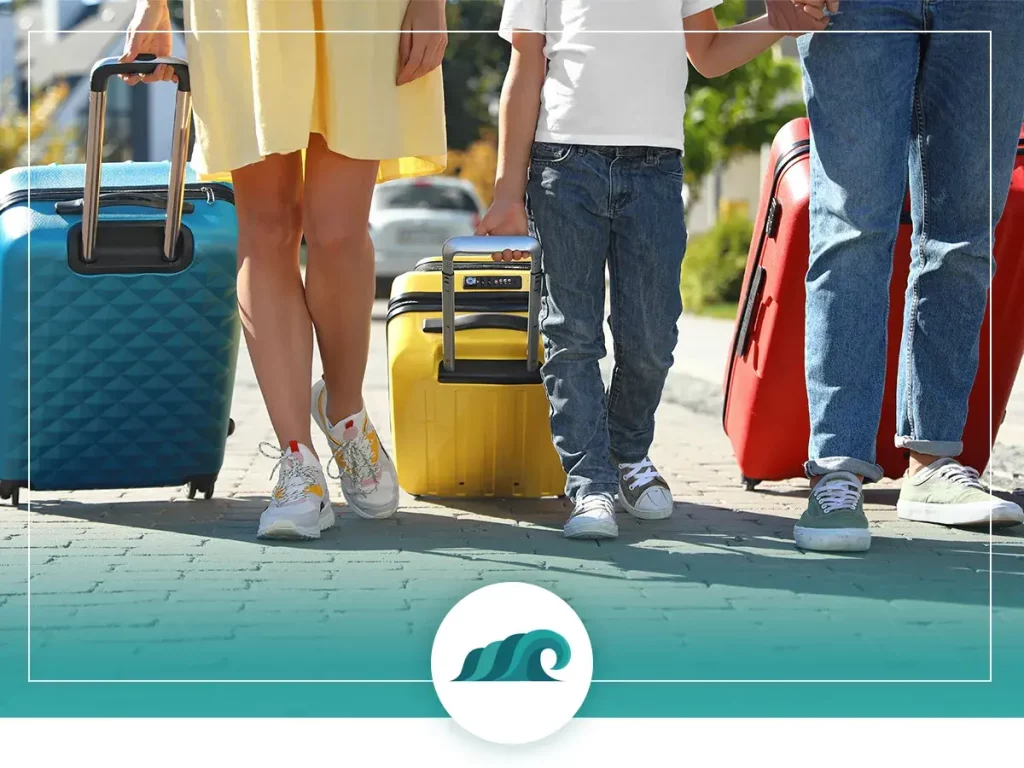 Every trip, whether on a plane, boat, train, or car, has luggage limitations per passenger. With some modes of transportation, weight limits define what you can bring, and you must follow them to avoid an additional cost. With others, available storage dictates what stays and goes to the vacation spot. Defining necessities can be especially challenging when you are packing for young kids.
Knowing that limit for your upcoming vacation is key because it lets us impose a limit on our packing that overrides any discussion about needs and wants, limitations, or overpacking. If the family vehicle can only accommodate one suitcase per person to have room for equipment and food, then organizing travel items becomes simpler, if not easy.
If storage is not an issue, then you need to apply a system to determine what you and your family should bring on vacation and what should be left alone. The most logical approach is to apply a "want versus need" formula to your packing decisions.
Organize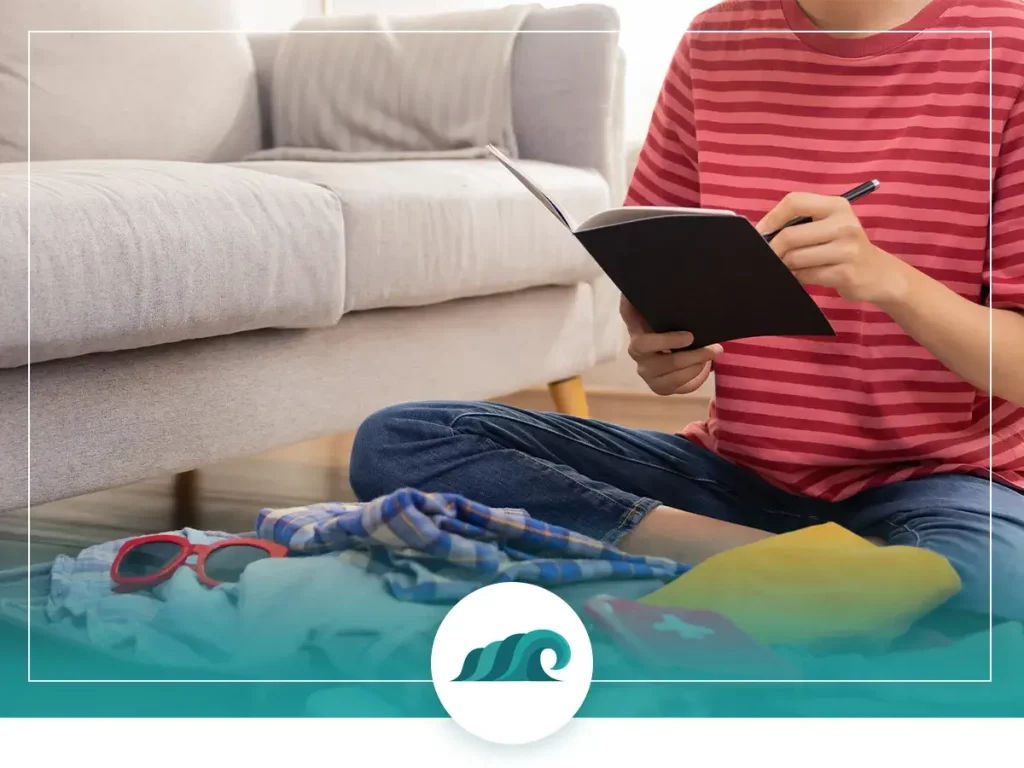 That brings up the second phase of ensuring you do not overpack for a vacation. In this phase, you will plan out what you need for every moment you are on vacation. That will allow you to create a framework for packing light.
For example, if you have a family of four and are planning a 6-day beach trip, you should list the items each person will need to bring for themselves. You might list out six each of non-beach outfits, beach outfits, beach towels, one pair of beach shoes for each person, and sets of clothes for after you are seaside.
In addition, you'll need to make a list of the items you need to bring for your whole family. This might include luggage for four people, nonbeach entertainment, food for everyone, and toiletries for everyone.
Questions To Ask
How to not overpack for a family beach vacation? Ask yourself a series of questions to ensure that you don't forget any essentials and don't pack any extra items.
How long will you be gone? How often will you go to the beach? What are the favorite beach activities of the family, and what equipment is needed? How many clothing changes will you need in a day for the entire family? How much luggage and luggage storage room do you need?
How many nonbeach items are you bringing? Are you bringing entertainment for when you are not at the beach? How many meals will you eat in or eat out? What food are you bringing? What toiletries will you need for everyone?
The answers to these questions can help you figure out what you really need, can consolidate, or even leave at home. For instance, consolidating nonbeach outfits opens up luggage storage area if you are spending most of your time on the beach. You may also find that you can share some toiletries or consolidate beach toys and equipment to use less space.
Make a Checklist for Your Beach Vacation
Once you know what you need for the whole family and what you can consolidate, make a beach packing list of every item you want to take on your trip. Select items based on the order of the list. Selecting items that way will help you keep related items in one place and in a logical sequence for when you put them in luggage.
Remember to include beach essentials on your beach trip packing list. Items like a beach bag, beach tents, beach chairs, a portable charger, and a beach towel or beach blanket will help you create an ideal beach setup. The proper beach apparel like flip flops or water shoes, a beach hat, snorkel gear, and a super light mesh bag to carry beach items will aid in your enjoyment at the beach. 
When packing, don't forget to include water bottles for hydration and a first aid kit including treatment for bug bites, water-resistant sunscreen, and baby powder as a rash guard.
Travel Tips To Pack Smartly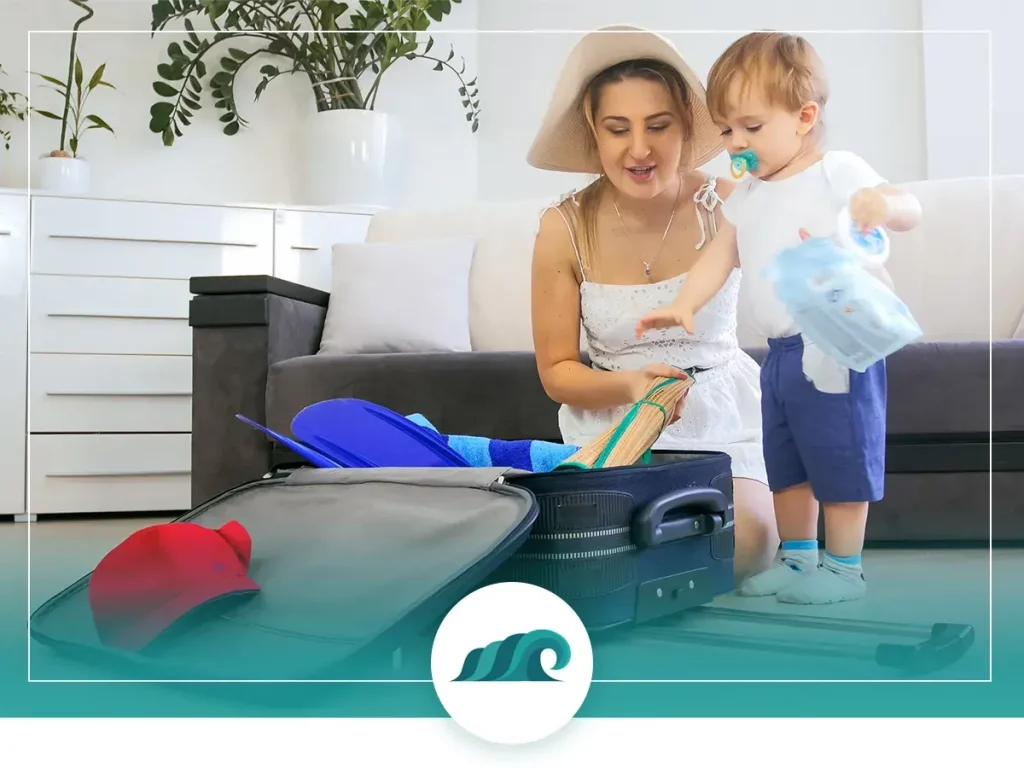 When preparing your family for the vacation, give everyone a limit on what they can bring to save space, including personal items, duffels, and backpacks. Additionally, emphasize the importance of consolidating what they will wear as much as possible, as well as using a mix and match approach. It may be helpful to use a list to help you track what items are going and what is already packed.
One space-saving tip is to only pack must-haves versus "would be nice" items. Try to limit items like bathing suits to two for the trip, and opt to leave books at home and read online materials instead. When possible, use the rolling method and packing cubes to pack as it opens up the luggage space. Additionally, wear nicer outfits on your way to and from your destination, so you don't have to pack a travel outfit.
You can also check to see if your hotel has laundry equipment, as doing a load of laundry can let you pack fewer clothes. And before you go, research to find a local grocery store and buy perishable items and disposable equipment at your destination.
Final Thoughts
If you have a big family, it's only natural to wonder how to not overpack for a family beach vacation. If you plan your packing and keep it organized, you can identify items to consolidate, share or even leave home.
A checklist is an invaluable tool for beach trips that let you track what you will be wearing. Follow these tips to make sure you have fun enjoying the salty air and warm sunshine without the added baggage on your next beach vacay.