When it comes to deep trolling – there's nothing better than a downrigger. A good downrigger allows you to quickly drop your bait or lure to the exact depth you need, and keep it precisely where the fish are!
Whether you're after salmon, lake trout, arctic char or deep-water summer walleye, a downrigger can be a major game-changer to your trolling setup. While they used to be the domain of commercial fishing boats, modern manufacturing means downriggers are now affordable to the everyday angler.
Unlike fishing with weights, there's no guesswork involved when using a downrigger. You'll be able to fish far deeper – with many units able to fish up to 400 feet deep. You'll be able to set the exact trolling depth, and the weight will ensure your lure won't drift towards the surface.
Let's take a look at some of the best manual downriggers on the market, how to pick the ideal one for your boat, and how to use one correctly.
Quick Answer: 5 Best Manual Downriggers
---
Why a manual downrigger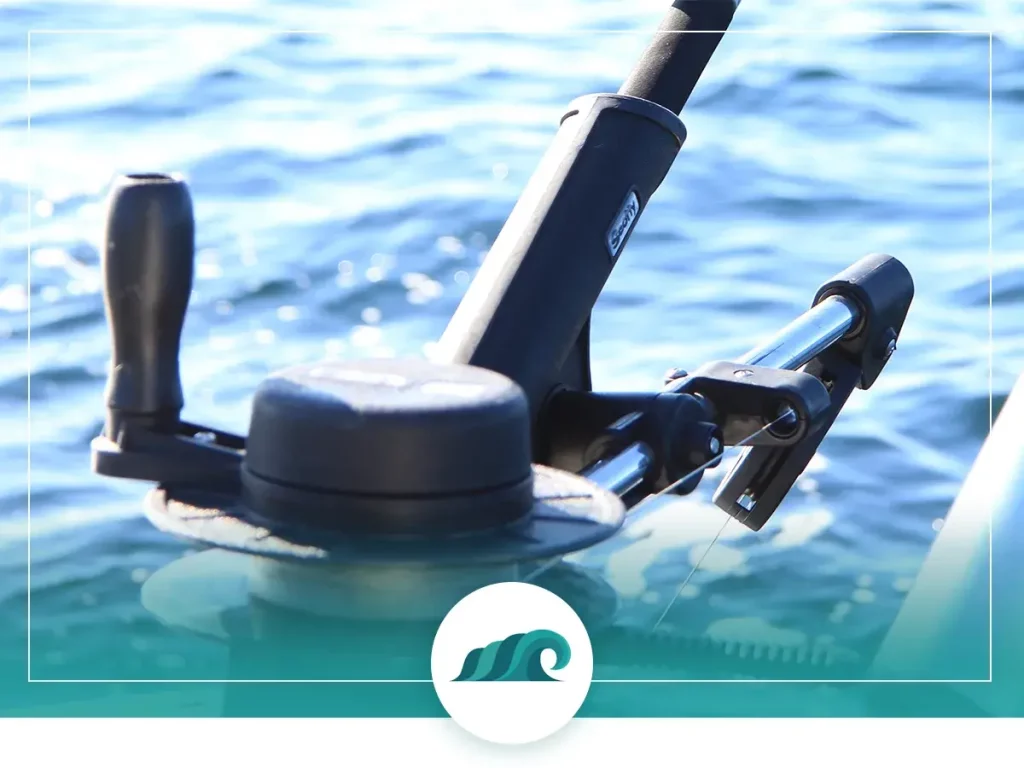 A downrigger is a system for raising and lowering your bait or lure into the water.
It utilizes a small finned weight to keep the downrigger line at a precise depth, and a detachable line and clip which attaches to your fishing line. When a fish takes your hook, the clip comes free, causing your rod tip to pop up – and letting you know a fish is on your line.
Downriggers come in two main types, manual and electric. Each type has its own advantages and disadvantages.
Manual downriggers are considerably more affordable than their electric counterparts. They don't require any power supply to operate, which makes them pretty much foolproof. The manual design also means there are fewer internal parts to fail – so they're fairly low maintenance.
On the other hand, manual downriggers require you to hand-crank them – which can tire out your forearms when done repeatedly. If you're trolling above 75 feet deep, this is less of an issue, but once you get down deeper, your arms will get a serious workout.
Electric downriggers cost significantly more than manual ones and typically require a 12V power source to operate. They're fast and easy to operate, making them ideal for really deep trolling.
The downsides of electric downriggers are price, increased maintenance, more possibilities of mechanical failure, and increases draw on your marine batteries.
---
Best Overall: Cannon Uni-Troll 10 Manual Downrigger
If you're looking for a rugged, well-made manual downrigger that will work with a variety of boats, you'll have a hard time beating this one. It features fast 2:1 gearing and one-hand clutch deployment, making line retrieval speedy and efficient. The price is also reasonable, making it a great choice when you don't want to break the bank.
The telescopic arm extends from 24" out to 53" when fully stretched, ensuring you'll have enough clearance between the downrigger line and your freeboard. Its enclosed boom end and pulley also prevent line jumping. It comes pre-spooled with 200 feet of 150 lb. steel cable, which is rated for use with up to 20-pound weights.
A swiveling base comes built-in, allowing you to easily turn the entire unit flush with the hull when you need to navigate tight spaces. To swivel the unit, simply pull the knob attached to the locking pin and turn the downrigger.
An easy to read 3-digit counter displays the depth, allowing you to spot exactly how deep the weight is. The built-in rod holder is also fully adjustable – from side to side and up and down.
Key Features
Arm length: 24"-53" telescoping
Mount: Fixed/Swivel
2:1 gearing ensures fast and smooth retrieval
Swivel base
Easy to read analog depth counter display
Dual axis adjustable rod holder
Cannon Uni-Troll Manual Downrigger, 10 STX
2:1 retrieval speed makes getting lines out of the water fast and nearly effortless

One-Hand Clutch Deploy - Precisely and easily position your baits with full control

Stainless Steel Telescopic Boom - Extends from 24 to 53 with enclosed boom end - Prevents lines from jumping when deploying or retrieving weights

Dual Axis Rod Holder - Includes one (1) rear mount rod holder

Includes - Universal Mounting Base, Low-Profile Swivel Base, line terminator, one (1) Uni-line releases, and ergonomic crank handle
View Pricing On:
---
Best For Small Boats: Scotty #1050 Depthmaster
If you're looking for a downrigger ideally sized for smaller craft like canoes, kayaks and jon boats, then this is the one for you. As typical of other Scotty products, it's built like a tank and delivers top-tier performance.
The 23" long stainless steel boom arm delivers ample length for most smaller craft, and the included quick-slide mounting system allows you to quickly attach and detach it when you need to dock. This mounting system needs 4 inches of gunwale width to mount – if you have less you may need a scotty right angle mount or clamp mount as well.
The gearing translates into one foot per turn of the spool, and the upward-facing crank-handle is easy to operate with either hand. This is fine for most applications, but if you're looking to troll deeper than 100 feet, you may want a faster retrieve. The lever line release also works well, with an automatic brake feature and an easy to read cable counter.
A Scotty #355 rod holder comes attached to the arm, providing a solid mount for your rod handle. 200 feet of 150 lb. test stainless steel downrigger cable also comes included.
Key Features
Arm length: 23"
Mount: Quick-Slide Fixed Mount
Compact size is ideal for smaller boats
Smooth, easy-to-operate crank handle
Level release and automatic brake
Scotty #1050 Depthmaster Manual Downrigger, Display Packed w/ Rod Holder, BLACK, 23″
23-Inch long, 3/4-inch diameter stainless steel boom

Each scotty downrigger comes with the Scotty limited lifetime warranty

The prices and operating features of these units beat the competition hands down

Scotty No. 1170 power grip plus line release included

One foot per turn spool operates easily with either hand from a sitting position in the boat
View Pricing On:
---
Best High End Downrigger: Big Jon Captain's Pak Manual Siderigger
When it comes to high-end manual downriggers, the Big Jon Captain's Pak is the cream of the crop. Unlike cheaper models that often use plastic bodies, it features a precision-machined aircraft-grade aluminum frame. A one hand crank clutch system lets you toggle between descend and retrieve with a flip of the switch.
The hand crank is fast and buttery smooth and features an adjustable disc clutch similar to saltwater reels. A swivel mount base allows you to turn the entire unit inwards or to either side, making docking a breeze. Mounting the unit is also fairly simple, with the included 4" x 4" mounting plate and included mounting bolts.
The sectional boom arm can be configured to 2, 3, or 4-foot sections, giving you plenty of versatility when it comes to meeting the needs of your craft. Also included are 200 feet of stainless-steel downrigger cable, an easy-to-read footage counter, and one-hand adjustable 9-positon rod holder.
While it costs a bit more than other models, the superior construction and highly effective design provide plenty of added value for the serious deep trolling angler.
View on:  [su_button url="https://www.amazon.com/Big-Jon-CaptainS-Manual-Siderigger/dp/B07G875NKP/ref=as_li_ss_tl?ie=UTF8&linkCode=ll1&tag=coastalside-20&linkId=b0152a49a86a343ba2c1fc417a91a2ec&language=en_US" target="blank" style="flat" background="#d93f2c" size="8″ radius="5″ text_shadow="0px 0px 0px #000000″]Amazon[/su_button]  |  [su_button url="https://bassproshops.vzck.net/c/2238743/603808/9453?prodsku=1512221840&u=https%3A%2F%2Fwww.basspro.com%2Fshop%2Fen%2Fbig-jon-captains-pak-manual-siderigger" target="blank" style="flat" background="#d93f2c" size="8″ radius="5″ text_shadow="0px 0px 0px #000000″]Bass Pro Shops[/su_button]
Key Features
Arm length: 2', 3' or 4' adjustable
Mount: Fixed/Swivel
Precision crafted aircraft-grade aluminum frame
Swivel mounting base
One handed crank clutch system
Comes with adjustable rod holder, 200 ft. cable, and line counter
View Pricing On:
---
Budget Pick: Scotty #1073DP Laketroller Manual Downrigger
If you're looking for a well-made downrigger without breaking the bank, then this lightweight unit makes an excellent choice. With a 12" long boom arm it's ideal for smaller craft like kayaks, rafts, jon boats and canoes. It's budget price also makes it attractive to anyone looking for a functional downrigger while saving some money.
Keep in mind the rig is setup for lighter trolling, and is recommended for use with weights under 4 lbs. You can rig it up with heavier weights, but your retrieval speed will be negatively affected. Also, no cable counter comes included, so you'll need to use a depth finder or fish finder to track ball's depth.
The 4" x 2" flat mounting bracket allows you to mount it on a flat deck surface, or to the side of a gunnel or transom. This 360-degree mount is great for smaller craft, where mounting surfaces are at a premium.
The gearing produces 1 foot per turn of the spool, giving it a decent retrieval rate, but it won't set any records. Also included are 100 feet of 150 lb. test stainless steel downrigger cable, and an adjustable drag brake.
Key Features
Arm length: 12"
Mount: Fixed
Low cost downrigger for lightweight trolling
360 degree mounting options
Recommended for trolling weights under 4 lbs
Prices pulled from the Amazon Product Advertising API on:
Product prices and availability are accurate as of the date/time indicated and are subject to change. Any price and availability information displayed on [relevant Amazon Site(s), as applicable] at the time of purchase will apply to the purchase of this product.
---
Also Consider: Seahorse Manual Downrigger Troll-Master Gimbal Mount
Any list of manual downriggers would be incomplete without including one from this legendary manufacturer. It's made from rock-solid corrosion-resistant components, making it perfect for deep water saltwater or freshwater use. The eye-catching industrial design looks great on a wide variety of craft, while the precise machining offers superb performance.
A 24" boom arm comes standard, although extended arms are also available. The 360° swiveling gimbal mount allows you to quickly and easily slide the unit into any of your boat's existing rod holders. This gimbal adapter measures 10 inches long and 1 ½" in diameter, so it will fit into any standard sized flush mount rod holder. The unit is also available with other mounting options, including a fixed mount and a swiveling base.
The bright yellow depth meter is precise and easy to read, while the hand crank is fast and smooth. The drag system is allows for one-handed operation, and will let cable play out if your weight snags on the bottom – so you won't lose your weight or expensive probe. It comes pre-spooled with 200 ft. of stainless steel cable.
If you're looking for a proven downrigger that offers quick installation and removal, this unit is tough to beat.
Key Features
Arm length: 24"
Mount: Swivel Gimbal/Rod Holder
Corrosion-resistant construction
Easy to install 360° swivel gimbal mount
One-handed crank operation
Backed by Troll-Master's 10-year warranty
Prices pulled from the Amazon Product Advertising API on:
Product prices and availability are accurate as of the date/time indicated and are subject to change. Any price and availability information displayed on [relevant Amazon Site(s), as applicable] at the time of purchase will apply to the purchase of this product.
---
How to pick the right manual downrigger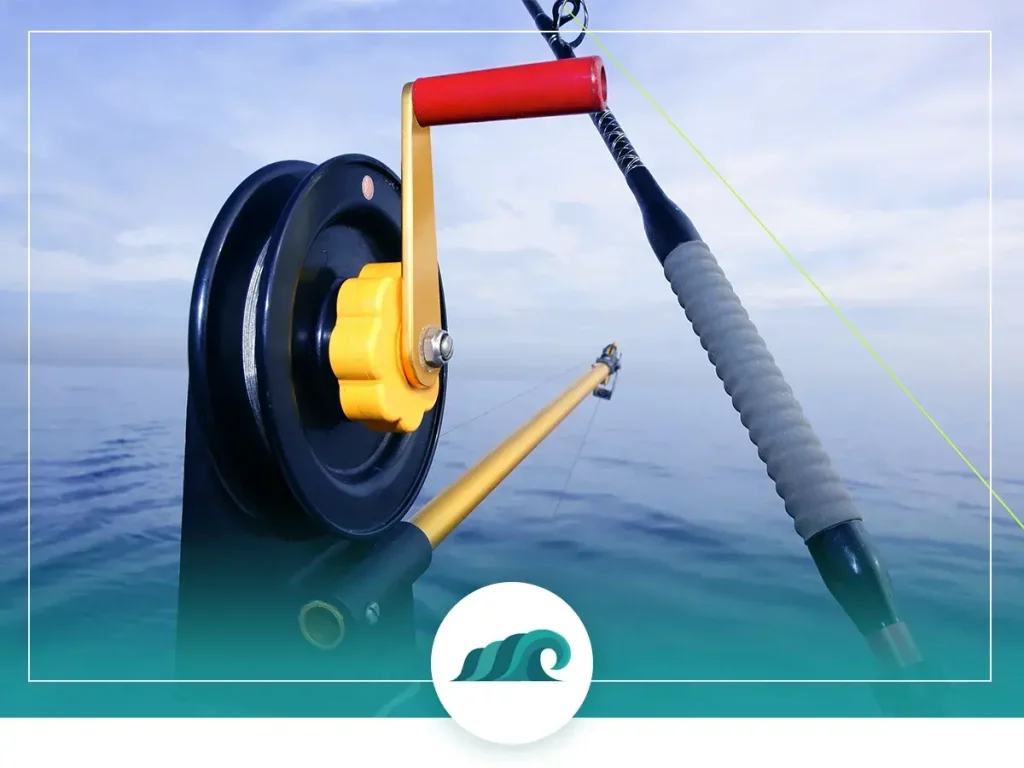 With so many different makes, models and designs, finding the right manual downrigger for your craft can seem like a confusing task. Let's take a look at some of the most important features to be aware of when choosing a downrigger.
Mount
There are a variety of different mounting options available; the right one for you will depend on your boat and how often you intend to use it.
Clamp mounts take seconds to mount and dismount and are a great choice when you want a portable unit you can swap between different watercraft. They are typically found on lightweight units, as they don't provide the same level of strength as heavy-duty units.
Gimbal mounts are designed to fit inside your boat's gunnel or transom rod holders. These provide a strong and stable mount, plus they're easy to move from one rod holder to another – so you can swap them between different boats. Make sure to use a security strap or cable while trolling with these.
Fixed Mounts require you drill into your gunwale to make a permanent mount. They provide the strongest and most secure mount – making them great for larger boats. Most of these mounts swivel as well, so you can rotate them inward when you're not using them.
Swiveling mounts can also be found in other mount types, and are a great feature to have on nearly any craft.
Arm Length
The downrigger's arm length is another important consideration. Generally speaking, the larger your boat the longer arm you'll need. You need enough length to clear your boats freeboard, but you also don't want to go to long as this can present a hazard.
Small Boats (15 feet and under) should go with an arm length in the 20" to 24" range. This will give you enough length to get the weight cleanly into the water, and allow you to handle them sitting down. Kayaks, rafts and other low, compact boats can go even smaller.
Large Boats (16 feet and up) are generally better off with a longer arm length in the 30" to 50" range. With a larger boat, you'll generally have a higher freeboard, which means you'll need a longer arm to prevent weights from hitting the side of your craft. If you're using multiple downriggers, then you'll want to consider the distance between them to minimize the risk of tangles during turns.
Weight Rating
If you're planning on trolling heavier weights, you'll want to pay attention to the manufacturer's stated weight rating.  Heavier weights have the advantage of keeping your line more vertical, which will ensure it runs true to the depth reading on your counter. Downrigger cable dragging behind your boat is referred to as "blowback".
Lightweight models often have low weight ratings and can slow down or even malfunction if you exceed the weight rating.
Retrieval Speed
Your retrieval speed will vary based on the reel gearing. Some models feature a 2:1 gearing, which means one turn of the handle will retrieve two feet of line. Others are 1:1, which equals one foot of line retrieved per turn of the handle.
The crank handle positioning and direction can also have an effect on your retrieval rate and speed. Handled are either upward facing or parallel to your craft. Which is better ultimately comes down to personal preference, but for my money parallel handles are easier to work with.
Downrigger Cable
Cable is typically made from either stainless steel or heavy-duty braid. Most manual downriggers will come pre-spooled with 100 to 200 feet of heavy-duty stainless steel cable, but some anglers prefer to use braid. Let's take a look at the difference between the two briefly.
Stainless steel cable is tried and true, and has been used in downriggers for many decades. It offers excellent durability and breaking strength, and costs less than braid. It also provides a slight electric charge, which many anglers believe helps to attract fish. On the downside, it can rust with age, and it's prone to kinks which can weaken the line over time.
Braided line is a newer development, coming into popularity within the last 20 years. It's strong, produces less drag in the water due to its slimmer profile, and allows you to load more line onto the downrigger reel. On the flip side, it's prone to nicks, costs more, and can be tough on your hands.
Ultimately, which type of cable to use comes down to personal preference. If you're not sure which is right for you, you can always pick up a spool of braided line like Scotty Power Braid, and test out both.
Line Counter
The line counter provides an easy-to-read display of how much downrigger cable you've let out. Not every unit comes with this built-in, but if you're going to use your downrigger regularly, you should really get one with a line counter. It will take all the guesswork out of deep trolling.
---
How to use a manual downrigger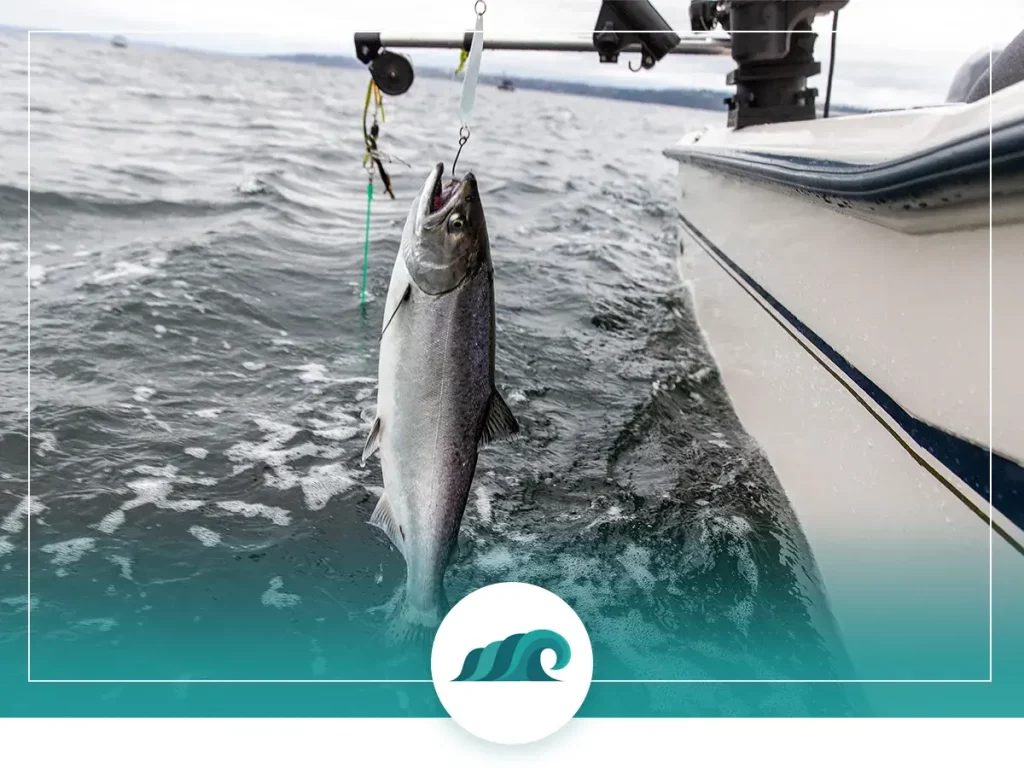 Using a manual downrigger is pretty straightforward.
Once it's securely mounted to your boat, you'll need to attach a finned downrigger weight to the end of the cable. After that, connect the downrigger weight to your fishing line with a downrigger release clip. This clip will provide enough tension to keep your line attached to the downrigger weight while your trolling – but will let it loose if a fish takes your lure.
Next, place your rod inside the rod holder, and lower the downrigger to your desired depth with the clutch. Your line counter will give you a precise reading on how deep your line is trolling at.
When a fish takes your lure, the release clip will separate your line from the downrigger weight, and your rod tip should pop up. Then grab your rod, and reel in your fish! You'll also want to reel in your downrigger line to prevent entanglement with your fishing line.
If you want a visual explanation, check out this short video: