Interested in getting in on one of the hottest growing sports across the globe? Stand up paddleboarding (SUP for short) has exploded in popularity over the past decade, becoming one of the most popular water sports around.
Inflatable SUP boards are an even newer development, allowing you the convenience of owning a full-sized paddleboard that folds up into the size of a small duffel bag! No longer must you sacrifice valuable space to enjoy the sport.
There are a large variety of inflatable paddleboards to choose from, from beginner boards to expert boards and everything in between. This article will help you choose from the abundance of different models out there, and pick a board that is just right for your skill level, needs, and preferences.
Quick Answer: 5 Best Inflatable SUP Boards
---
Criteria for picking the best Inflatable SUP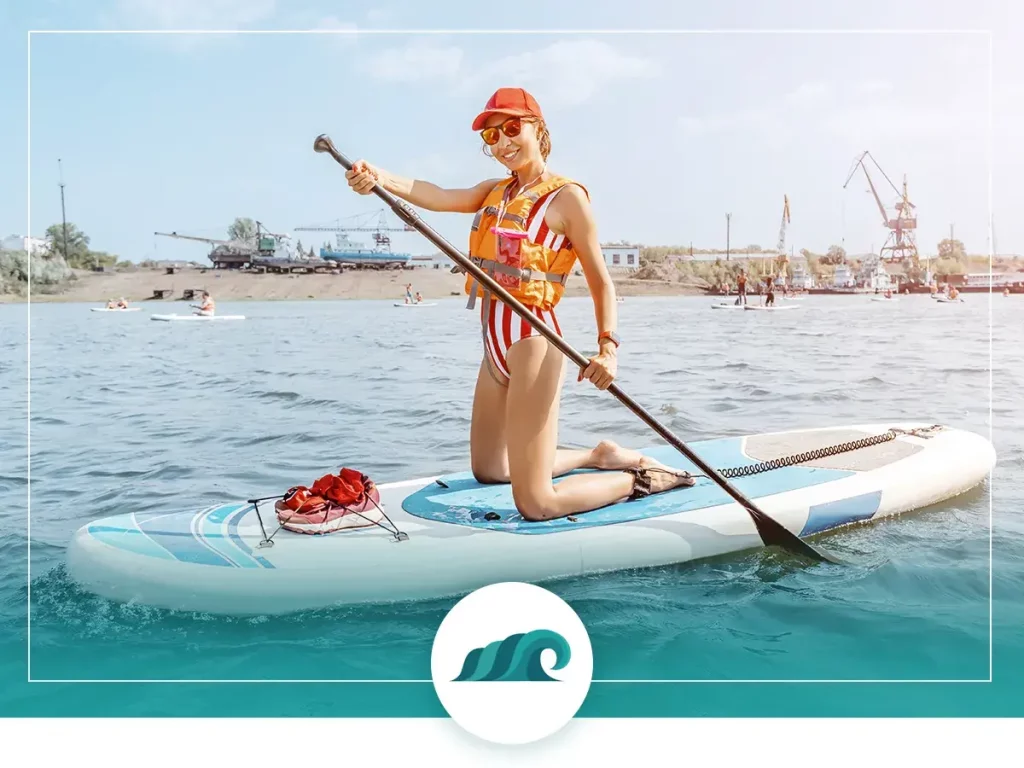 There is a lot of variation within inflatable SUP makes and models. So, to help narrow it down, we used the following criteria for ranking the best models:
Portability
One of the key advantages an inflatable SUP has over its fiberglass and plastic cousins is great portability. An inflatable SUP should easily fit into a small suitcase and be light enough to travel with. The lighter and smaller the board is when it's fully packed away the better in this category.
Stability
A key consideration when selecting the right board is how stable it is on the water. Board stability is largely determined by board thickness. The thicker the board, the more stable it will be on the water. Most boards fall into the 4" to 6" range for thickness.
Keep in mind that thin boards can also be stable and are especially useful for choppy water paddleboarding. These boards allow the rider to dig in and "ride" the wave rather than be tossed around as a heavy board would. These types of boards are typically for more advanced riders.
Durability
Board durability is mostly affected by its material and manufacturing quality. The newer generations of inflatable SUPs are extremely rugged and can take quite a beating without suffering any nicks or cracks that you would expect to find on a traditional fiberglass paddleboard. Rocks are not really an issue for most inflatable boards as they will "give" rather than sustain any damage.
Construction varies from simple one layer PVC boards, which are lighter and less expensive, to two and three-layer PVC boards, which are more rugged, heavier and more expensive. There are also boards with a fusion construction, which have a layer of additional reinforcement while still remaining light.
User Friendliness 
User Friendliness includes the pump quality, how long it takes to pump up the board, storage space, and the quality of the included accessories.
Value
Inflatable SUP boards vary widely in price, and overall value is an important point to consider when shelling out your hard-earned money. Most boards fall in the $300 – $1500 price range. However more expensive doesn't always mean better value. Highly capable and versatile boards that fulfill a multitude of roles can be purchased in the lower end of the price range.
---
Best Overall: iROCKER Cruiser
This really is the ideal inflatable SUP for someone getting into the sport. It's highly durable, and when fully inflated to 15 PSI is as rigid and hard as a fiberglass board.
The iROCKER Cruiser is wide at 33", which increases stability in the water, especially in rougher conditions. This is ideal for newer riders or riders who prefer a bit more stability rather than maneuverability. The high weight capacity of 400 pounds means it can handle extra gear, kids or even multiple riders.
Constructed of an incredible four layers of military-grade PVC, you will never have to worry about durability with this board. Standard inflatable SUP's are typically made with one or two layers of PVC. This quad-layer construction also gives the board its incredible rigidity which results in less flex and more stability in the water.
The iRocker cruiser comes bundled with a fiberglass paddle, an excellent dual chamber hand pump, a backpack carry back and a leash. It also comes with a 2-year warranty, while most boards at this price point only have a 1-year warranty.
Pros
Highly durable and rigid board
Ideal for beginner riders
High weight capacity
2-Year manufacturer warranty
Full throttle air pump allows you to rapidly inflate board
Cons
Carry bag is somewhat large
iROCKER Cruiser Inflatable Stand Up Paddle Board, Ultra Series, 10'6″ Long 33″ Wide 6″ Thick Premium SUP with Enhanced Backpack, Fins, 12V Electric Pump & Accessory Pouch, 10′ Leash, Blue/Orange
CRUISER ULTRA: designed for beginners, SUP yogis, families with children, and intermediate paddlers who prefer a slower ride. There is ample room for one rider and additional cargo or it's spacious enough for two riders. 300 lbs. weight capacity.

LIGHTER, FASTER, STRONGER: Innovative cross thread drop-stitch construction delivers a lighter and more rigid board with increased stiffness and improved speed. Compatible with the Kayak Conversion Kit and your favorite iROCKER accessories for a versatile, on the water experience.

COMPACT CONVENIENCE:. Its all for one and one for small with a compact backpack made with extra padding and sized to fit easily in your car or overhead bin of an airplane. Packing and unpacking is simple with a board that effortlessly folds into the small backpack, equipped with zippers on both sides, additional pockets, and removable bungee storage.

ELECTRIC PUMP INCLUDED: Set up is made simple with a 12V electric pump included with every board. Inflate your SUP in 12 minutes or less by connecting directly to a power point, cigarette lighter or onto a portable 12V battery.

3 YEAR WARRANTY: Purchase an inflatable paddle board with confidence. You're covered on everything outside of normal wear and tear. iROCKER offers only the highest quality inflatable paddle boards constructed of the highest quality materials. We stand behind our products 100%. There is no need to worry about buying a sub par product made of low quality materials which is why you receive a 3-year warranty. You can also expect best in industry customer service from iROCKER
Prices pulled from the Amazon Product Advertising API on:
Product prices and availability are accurate as of the date/time indicated and are subject to change. Any price and availability information displayed on [relevant Amazon Site(s), as applicable] at the time of purchase will apply to the purchase of this product.
---
Best Multi-Use: Roc Explorer 10′ Stand Up Paddleboard
If you're looking for one board that can do it all, and do it well, then this is the board for you. Truly the jack of all trades! The 10-foot long board is ultra-light, weighing in at just 17.5 pounds, which puts it at one of the lightest boards for its class. It's constructed of durable quad core military-grade PVC, which makes it durable and rigid.
At 32" wide, the Atoll is very stable, while still being maneuverable in the water. It's suited to riders of all skill levels. The board has a weight limit of 300 pounds, as well as a large bungee storage system with 7 D-rings, so you have plenty of room to stash all the gear you like.
Included with the inflatable SUP are a three-piece aluminum alloy paddle, removable fin, heavy-duty waterproof carry bag, dual-action hand pump, and coil safety leash. It also comes with a 1-Year manufacturer warranty.
View on:  [su_button url="https://www.amazon.com/Roc-Inflatable-Accessories-Backpack-Waterproof/dp/B07P1328G9?&linkCode=ll1&tag=coastalside-20&linkId=7a581186f6db368f7c634efc3c989fbd&language=en_US&ref_=as_li_ss_tl" target="blank" style="flat" background="#d93f2c" size="8″ radius="5″ text_shadow="0px 0px 0px #000000″]Amazon[/su_button]
Pros
Lightweight construction
Highly versatile
Stable enough for a variety of different uses
1-Year manufacturer warranty
Cons
Included paddle on the heavy side
Inflating to correct PSI difficult without electric pump
---
Budget Pick: Bestway Inflatable Hydro-Force Wave Edge
If you're looking to get out on the water for some fun, and aren't too concerned with having the best of the best in inflatable SUP technology, then this is the board for you! You'd be hard-pressed to find a more capable board for such a great price.
At 10'2" long and 4" thick, the Bestway Inflatable Hydro-Force Wave Edge is on the smaller side, so it will not be quite as stable as larger and thicker models. However, it's also very lightweight and easy to carry with a carry handle built into the middle of the board.
Included with the board are a three-piece inflation pump with gauge, an aluminum paddle, a repair kit, and a travel bag. The pump and paddle are OK quality, but you may wish to replace them if you intend to use the board a lot. No leash is included with the board, so you'll want to get one separately.
Pros
Lightweight
Great price
Carry handle for easy transport
Great starter board
 Cons
Included accessories mediocre quality
No leash included
Board is on the short side
Bestway Hydro Force Wave Edge 122 x 27 Inch Inflatable Stand Up Paddle Board with Non-Slip Deck, Aluminum Oar, Inflation Pump, Repair Kit, and SUP Travel Bag, Green
SUP PACKAGE INCLUDES IT ALL: The Wave Edge INFLATABLE Stand Up Paddle Board is ready for paddling on the water and includes an 83-inch aluminum oar, inflation pump with pressure gauge, repair kit, and travel bag

DIRECTIONAL STABILITY: 2 modeled side fins and 1 removable middle fin for directional stability

STRONG AND DURABLE: Drop stitch material provides unparalleled strength and durability

FEATURES: Features quick inflation and deflation air valve, convenient deck handle to easily pick up and carry the SUP, anti-slip traction pad, and steel tow ring

SPECIFICATIONS: Recommended skill level: Beginner to intermediate; Color: Green and white; Passengers: 1 adult; Weight capacity: 220 pounds; Dimensions: 122 x 27 x 4 inches; Weight: 24 pounds
Prices pulled from the Amazon Product Advertising API on:
Product prices and availability are accurate as of the date/time indicated and are subject to change. Any price and availability information displayed on [relevant Amazon Site(s), as applicable] at the time of purchase will apply to the purchase of this product.
---
High Performance Pick: Hala Carbon Straight Up
This is an outstanding, high-performance board that can do pretty much anything you can think of doing on an inflatable SUP. Perfect for beginners as well as intermediate and advanced riders, the Hala Carbon Straight Up can handle white water, surfing, cruising, yoga and anything else you can throw at it!
At 32" wide and 6" thick the board is plenty stable, and a unique carbon stringer that runs around the middle of the board adds incredible rigidity. The 10′ 6″ board is also highly maneuverable and quick in the water due to its nose and tail rocker design.
8 D-rings provide rigging points on the front of the board for plenty of gear storage. The board can hold up to 350 lbs, so the extra weight is not an issue.
Included with the board is a super tough backpack with wheels, a dual action hand pump, and a repair kit. No paddle or leash is included, so you will need to get those separately. The board is backed by a 3-Year manufacturer warranty, which is one of the best in the industry.
Pros
Highly versatile
Exceptionally well built
Simultaneously maneuverable and stable
3-Year manufacturer warranty
Suitable for all level riders
Rolling backpack carry bag
Cons
No included paddle
Expensive
Prices pulled from the Amazon Product Advertising API on:
Product prices and availability are accurate as of the date/time indicated and are subject to change. Any price and availability information displayed on [relevant Amazon Site(s), as applicable] at the time of purchase will apply to the purchase of this product.
View Price On
---
Best Touring Board: Red Paddle Co Voyager MSL 12'6"
If long-range excursions are your thing, then this is the right paddleboard for you. Built with the advanced user in mind, the Red Paddle Co VOYAGER 12'6 has a long slim profile that glides across the water effortlessly. Measuring 12'6" in length, this board is great for larger people and can handle plenty of gear or even kids!
Constructed of a Monocoque Structural Laminate (MSL) fusion, which fuses the second layer of polymer to the core, this board is durable and rigid yet surprisingly lightweight.
The board is 32" wide and 6" thick, which provides a nice balance between stability and speed. The weight capacity is a hefty 330 lbs.
Multiple carrying handles makes carrying the board around the beach easy. As for storage capacity, the Voyager has two places to lash your gear, with 6 D-rings on the front section and 4 on the rear of the board.
It comes with a wheeled backpack carry case, hand pump, repair kit, waterproof cellphone case and Red Paddle's patented RSS battens (two stiffening slats that can be attached to the board for increased stiffness). The board doesn't come with a paddle, so you'll need to pick one up separately.
Pros
Great for tall people
Lightweight construction
Battens add increased stiffness
2-Year manufacturer warranty
Ideal for long range excursions
Rolling backpack carry bag
Cons
No included paddle
Expensive
Prices pulled from the Amazon Product Advertising API on:
Product prices and availability are accurate as of the date/time indicated and are subject to change. Any price and availability information displayed on [relevant Amazon Site(s), as applicable] at the time of purchase will apply to the purchase of this product.
View Price On:
---
What to consider when choosing an inflatable SUP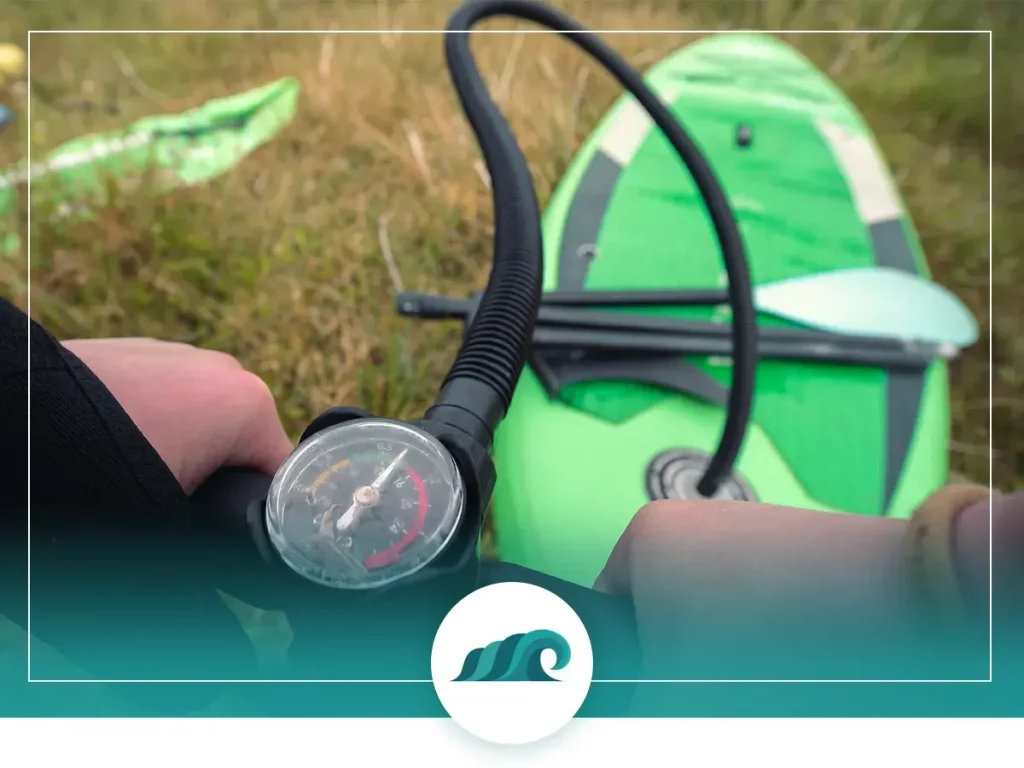 Shape
The board's shape will determine what its best for. Longer boards with narrower noses are faster but less stable. The streamlined profile of these boards means they will travel through the water with less effort from the paddler. These boards are suitable for touring and more advanced users.
All-around boards with flatter noses and wider centers increase stability, but will not cut through the water with the same speed. They are suitable for all types of rider and are very versatile.
Specialized boards for Yoga are also available; they tend to be long and wide with a rounded nose and tail.
Length and width
Generally, the wider the board the more stable it's going to be. The length of the board also affects stability, as short boards less than 9 feet will be less stable for adults. Most all-around boards will be over 30" wide and 10 feet long, which provides a good amount of stability.
Long and narrow boards like the Red Paddle Co Voyager will increase the speed and maneuverability of the board, but sacrifice stability.
Larger boards will also be able to hold more weight than smaller ones. So, if you plan to use the board for longer excursions, look at a larger board.
Thickness
The paddle board's thickness effects rigidity, stability, and weight capacity. The thicker the SUP is when inflated, the more rigid it will tend to be. More rigidity is preferable as it gives better feedback with the water and feels more like a traditional paddle board. The thickness will also impact stability, as thicker boards place the rider farther away from the water which means less stability. Also, the thicker the board is the more weight it will be able to hold.
Generally, 4" to 6" is the sweet spot for board thickness.
Rocker
The rocker is the curve in the front of the board. Beginner boards will have very little to no rocker which is better for use in calmer waters. More advanced boards will have a larger rocker that keeps the tip of the board above the water in choppy conditions.
Fins
On the bottom of the board are the stabilizing fins which help keep the board cruising along smoothly. There are a variety of fin setups, from a long single fin to three smaller fins, or two small fins on the sides and one medium-sized fin in the center. Long single fins are best for flat water cruising and provide more stability, while three fin setups will be better for making turns in choppier water and are more suited to intermediate and advanced users.
Accessories
 Many inflatable paddle boards come with a good set of accessories, but sure to have everything you need before you head out on the water.
Paddle. Many boards come with a paddle included. Look for a paddle in the 6 to 8 foot range to ensure comfortable paddling. If you plan to paddle board a lot, look into getting a quality fiberglass or carbon fiber paddle. They are super light and are often much better than the stock aluminum paddles.
Leash. Make sure you have a leash before heading out on the water; you don't want to lose your board! Some boards come bundled with a leash but many do not.
Carry Bag. All the models reviewed here come with a carry bag. Some come with a wheeled carry bag, which is great for long-distance travel.
Pump. Most models come bundled with a dual-action hand pump. These work well and usually will inflate the board to the proper PSI in 5 to 10 minutes. If you are inflating and deflating your board a lot, an electric pump will make the task much easier.
Life preserver/PFD. It's always a good idea to wear a life preserver when paddle boarding and it may be the law in some areas.