The required gear for paddle boarding is pretty minimal. But what about shoes? Since you'll be standing up on the board, is it necessary to wear shoes paddle boarding? 
The quick answer is no– you don't need to wear shoes paddle boarding. Most people going out on a paddle board will simply stand on the board in their bare feet. The surface of the board is typically kind to bare feet, like a yoga SUP with a soft deck pad, so this approach is usually rather comfortable.
With that said, some people do choose to wear shoes paddle boarding, so it's worth taking a closer look at this topic in this article. When would it make sense to wear SUP shoes, and what kinds of shoes are right for the job? We'll get into all that and more in the sections below.
Reasons for Footwear on a Paddle Board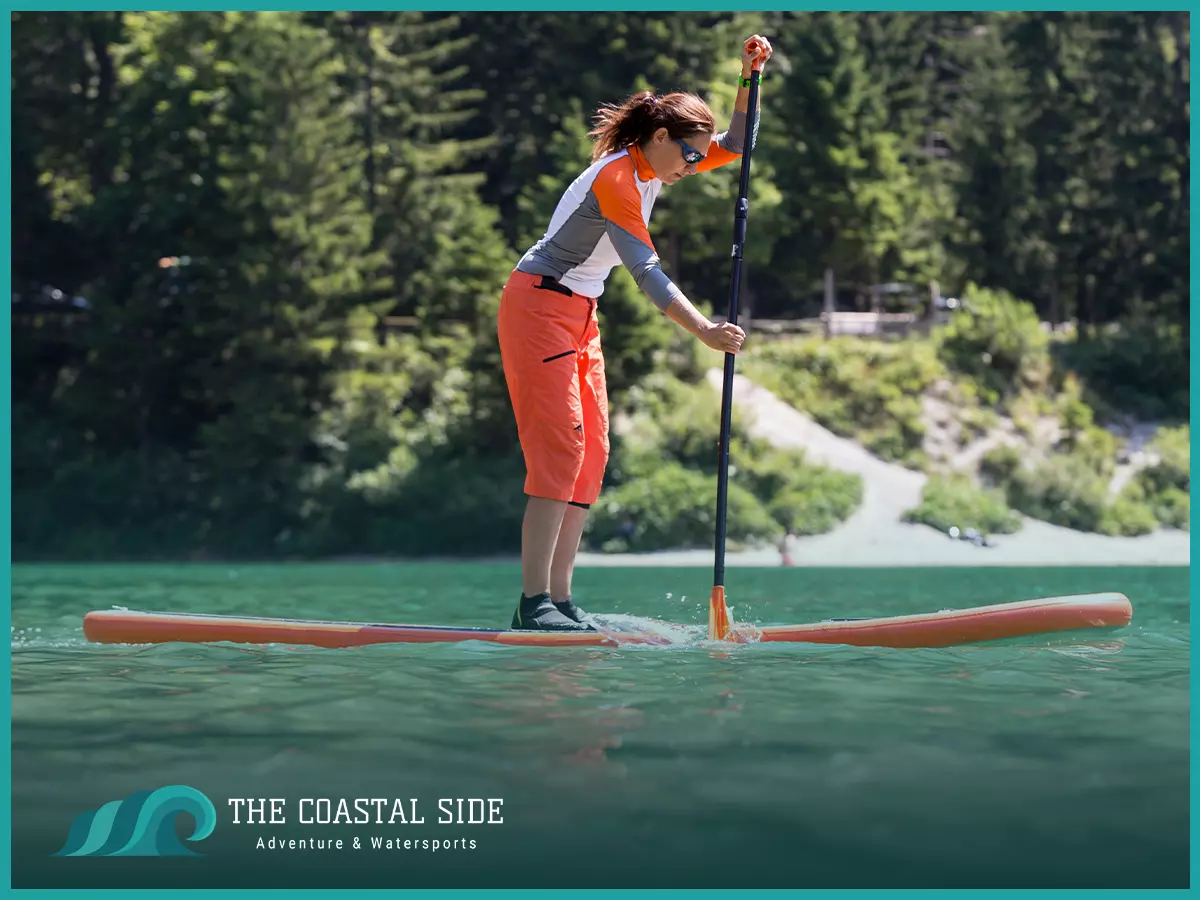 There are a few reasons to consider making shoes a standard part of your paddle board clothing setup. As mentioned above, shoes are far from required, yet they do deliver some notable benefits, including the following.
Improved Grip on the Board
If you wear shoes during this activity, you'll be more likely to maintain your grip and stay upright. As you may already know, the surface of your board is going to get wet throughout the day, both from the water splashing over the sides and from drips coming off your paddle. By wearing water shoes, you can add an extra layer of grip that will make it less likely you'll slip when standing on this wet surface.
Protect Against Blisters
Paddle boards are designed with the skin on the bottom of your feet in mind, so they aren't particularly abrasive. However, if you plan on paddle boarding for a long period of time – maybe you are trying to do a lap around a whole lake, for example, that long trip could take a toll on your feet. Using shoes is a good option to fight back against blisters and keep yourself more comfortable throughout the journey. While a blister sounds like a minor issue, one on the bottom of your foot can be painful enough to bring your day to an early end.
Versatility When Off the Board
One of the best reasons to wear water shoes when paddle boarding is the flexibility they provide when it's time to hop off and do something else for a while. For example, if your outing happens to take you to a lovely little beach area, you might want to stop and explore for a bit. That could be uncomfortable – or impossible on a rocky beach – if you weren't wearing water shoes. With your feet covered, however, you'll be free to get on and off the board as you wish. Also, stopping at a dock area to use a restroom or get a snack will be easier with some slip on water shoes covering your feet.
3 Shoe Options to Wear Paddle Boarding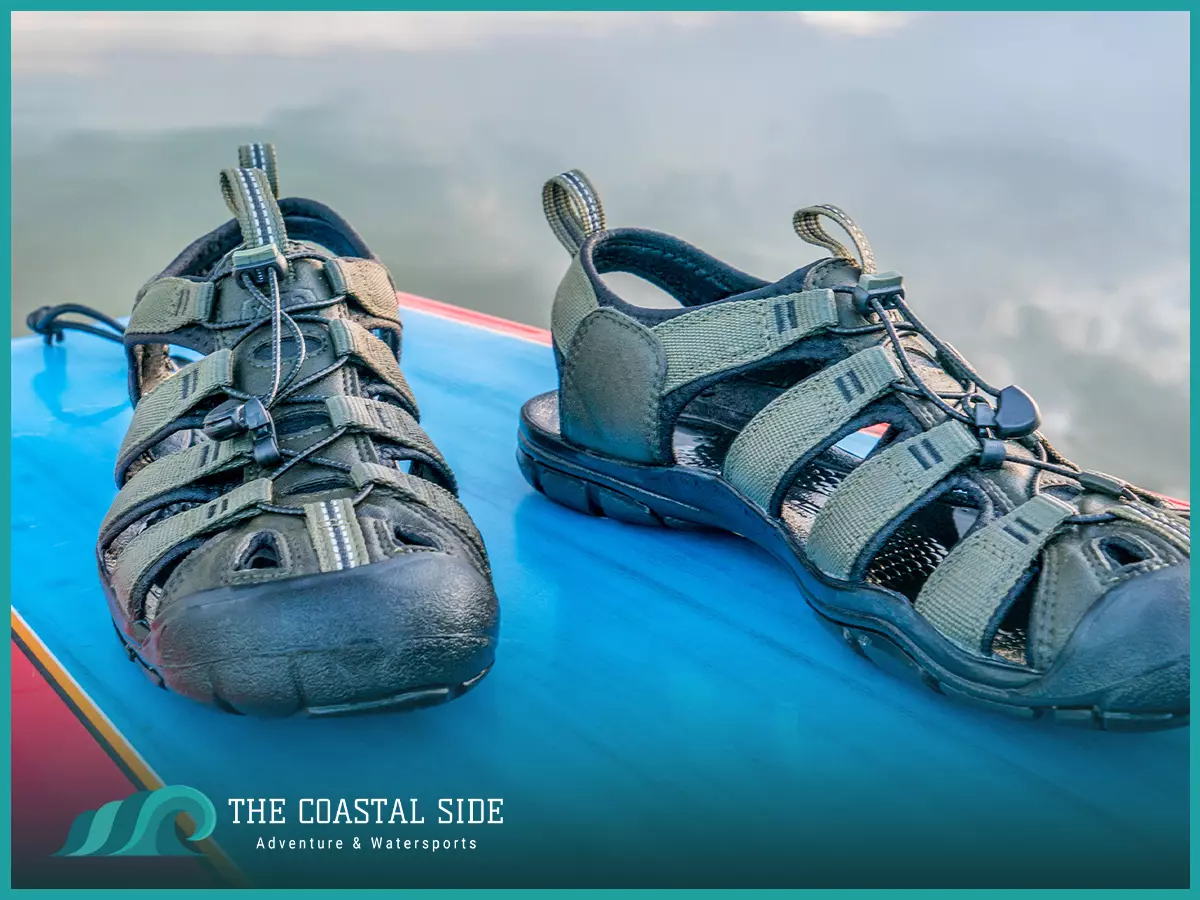 If you want to wear shoes when paddle boarding, or if you just want to have the option on some occasions, you'll need to have the right pair on hand for the job. We have highlighted a few options below for you to consider.
Regular Sandals
As one option, you could simply wear a pair of sandals when stepping onto your paddle board. The big plus here is that you probably own some sandals already, so you won't need to purchase anything new to get started. Of course, these should be sandals that secure to your feet with velcro or buckles, rather than something like flip flops that are likely to fall off if you go into the water.
While basic sandals could work in a pinch, they do have some drawbacks. First, depending on the material they are made from, they might not be suitable to get wet. And, unlike water sport shoes, they might not secure onto your feet tightly enough to give you excellent traction. Land shoes aren't particularly well suited for heading out on the water, but they might be passable on one or two occasions.
Aqua Socks
As the name suggests, aqua socks fit snugly and are more like socks than shoes. If you aren't comfortable wearing shoes when paddle boarding, going with aqua socks could give you a good grip and keep your feet warm without going into anything more restrictive like neoprene shoes or neoprene boots.
While this is a good option, the biggest drawback here is the matter of what you're doing when you hop off your SUP.
Earlier, we mentioned that the added versatility of being able to walk right out of the water and onto rough land was a selling point for wearing shoes when paddle boarding. That isn't going to be a benefit when you pick such a minimalist option, however, as these won't give you the protection from hard pavement or sharp rocks as seen with a full neoprene shoe.
Water Shoes
If you do choose to wear shoes paddle boarding, we recommend that you purchase and wear true water shoes. 
These are just as they sound – shoes that are meant to be worn in the water. Here's why: 
They are made from materials that handle water well

They won't swell up and get soggy once submerged 

They can keep your feet more comfortable in cold water 
Whether you wear them to stay warm in cold weather or just to feel more stable on your board, the choice to wear water sport shoes is one that many paddle boarders come to appreciate.
If there is a downside to note here it is the potential lost feeling of connection between your feet and the board. When done in bare feet, paddle boarding allows you to feel the water through the board, and you might enjoy that sensation and find that it gives you improved balance. 
By putting on foot protection, there is a layer between your feet and the board, and some connection is going to be missing. Whether or not that is a big deal to you is a matter of personal preference more than anything else, but it is worth pointing out.
Avoid These Footwear Mistakes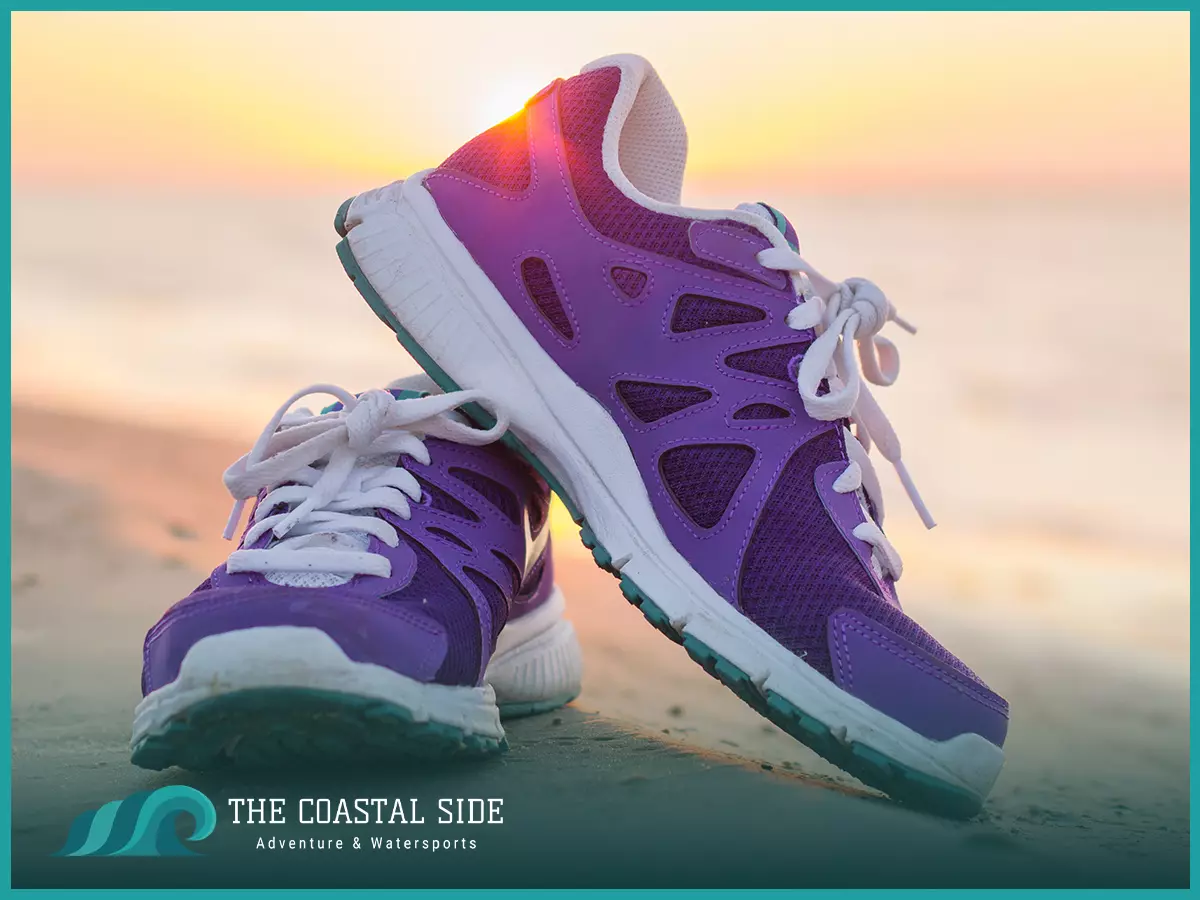 To help you steer clear of any unwanted issues when using deck shoes for a paddle board outing, there are some footwear choices that aren't the best options when choosing a shoe to wear paddle boarding.
Tennis Shoes
The first, and most obvious, is to wear regular tennis shoes or running shoes out on your paddle board. Simply put, this is a bad idea, and could even be unsafe. While on your board, running shoes will probably feel restrictive and could cause your body heat to collect down there around your ankles. Just from a comfort perspective, wearing regular shoes with socks is not a good choice for this activity.
Perhaps even more importantly, you don't want to fall into the water while wearing regular shoes. They will quickly get heavy and weigh you down as you try to get back onto your board. Even if you are wearing a personal flotation device, as you should be, putting on standard land shoes with your swim trucks to go SUPing is a mistake that isn't worth making.
Beach or Pool Water Shoes
These are the shoes that are often found at discount retailers and come as a one-size-fits-all.
They are good for the water and the shore near the water, but it doesn't take much for the bottoms to become damaged. You don't want to ruin the deck of your paddle board or lose your grip when a wave hits. After time, these shoes often lose the little secure fit they had when new.
Find the Right Shoes for You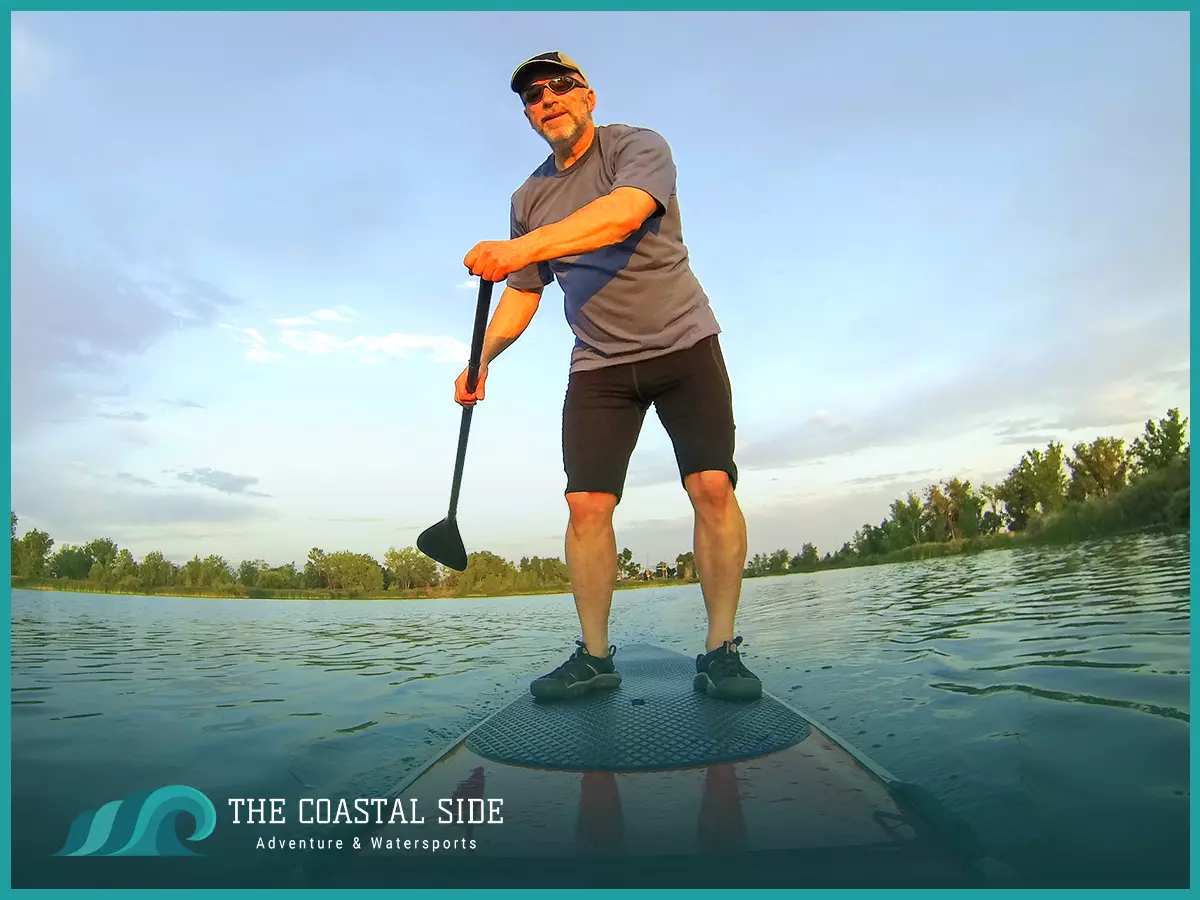 Even if you don't decide to wear them for every outing, having a pair of water shoes that are meant to be used while paddle boarding is a nice upgrade to your equipment set. 
Dedicate this pair of shoes to the task of stand up paddle boarding and nothing else. Leave them with your SUP equipment and only pull them out when it is time for a trip to the water. This will allow you to get both better performance and a long life span from your purchase.
That way, when you plan a particularly long outing, or know you are going to a rocky area, you'll have the shoes ready to go. Everything from water sandals to neoprene booties can work well while paddle boarding for feet protection, so decide what style works best for you and get out there on the water!
Have fun out there!