Can you paddle board anywhere? There are many bodies of water that might be suitable for you to begin your stand up paddle boarding adventures. Let's explore exactly where you can take your SUP when traveling and exploring.
You finally purchased the stand up paddle board of your dreams. You even carved out time from your busy schedule to explore the freedom and exhilaration of paddle boarding. You have the option of freshwater, saltwater, lakes, rivers, or the ocean. But can you paddle board anywhere you want?
Let's break down some of the considerations for helping you choose a safe and appropriate body of water when you go traveling with your SUP.
Paddle Board Safety
No matter which body of water you select, your first consideration should be following the safety requirements for paddle boarding. You may feel like being tied by the ankle to your floating paddle board with your leash should be enough of a safety feature, however, the US Coast Guard (USCG) does have requirements for paddle boarders.
Coast Guard Requirements
While the USCG will not be hunting down paddle boarders and checking for life jackets on a remote lake, you may be held to the requirements if you are in a populated swimming or boating area. If you are outside a swimming or surfing area, you will be considered a "vessel" and fall within their guidelines. 
Life Jackets
A personal flotation device such as a life jacket should always be worn when paddle boarding and is required by the USCG.
Adults and children over 13 need a USCG approved type life jacket. These can include a type I – III or V. You don't have to wear the life jackets, but for safety reasons, it's the wisest choice.

Children under 12 have to wear an appropriate type of USCG approved type life jacket while paddle boarding.

Jackets must be fitted appropriately and not be in a state of disrepair.
Paddle Board Injury Statistics
Although paddle boarding is a fantastic way to get in shape, there is still the possibility you can get injured. Paddle board injury statistics are slow in being reported. As of 2018, the USCG reported 14 accidents, only five were fatal. All of the deaths were caused by drowning. They might have been prevented if the paddle boarders had been wearing their leashes. But, these are not high statistics because there are around 3.6 million paddle boarders in the United States.
Where is it Not Legal to Paddle Board?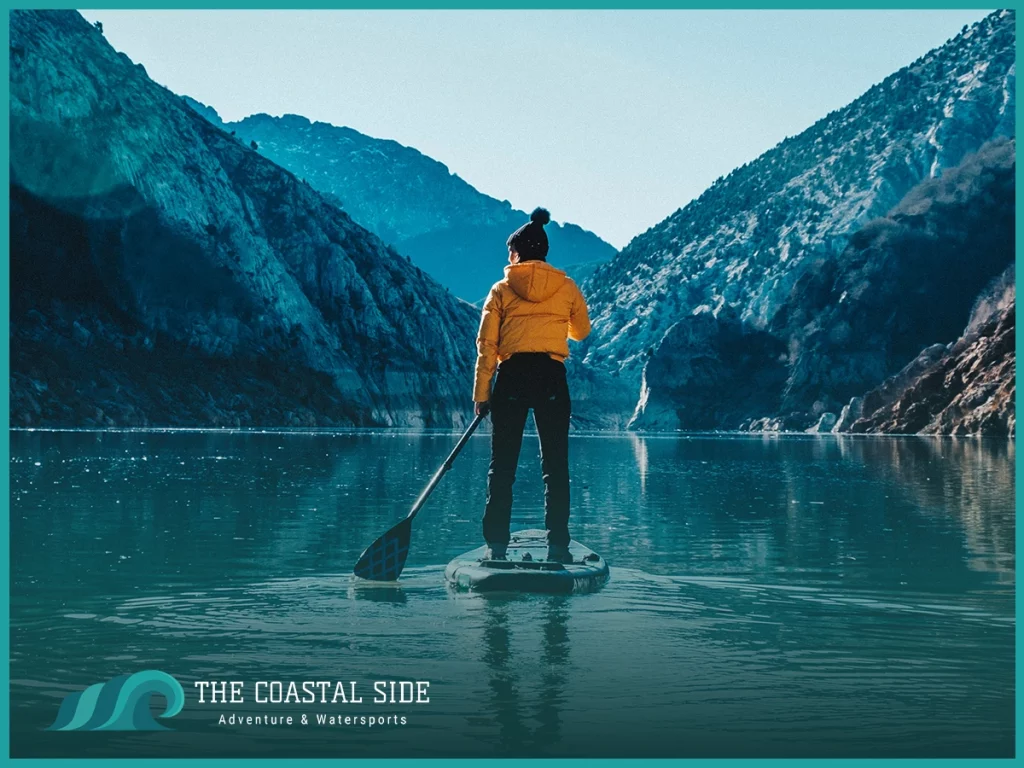 If we eliminate where you should not paddle board, it might help narrow down the good choices. If you are considering paddle boarding in a body of water that falls under the jurisdiction of a state reservoir or protected nature reserve, look up public information on their boating regulations. 
Paddle Boarding Concerns
Bodies of water that you should check out before entering with your paddle board include:
Busy harbors

Private lakes

Reservoirs

Proximity to Naval stations

Near cruise ships
As a rule of thumb, if there are large ships and lots of jet skis, you probably should consider a safer venue for paddle boarding. You will realize the wisdom of this when you are taken out by your first large boat wake. 
The ideal location for paddle boarding includes large expanses of flat, calm water. Any situation where you are dodging boats under power and having to contend with wakes is not ideal. A paddle boarder may feel safer in inland waterways where there will be more stability and fewer boats than in a busy harbor.
Ask yourself what your are goals for paddle boarding. Are you looking for fast-paced surfing and building stability in waves? Or, is your goal to stay safe, deal with fewer waves, and paddle close to shore to enjoy the scenery and wildlife?
When you narrow down your goals you can determine your ideal location to enjoy your SUP board.
Choosing a Paddle Board Location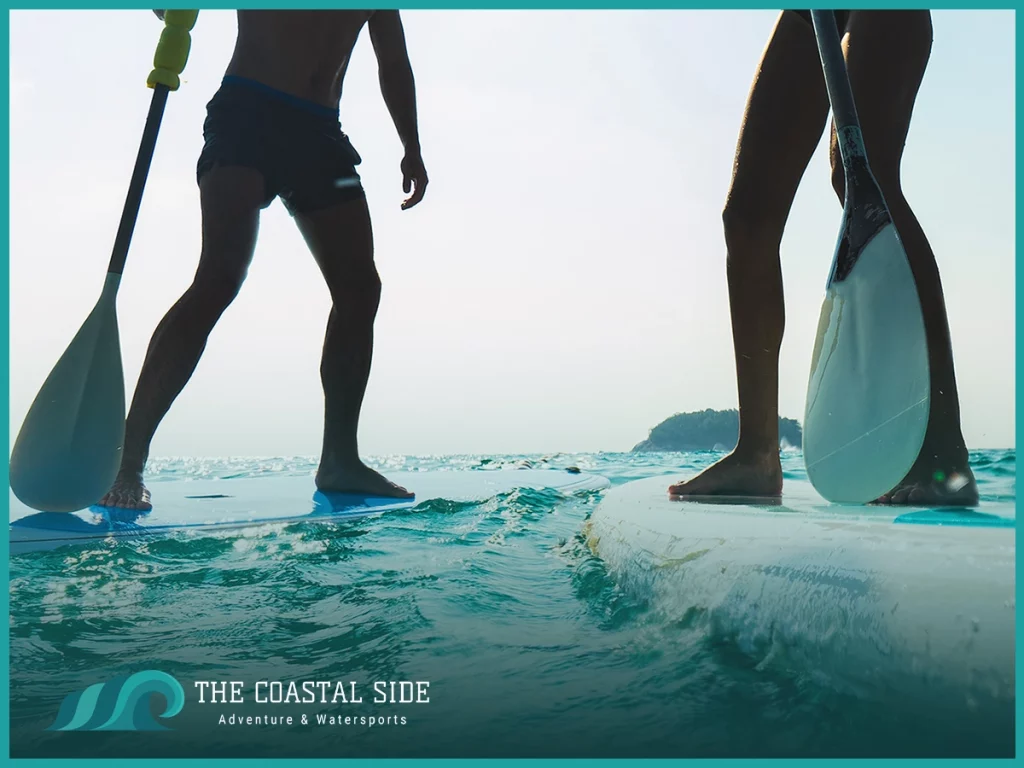 When making your paddle boarding decision, you should consider two factors.
    Are there any legal issues with your ideal location?

    Is it a safe location for a stand up paddle board?
Depending on the marine traffic, currents, tides, or water movement, your skill level may not match your enthusiasm for taking on certain paddle boarding challenges.
Ideal Locations for Paddle Boarding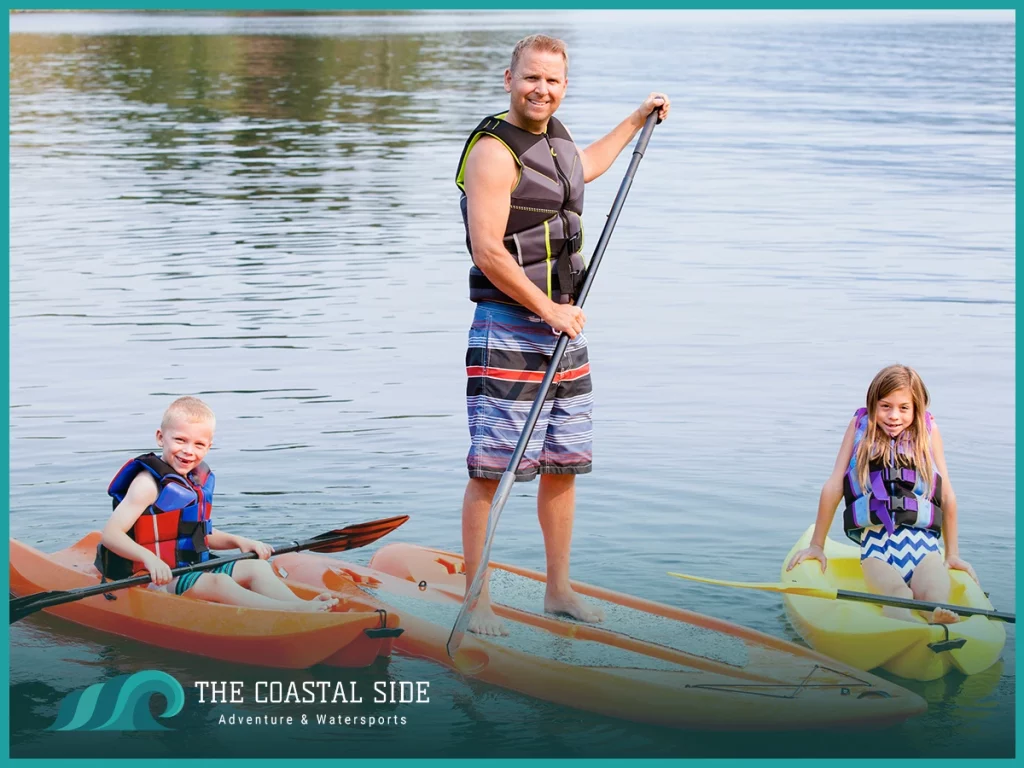 It makes sense you aren't going to head out into rivers with class 4 rapids on your paddle board. You might if you have a death wish, but otherwise, there are much better choices.
There are large, slow, meandering rivers that are ideal for paddle boards. The ocean can be wonderful if you are confident on your stand up paddle board. Lakes are also common locations for SUP boarding. Let's take a look at some of the best bodies of water where you should consider paddle boarding:
Paddle Boarding on Lakes
Lakes come in many shapes and sizes and are an ideal location for SUP boards. Lakes will have smaller waves for novices and are ideal for practicing balancing skills. Their calm waters will help you build confidence on your stand up paddle board.
You won't have to contend with tides, currents, and big waves. Even though you will feel safe in a small lake, it's still a good idea to wear your life jacket and your ankle leash. Inflatable paddle boards are often the best choice for the easy paddle board journey you'll find on a lake.
What to know before you go paddle boarding on a lake:
Launch in a public entry point
Make sure you are not trespassing on private property. Research where you can launch legally before you drag your paddle board out to the lake.
Check the weather
While you are not in danger of getting lost at sea, even lakes can be treacherous in bad conditions.
The larger the lake, the bigger the concern
An obvious danger is getting caught in a thunderstorm where lighting may be a threat. Take a glance at the weather reports even if you are staying local.
Ocean Paddle Boarding
The obvious consideration to paddle boarding on the ocean is that due to its size, currents, tides, and waves, it can be dangerous. However, there are people who prefer riding the waves on their stand up paddle boards as a sport. In this case, the beach makes a perfect launch point for paddling in the ocean. You may even aspire to try surfing on your board for a fast paced activity. It's a great workout and helps you gain stability.
Make sure you have a high-quality paddle board that is recommended for the ocean before you consider going out. Be aware that not all paddle boards are made as a one-size-fits all. There are paddle boards best suited for women as they are typically smaller in stature. The ocean can be daunting for less experienced paddle boarders. If you feel your board and skill level are appropriate, read through the considerations below.
Considerations for ocean paddle boarding:
Check the weather
If there are 20 knots of wind and 3-meter waves are predicted, stay off the ocean. You may be able to find a protected bay or harbor, but chances are the wind will still affect your ability to paddle comfortably.
Be aware of the tides and currents
Tides and currents may be a factor if you plan to launch off the beach. Know where you will be launching and if you will be affected by wave action. Bays are great places to paddle board but they are still susceptible to the effects of tidal currents.
Wear a wetsuit
Consider wearing a wet suit when paddle boarding in the ocean. If you find yourself in the water for an extended period, a wetsuit could be a lifesaving factor.
River Paddle Boarding
Nothing is more relaxing than heading down a tranquil river on your SUP. Paddle boards are a fun way to enjoy the calm water and sunny day as the scenic banks pass by and you are surrounded by tree-lined banks, wildlife, and wilderness. 
A paddle boarder may feel safe on a rivers calm waters, but conditions can deteriorate rapidly. The most important aspect of river paddle boarding is researching your route. Will you be staying local or do you have an entrance and an exit strategy?
Suggestions for Paddling on a River
Map it out
Research your route before you depart. Know if you are traveling on a safe section of the river, and if there are rapids, they are within your skill range.
Know the weather conditions
Paddling down a river, you may not have easy access to seek shelter. Sudden and heavy rainfall can increase water speed and produce dangerous debris.
Take a buddy with you
It's more fun to paddle with a pal. Having a friend if you are traveling down the rural part of the river is always a good safety precaution.
Communicate
Pack a cell phone in a waterproof case in case of an emergency. A portable phone charger is a great idea as well.
Dress for the weather
The water temperatures of rivers can be chilly. Stay warm and wear a wet suit. If you feel a wetsuit is too restrictive, you could opt for a bathing suit under layers. If it becomes too warm, you can pack the extra layers in your waterproof bag strapped to your board.
Which Body of Water is Best for You?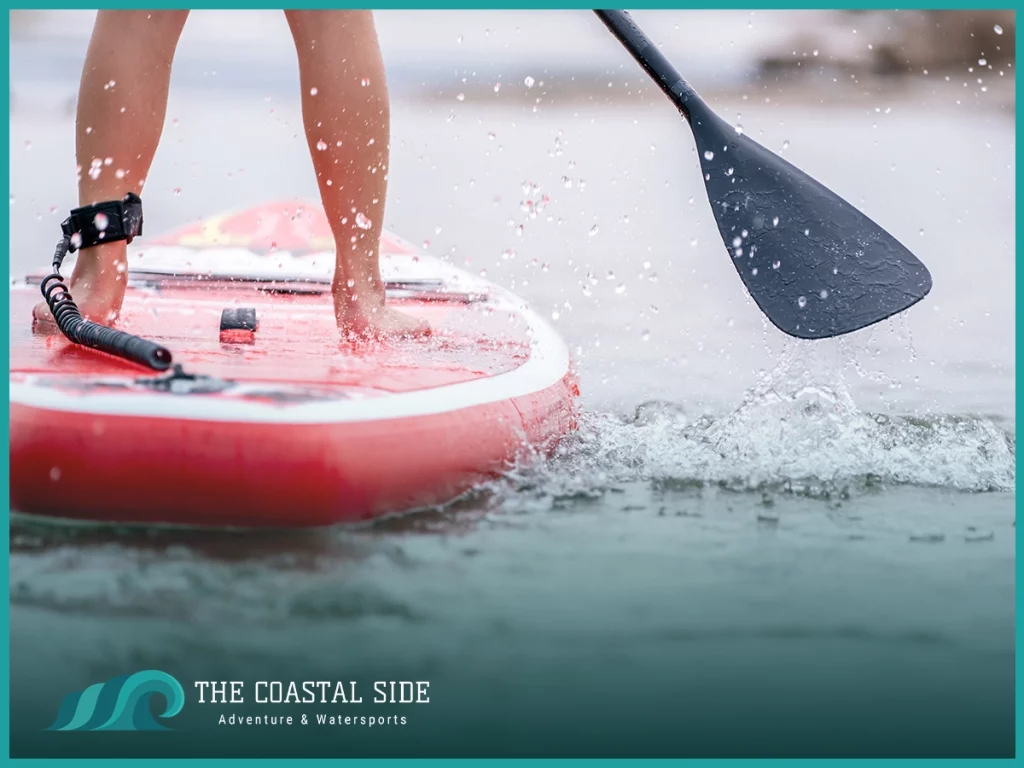 From rivers to lakes, to the ocean or inland waterways, it's time to decide where you feel you will most enjoy your paddle board experience. Keep in mind the important safety considerations that span all bodies of water when you are stand up paddle boarding. 
SUP boarding is a great way to spend time outdoors. Paddling through waves is a great workout for your body and stand up paddle boarding through calm waters in an ideal location is good for the soul.
Whether you paddle board on a lake, river, or off a sandy beach, choose a body of water where you know you will be comfortable with your board's capabilities and your paddling skills. Most importantly, have fun. It's a big watery world out there and there is the perfect place for you to enjoy your paddle board.