Back in the day, if you wanted to fish on the water you basically had two options. Either haul a hefty, full sized Jon boat, canoe or kayak down to the water, or limit yourself to fishing from the bank. Thanks to advances in manufacturing and materials there's another solution – inflatable fishing boats.
Nothing beats the versatility and portability of a good inflatable fishing boat. They're ultra-portable, easy to inflate and deflate, and feature many of the same features as their hard-bodied counterparts.
Inflatable fishing boats come in a wide variety of designs, materials, and price points. I'll break down what you need to know when picking out an inflatable fishing boat, and review some of the best models available now.
Quick Answer: 9 Best Inflatable Fishing Boats
---
Inflatable Fishing Boat Types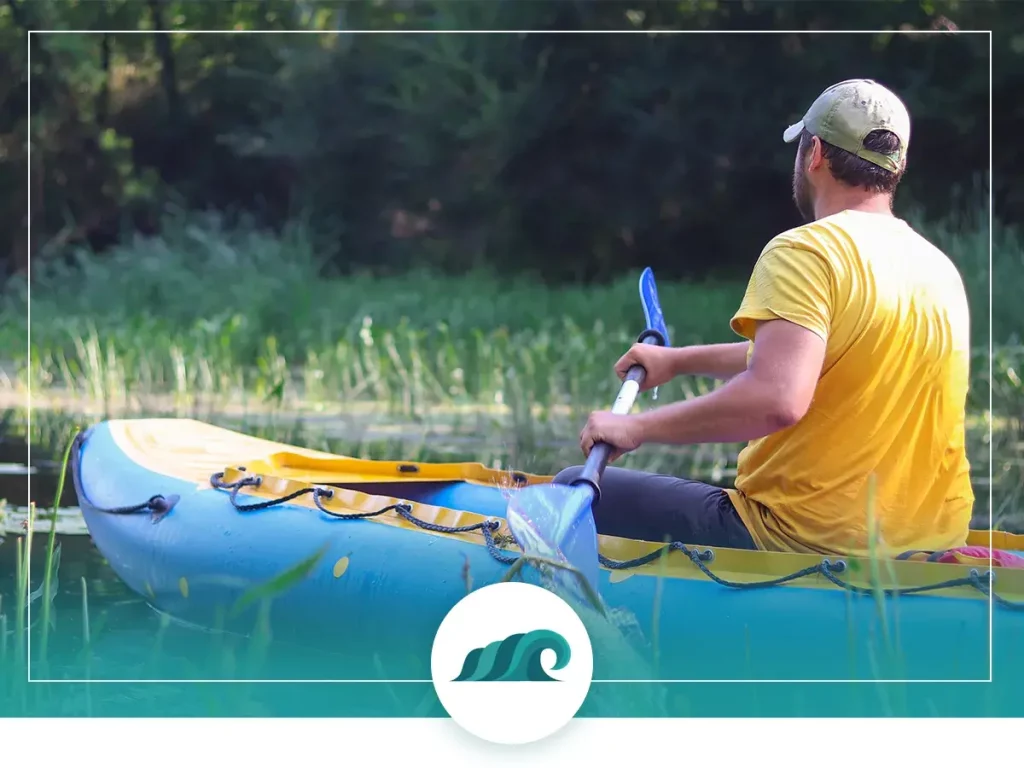 The best inflatable fishing boat for you will largely depend on your fishing style, location, and how you plan to use it. Let's take a look at some of the most popular inflatable fishing craft.
Inflatable Kayaks
Inflatable kayaks are an excellent choice for solo anglers fishing in relatively stable conditions.
Most inflatable kayaks designed for fishing use are large, flat, 10+ foot craft with plenty of deck space for all your fishing gear. They often feature comfortable elevated seating and excellent primary stability – so you can cast comfortably either seated or standing upright.
Many also feature built in mounts for attaching multiple rod holders, fish finders, anchor locks, and all kinds of fishing accessories. They generally aren't set up for mounting trolling motors, so if that's a deal breaker for you, you'll need to look for a different inflatable.
Like their hard-bodies counterparts, inflatable fishing kayaks are geared towards stability and smooth tracking in the water. Most will still preform decently well for touring and all-around use, but don't expect to be running rapids in them.
Most inflatable fishing kayaks utilize a sit-on-top design – giving you plenty of deck space to stand up and cast, as well as for stashing your fishing gear. There are also some sit-inside inflatable kayaks, but these are generally more suited to all-around use than fishing.
Dinghies & Rafts
Dinghies and rafts are the largest option for when it comes to inflatable fishing boats, and are a great option when you want to fish with multiple anglers.
While the two terms are often used interchangeably, there is a difference between rafts and dinghies. Rafts are completely enclosed, and usually don't come with a built-in motor mounting location. Mounting a trolling motor to them will require a specialized raft mounting bracket.
Rafts are ideally suited for casual fishing in relatively calm conditions, and larger ones can fit up to 4 anglers at once. They can either feature hard slat flooring or plain vinyl, and most will collapse down to the size of a large backpack.
Dinghies (sometimes called zodiacs) have U-shaped hulls with flat motor mounts built into the stern, and are ideal for mounting a larger motor on. While they're popular with large boat owners due to their portability and stability in rougher ocean waters, they also make great platforms for fishing in nearly any conditions.
They're made from thick, durable marine grade fabrics, making the hull abrasion resistant and able to withstand rough conditions. Many dinghies feature folding wood or aluminum decks, making them function more like real boats than inflatables. Solid decks create a makeshift frame and solid keel – increasing control and stability in waves and windy conditions.
Inflatable Fishing Float Tubes
Fishing floats or tubes are a fantastic choice when you want a simple platform for solo fishing in calmer conditions. They're essentially beefed up versions of a plain old inner tube, with integrated seating, storage, fishing rod holders, and easy transport using built-in shoulder straps.
Keep in mind these floats are designed for use in calm, flat water – like ponds and lakes. You maneuver them by kicking your feet in the water, so you won't have as much control over them as other inflatables.
Most fishing float tubes are fairly inexpensive, so they're a great option for folks who want to get on the water without spending much money. Most are suited for both fly fishing and typical spinning reel setups.
Pontoons
Pontoons are a great option when you want a stable solo fishing platform that can handle a variety of water conditions. They come in two main types – framed and unframed.
Framed pontoons are what most people think of when you mention the word pontoon. They have two separate inflatable pontoon sections, with an aluminum or stainless-steel frame connecting the two sections. Most feature an elevated seat, adjustable footrests, multiple rod holders, and long oars to propel the craft.
They're suitable for use in ponds, lakes, and rivers, and protected bays. They offer a high degree of primary stability, but due to their wide beam, they aren't very maneuverable – so don't expect to tackle challenging rapids in them.
The pontoon design means you'll have less storage space than rafts, dinghies, and inflatable kayaks, but if you're fishing with a lightweight setup they can work well. They also work well with trolling motors, as many feature integrated rear trolling motor mounts as well as marine battery storage locations.
Frameless Pontoons are similar to their framed counterparts, but as the name suggests, they lack a solid bodied frame. They're essentially a combination of a framed pontoon boat and a dinghy. 
They typically don't feature the same motor mount as dinghies, with their mount situated at the bow rather than the stern. They also usually feature a similar elevated seat as a framed pontoon, making casting while seated a breeze.
Because they don't have any frame to speak of, their lighter, more compact, and easier to transport than framed pontoons.
---
Best Inflatable Fishing Kayak: Star Rival Sit-On-Top Inflatable Kayak
When it comes to stable inflatable fishing boats, you'll have a tough time beating the durability, convenience, and quality of this eye-catching craft. It features a comfortable elevated folding seat, giving you the ideal position to cast, paddle, and spot fish – the elevation also ensures your rear end doesn't get soaked!
The 38-inch wide, 6-inch thick deck inflates to a rigid 8 to 10 psi, making it stable enough to stand up and cast effortlessly. Five scotty mount bases come built-in to the gunnels, allowing you to mount all sorts of fishing gear like rod holders, fish finders, anchor locks, drift socks and much more.
 A screened drain port located directly under the seat allows moisture to drain away from the deck, keeping everything on board nice and dry. With a 12 foot 6 inch overall length, there's plenty of space for all your fishing gear – and with daisy chain rigging in the bow and stern – you'll have endless possibilities for securing your gear.
The kayak's design is fairly clever – with 9-inch thick side tubes that act like outriggers – providing increased stability and better tracking on the water. High quality Leafield C7 valves ensure trouble free inflation and deflation, while the advanced PVC material and seam welding technology provide excellent abrasion resistance, durability, as well as air retention.
View on: [su_button url="https://www.amazon.com/NRS-Rival-Inflatable-Fishing-86250-01-100/dp/B07R775XFV/ref=as_li_ss_tl?ie=UTF8&linkCode=ll1&tag=coastalside-20&linkId=d778c92efbdad646a37d7090d90f2fdd&language=en_US" target="blank" style="flat" background="#d93f2c" size="8″ radius="5″ text_shadow="0px 0px 0px #000000″]Amazon[/su_button]  |  [su_button url="https://www.avantlink.com/click.php?tt=el&merchant_id=e295c418-295a-447c-b265-734e25f82503&website_id=fa8ead2b-1363-4b1f-bb72-fdc0af99c59f&url=https%3A%2F%2Fwww.rei.com%2Fproduct%2F152699%2Fstar-rival-sit-on-top-inflatable-kayak" target="blank" style="flat" background="#d93f2c" size="8″ radius="5″ text_shadow="0px 0px 0px #000000″]REI[/su_button]
Key Features
Length: 12' 6"
Material: PVC
Weight: 31 pounds
Comfortable aluminum framed seat provides elevated seating position
Spacious deck space and impressive air volume provide plenty of carrying capacity
9-inch side tube act like outriggers – increasing stability and tracking
Includes pump, carry bag, removable stabilizer fin, and repair kit
View Pricing On:
---
Also Consider: Advanced Elements StraitEdge Angler
If you're in the market for a rock-solid inflatable kayak suited to both fishing and all-around use, you'll have a tough time topping this well-engineered craft. Advanced elements have put a lot of thought and effort into designing an inflatable fishing kayak that doesn't sacrifice any functionality – and it shows.
The inflatable uses multi-layer materials, added abrasion pads, and a patented aluminum rib frame to create a nearly indestructible fishing platform. With an overall length of 9'8" and a beam of 35", standing up to cast is a breeze – plus you'll have plenty of room for stashing coolers, tackle boxes, and other gear.
A removable 1" accessory frame in the bow allows you to mount rod holders, fish finders, bait boards, and other accessories directly within arm's reach. There are also two built-in rod holders, as well as a sturdy high back seat with inflatable lumbar support.
Five inflatable chambers ensure the craft has excellent rigidity, and when it's time to take off, the entire craft folds up to the size of a large backpack.
Key Features
Length: 9'8"
Width: 35"
Weight: 41 pounds
Built-in removable accessory frame for mounting accessories
Integrated aluminum ribs define the bow and stern and improves tracking
High-back lumbar supporting seat keeps you comfortably seated for hours
Includes carry duffel, repair kit, seat & mounting rail. No pump comes included
---
Best Dinghy: Newport Vessels Inflatable Dinghy Boat
When it comes to inflatable dinghies, Newport Vessels are ahead of the game by a country mile. These dinghies are made to handle serious ocean conditions and feature low center of gravities, inflatable keels and V-hulls, and extra-large tubes that make them stable and maneuverable even at high speeds.
Made from triple-layered 1,100 denier Korean-made PVC, the zodiac can easily withstand the wear-and-tear of being dragged over rocks, bumping up against shore, and other challenging abrasive conditions. An anti-corrosive coating protects the material against sun, salt, corrosion, and general breakdown.
Unlike most other fishing inflatables, the dinghy has folding marine-grade wood flooring – providing you with a stable 24mm thick deck similar to a hard-sided craft. This makes it particularly useful for transporting heavy gear and equipment.
Aluminum bench seating provides a solid platform to fish from, while 2 aluminum oars allow you to propel the craft without a motor. If you want to set up a motor, the stern features a flat marine plywood transom perfect for electric as well as gas-powered motors.
The dinghy comes in several different sizes – from an 8'10" model that can hold 3 people, up to a roomy 12'6" model that can seat 5 comfortably. Included with purchase are a carry/storage bag, foot pump, boat registration kit, and drain plug.
Key Features
Lengths: 8'10", 9'6", 10'6", 11'9" & 12'6"
Material: 1100 Denier PVC
Width: 66"
Extra-thick 18" tubes increase stability
Inflatable keel and V-hull
Triple layer coated PVC material is practically indestructible
---
Best Fishing Raft: Intex Mariner 4
Rugged, durable, and built to last, this inflatable raft is the perfect choice for a lazy day of fishing with the whole family. It's built from three separate layers of PVC laminated to an inner layer of polyester – creating a rock-solid hull that can withstand being dragged over rocks, debris, and other rough conditions. On top of that, a durable rock guard lines the circumference of the raft – providing increased protection.
An all-around grab line surrounds the upper hull, allowing you to get in and load and unload the craft with ease. An inflatable keel results in improved maneuverability and stability on the water. Extruded plastic flooring provides a stable and rigid deck – so you can use it to transport heavy gear if needed.
With an 880-pound weight capacity and three inflatable thwart seats, the raft has enough room to hold 3 adults plus plenty of gear comfortably. 2 built in rod holders allow you to troll with ease, while built in oars locks and oar holders give you a place to store and use the included 54-inch aluminum oars.
If you're looking for a raft that can handle a decent sized trolling motor – the mariner is one of the best options out there. It comes with an on-board battery pouch, as well as a motor mount fitting for attaching Intex's Motor Mount Kit.
Key Features
Inflated Dimensions: 129″ x 57″ x 19″
Weight Capacity: 880 lbs.
Material: Triple layer PVC
Highly durable multi-layered PVC is abrasion, impact, and UV resistant
Inflatable keel for increased control and handling
Four Boston valves for fast inflating/deflating
Ideal for trolling motor mounting
Includes 2 x aluminum oars, patch kit, high output pump, and plastic flooring
---
Best Fishing Float: Classic Accessories Cumberland
The Cumberland is Classic Accessories' top of the line fishing float – and it shows. It comes packed with useful features like large storage pockets, cup holders, two rod holders, extra high seating, and a fish ruler for measuring your catch.
The high-backed padded seat is fully adjustable, so you can easily find a comfortable seating position for hours of fishing. An abrasion resistant PVC bottom creates a durable protective layer that can withstand bumping into rocks, rubble, and other coarse materials.
One of the best features of this model is the built-in backpack straps. These allow you to transport the tube nearly anywhere – making it ideal for camping, backpacking, and anytime you need a float on the go.
With a generous 350-pound weight capacity, the float can easily keep larger anglers afloat. A removable Velcro apron with a fish ruler on it serves as a makeshift 'catch tray' allows you to measure your catch as well as rig bait and lures on the go.
Keep in mind the float tube design means you'll need to propel yourself by kicking your feet, so a good pair of fins are a major plus.
Key Features
Inflated Dimensions: 56″ x 44″ x 19″
Weight Capacity: 350 lbs
Weight: 14 lbs
Extra high seating keeps you high and dry while fishing
Ideal for fly fishing as well as spinning setups
Backpack straps allow you to sling the whole float over your shoulder
Velcro apron with fish ruler
---
Best Framed Pontoon: Classic Accessories Colorado XTS
Put another one in the win column for Classic Accessories, this inflatable pontoon is an absolute champion. It's one of the most popular inflatable fishing boats on the market, and for good reason – it offers a perfect combination of stability, durability, and portability.
The major difference between this model and the equally popular XT is the swiveling seat. This allows you to freely swivel while seated, so you can grab your rod from the six-position rod holder and land that trophy fish!
With two 9-foot inflatable pontoons, the boat is highly stable in the water, as well as easy to maneuver. Unlike some pontoon boats, there's plenty of storage space in the built-in side storage compartments, so you can bring along just about anything you feel like. An integrated anchor system with fillable mesh bag, cord, and pulley allows you to stay put in current, while an integrated transport wheel allows you to wheel the craft right down to your put-in spot.
The craft comes with 7-foot long 2-piece aluminum oars as well as three different oar-lock positions, so you can find the perfect rowing position for you. It's also ideally suited for mounting a trolling motor, with a built-in motor mount and a wire battery storage basket.
The boat collapses down to the size of a large duffel along with the metal frame. This makes it perfect for those who want the functionality of a full-sized fishing boat with the portability of an inflatable.
Key Features
Inflated Dimensions: 108″ x 56″ x 28″
Weight Capacity: 400 lbs
Weight: 77 lbs
Free-swiveling seat allows for easy position changes
Plenty of storage space in built in compartments
Anchor system with bag, cord, and pulley
Trolling motor mount and battery storage basket included
Includes 7-foot oars, patch kit, optional pump
View Pricing On:
---
Best Frameless Pontoon: Sea Eagle 285 Frameless Pontoon Boat Pro
Sea Eagle makes some of the best inflatable fishing boats on the market – and this slick looking pontoon boat is no exception. It features quadruple overlap seams, recessed one-way valves, and a U-hull configuration perfect for solo fishing. Because it's completely frameless, it's featherlight and able to stow away in compact spots you'd never dream of fitting other inflatables.
Two rod holders and Scotty mounts come included, so you can easily set up additional rod holders, fish finders, bait boards, and other fishing accessories. The hull material is completely resistant to sun and saltwater – making fishing in bays, lakes, rivers, and creeks a breeze.
A full fabric floor allows you to stand up to cast, and spot fish from much further away. Large air chambers allow the craft to hold an impressive amount of weight, while still drafting in as little as 4 inches of water.
Raised oarlocks allow for better rowing capability than similar craft, while a step bench/footrest lets you kick your feet up and relax. Mounting a trolling motor is fairly straightforward, with the included rear motor mount and space for a marine battery behind and below the seat.
Key Features
Inflated Dimensions: 107″ x 48″
Weight Capacity: 450 lbs
Weight: 31 lbs
U-hull configuration is perfect for solo fishing
Frameless design packs into compact spots
Raised oarlocks for improved rowing
Includes oars, carry bag, foot pump, and repair kit
View Pricing On:
---
Inflatable Fishing SUP: Sea Eagle FishSUP 126 Swivel Seat
When it comes to fishing inflatables, stand up paddle boards aren't the first thing that pop into most people's minds. Sea Eagle's Fish SUP changes all that. This SUP is purpose made to catch fish – and features many of the same features you'd find in a typical fishing inflatable.
Measuring 12'6″ x 40″ x 6″, the board itself provides a wide stable platform for casting, reeling in fish, and cruising through the water. Its swallowtail design provides added stability, while the removable rear mount can house a trolling motor and marine battery with minimal difficulty.
An EVA foam deck provides you with sure footing as well as preventing accidental punctures, while the 1000 denier drop stich construction ensures you can traverse nearly any conditions. A 360° swivel seat allows you to quickly turn in any direction, making fishing while seated much easier.
A 500-pound weight capacity means the board can handle 2 angers at once. When it's time to hit the road, the entire thing packs up to the size of a large backpack – so you can take it with you just about anywhere.
Key Features
Inflated Dimensions: 12'6″ x 40″ x 6″
Weight Capacity: 500 lbs
Weight: 44 lbs
Wide, stable fishing SUP works equally well for sitting or standing
Built-in rear transom mount for trolling motor up to 55 lbs. of thrust
360° swivel seat lets you turn on a dime
Includes SUP paddle, backpack, air pump, repair kit, and multi-purpose storage box
---
Also Consider: AQUOS Heavy-Duty 12.5ft Inflatable Pontoon
If you're looking for a larger inflatable that can take the place of a full-sized pontoon boat, this beast from Aquos is a perfect option. Its large enough to provide a stable platform for two anglers to stand upright on the same side without tipping it to one side – making it a great substitute for those who want the functionality of a full-sized craft that can break down and fit inside the trunk of a car.
The full-sized aluminium deck design above 12.5-foot PVC pontoons provides you ample space for casting, paddling, and hanging out. Smaller reinforced air chambers attached to the main pontoons increase stability on the water. When the side rails are off, you'll be completely unencumbered, so casting with a fly rod is a viable option.
Optional safety side rails ensure you stay put in the craft, and a 360° swivel seat lets you turn freely in any direction. Propelling the craft can be done with the built-in aluminum oars, or you can mount a smaller gas motor or an electric trolling motor to the built-in stern motor mount.
With a maximum load capacity of 970 pounds, the pontoon has enough capacity to hold everything but the kitchen sink, so you'll have no problem tricking it out with all kinds of fishing equipment.
Key Features
Inflated Dimensions: 12'6″ x 40″ x 6″
Packed Dimensions: 53″ x 24″ x 11″
Weight Capacity: 970 lbs
Weight: 129 lbs
Full-sized pontoon boat with spacious 94" x 51" aluminium deck
Large enough for two anglers to stand upright on one side
Four inflatable chambers for increased buoyancy and stability
Optional side rails for added security
---
How to pick the right inflatable fishing boat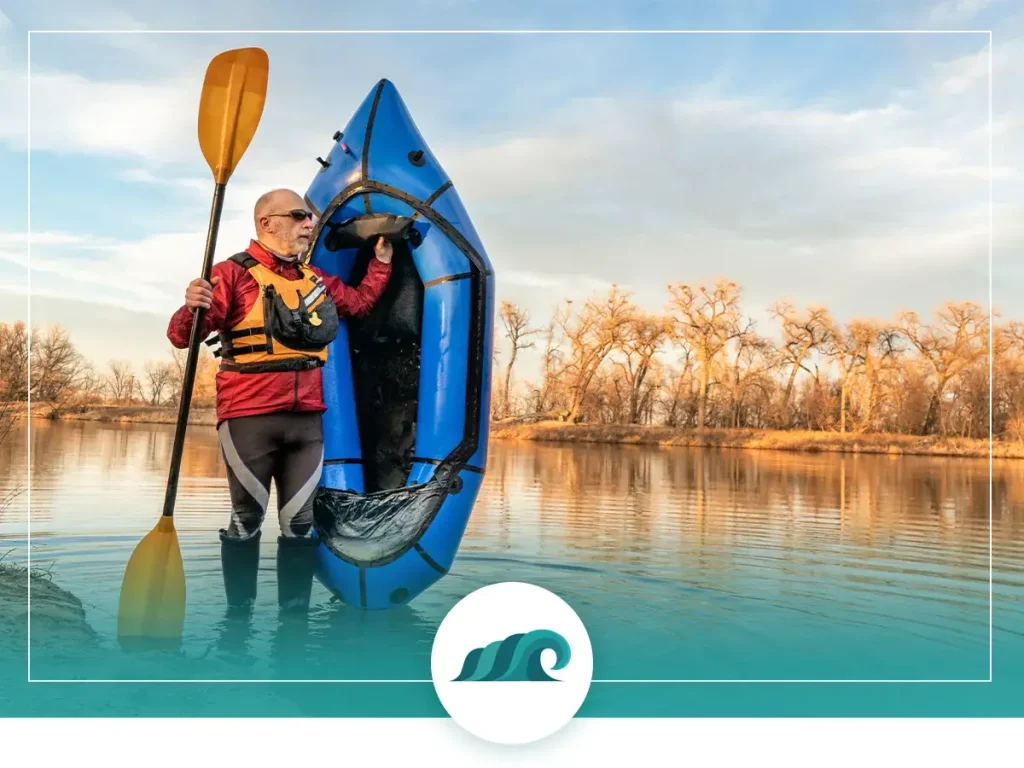 With so many different styles, makes, and models, finding the right inflatable fishing craft for you can get tricky. Let's take a look at some of the most important features to consider when choosing one.
Size
The first thing you'll want to consider when picking out an inflatable is its inflated dimensions. Of course, if you're solo fishing, you won't require as much space as when you're fishing with 3+ buddies.
Smaller sized inflatable fishing boats are ideal for solo anglers who value portability and packability over extra capacity. If you're planning on fishing with a buddy or two occasionally, it makes sense to step up to a larger inflatable. These will still pack away to a reasonably small size, and will give you the versatility to carry extra gear and people.
Portability
Along with the inflated size, you'll want to consider your inflatable fishing boats size when packed up for transport. This is especially important if you have limited space, or if you plan on travelling through airports and other places with luggage size regulations.
You'll also want to consider the size of any accessories or components other than the inflatable hull. Oars, metal frames, hard slat flooring, and seats all take up additional space – so make sure to take them in consideration when choosing inflatable fishing boats.
Fishing Style
You're fishing style is another key component when picking out an inflatable fishing boat. As mentioned previously, your fishing style and location will dictate what type of inflatable you'll be able to use.
Fishing in calm lakes, ponds, and slow-moving rivers can be done in nearly any type of inflatable. If you're planning on ocean fishing, you'll need something suited to the conditions – dinghies and some rafts/kayaks will work well in these conditions. Keep an eye open for inflatable keels, as they'll transform the craft from a flatwater only craft to a boat suited to larger ocean waves.
Propulsion
Propelling your craft is another important consideration, especially if you plan to travel any significant distance on the water. Many inflatables come bundled with either paddles or oars – depending on the boat's design.
If you're planning on setting up a trolling motor, most fishing inflatables come with an integrated stern motor mount, so setting up a motor and marine battery is fairly straightforward. Some can also house a smaller gas-powered motor – making them great for rougher conditions.
Cost
Lastly, cost is an important factor to consider for most people. If you're already shelling out money on a motor, fish finder, and other gear, you'll want to make sure you're getting a value for your dollar.
Keep in mind lower-priced inflatable fishing boats will have to sacrifice somewhere to cut manufacturing or materials costs. They'll often have inferior PVC or vinyl, and won't hold up for as long as high-end models will.
Also consider the length and type of warranty when selecting an inflatable. Even the best inflatable fishing boats can sustain damage from sharp objects, so you'll want to be sure the manufacturer offers a comprehensive warranty.