If you fish from a canoe or other small craft, hooking up a small portable fish finder will seriously step up your odds of catching that trophy fish! Instead of relying on guesswork and dumb luck, you'll be able to zero in on favorable underwater features and find fish much more effectively.
Smaller fish finders are ideally suited for use with canoes and other small craft, as they take up a minimal amount of space, can easily be swapped between different craft, and often feature many of the same cutting-edge advancements as their larger counterparts.
I'll break down some of the best fish finders for canoes, kayaks, and other small craft – and help you find the ideal one for your needs and preferences.
Quick Answer: 5 Best Canoe Fish Finders
---
Types of Canoe Fish Finders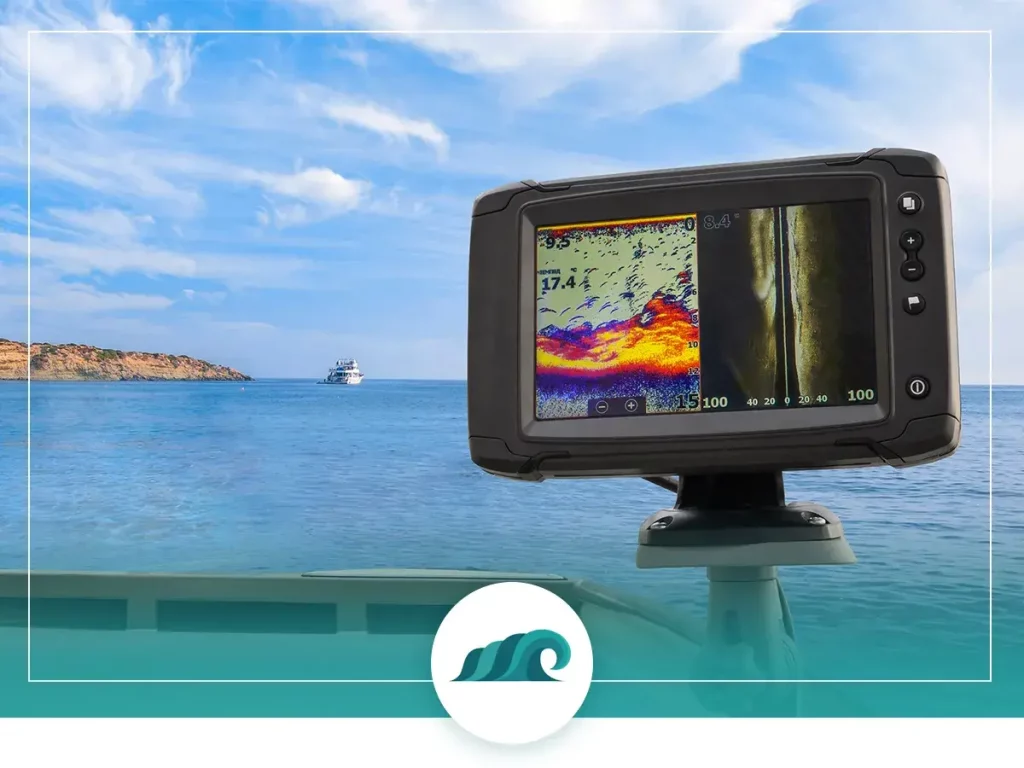 Fish finders suited for use with canoes come in several different designs. The right one for you will depend on your particular craft and fishing style.
Portable Fish Finders: Portable fish finders are essentially scaled down versions of traditional fish finders. Some come with high-end features like CHIRP transducers and wide-angle viewing options. Newer models typically feature compact 3 to 5-inch screens, as well as transducers, suction cup mounts, and nylon carry cases. Some models run off of small 12V rechargeable marine batteries, while others are powered by small built-in rechargeable batteries.
Mountable Fish Finders: Mountable fish finders are all-in-one one-piece units that you can clip to the side of a canoe or kayak. The transducer is built into the base of the fish finder, so setting up the unit takes mere minutes. These units can work with a wide variety of different watercraft, including inflatable fishing tubes.
Castable Fish Finders: Castable fish finders are a newer entry to the fish finder universe, and allow you to transform your smartphone into a fish finder display. These units are basically small floating transducers that communicate with your phone through WiFi or Bluetooth. Typically, they can be rigged directly on your line as a float, or as a fixed transducer.
Best Portable Fish Finder: Garmin Striker 4 Portable Kit
Feature-packed, compact, and reasonably priced, this fish finder is the ideal choice for canoes, kayaks, and other smaller boats. It comes with many of the same features as larger, higher-priced models, in a compact 3.5" display. CHIRP sonar display uses a range of frequencies to create a crystal-clear picture of the bottom features and crisp easy-to-identify fish arches.
The portable kit includes the fish finder, a sealed rechargeable battery and charger, a carry bag, as well as a transducer cable management, and a suction cup transducer mount. This allows you to use the fish finder without a full-sized 12-volt marine battery, making is perfect for canoe use.
A built-in flasher view and foam transducer float lets you use the display in classic flasher mode – so it can double as an ice fishing fish finder or for vertical jigging. A simple high sensitivity GPS with waypoints allows you to highlight important locations like brush piles, docks, and other key locations. This GPS doesn't come with mapping capability, so if that's important to you, you'll need to look at a pricier model.
The entire unit is completely watertight, so you don't need to worry about getting the display soaked by a rogue wave or sudden downpour.
Key Features
Compact, watertight unit with simple and intuitive interface
Portable kit comes with battery, carry bag, transducer suction mount, and foam float
CHIRP sonar display provides crystal clear image
Can be used in classic flasher mode for vertical jigging or ice fishing
Garmin Striker 4 with Portable Kit
The power of simple - offers a keyed interface with dedicated buttons. The device is easy to use and easy to install. Available in 3.5-, 5- and 7-inch display sizes.

Waypoint map - use the waypoint map to easily view, mark and navigate to locations such as brush piles, stumps and docks.

Chirp sonar - chirp sends a continuous sweep of frequencies which provides a wider range of information. Chirp sonar is able to create crisper fish arches with better target separation.

Built-in flasher - view your sonar data in the classic flasher format; Ideal for ice fishing or vertical jigging.
View Pricing On:
---
Advanced Fish Finder: Hummingbird 5 G2 410260-1 Fish Finder
If you're looking for a full-featured fish finder in a compact and portable package, you'll have a tough time topping this superb specimen from Hummingbird. It features a stunning 800 x 480 pixel 5-inch color WVGA display, dual beam sonar, CHIRP digital sonar, micro SD card slot for extra mapping functionality, and precision internal GPS chart plotting.
It also has autochart live – which allows you to map the water depth as you move your craft over the surface. The kit includes the transducer, mounting hardware, soft-sided carrying case, gimbal mounting bracket, rechargeable battery and power cable. The battery will last for a full day's worth of fishing, but you can also purchase a separate battery here if necessary.
Hummingbird has bundled the basemap with the unit, providing you with a clear view of underwater terrain and important points of interest.  This includes maps for over 10,000 lakes, plus coastal coverage of US waters. It's also made the unit compatible with Lakemaster maps, so you can add additional accuracy and detail on contours, depth ranges, and other useful features.
Key Features
High-def 5-inch 800 x 400 pixel LCD display
Dual beam sonar
Digital CHIRP sonar produces crisp, accurate, imagery on structures, fish, and bottom
Portable kit comes with transducer, gimbal mount, soft case, battery and charger
Micro SD card for adding additional mapping
Humminbird 5 410260-1 Fish finder , Black
5-Inch Color WVGA Display

CHIRP Digital sonar engineered to help you see individual fish

SwitchFire Sonar to take command of how your sonar returns appear

Dual Beam PLUS Sonar - Two beams combine for great detail and a generous coverage area

Humminbird basemap built-in provides a clear view of underwater terrain

Portable carrying case to take your fishing system on the go
View Pricing On:
---
Best Castable Fish Finder: Deeper PRO+ Smart Sonar
When it comes to castable fish finders, you'll have a hard time beating the portability and functionality of the Deeper Pro+. Dual beam sonar with both narrow (290kHz 15°) and a wide (90kHz 55°) beams allow you to cover broad areas as well as zoom in for high-detail scanning. The scanner can a casting range of 330 feet, and can scan down to 260 feet deep.
Built-in GPS allows you to create your own underwater depth maps on the fly. Simply cast the fish finder, and then slowly reel it in as it scans the bottom for features, depth and vegetation. Your scans can be saved to Lakebook, Deeper's bathymetric management platform.
The PRO+ uses Wi-Fi to connect with the fish finder, providing 15 scans per second and 1" target separation. It connects through your smartphone's Wi-Fi hotspot, and is up to 10 times faster than Bluetooth – plus it doesn't require an internet connection.
You'll generally want to use heavy braid when fishing with the Deeper Pro+, as the added weight can cause weaker line to break and fray.
When your fishing from a canoe or other small craft, the transducer can set it the water as you troll – scanning the bottom terrain on the go. An optional clamp-on flexible arm mount allows you to easily set the transducer up for trolling with kayaks and canoes.
Key Features
Dual beam sonar with narrow and wide scanning options
Scanner has a castable range of 330 feet and 260 feet deep
GPS allows you to map the underwater depth
Lighting fast 15 scans per second and 1" target separation
Deeper PRO+ Smart Sonar Castable and Portable WiFi Fish Finder with Gps for Kayaks and Boats on Shore Ice Fishing Fish Finder
HIGH SPECS AND ROCK SOLID CONNECTIVITY: Casts out up to 330ft and scans down to 260ft. Precise 0.5in target separation. Compatible with iOS and Android devices. Syncs to phone/tablet using its own Wi-Fi (like a hotspot). No internet or cellular data needed.

BUILT-IN GPS: Create bathymetric maps from the bank, boat, canoe, kayak. Access all your scans, maps, points of interests, photos and notes on the Fish Deeper app and web platform.

REAL-TIME DATA: Two beam frequencies with 15 scans per second. View depth, see bottom structure and consistency, vegetation and fish.

BOAT AND KAYAK FISHING: Deeper Pro Plus fish finder is a great addition to your boat or kayak accessories. Installs in seconds, no cables, wires, or external batteries needed. No drilling required.

RECHARGABLE BATTERY: Charge it as needed with a micro USB B type cable. Included in the box.
Prices pulled from the Amazon Product Advertising API on:
Product prices and availability are accurate as of the date/time indicated and are subject to change. Any price and availability information displayed on [relevant Amazon Site(s), as applicable] at the time of purchase will apply to the purchase of this product.
---
Also Consider: ReelSonar Wireless Bluetooth Smart Fish Finder
If you're looking for a basic, lightweight, castable fish finder that can be used just about anywhere, this portable unit about as good as it gets. It's ideal for canoe, kayak, and raft fishing, as well as for casting from shore. Bluetooth connectivity gives you a casting range of 100 feet, and a maximum waterbed mapping depth of 300 feet.
The 42°/118kHz sonar depth can reach 135 feet deep, and provides detailed mapping of underwater structure, water temperature, fish size, and other detailed features. It has the ability to give you two different fish sizes, both under and over 15 inches. The transducer unit can relay information to your phone from up to 100 feet away, whether or not you have a cellphone signal.
Bundled software allows you to mark GPS spots, weed beds, fallen logs, and other key features for use later on.
Optional fish and strike alarms can be setup – alerting you when a fish has taken your hook or shows up on your screen. This can be particularly useful while trolling from a canoe or kayak, so you don't need to constantly monitor your screen.
Key Features
One of the smallest & lightest castable fish finders on the market
Ideal for canoe, kayak, and shore fishing
Single wide beam sonar
Rechargeable battery with 10+ hours of battery life
Accurate reading down to 135 feet
Fish size indicator
ReelSonar CGG-MY-IBOBBER iBobber Wireless Bluetooth Smart Fish Finder for iOS and Android devices,Classic,Small
Patented sonar fish identifier technology

LED beacon

Rechargeable battery and charge status indicator light

10+ hrs battery life.Syncs with iOS (Apple) 10.0 and later operating systems and Android 4.3 or later that use Bluetooth Smart (4.0)

Accurate sonar readings down to a depth of 135

2 Snap swivel connections for use as bobber or as remote fish finder

Free app on iOS and Android

Bluetooth Smart sync up to a distance of 100 for best battery life on the market

Choose between raw sonar or fish tagging views

Depth-tagged fish icons color coded by size

Waterbed and structure contour mapping

GPS spot tagging with interactive map

Trip Log with date, time, location, water temp, conditions, type of fishing, lure, number and species of fish caught

Lunar calendar and weather (temp, rain, wind, barometer)

Fish & strike alarms

Optional social media share features

Trip and spot logging, weather, and lunar calendar app functions available w/o iBobber hardware

Compatible with Google Watch and iWatch

Refer to the manual below under the product description for more product use information, installation instructions and troubleshooting steps.
View Pricing On:
---
Budget Pick: Lucky Portable Fish Finder
If you're looking for a functional, portable fish finder without breaking the bank, you'll have a hard time finding a better unit than this. It features a bright, easy-to-read 2.4" TFT color display, which shows water depth, water temperature, underwater features and fish sizes. An optional fish alarm will sound when the finder detects fish of a certain size (small, medium, and large).
A wireless sonar transducer ball allows you to use it in a variety of different ways, including casting, mounting to a canoe or kayak hull, and floating in your fishing hole while ice fishing. Both the transducer and the display unit use rechargeable lithium ion batteries, with the transducer lasting about 10 hours between charges and the display unit lasting about 4 hours.
The 90-degree sonar angle will detect fish and other features down to 147 feet, and has an operating distance of just under 200 feet. The display unit connects wirelessly to the transducer, and doesn't require any cell signal to connect.
Key Features
Fully featured fish finder with 2.4" color LCD display
Display shows water depth, water temperature, and fish size
Wireless sonar transducer can be mounted in a variety of different ways
Both transducer and display unit feature rechargeable lithium ion batteries
Budget price
LUCKY Portable Fish Finder Handheld Kayak Fish Finders Wired Fish Depth Finder Sonar Sensor Transducer for Boat Fishing Sea Fishing
The portable fish finder, with updated 2.4inch TFT color LCD screen(more clear to display), can detect and display underwater contour, water depth, water temperature and fish size(big/middle/small) and fish depth. It has two user modes: TRANSDUCER/SIMULATION. Try all functions in simulation mode and go fishing in transducer mode.

Lucky fish finder portable provides you 26FT wired operating distance and 328FT depth detection. Kayak fish finders has 45° beam angle with 200Khz in detection.

The fish finder portable is rechargeable. Come with USB cable for charging. The fish depth finder can work continuously about 5 hours with full charge. The brightness of the display can be adjusted. Read the data either at night or in the sunlight easily.

Various features settings: Lucky portable fish finder is with updated underwater contour display(3 kinds of display. You can choose, more clear and professional). Also, set up sensitivity, screen brightness, depth range, zoom, depth alarm, fish alarm, fish icon, units(FT/M ℃/℉)alter and language by yourself.

Go fishing with the fish depth finder in different ways, such as ice fishing, river fishing, sea fishing, shore fishing, kayak fishing, etc. The bracket allows you to attach the sensor transducer to your boat or kayak.
Prices pulled from the Amazon Product Advertising API on:
Product prices and availability are accurate as of the date/time indicated and are subject to change. Any price and availability information displayed on [relevant Amazon Site(s), as applicable] at the time of purchase will apply to the purchase of this product.
---
How to pick the right canoe fish finder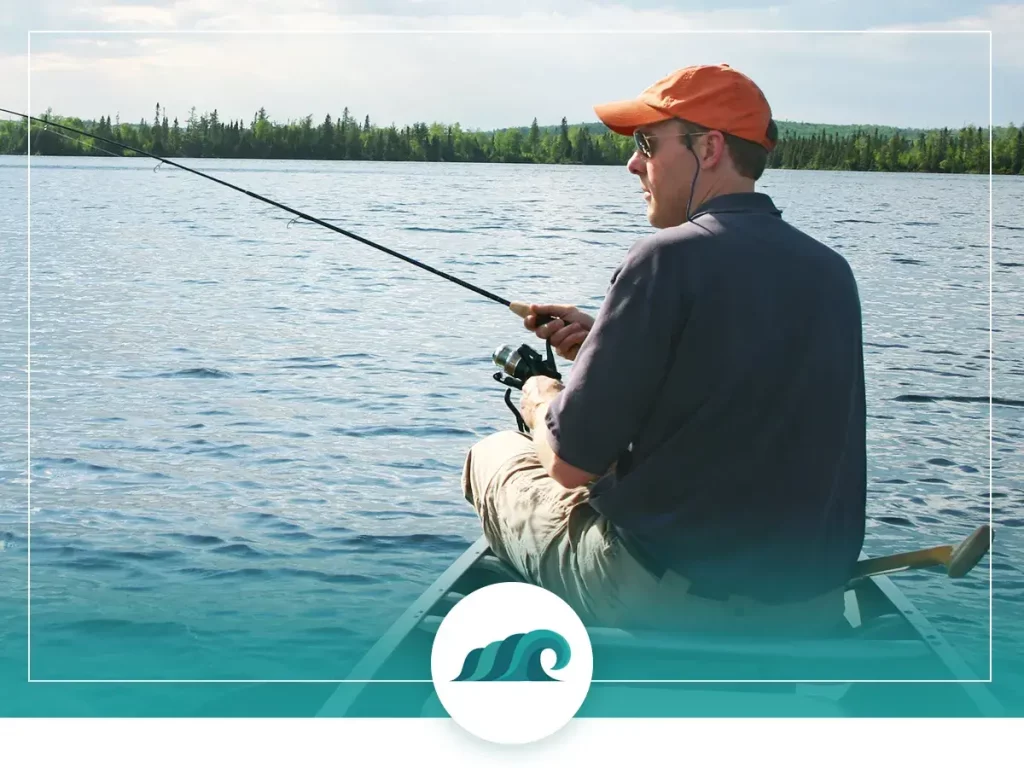 With so many different models, features, and sizes, choosing the right canoe fish finder for your craft can be a tricky task. Let's take a look at some of the key features to be aware of when selecting a canoe fish finder.
Portability
Portability is a key factor to consider, especially if you frequently fish from different watercraft. Portable canoe fish finders are small and easy to transport, making them great for swapping between different canoes, kayaks, inflatables, and other boats.
Castable fish finders also work well for shore fishing – making them ideal for anglers who frequently fish from the bank as well as from smaller craft.
Waterproofing
Waterproofing is an important feature to be on the lookout for – especially for anglers that fish in choppier water or rainy weather. Be on the lookout for the IPX waterproofing rating. Waterproofing of IPX6 or greater will provide a good degree of protection from the elements.
If your using a castable fish finder, be sure to protect your smartphone, tablet, or display unit with some kind of waterproof case.
Battery Power
Canoe fish finders are typically powered either by small portable rechargeable batteries, or with larger deep-cycle marine batteries. If you're looking for a truly portable option, or you don't want to add a larger battery to your craft, then you'll want to go with smaller rechargeable batteries.
Most of the models reviewed above are powered with smaller batteries, while some can run on both deep-cycle marine batteries and smaller portable ones.
Transducer Mount
Mounting your transducer to your craft can be done in a variety of different ways, depending on the fish finder design. Transducers are often mounted using suction cup mounts, but can also be mounted to a trolling motor, directly to the hull, or suspended in the water with a transducer mount.
If you're looking for a transducer mount specifically for canoes, kayaks, pontoons and other smaller craft check out the Brocraft Transducer Mounting Arm.
GPS
GPS is a useful feature to have in canoe fish finders, as it lets you plot out waypoints for docks, weed beds, and other important features. It can also be used to map out your fishing trip, so you can go back and find key locations at a later time.
Of course, fish finders with GPS will cost a bit more than units without it. GPS can be especially useful if you fish on larger lakes or in the ocean. If you're only fishing in pond or small lake, then it's not going to be as useful.