Just because there's frost on the ground, doesn't mean you have to hang up your rod and reel until the snow starts melting in spring. For some of us, the first cold chill of winter is the signal that ice fishing season is just around the corner.
While it may not be as comfortable as fair-weather fishing, ice fishing is one of the best ways to stay active during the cold winter months and can be one of the most satisfying ways to score a tasty trout, walleye, or pike. It's also a great way to connect with friends, family, and get out of the house and have a little adventure in nature.
If you're getting a little bored fishing your local lakes and ponds, what better way to get some outdoor excitement than exploring some of the best ice fishing places on earth! Let's break them down in detail.
1) Lake of the Woods, Minnesota/Ontario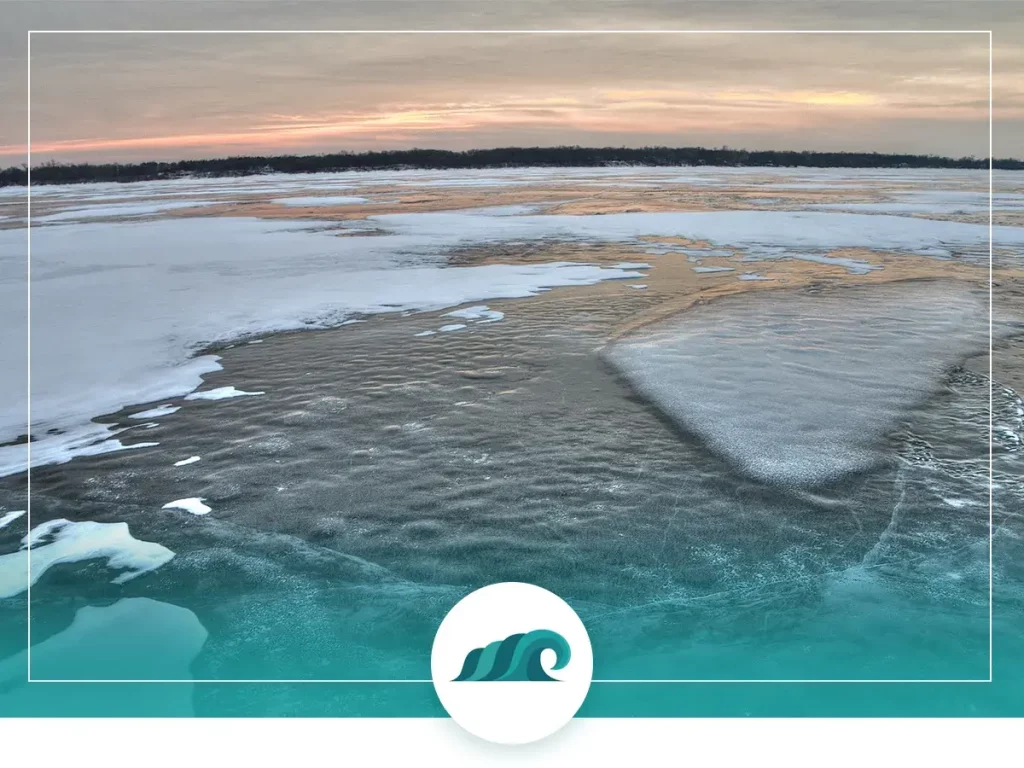 Situated on the US-Canada border between Minnesota and the Canadian Provinces of Ontario and Manitoba, this massive lake is home to a huge array of fish – enough to satisfy any ice angler. It's truly an enormous body of water, with over 65,000 miles of shoreline, and 14,552 islands within it. The lake can be accessed from either the US or Canadian side, making it a great option for anglers in both countries.
Northern pike, walleye, perch, lake trout, crappie, sauger, and the occasional muskie are all readily available depending on the time of year. The fishing season is on the longer side – typically running from early December to late March.
As far as accommodations go, there is a wide variety of fishing resorts and outfitters nearby, renting cabins, sleeper ice houses and all the gear needed to help you catch more fish. Snowmobiling in the surrounding area is another popular activity.
2) Lule River, Sweden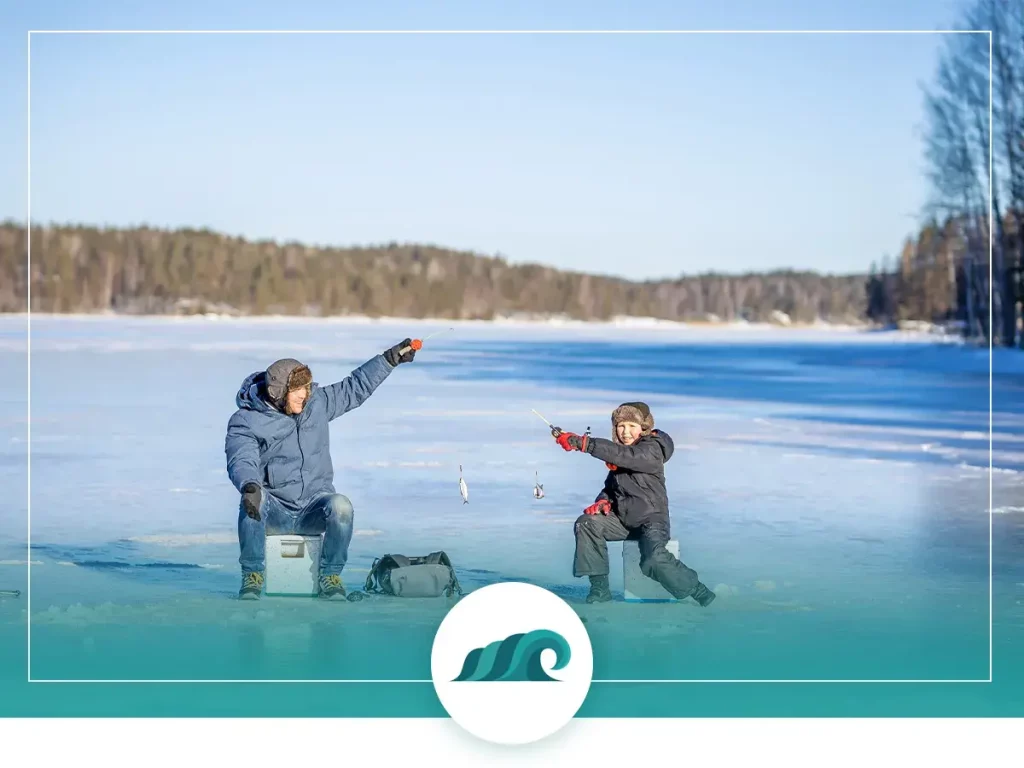 Famous the world over, ice fishing in the Lule River offers the unique opportunity to catch salmon, trout, pike, and whitefish. The Lule River has its origins in upper Sweden near the Norwegian border, and is the largest river in Swedish Lapland (the arctic part of Sweden).
Ice fishing on the river has become increasingly popular in recent years, with some of the largest salmon in Sweden caught here regularly. The ice fishing here is actually some of the best in Europe for salmon and trout and is equally as good during the summer months.
Various outfitters and guides are available to supply you with necessary gear and take you out on the ice, or you could always go it alone. The region is a true winter wonderland, with plenty of wildlife, winter activities like dog sledding and snowmobiling, and even a good chance of seeing the northern lights! Check out the world-famous treehotel for an incredible place to stay while you're there.
3) Devils Lake, North Dakota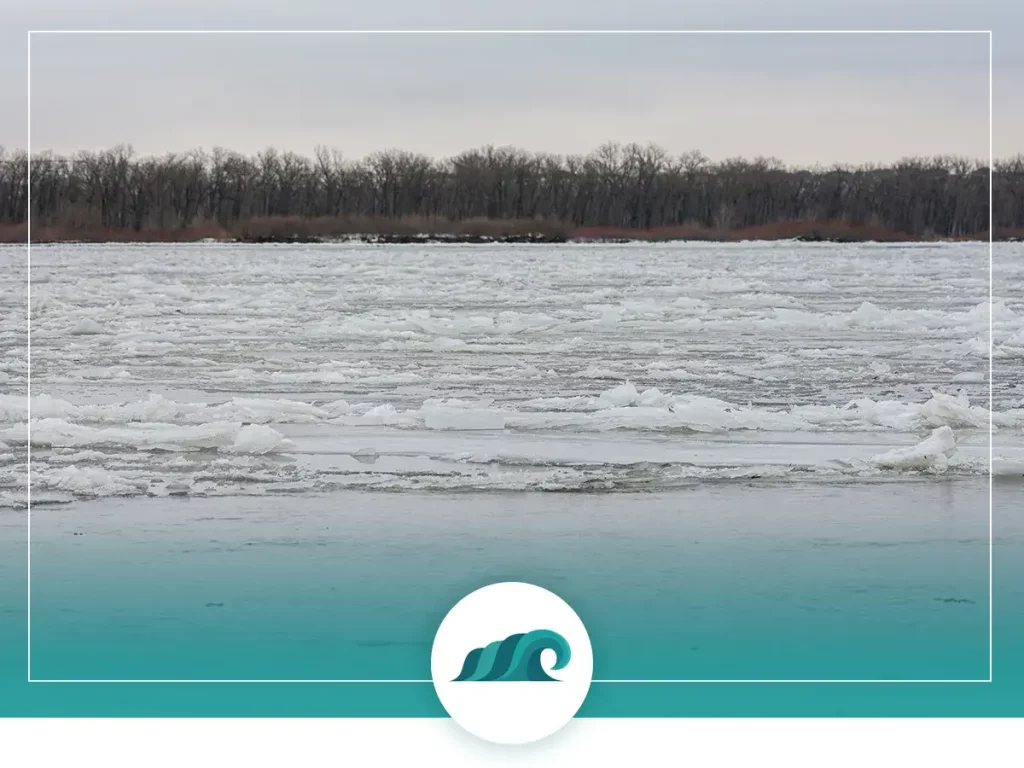 North Dakota's well-known lake is one of the best places to go ice fishing across the globe. It's actually known as the perch capital of the world, due to its incredibly healthy perch population. Perch weighing more than two pounds are caught here regularly.
The lake is home to a large population of freshwater shrimp, which accelerates the growth of the jumbo yellow perch, which in turn provides healthy forage for larger game fish. This leads to some of the healthiest and fattest pike, white bass, and walleye you're likely to encounter.
The fishing season is usually long – from mid-December to late March. It's also a pretty huge lake, with over 180,000 acres of fishable area, so you can easily break away from the crowds and find a nice secluded fishing spot.
Beyond ice fishing, Devil's Lake is home to top-notch hunting, cross-country skiing, and boasts a vibrant town with plenty of local attractions.
4) Lake Winnipeg, Manitoba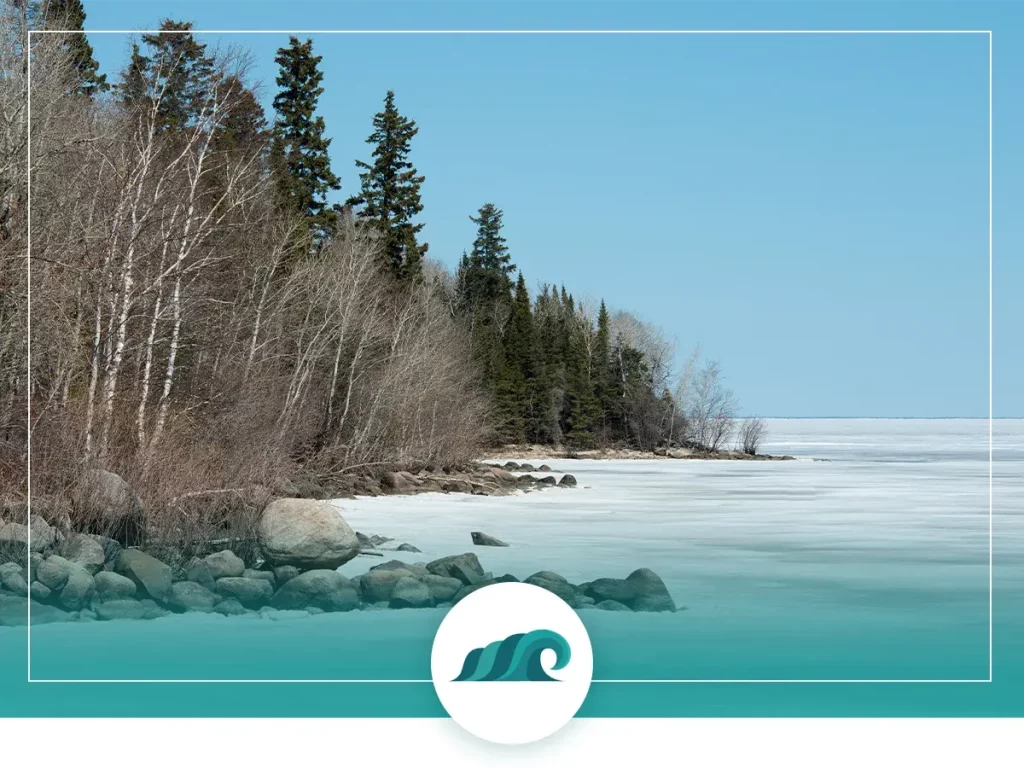 If giant walleye are what you're after, then you'll have a hard time beating the incredibly healthy specimens found inside massive Lake Winnipeg. Some of the largest walleye in the world are caught here regularly, many in the 28+ inch range.
Due to massive flooding in the past decades, walleye have had very good spawning conditions, which has led to unusually large and healthy fish stocks. Lake Winnipeg generally has good food sources for walleye, so they're able to grow larger than in other large lakes.
The lake itself is enormous and is the third-largest freshwater lake in Canada. It's actually relatively shallow though, with most of it around 40 feet deep or so. Most of the ice fishing is done in the southern portion of the lake, where up to 3,000 can be found fishing most weekends during the season.
Temperatures can get pretty low here, so you'll want to make sure you're properly outfitted with insulated shelters, ice fishing jackets and bibs, and warm fishing gloves.
5) Lake Champlain, Vermont/New York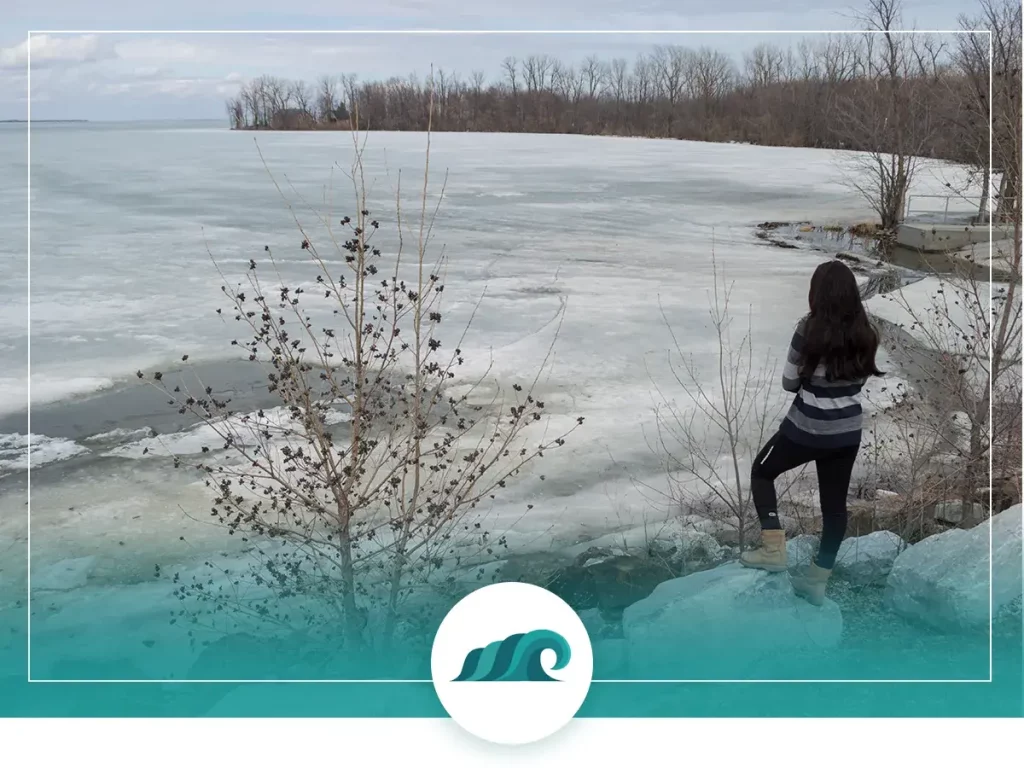 This well-known 120-mile long lake is one of the most popular places to go ice fishing on the east coast. It extends from the southern portion of Quebec down through Vermont and New York State. The lake is home to a wide variety of species, including perch, pike, lake trout, crappie, walleye, and landlocked salmon.
The season usually begins around early December in the northern portion of the lake, when the bays and passages freeze over. As winter progresses, more of the lake begins to freeze over, including the open areas holding large populations of perch, pike, and smelt.
A variety of fishing outfitters are available to set you up with all the gear needed for a successful outing, as well as provide a little insider info on where the fish are biting!
6) Higgins Lake, Michigan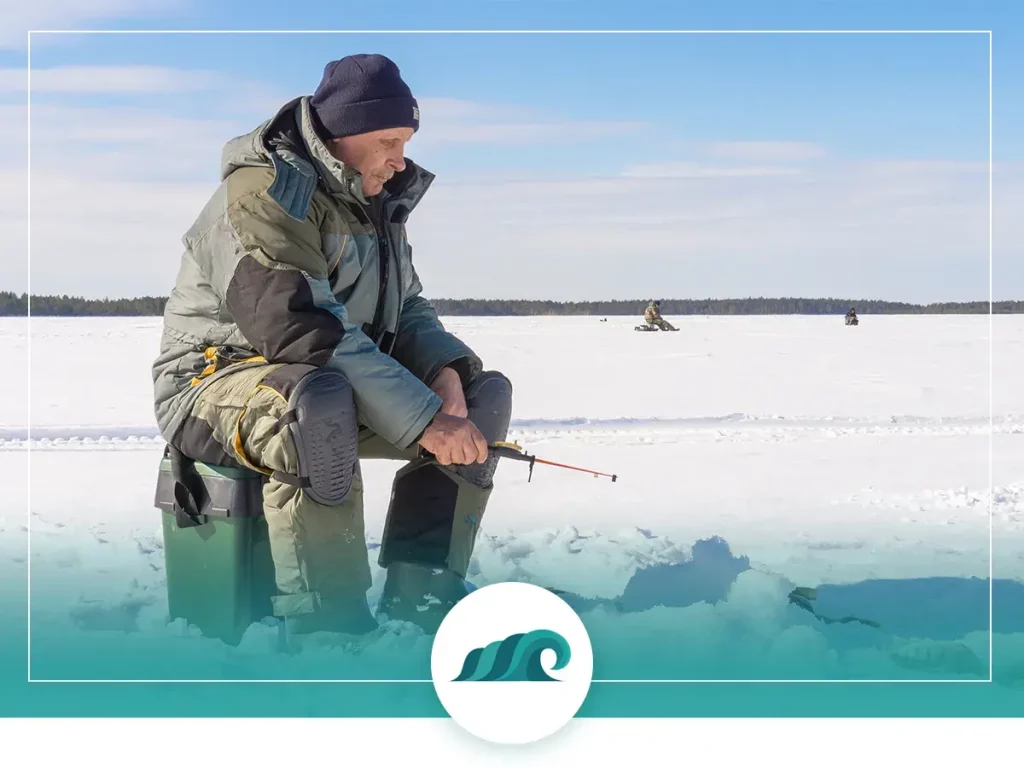 Famous for its lake trout and smelt, this relatively small inland lake is truly an ice fisherman's paradise. Its deep waters are home to a wide variety of fish, from yellow perch to pike to the famous lake trout. It's much deeper than the neighboring Houghton Lake, which means it's slower to freeze over and usually isn't safe to fish until mid-January.
When you're targeting lake trout, you'll want to fish in the deeper water (70 to 130 feet), and use cut smelt or shiners as bait for your tip ups or jigs. When after perch, stick to the shallower 20 to 40 foot water closer to shore. Perch here don't grow enormous but are the perfect size for eating, and it's fairly easy to catch your fifty fish limit.
If you're planning a trip out this way, check out Lyman's On the Lake Resort for everything you need to get started fishing the lake.
7) Ammassalik, Greenland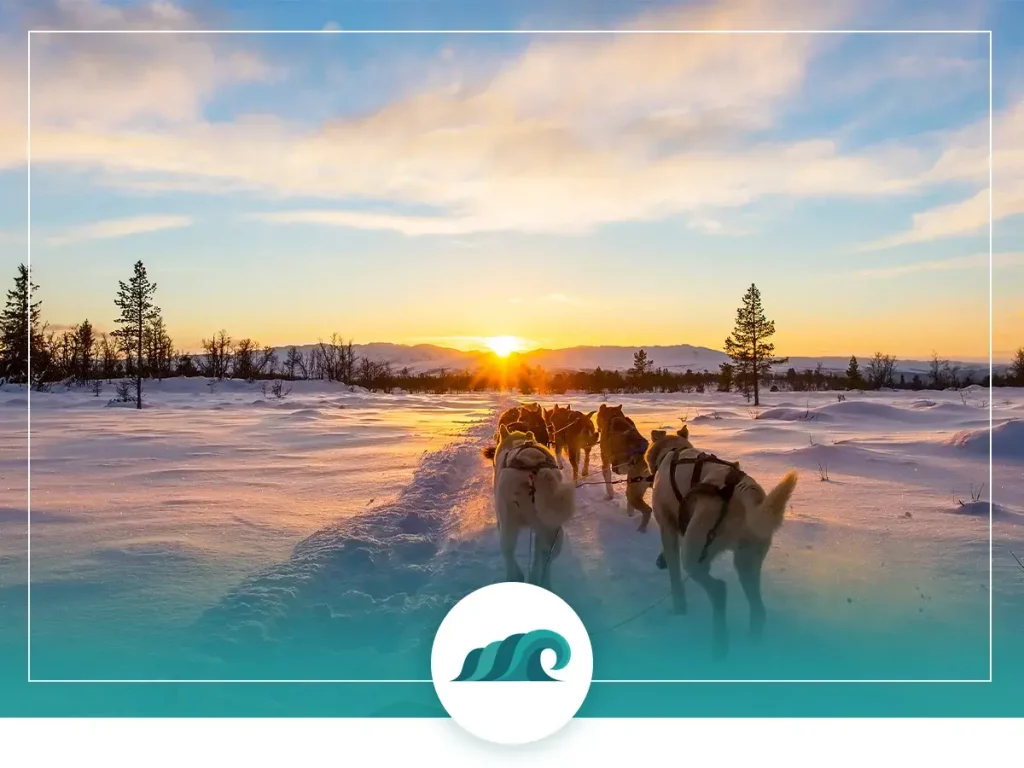 While it's certainly off the beaten path, ice fishing in Greenland is a unique opportunity to catch some incredible fish species – including redfish, halibut, spotted wolf fish, and the famous Greenland shark, which can reach up to 440 pounds and live up to 500 years!
A trip to this part of Greenland presents an amazing opportunity to travel by dogsled, as the rough terrain of eastern Greenland is actually easier to travel by sled dogs than modern snowmobiles. The remote beauty is breathtaking, with incredible mountains, fjords, icebergs, and glaciers constantly surrounding you. You'll also have an excellent opportunity to see the northern lights on a clear night.
Most tours of the area will include a combination of activities along with ice fishing, including visiting local traditional settlements, snowshoeing in the mountains, sailing in the fjords, dogsledding, and even seal hunting with the locals.
8) Kathleen Lake, Yukon Territory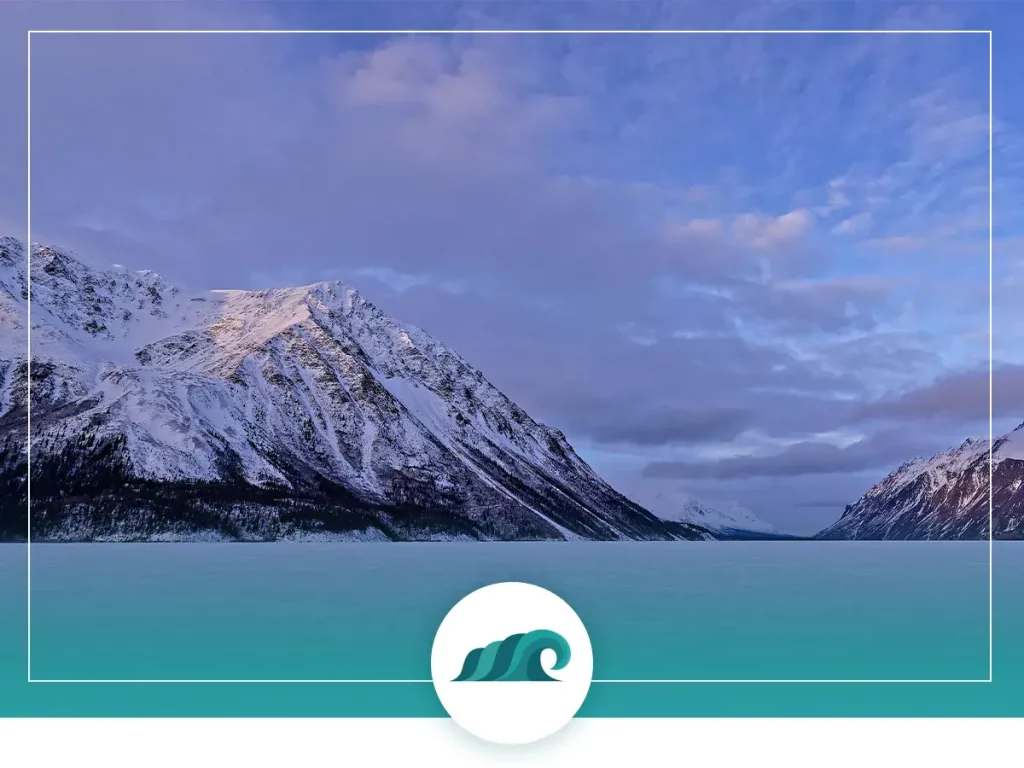 This stunning lake situated in the remote northern Canadian territory is both beautiful and one of the best places to go ice fishing for trout. It's located within the vast Kluane National Park and Reserve and is known for its healthy population of lake trout, arctic grayling, and rainbow trout.
Being so remote, the lake is best accessed by snowmobile and is one of the few lakes that allow open fires on the ice surface. Trout here are plentiful, so you're likely to catch your limit and have enough fish for a good barbecue!
Beyond ice fishing, the area is popular with all kinds of outdoor enthusiasts and features excellent dog sledding, snowmobiling, cross-country skiing and snowshoeing.
9) Lake Diefenbaker, Saskatchewan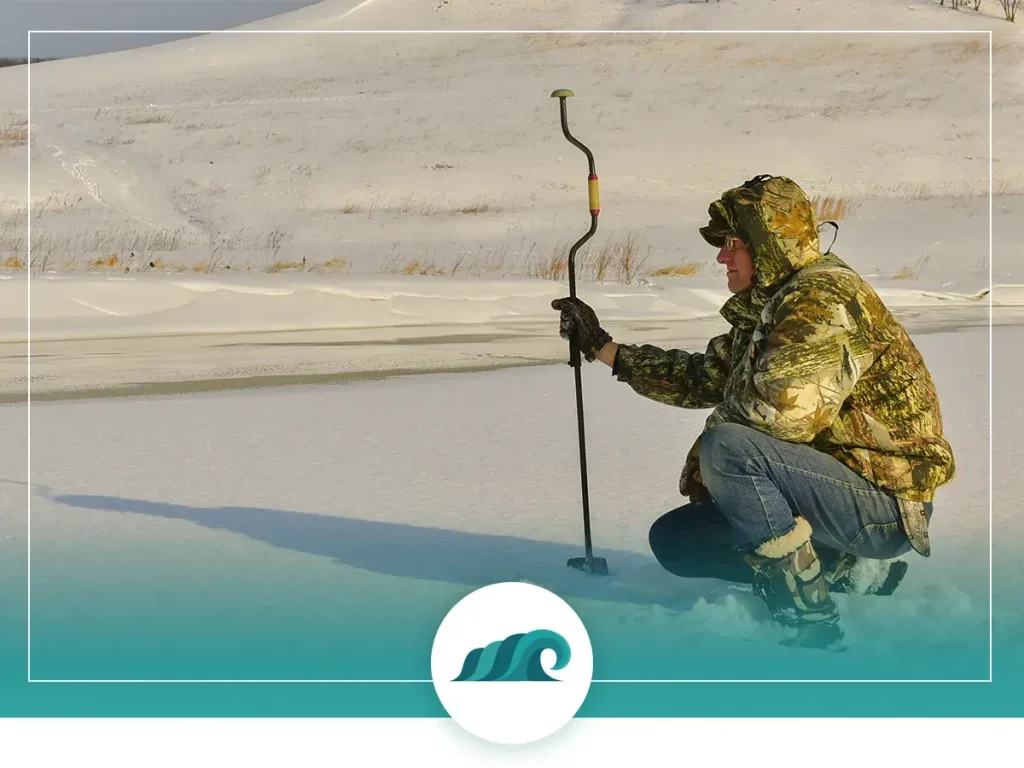 This sprawling man-made reservoir in southern Saskatchewan was formed back in 1967, when the Gardiner and Qu'Appelle Dams went into service. It's 140 miles long, and features approximately 500 miles of shoreline, making it large enough to support some seriously big fish.
The lake sports a healthy population of walleye, lake and rainbow trout, pike, perch, lake sturgeon, and burbot. In fact, the world record for walleye was established here back in 2005, as well as many world records for rainbow trout. Trout here can easily top 10 pounds, and due to an accidental release of hundreds of thousands of rainbow trout from a fish farm in the mid '90s, some serious monsters are still lurking in the depths.
The lake is located about 80 miles (130 km) south of Saskatoon and features plenty of other activities to keep you occupied like hiking, snowmobiling, and exploring the local nature.
10) Lake Simcoe, Ontario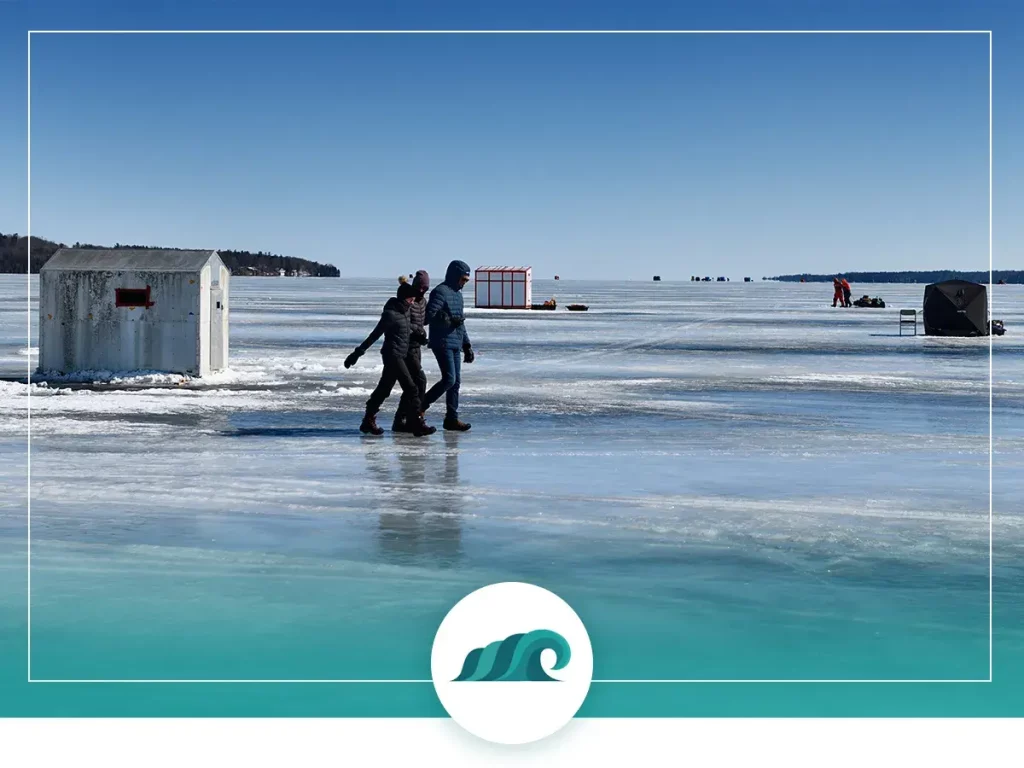 One of the most popular ice fishing lakes in the world, Lake Simcoe is home to a large number of ice fishing tournaments every year, and sports a healthy population of jumbo yellow perch, pike, whitefish and lake trout. Located about a 40-minute drive north of Toronto, the lake is one of the best places for an east coast ice fishing weekend getaway.
The season typically begins after New Year's, with shallower portions freezing first and deeper parts taking much longer to completely freeze over. The official end of the season is March 15th, which is when all ice huts must be removed.
An abundance of rental companies and outfitters are available to rent out bungalows, ice huts, and ice fishing teepees to keep you comfortable on the ice.