Trout are notoriously temperamental when it comes to presentations, and due to their excellent sense of perception can detect line based on sight in many situations. You want to make sure your line and lure/bait looks as natural as possible so as not to spook them away. With that in mind, what is the best fishing line for trout?
Well, like most things trout related, the answer isn't so cut and dry. The ideal fishing line will depend heavily on the situation, including the water clarity, trout species, and your fishing technique.
I'll break down some of the best trout fishing lines of various types, so you'll be well prepared to land that trophy Brook, Laker, or Rainbow trout.
Quick Answer: 9 Best Fishing Line for Trout
---
Types of Fishing Line for Trout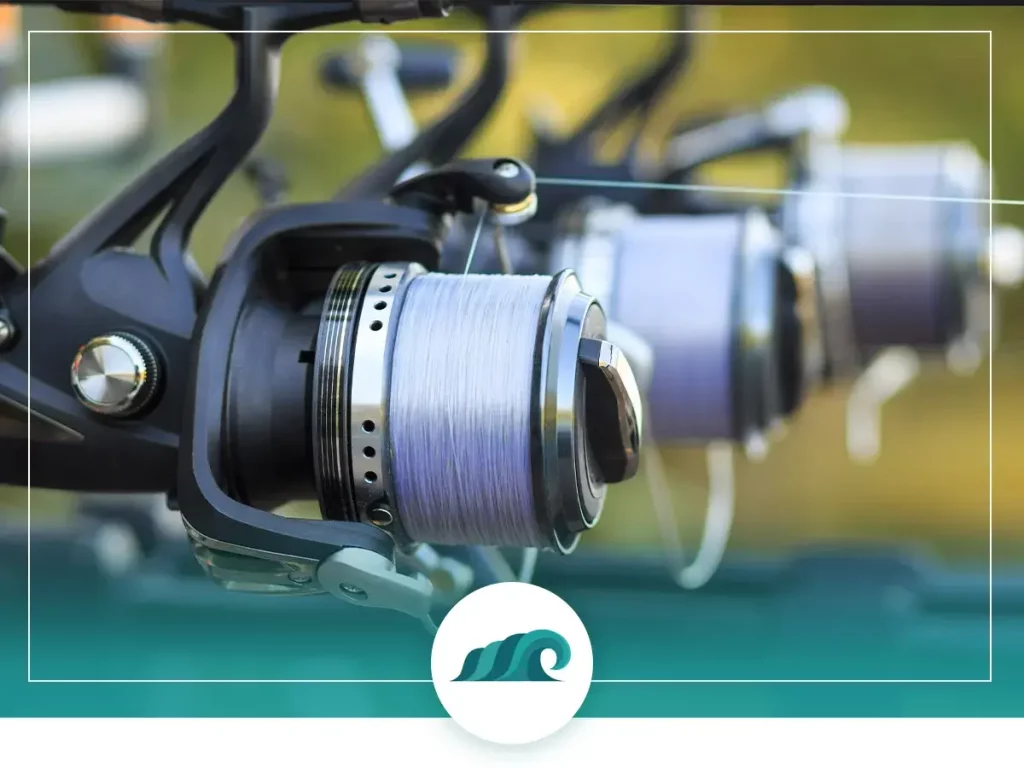 Like most other freshwater species, there are three main fishing line types used for catching trout: mono, braid, and fluorocarbon line. Let's take a look at how each of these performs for trout fishing.
Mono: Mono (Monofilament) line is a fishing line made from one single strand with a high degree of flex. It works fairly well for trout fishing, as it's versatile, inexpensive, and performs well in stained water.
On the flip side, mono line has high line memory. This means it forms kinks and tangles easier than other line types – especially if it's left unused on the spool for a long period of time. Unlike braid and fluoro line, mono is also subject to damage from abrasion when used around rocks and other structures.
Braided Line: Braided line is made from several strands braided together – similar to the way rope is braided together from several smaller strands. This design lends itself to certain trout fishing applications like trolling, and deep jigging, as it's highly sensitive, highly durable, and pairs up well with mono or fluorocarbon leaders.
Braided line isn't perfect though, and it causes issues especially when you're fishing in clear, bright water with high visibility. Braided line is easy for trout to spot, so when you're fishing clear water, you'll need to use some form of a clear leader.
Fluorocarbon Line: Fluorocarbon fishing line is a relatively newer option that was originally used as a material for leaders tied to the end of mono or braided line. Fluoro line is essentially invisible in the water, which is one of the reasons it's so effective when targeting line-shy trout. In clear water, where trout can easily spot your mono or braided line, flouro is the only way to go.
In addition to its nearly invisible appearance in the water, fluoro line also possesses low memory and impressive durability and abrasion resistance. It's less stretchy than mono, so it also works well when detecting sensitive bites is required.
On the flip side, fluorocarbon line is significantly more costly than either braid or mono, and sinks faster than braid – so if you're fishing topwater baits it can be less than ideal.
While it's not cheap, I've yet to find a line that comes close to good quality fluoro line for catching trout. Keep in mind, you can always use fluoro leaders with mono or braid backing to get the best of both worlds.
Copolymer Line: Copolymer line is made of two nylon polymers that combine to create a line with superior strength and abrasion resistance when compared to typical mono line. It's also between 2 and 3 times thinner than most mono, so you'll be able to load your reel up with a significantly higher line capacity.
Copolymer also does a significantly better job of refracting light than mono, so it can be used without a clear leader with good results. Keep in mind it's significantly more expensive than mono, so it's not always necessary.
Best Fluorocarbon Line: Berkley Vanish 100% Fluorocarbon
Durable, virtually invisible, and highly sensitive, Berkley's Vanish is well known for its ability to virtually disappear in the water. It's ideal for fishing in ultra-clear water and is designed to refract light similar to the way water does.
The line maintains its strength in the water and is abrasion-resistant enough to use around rocks and other underwater structures. Like other flouro line, it sinks in the water, and it's designed specifically to cast well.
The line has a bit more flex than traditional fluorocarbons, giving you excellent absorbency when you set the hook. It's also one of the best values in 100% fluoro line, so you'll be getting top-line performance at a reasonable price point.
Key Features
Material: 100% Fluorocarbon
Refracts light similar to water
Highly durable and abrasion-resistant
Designed to be more flexible than traditional fluorocarbons
See Pricing On
---
Runner Up: P-Line Fluorocarbon Fishing Line
P-line is renowned for manufacturing some of the best fishing lines on the market, and this is certainly no exception. The line is constructed from 100% pure Japanese fluorocarbon crystals, providing unrivaled knot and breaking strength.
The refractive properties are similar to water, making it nearly impossible for fish to detect it under the surface. The line also absorbs very little water, further increasing knot strength.
Unlike Berkley Vanish, the P-Line is low stretch, making it great for trolling and enhanced bite sensitivity. The line has minimal memory – so you'll have no issues with kinks or tangles.
Key Features
Material: 100% Fluorocarbon
Extruded from Japanese fluorocarbon crystals
Refractive properties are similar to that of water
Low-stretch and minimal line memory
See Pricing On
---
Also Consider: KastKing FluoroKote
If you're looking for the invisibility and durability of fluorocarbon without the added cost, then this fluorocarbon/copolymer hybrid makes an excellent option. The line is constructed from a copolymer core with a fluorocarbon coating – which greatly reduces the line visibility when immersed in water.
The copolymer core provides low memory and easy castability and features a diameter that's less than typical mono line. This gives you increased reel capacity, so you can increase fishing depth with diving baits.
Like typical fluoro line, it's fast sinking and has low water absorption, and offers excellent knot and line strength. Durability and abrasion resistance is also high, so fishing around heavy cover is not an issue.
Key Features
Material: Copolymer core with 100% Fluorocarbon coating
Hybrid copolymer and fluorocarbon line
Low stretch, durable, low-visibility line
Low diameter line increases reel capacity
---
Best Braided Line: Spiderwire Stealth Braid
Spiderwire stealth braid is about as good as it gets when it comes to braided line for trout fishing. It features a Fluoropolymer outer coating that makes it whisper quiet while casting and reeling.
Like you would expect, it's ultra-thin and strong – featuring 100% Dyneema PE microfibers. It's highly abrasion resistant, so fishing around rocks and cover is not an issue.
Spiderwire makes the line in a wide variety of colors and patterns including moss green, camo, high-viz yellow, and translucent. With so many options, matching the line's color to the water is fairly simple.
Keep in mind when fishing in ultra-clear water a fluro leader may be necessary to avoid spooking the fish.
Key Features
Material: 100% Dyneema PE microfibers
Thin outer Fluoropolymer coating makes it ultra-quiet and smooth
Ultra-thin, tight weave
Highly abrasion-resistant
Wide variety of colors and patterns available
See Pricing On
---
Runner Up: PowerPro Braided Spectra
One of the best-braided lines on the market – PowerPro Spectra – also makes an incredible line for trout fishing. It's designed to have one of the highest strength-to-diameter ratios available; giving you increased reel capacity and performance. The microfilament design delivers a smooth, round line that handles similar to monofilament.
Spectra fiber is designed to create minimal stretch for increased line sensitivity and strike detection ability. You'll really feel every little movement on the end of your line and know immediately if your baits are working properly.
The line is also extremely abrasion resistant, in fact, your leader is more likely to break in a snag than your main line!
Key Features
Materials: Spectra fiber
High strength-to-diameter ratio
Minimal stretch
Excellent line sensitivity and strike detection
See Pricing On
---
Also Consider: KastKing SuperPower Braided Line
If you're looking for a well-made, high-performance braided line without spending an arm and a leg, this line is the one for you. It offers many of the same features as more expensive brands, at a price point that everyone can afford.
The line is highly abrasion-resistant, is highly sensitive, and has virtually zero stretch. This enhances your hook setting ability – which means more fish landed!
It's also fairly low diameter, so you can fill your spool with enough line to handle nearly any fishing situation. The line is low memory – so fewer kinks and tangles are likely to form when you least expect it.
As with other braided line, when your trout fishing in ultra-clear water, you'll want to use some type of clear leader so as not to spook the fish.
Key Features
Materials: MultiTuf PE Line Braid
High tensile strength
Sensitive, abrasion-resistant, and low-memory
Low-diameter increases reel capacity
---
Best Monofilament Line: Berkley Trilene XL Smooth Casting
Berkely has been a household name in the fishing line world – and for good reason. They make an excellent product at a reasonable price.
The line makes a great all-purpose line, combining incredible strength with smooth handling and casting for trouble-free fishing. Unlike some mono line, it features low memory, so backlashes and birds' nests are a thing of the past.
It's sensitive enough to feel subtle strikes that other mono line might miss, while also being abrasion-resistant enough to handle adverse fishing conditions.
Key Features
Material: Monofilament
Low memory resists line twists and kinks
Sensitive enough to feel subtle trout bites
East to handle and cast with
Works well with a variety of baits and fishing techniques
See Pricing On
---
Best Copolymer Line: Trout Magnet S.O.S. 
If you're looking for a well-made copolymer line that can handle the rough and tumble of trout fishing, Trout Magnet's S.O.S. makes an excellent option. This type of line features significantly lower memory than mono while being 2 to 3 times thinner and featuring excellent abrasion resistance.
When it comes to strength-to-diameter, you'll have a hard time beating this stuff. It has minimal stretch and withstands nicks and rough patches very well. The low diameter also means you have plenty of line capacity, so you'll have no problem with long casts.
S.O.S. makes the line in a number of different colors, so matching it to the water conditions is fairly simple.
Key Features
Material: Copolymer
Low-memory
Excellent strength-to-diameter ratio
Highly abrasion-resistant
See Pricing On
---
Best Fluorocarbon Leader: Seaguar STS Trout/Steelhead Fluorocarbon Leader
If you're looking for a durable Fluorocarbon leader to attach to your main line, Seaguar's species-specific STS (Salmon, Steelhead, and Trout) makes an excellent option. It's developed for applications where maximum strength, durability, and invisibility are a must.
It's a fast sinking line with excellent knot strength, with a line diameter that's significantly less than monofilament. This allows you to get your bait into the "strike zone" faster than other line types.
Like other fluoro line, it features a low refractive index, making it virtually invisible underwater.
Key Features
Material: 100% Fluorocarbon
Developed specifically for Trout, Salmon, and Steelhead fishing
Excellent strength, durability, and abrasion resistance
Maximum impact and knot strength
---
How to pick the right fishing line for trout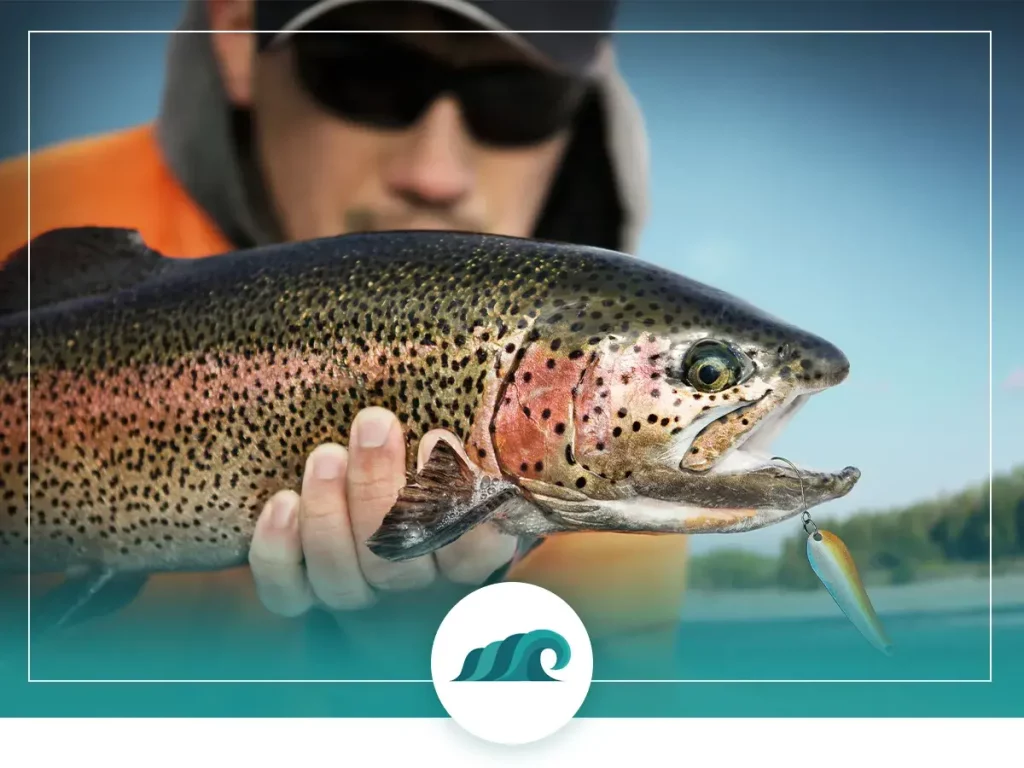 With so many different types and brands, how do you narrow down the best fishing line for trout?
There are a number of different factors to consider, I'll break down some of the most important ones briefly.
Visibility
As trout are one of the most line shy species out there, low visibility line is a must when fishing in clear water. If a trout can spot your line, it's much less likely to take your bait – so you'll make sure your line presentation is as stealthy as possible.
Fluorocarbon line excels in this regard, as it refracts light similar to the way water does. This means it will blend in with the surrounding water, making it essentially invisible.
In stained or deep water fishing, line visibility is less of an issue, and you can often use braid or mono with good effect.
Durability
Durability refers to the line's ability to withstand nicks, scratches, and other abrasions. When you're fishing in tight spots with rocks, vegetation, and other cover, you'll need line that can handle a few scrapes.
Fluoro and braid generally both have excellent durability, with mono being less durable.
Diameter
Line diameter refers to the line's thickness. As you can imagine, the thicker the line, the less of it you'll be able to spool onto your reel.
High-end braid and copolymer both tend to have excellent strength-to-diameter ratios, making them ideal choices when you're looking for max capacity.
Mono and fluorocarbon lines tend to be on the thicker side, so you won't be able to spool as much line onto your reel.
Line Test
Line test refers to fishing line's strength in terms of pounds. It means the maximum number of pounds the line can handle before snapping. While there's a lot more to it than that (wet vs. dry strength, the dag on your reel), this number will give you a good gauge of how strong the line itself is.
For most trout fishing, a line in the 2 to 6 pounds test range will suffice. If you're trolling for larger fish, then 8 to 10-pound line should do the trick. And if you're using downriggers to go after monster lake trout, then beef it up to 20+ pound test.
Stretch
Line stretch is pretty much what it sounds like – the amount of stretchiness inherent to the line.
Mono line has more stretch than other line types, which means it'll act like a shock absorber when a trout takes your line. This can work fine in certain situations but can be an issue in others. The added stretch means your line will be less sensitive, so you won't feel nibbles as much.
Fluoro and braid have little to no stretch, so setting the hook when the fish are nibbling lightly is easier.
Memory
Lastly, line memory refers to a fishing line's tendency to maintain the shape that it had while sitting on the reel. You want as low line memory as possible, as a line with high memory that's been unused will form birds' nests, twists, and kinks.
Cheap mono line often has high memory, making it a poor choice for general trout fishing.