Do you need paddle board lessons before heading out on first paddle board trip? Let's find out.
To the observer, paddle boarding– or SUP (stand up paddle boarding)– looks like a perfectly peaceful, relaxing activity. It is– most of the time and depending on what kind of paddle boarding you're interested in.
If you stand on the shore and watch a few people stand up paddleboarding out on a lake or the ocean, you could easily think it required no skill or knowledge at all to enjoy this popular activity.
You would be mistaken, however. 
Shortly after you step onto a paddle board for the first time, you'll come to realize that there is some challenge hiding in this pastime. Simply staying on a stand up paddle board is no easy feat, let alone trying to paddle straight. 
Is it necessary to take a SUP lesson when first getting started? Let's explore that question in the article below.
SUP Lessons Aren't Required – But Can Be Helpful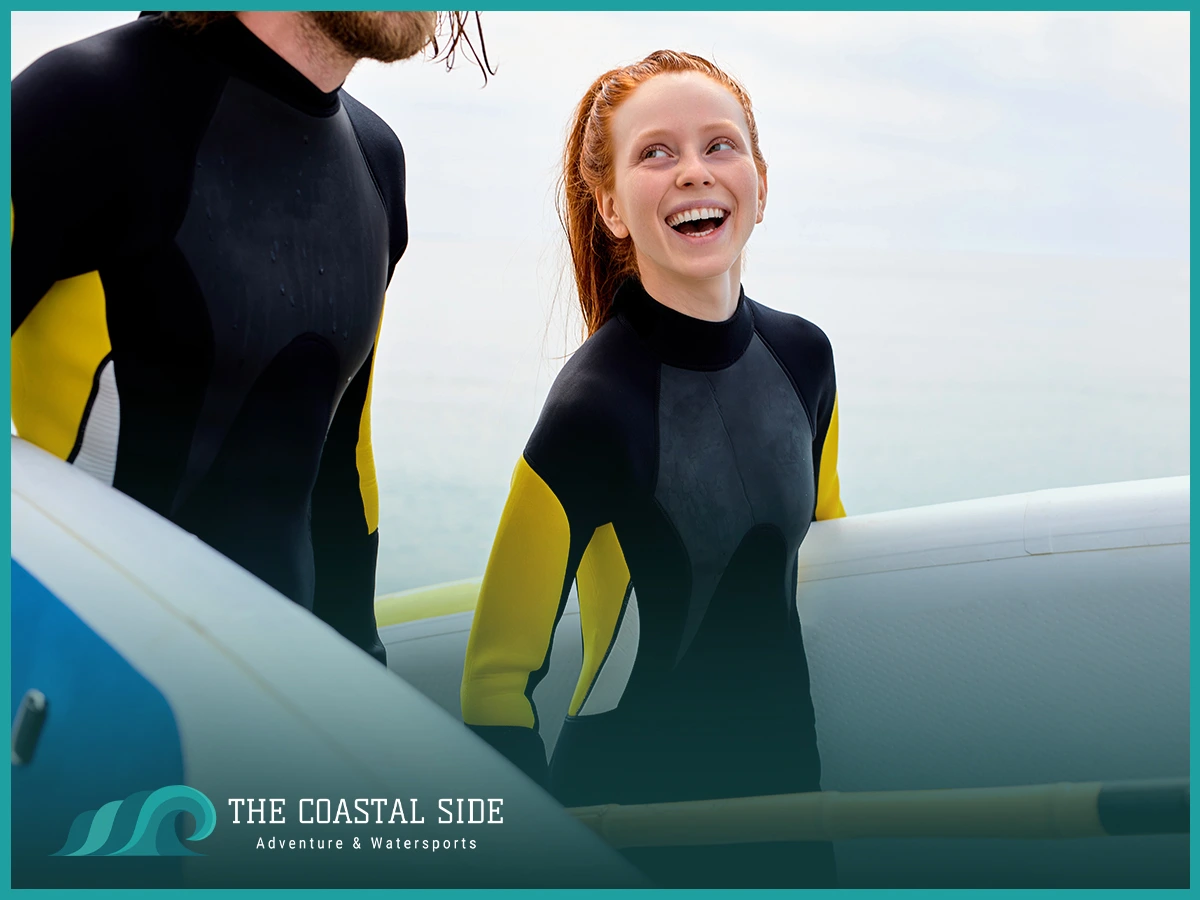 Ultimately, no, you do not need to take lessons to enjoy stand up paddle boarding. 
In fact, while there are no hard statistics available on the matter, it's easy to assume that the large majority of people who get into this popular sport never do take a lesson. You can learn to paddle correctly on your own through practice and maybe watching a few online videos on proper technique. 
A big part of the decision of whether or not to take a paddle boarding lesson is if you know other people who are already active in SUP. 
If you have friends who can teach you basics like a sweep stroke and reverse stroke, you might not need the assistance of certified instructors. Of course, friends who SUP casually won't have the same expertise as certified instructors, so it still might be worth exploring lessons.
However, you may just have a preference for learning new activities from experts right off the bat. This isn't a case of right or wrong, but just a matter of what works for you and your personality. 
Benefits of Taking a Paddle Boarding Lesson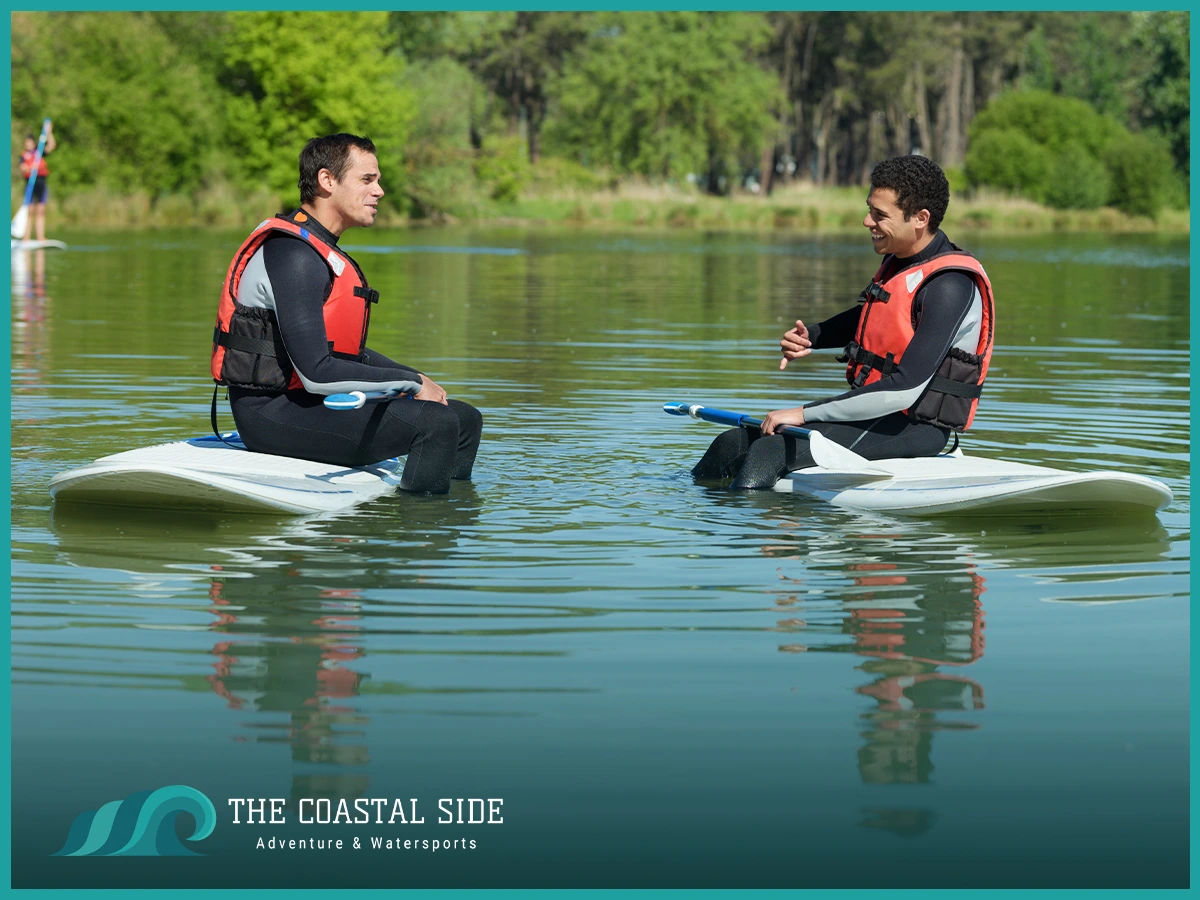 If you think you'd like to take paddle boarding lessons, be sure to look around in your local area to explore all the options. 
Most likely, if there is a body of water near you where paddle boarding is popular, such as a lake or bay, it won't be hard to find someone to teach you.
In some cases, you'll find independent contractors operating their own small businesses. In other cases, you might be able to book lessons through resorts or other facilities that have waterfront locations. A quick web search relevant to your location should reveal all the information you need to find a qualified teacher.
Speed Up Your Learning Curve
This is a benefit that applies to taking lessons is nearly every discipline. With the help of a teacher, you can learn the basics more quickly and flatten out the initial part of the learning curve. 
In other words, skills that it may have taken you several outings or more to master could be picked up in just one or two lessons. This will cut down on any frustration you might experience and it will make it more likely that you stick with paddle boarding in the long run.
A teacher will likely help you gradually work your way into paddle boarding, which can be a fun way to get started. For instance, you might start out only in knee deep water, and only in a kneeling position on the board, eventually moving up to standing hip-width distance apart on your feet.
With that easier position to work from, you could learn the basic stroke, learn how to paddle backwards, alternate strokes, and much more. With a guide right there with you for the experience, you can just follow commands and build your skills one after the next. Eventually, you will stand while paddling and work on your balance.
Improve Safety
Overall, stand up paddleboarding is very safe. With that said, it is a water sport, so there is always the inherent danger of the water that needs to be respected. Taking a lesson will help you get a good start on SUP safety so you build good habits from the beginning. 
Knowing the important pieces of safety equipment to use – like a life jacket – and how to use them, is a key piece of SUP lessons. If you SUP safely each time you go out, and refuse to cut corners like leaving your life jacket behind, you can enjoy the paddling experience without fear.
Optimize Your Technique
Teaching yourself paddling on a SUP might not be particularly difficult, but you might also fail to teach yourself good technique. An instructor will monitor your strokes and offer advice on how they can be corrected. That will help improve your balance, cut down on how often you fall, and make it easier to move forward in the water. 
In paddle board lessons, you'll learn how to point your toes forward to balance, keep your body and knees in a straight line, and maintain your mass staying centered throughout each stroke.
If paddle boarding is something that you'd like to enjoy for a lifetime, building a foundation of a repeatable forward stroke and other basics will pay off for years to come.
Meet New People
Aside from the technical benefits to be enjoyed when learning from an instructor, there is also the social benefit of taking lessons that shouldn't be overlooked.
For example, if you take lessons in a group setting – which is more affordable – you'll be meeting other people who are interested in learning the same activity as you. Those people could turn into friends, or at least occasional SUP partners, which would only further improve your experiences on the water. They may know of the best SUP spots in the area and could give recommendations on equipment to invest in.
Drawbacks to Taking Stand Up Paddle Boarding Lessons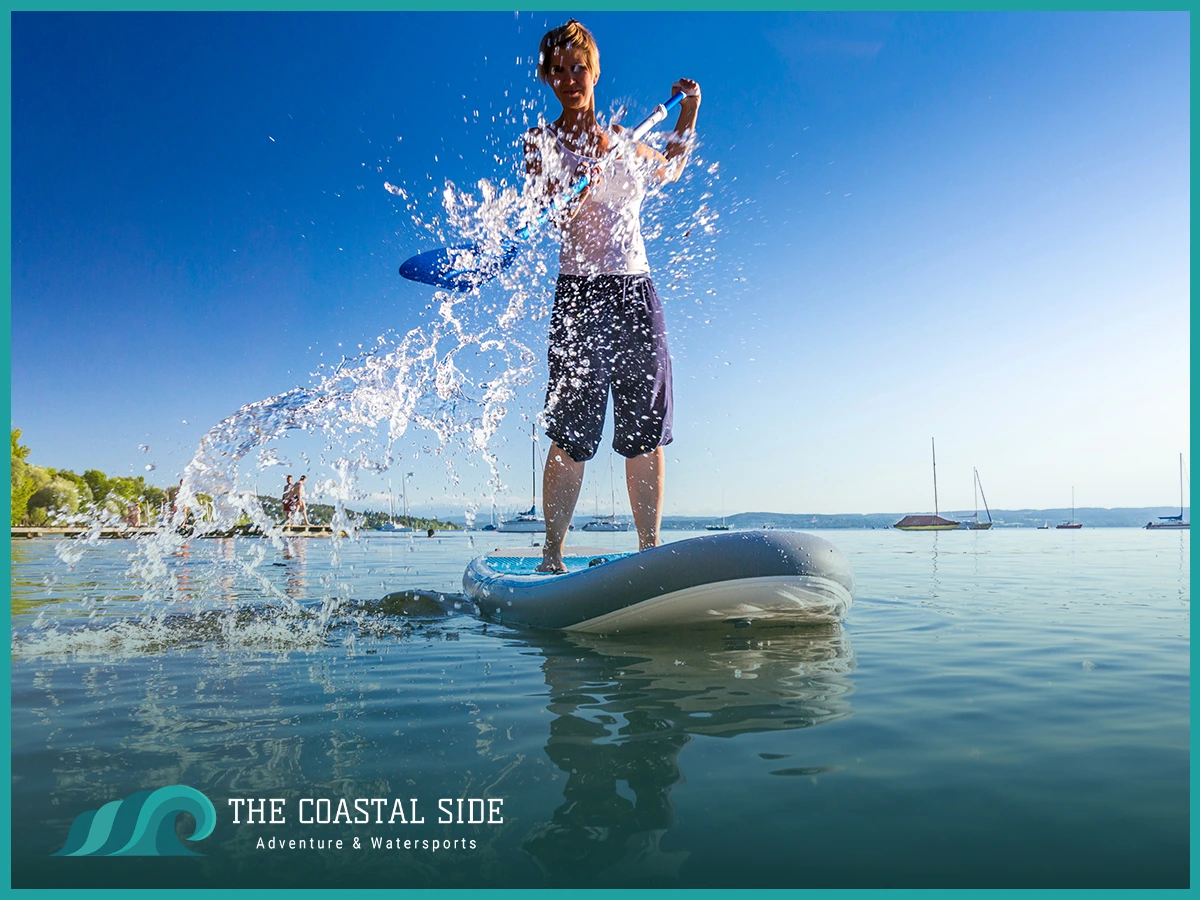 There are obvious benefits to taking stand up paddle boarding lessons. 
However, in the interest of fairness, and to help you get a clear picture on whether or not lessons are right for you, we should take a short look at the downsides.
Cost
You probably want to keep your "start up" costs as low as possible, and you will already need to spend money on a board and a few other items to get into SUPing. 
So, adding the cost of lessons – although not particularly expensive – is another cost that will need to fit into your budget if you go in that direction. 
Time
Also, depending on your schedule, you may struggle to fit lessons in with the rest of your work and personal life obligations.
Not Teaching Yourself
There is also the matter of the fun of discovery to take into account here. Yes, learning from a professional is more efficient, but is it efficiency that you are after in this endeavor? 
For some people, a big part of the fun is learning how to control the board on their own, trying different strokes until they find one that works, and getting a full body workout along the way. If you aim to master your paddle efficiency straight away through the use of lessons, you'll get better faster – but it's possible that you won't have quite as much fun.
A great deal of pride could be waiting if you teach yourself and wind up confidently paddling along with others who have been doing it a lot longer. And, each time you fall, it will simply be an opportunity to learn and improve. This isn't mean to be an argument against taking lessons, but it is something to think about.
If you are the kind of person who is just as much excited by the journey as the destination, taking lessons might be shortcutting the best part.
Do What Works for You – But Get Started Either Way!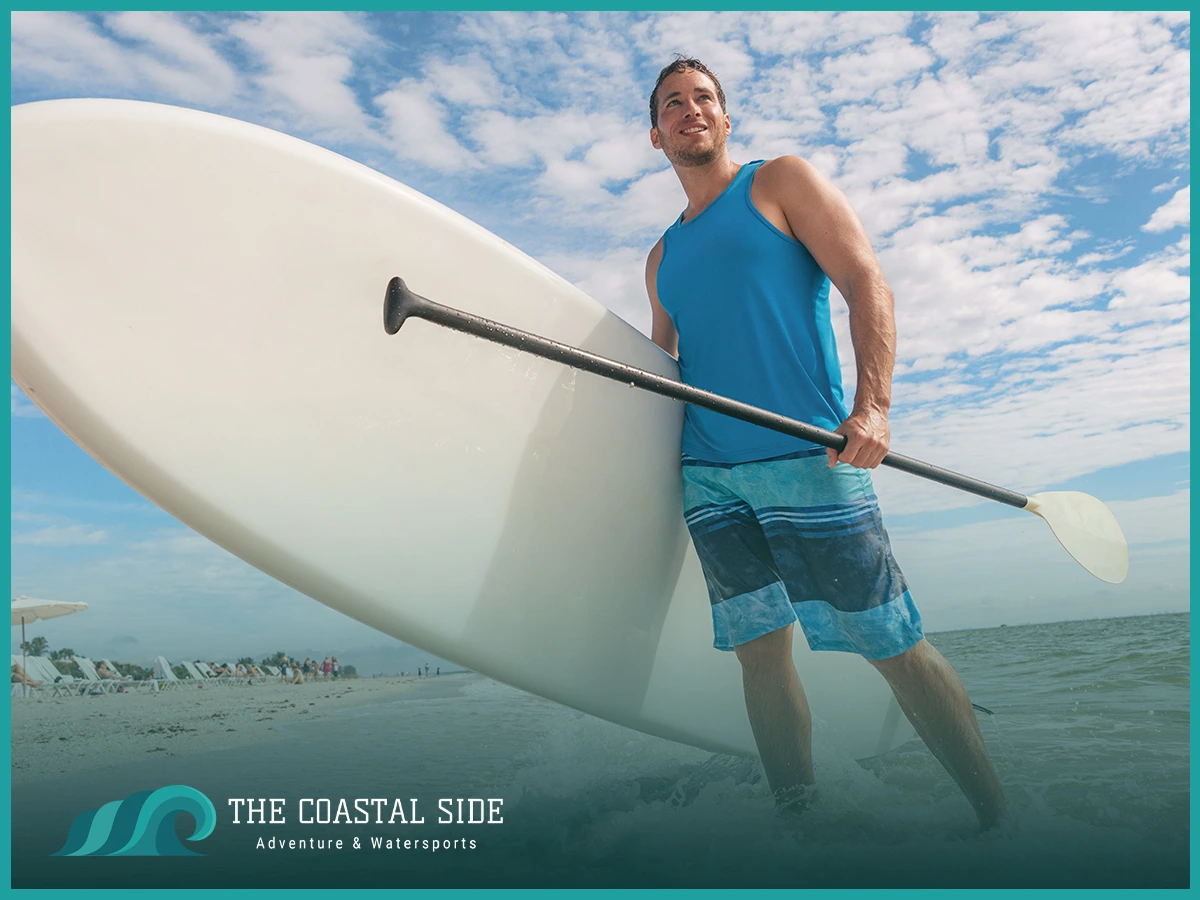 Do you need paddle board lessons? The decision to take them or not comes down to your personal preferences and circumstances– some paddle boarders will benefit greatly from lessons while others get by just fine without. 
The key is to get out and experience your first outing one way or another. There is no substitute for experience, and the only way you'll feel comfortable on a SUP is by getting out there and trying it. 
Be safe on the water and have fun!