If you're like me, then clutter is in your bloodstream. Every new space I inhabit eventually gets filled with half-finished projects, knick-knacks, and gear of dubious usefulness. The same thing goes for my kayak.
A good kayak crate will allow you to organize all your fishing tackle in one easy to reach spot.
This means you'll never need to fumble around for that fishhook remover or pair of fishing pliers – they'll be stashed in a convenient, easy-to-reach spot.
While you could always go with the tried and true milk crate in your rear tank well, newer kayak fishing crates come loaded with features that make them invaluable to any angler.
Quick Answer: 5 Best Kayak Crates
---
Why do you need a kayak crate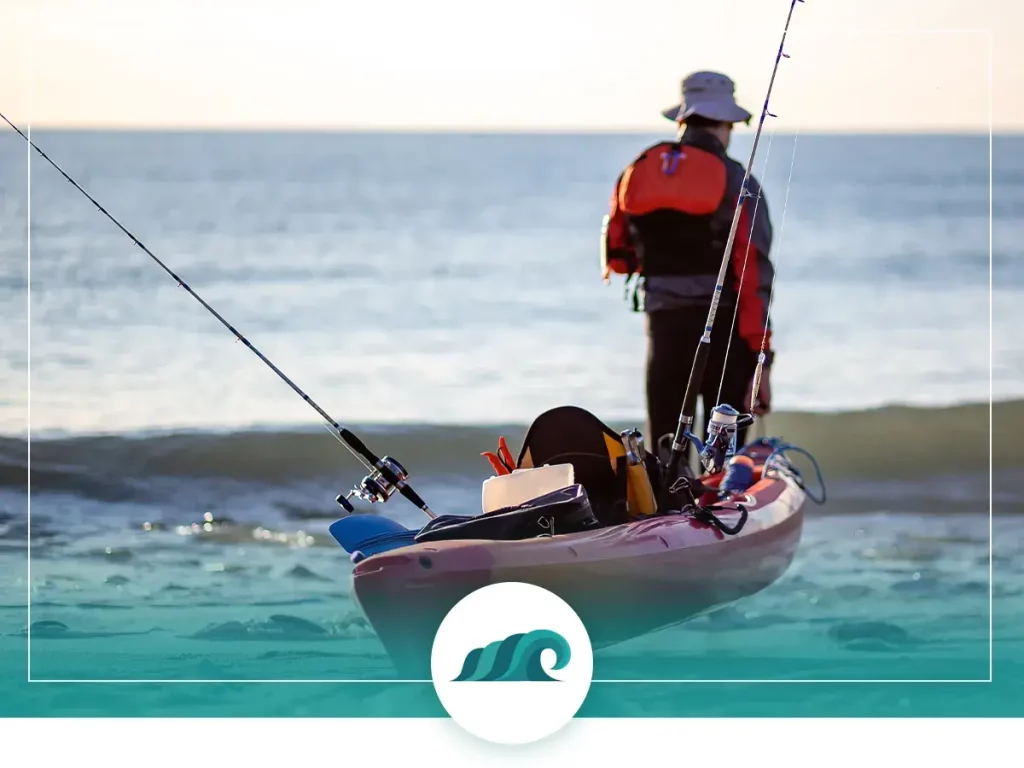 Beyond just storing fishing tackle, a good kayak crate gives you a stable platform to mount multiple rod holders, flags, lights, as well as stash any gear you might need in a hurry. These crates are typically mounted to your sit-on-top kayak deck with multiple lash down points – so they won't shift around – even in rougher conditions.
Many kayak crates come with a wide variety of external mounting options, giving you nearly infinite setup configurations for your rods, camera mounts, nets, etc..
Large internal storage areas give you enough space to store plenty of fishing tackle – with room to spare for an anchor, freshwater, food, plus anything else you wish to keep close at hand.
---
Best Overall: Yakattack BlackPak Kayak Fishing Crate
Endlessly customizable, this sleek and durable crate is the perfect solution for managing rods, tackle, cameras, and other gear. Measuring 12" x 16" x 11", it has an incredible amount of internal storage space, owing to its slim high-density UV resistant polyurethane frame.
The interlocking joint design creates an incredibly strong frame – making it much tougher than a typical milk crate. The lid and sidewalls minimize your gear's exposure to the elements, but it's not completely waterproof.
3 rod holders come included with the BlackPack, which can be mounted either vertically or at an angle. There are stations for a total of 10 rod holders, so you can add more if needed.
The top rails are designed to accept Yakattack's MightyBolt accessories, allowing you to mount a flag, camera mount or other MightyBolt compatible accessories. The hinged lid is designed for easy removal, allowing it to double as a bait board.
Key Features
Measurements: 12" x 16" x 11"
Quick and easy to assemble with common hand tools
Endlessly customizable – ideal tackle management solution
Interlocking joint construction makes it highly durable
Shock cord rigging compatible
Yakattack BlackPak 12x16x11 Kayak Rod Holder Station Fishing Crate, Tan
Constructed of durable UV resistant, high density polyurethane.

Automatically drains water through drain holes and E-slots.

Shock cord rigging thats factory installed across most kayak tankwells.

Eliminates the need for GearTracs or Mighty Mounts mounted on your yak.

Handles for easy carrying; 3 Rod Holders.
Prices pulled from the Amazon Product Advertising API on:
Product prices and availability are accurate as of the date/time indicated and are subject to change. Any price and availability information displayed on [relevant Amazon Site(s), as applicable] at the time of purchase will apply to the purchase of this product.
---
Best Water Resistant Crate: Wilderness Systems Kayak Krate
Burly and substantial, this striking piece of kit gives you a multitude of storage options in a water-resistant container. The build quality is excellent – closer to a high-end yeti cooler than a milk crate.
A compact storage area right under the clear lid allows you to store smaller, frequently used items without having to open the main compartment. The spacious main compartment has plenty of room for tackle and larger gear, with two removable mesh dividers allowing you to efficiently organize your tackle.
You can tell the crate was designed specifically with the kayak angler in mind – both storage compartments are easy to open single-handed.
Six universal lash-down points provide a secure mount for a wide variety of kayak tank wells and will keep the crate firmly locked in place in case you capsize. There are four adjustable rod holders included, which can be set up in an upright, tilted or elevated position.
Key Features
Measurements: 18" x 12.25" x 13.25"
Weight: 9 lbs
Capacity: 29 liters
Will fit in most sit-on-top kayak tank wells
Water-resistant compartments keep your gear dry
Rod holders come with brackets to raise their position for fitting in narrow tank wells
Wilderness Systems Kayak Crate | 4 Rod Holders | Kayak Tackle Storage | Fits Most Kayaks
Large main compartment

Lid serves as additional storage

Comes standard with four (4) rod holders

Water resistant when latched closed

Universal lash down points

Comes with brackets to raise the position of the rod holders to accommodate narrow tankwells

No assembly required

Blow-molded for durability

Height: 13-1/4 - Width: 12-1/4 - Depth: 18

Weight: 10. 9 lbs - Capacity: 29 liters
Prices pulled from the Amazon Product Advertising API on:
Product prices and availability are accurate as of the date/time indicated and are subject to change. Any price and availability information displayed on [relevant Amazon Site(s), as applicable] at the time of purchase will apply to the purchase of this product.
---
Budget Pick: Yak Gear Kayak Angler Crate
If you're looking for a capable crate for your kayak and don't need all the bells and whistles, then this is the crate for you! The DIY customization possibilities are endless with only your imagination limiting what you can do with it.
Included in the kit are a heavy-duty black fishing crate, a Yak Gear accessory pouch, and two rod holders. The crate measures in at a standard 13" x 13" milk crate size – so will fit in a variety of kayaks, canoes, and SUPs.
The easily installed accessory pouch allows you to store a tackle box up to 9" x 11" or stash pliers, fish grips, extra line, and other accessories.
Two rod/anchor holders are easy to mount to the outside of the crate, freeing up internal storage space and allowing you to mount rods, anchors, nets and other gear to your crate's exterior.
View on:  [su_button url="https://www.amazon.com/YakGear-01-0026-01-Kayak-Angler-Starter/dp/B01LZKD1YM/ref=as_li_ss_tl?crid=Q9ZM8X5ZITWJ&keywords=kayak+crate&qid=1557430789&s=gateway&sprefix=kayak+c,aps,151&sr=8-4&th=1&linkCode=ll1&tag=coastalside-20&linkId=76795a208767566a734e97d099936ec2&language=en_US" target="blank" style="flat" background="#d93f2c" size="8″ radius="5″ text_shadow="0px 0px 0px #000000″]Amazon[/su_button]  |  [su_button url=" https://cabelas.xhuc.net/c/2238743/132065/2623?prodsku=04365497&u=https%3A%2F%2Fwww.cabelas.com%2Fproduct%2FYakGear-Anglers-Crate-Starter-Kit%2F2208207.uts%3FproductVariantId%3D4500625″ target="blank" style="flat" background="#d93f2c" size="8″ radius="5″ text_shadow="0px 0px 0px #000000″]Cabela's[/su_button]
Key Features
Measurements: 13" x 13" x 11"
Weight: 5 Lbs
Includes accessory pouch and 2 rod holders
Also available in Pro Series configuration which includes: anchor kit & cleat, fish gripper, paddle leash, and angled rod holder
View Pricing On:
---
Best Soft Kayak Bag: Plano Weekend Series Kayak Crate
While it's not strictly a kayak crate, this bag functions in a similar manner – organizing and protecting your gear and tackle from the elements. Made from water-resistant canvas, this bag will keep your gear from getting soaked by a rough wave or sudden downpour.
Two 3600 Plano stowaway utility boxes, spacious accessory pouches, and convenient D-rings make this a highly versatile storage option for kayak as well as shoreline fishing. It's designed to snuggly fit inside a standard milk crate. So if you want the added rigidity of a crate hit up your local grocery chain and ask nicely.
Side storage handles double as carry handles, allowing for easy loading/unloading on the fly. 
The main compartment is lined with light insulation. So you can throw your lunch plus a cold six-pack inside and it will stay relatively cool.
Key Features
Dimensions: 12″ x 17.5″ x 12.5″
Spacious external pouches hold plenty or gear
Can be used with or without optional milk crate
Durable fabric keeps gear protected from water
Includes two Plano 3600 StowAway utility boxes
Plano PLAB88140 Weekend Series Kayak Crate Soft Bags, Grey, One Size
Plano Tackle Storage | Protecting your passion since 1952 | The ultimate kayak soft tackle bag | Dimensions 12 L x 17.5 W x 12.5 H | Includes: Two 3600 StowAway Utility Boxes | Capacity: Tackle bag is capable of carrying nine stows

Fits securely in milk crate (not included) or rests freestanding as crate alternative | Durable water-resistant fabric | Secured by series of sturdy zippers, straps and latches

Four-panel design carries as much or as little as you need | Easily remove panels and utilize attachment points for customizable storage

Large open interior with two sections of bulk storage | Side storage panels double as sturdy carry handles

Lid features large storage area and additional zippered pocket | Numerous D-rings and two tool holders offer easy access to pliers, hook removers, etc.

Sport type: Outdoor Lifestyle

Included components: Tackle Box
Prices pulled from the Amazon Product Advertising API on:
Product prices and availability are accurate as of the date/time indicated and are subject to change. Any price and availability information displayed on [relevant Amazon Site(s), as applicable] at the time of purchase will apply to the purchase of this product.
---
Also Consider: Hobie H-Crate Jr.
For the Hobie owners out there, the H-crate provides a versatile storage option that integrates seamlessly with other Hobie accessories. It's lightweight and easy to transport – which makes it a breeze to swap from one kayak to another.
The four corners of the crate have rod holders built in with shock cord retainers to keep your rods secure. Four adjustable straps on each corner allow you to quickly and easily install and remove the crate from your yak.
Recessed mounting points are integrated into all four walls – so you'll have a multitude of mounting options and possibilities. The carrying handles are actually H-Rail compatible, allowing you to mount Hobie H-rail compatible accessories to them.
Soft skid pads line the bottom of the crate to help dampen any sound and keep your crate from sliding around in the tank well. There is no top cover included with purchase, but you can get a zippered vinyl soft cover separately.
View on:  [su_button url="https://www.amazon.com/Hobie-H-Crate-kayak-fishing-72020298/dp/B07572QC2Q/ref=as_li_ss_tl?ie=UTF8&linkCode=ll1&tag=coastalside-20&linkId=38be3483e8dff360a08dbaf1d7887c14&language=en_US" target="blank" style="flat" background="#d93f2c" size="8″ radius="5″ text_shadow="0px 0px 0px #000000″]Amazon[/su_button]
Key Features
Measurements: 14" x 14" x 13"
Weight: 8 Lbs.
Integrated rod holders and H-Rail compatible carrying handles
Quick and easy to assemble with a screwdriver
Also available in larger H-Crate configuration
---
How to pick the right kayak crate for you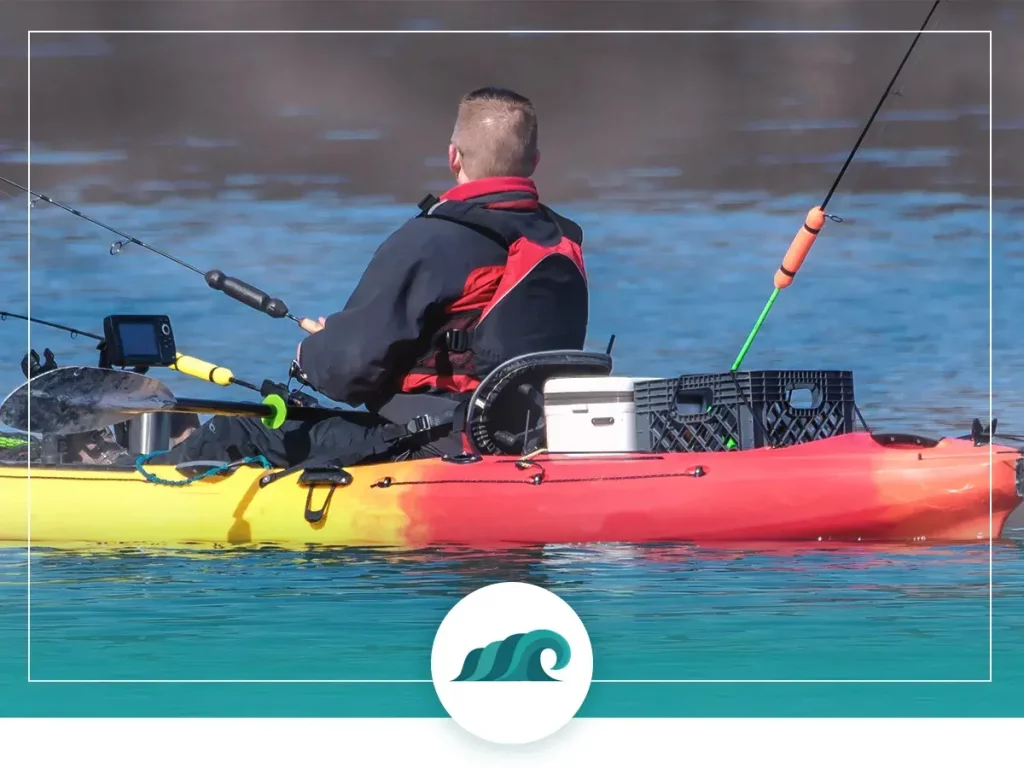 Whether you're a kayak angler looking to better organize your tackle, or a recreational kayaker looking for a container to store some food and cold beverages, there's a kayak crate out there with your name on it.
Types of Kayak Crates
From the humble milk crate to sleek, modern, kitted-out crates with all the bells and whistles, there are now more options than ever when it comes to kayak storage.
Kayak Milk Crates
The humble milk crate has been used by kayak anglers for decades – and for good reason. It's durable, costs next to nothing, fits perfectly into a tank well and is endlessly customizable. It's also lightweight which makes it easy to transport.
Many kayak anglers will cut the bottom off of one milk crate and use zip ties to mount it to the top of another crate creating a makeshift lid. If you're interested in going down this route, make sure to pick up rod holders and bungee netting to secure your crate.
If you're into DIY then check out this how-to video on how to make your own kayak milk crate:
---
Kayak Bag
These are sort of a hybrid between a milk crate and a soft insulated tackle bag. They can typically fit a standard milk crate either inside or outside the main compartment. This allows you to add extra rigidity with a crate, or alternatively use the bag as a freestanding storage container.
These bags aren't only good for kayaking either, they work well as freestanding tackle bags for shoreline or pier fishing.
High-end Kayak Crates
Newer high-end kayak crates have come a long way from their humble beginnings. They utilize high-tech construction materials to increase durability while staying ultra-light. Many are equipped with a multitude of external mounting options, allowing you to customize your setup endlessly.
Many high-end crates are also water-resistant, protecting your gear and tackle from getting soaked in a sudden downpour or capsize.
If you already have kayak accessories from a manufacturer like Yakattack or Hobie, then you'll be able to mount your gear onto their compatible kayak crates.
---
Mounting a Kayak Crate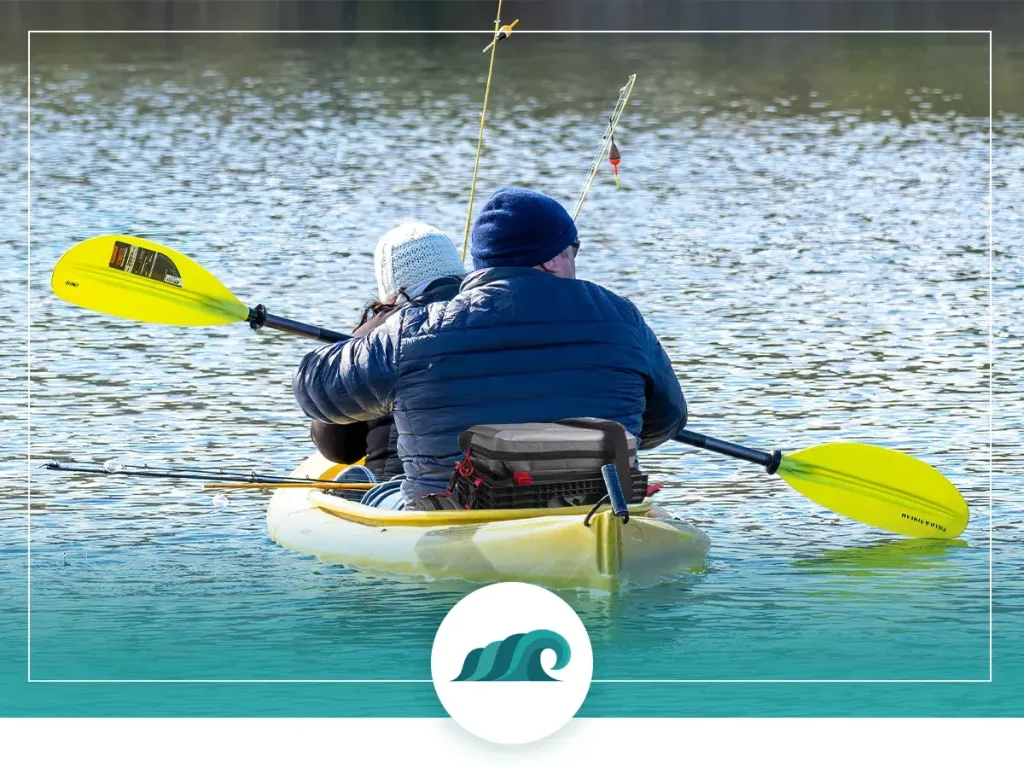 Mounting your kayak crate to your kayak's tank well is pretty straightforward, but there are a few considerations to keep in mind.
Make sure to measure your kayak's tank well to ensure the crate will fit inside. Typical kayak crates will fit inside the vast majority of sit-on-top kayaks – but if your kayak is particularly narrow then check to be sure. Also, make sure it will fit comfortably behind your kayak seat.
Mounting a kayak crate can be done with bungee cords, clips to D-rings or just placed inside the tank well.
Another consideration to keep in mind is the padding underneath your crate. Soft silicone or rubber non-slip pads will keep your crate from shifting around and reduce noise while you're on the water.
Lastly, consider what would happen in case your kayak capsizes. Obviously, this isn't a common occurrence, but you'll want to make sure your kayak crate and its contents would be secure in case you do tip over. Consider using some bungee cord netting over the top of your crate if your kayaking in rough conditions.