When some folks think of hand augers, images of old Granddad on the ice drilling with a heavy, ancient, wood-handled tool come to mind. This may have been the standard back in the day, but newer hand augers utilize lightweight materials, efficient design, and durable construction to make punching holes through the ice easier than ever.
While electric and fuel-powered augers get most of the attention these days, hand-powered augers offer a number of benefits that make them indispensable for many ice anglers.
I'll break down some of the best hand augers on the market today, explain how to pick the ideal one for your needs, and hopefully answer everything you need to know about hand ice augers.
From Razr Ice Auger to the StrikeMaster Lazer auger, here are the top 5 hand ice augers you should know about!
Quick Answer: 5 Best Hand Ice Augers
---
Why go with a manual Razr Ice Auger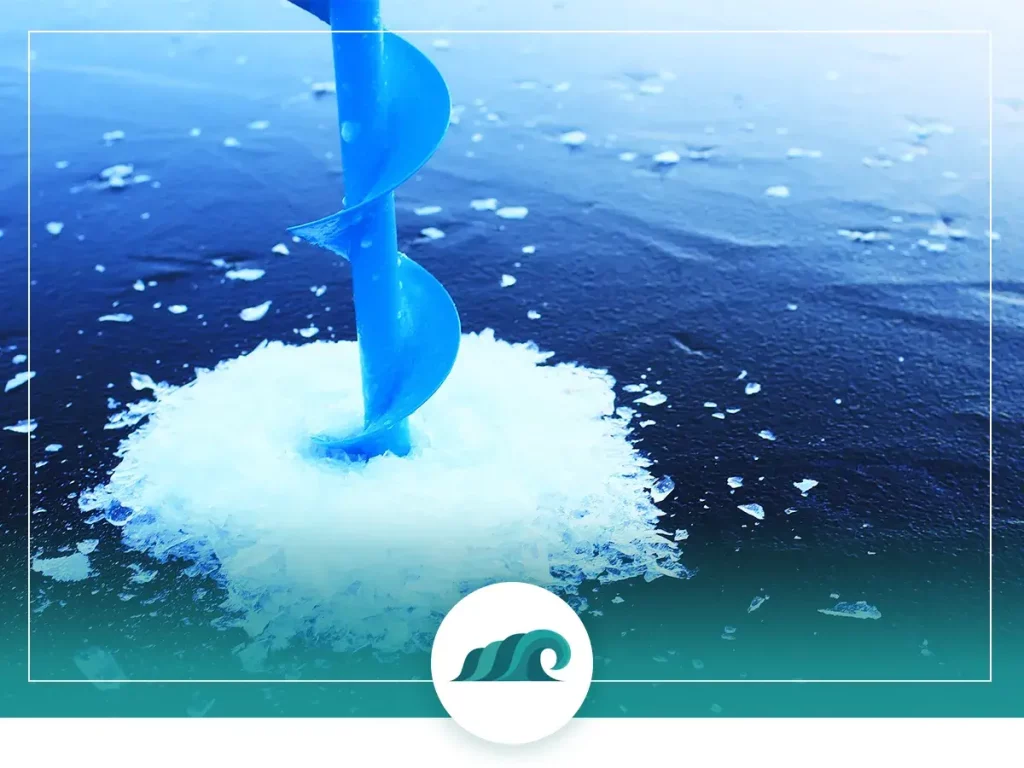 A hand auger – sometimes called a manual, hand crank, or hand drill auger – offers a number of benefits that bulkier electric and fuel-powered augers simply can't match.
Weight
First off, hand augers weigh significantly less than either type of powered auger. Typical hand augers will weigh a third (or less) than powered augers, making them far easier to throw in your sled for transport.
If you fish in remote locations or need to pull a sled for long distances, then a hand auger makes sense.
Simplicity
While a fuel-powered auger can flood, run out fuel, or suffer other mechanical problems – hand-powered augers have none of these complications. They'll work in any environment, no matter how cold it is or how rough the conditions get.
This makes bringing a hand-powered auger on every outing a smart move – even if you run into trouble with your powered auger, you'll have a perfectly capable backup ready to go.
Noise
If you fish in shallow lakes – where fish are easily spooked – then the quiet operation of a hand auger can be a major advantage.
Hand augers essentially silent, making them far stealthier than noisy gas and propane-powered augers.
Price
Let's face it – ice fishing gear isn't cheap! If you're just starting out, going with a hand auger can save you a good chunk of money until you're ready to step up to a powered auger.
A top quality hand-auger will only set you back $100 or so. That's significantly less than a good powered auger, which can easily top $500.
If you only dabble in ice fishing (is there such a thing?), then shelling out the money for a powered auger may be slightly overkill.
Use Case
Depending on your fishing style, a hand auger may be more than adequate for your needs. If you mostly fish early or late in the season, where ice is still on the thinner side, then using a hand auger may be your best option.
Also, if you primarily target panfish like crappie, perch, and sunfish, then a smaller diameter auger (in the 4-inch to 6-inch range) would be sufficient for your needs. These smaller diameter hand augers are super easy to use and don't require the same physical exertion to operate as larger diameter models.
---
Best Overall: StrikeMaster Lazer
StikeMaster's been a household name in the ice fishing world for decades – and for good reason – they make some of the best gear out there. The Lazer hand auger is no exception. It rips through the ice with gusto, making quick work of even the thickest ice.
Available in five different diameters, from 4-inch up to 8-inch – just like the Razr ice auger mentioned below, there's an ideal model for every situation. The auger features chrome-alloy stainless steel blades, which come razor-sharp right out of the package.
Powder-coated paint protects the auger from ice build-up, and ergonomically designed handles allow for comfortable and easy operation. The handle adjusts from 48" to 57", allowing you to adjust the height for different ice thicknesses and angler heights.
Like most other hand augers, it tends to catch a bit at the last inch or so, but this is fairly minor, and you'd need to step up to a much more expensive electric auger to avoid this.
Key Features
Razor-sharp blades out of the package
Cuts through ice with the speed and efficiency of a more expensive auger
Available in 5 different diameters: 4", 5", 6", 7", 8"
Adjustable length handle: From 48" to 57"
Lazer 2pc Hand Auger 6″
Crafted from the highest quality material

Perfect for outdoor and even indoor use

Made in China

Material Name:Synthetic
See Pricing On:
---
Convertible Hand Auger: Nils Master UR600C Cordless Drill Auger
Nils is the top of the pyramid when it comes to hand augers. The Finnish company has been manufacturing precision cutting tools for decades and has a reputation for making the sharpest, smoothest-cutting augers available.
The blades come razor sharp out of the box and require very little effort to cut through the ice. This model gives you the option of using it with the handle as a traditional auger, or removing the handle and attaching a cordless drill via a 3/8 to 1/2 inch chuck. It's designed to be used with a beefy, high-torque drill (at least 18V, preferably 20V).
An offset handle allows you to use both hands while drilling – which greatly increases speed and efficiency. It may take some time to get used to, but you'll be able to drill much faster once you get the hand of it. If you are not willing to spend time mastering an offset handle, go for an inline handle like the one on the Razr ice auger mentioned below. It is much more convenient.
One downside – when using it with a cordless drill, the auger bit has been known to slip off. Luckily, Nils designed the auger with a large flared disc near the top, preventing it from falling inside a recently drilled hole.
While it costs significantly more than the StrikeMaster, Razr ice auger, or the other augers reviewed here, the form and function are outstanding and more than justify the added expense.
Key Features
Length: 47"
Diameter: 6"
Convertible hand and drill-operated auger functions
Offset handle allows for speedy and efficient drilling
Flared disc prevents loss down the hole
See Pricing On:
---
Best Value: Eskimo Hand Auger
If you're looking for a lightweight, functional, and durable hand auger without breaking the bank, then look no further. The Eskimo makes an excellent entry-level hand auger or a perfectly capable backup to an electric or gas-powered auger.
It's surprisingly lightweight, weighing in at just 6.5 pounds for the 6-inch model, and 7.5 pounds for the 8-inch one. This makes it great for longer treks out on the ice, or for kids to use. But if you want to get an auger with smaller drill sizes, you should look into the Razr ice auger mentioned below.
The stainless-steel blades come super-sharp, enabling you to cut through the ice with minimal effort. A cross-bolt takedown/mounting system prevents overtightening when you drill and makes taking the auger apart for transport a breeze.
The handles easily extend from 49" to 58", allowing you to adjust the height for any sized angler or ice depth.
Key Features
Lightweight, razor-sharp, and durable at an affordable price
Available in 6", 7", and 8" cutting diameters
Adjustable length handles: From 49" to 58"
Weighs just 6.5 pounds (6-inch model)
Eskimo 6 Inch Hand Auger (HD06)
CROSS-BOLT TAKEDOWN SYSTEM: Prevents over-tightening when you drill. Superior to screw-together hand augers

HANDLE AND POMMEL KNOB FOR EASY DRILLING

DUAL-FLAT BLADES

BLADE PROTECTOR INCLUDED: Extends the life and sharpness of the blades
Prices pulled from the Amazon Product Advertising API on:
Product prices and availability are accurate as of the date/time indicated and are subject to change. Any price and availability information displayed on [relevant Amazon Site(s), as applicable] at the time of purchase will apply to the purchase of this product.
See Pricing On:
---
Also Consider: StrikeMaster Mora
These blades will cut nearly the same as stainless steel out of the box but will dull faster, so will need to be re-sharpened more often.
Similar to the StrikeMaster Lazer in many respects, the Mora offers similar performance and cutting efficiency in a slightly less expensive package. The Mora uses high alloy carbon steel blades instead of stainless steel, cutting down on costs, but sacrificing a bit of cutting performance. Stainless steel blades, like the ones on the StrikeMaster or Razr ice auger, are recommended for serious anglers.
The auger comes in three different cutting diameters – 6", 7", and 8". You can also easily adjust the handle height from 48" to 57".
Overall, the Mora is an excellent option for the occasional ice angler or anyone that wants a capable drilling auger at a reasonable price.
Key Features
Available in three cutting diameters: 6", 7" and 8"
An excellent option for the occasional ice anger
Ergonomic handle can be adjusted between 48" and 57"
High carbon steel blades will require more frequent sharpening than stainless
Prices pulled from the Amazon Product Advertising API on:
Product prices and availability are accurate as of the date/time indicated and are subject to change. Any price and availability information displayed on [relevant Amazon Site(s), as applicable] at the time of purchase will apply to the purchase of this product.
See Pricing On:
---
Also Consider: RAZR 8″ Hand Ice Auger w/Stainless Steel Curved Blades
RAZR may be a newcomer to the ice fishing game, but they've made a name for themselves by producing high-performance gear at a great price point. The RAZR hand ice auger certainly lives up to that reputation.
The auger features curved stainless-steel blades which bore through the ice with ease. An ergonomic and comfortable free-spinning handle allows for efficient drilling – reducing strain and discomfort during operation.
A three-point height adjustable handle allows you to quickly change the overall length – making swapping the auger between kids and adults a breeze.
The auger weighs in at 9 pounds, putting it near the middle of the pack in terms of overall weight.
Key Features
Curved stainless steel blades blast through the ice with ease
The ergonomic and comfortable handle can be adjusted to three different lengths
Cutting diameter: 8"
Overall weight: 9 pounds
Prices pulled from the Amazon Product Advertising API on:
Product prices and availability are accurate as of the date/time indicated and are subject to change. Any price and availability information displayed on [relevant Amazon Site(s), as applicable] at the time of purchase will apply to the purchase of this product.
See Pricing On:
---
About the Companies
Knowing a bit about the companies' backgrounds could help you decide which ice auger you want to invest in. So, here is a bit of background on Nils, Eskimo, StrikeMaster, and the Razr ice auger companies:
StrikeMaster
With a long tradition of over 60 years, StrikeMaster is a company whose products are currently being sold in various countries worldwide. They have many patented hand augers and electric ice augers to offer. Their products are always cutting-edge, which is why we have included a couple of them on this list.
Nils
Nils is a company that has been present on the U.S. market for about 30 years. They import products from Finland, all of which have pristine quality and outstanding capabilities. You can find many great ice fishing or regular fishing products in their offer.
Eskimo
Eskimo Ice Fishing Gear is a company established in the 1960s. The company employs experts who work tirelessly to create the perfect fishing, ice fishing gear, shelters, float suits, apparel, and accessories suitable for everyone.
Razr
Razr Ice Augers is a well-known company that has been manufacturing quality ice augers for about two decades. As a company, Razr Ice Augers has risen to fame thanks to the many famous ice anglers who use their products. They have many products and accessories that can make ice fishing convenient, no matter the circumstances.
If you look at their products, you will find Razr ice augers that are lithium-powered or hand-powered. They also offer brushless drill and synthetic lighting augers. You can also purchase Razr ice auger extensions and accessories like adapters, pucks, bolts, chargers, etc.
The reason why we would recommend Razr ice augers before all other companies is because they use quality materials to make their products extremely durable. As if that is not enough, they also offer an extended warranty of 3 or 5 years that covers the entire unit instead of just one or two parts.
How to choose the best hand Razr ice auger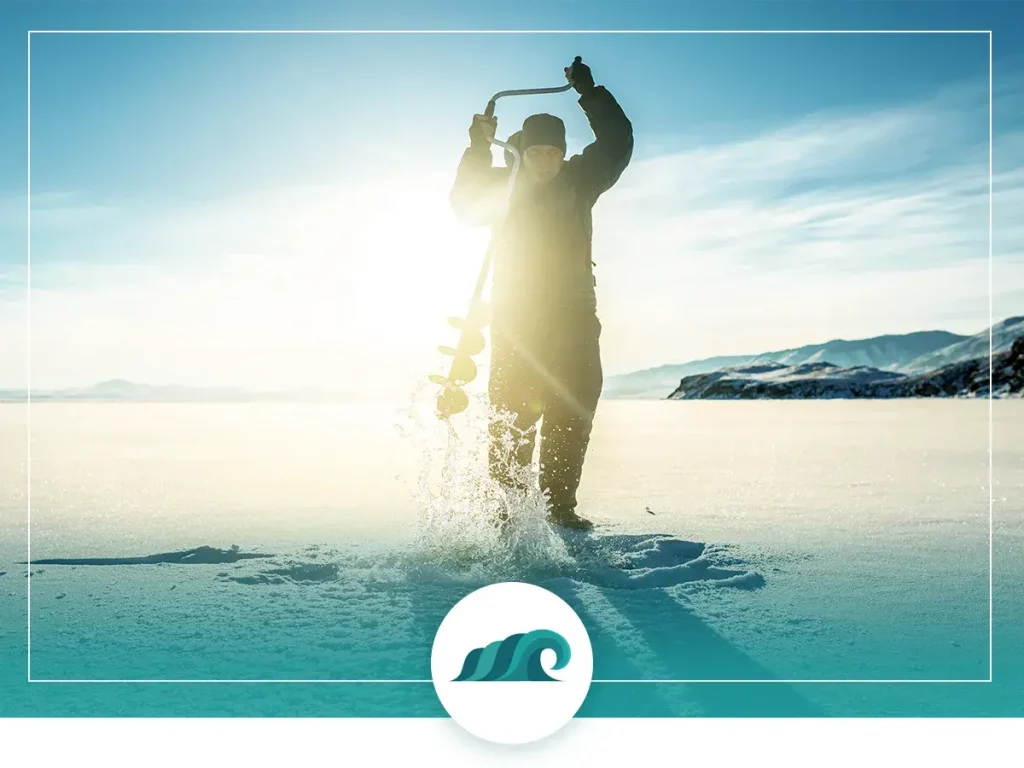 While hand-powered Razr ice augers are fairly straightforward in their design and function, there are a few important features to be aware of when selecting one.
Cutting Diameter
Cutting diameter refers to the width of the auger/blades, which determines the size of the hole you can drill. For hand-powered augers, typical diameters are 6", 7", and 8". You can also find a few models with 4" and 5" diameters out there.
The right diameter for you will depend on your fishing style and personal preferences.
A 6" diameter hole will work well for yellow perch, crappie, bluegill, as well as most walleye and small to medium-sized lake trout. 6-inch augers are also very easy to drill with, as they require less force than their larger diameter counterparts.
If you're targeting pike and big lake trout, then an 8" hole will most likely be necessary. These require a bit more force to drill with than smaller augers, so you'll work up a good sweat when drilling with them.
If you are looking for an auger blade available in various sizes, we recommend that you look into the RAZR Hand Ice Auger blade, as it is available in five different sizes. The RAZR Hand Ice Auger also has dual curved blades that will make drilling much more convenient for you.
Weight
As mentioned previously, one of the major advantages of hand augers is their lightness. Most hand augers weigh less than 10 pounds, with some weighting closer to 6 pounds, like the Razr ice auger from this list.
If you're traveling a long distance to your fishing spot, then going with the lightest possible auger makes sense. Otherwise, most hand augers are light enough that you won't notice much difference.
Drill Compatibility
Being able to attach your hand-auger to a cordless drill can make your life much easier, especially when you need to drill many holes in one session.
While the only model reviewed above with this feature out of the box is the Nils Master, you can easily adapt most hand augers for use with a hand drill with a simple adapter. Check out the Vendetta Precision Ice Auger Adapter for an easy way to attach your auger to a cordless drill.
Keep in mind that drilling through ice is a power heavy task, so you'll want to go with a heavy-duty, high-torque drill (nothing less than 18V). If you need to drill dozens of holes, then make sure to bring a spare battery along just in case.
If you're looking to drill a lot of holes, you might want to consider stepping up to an electric ice auger. Check out my in-depth review of the best electric augers here, but you can also go online and search for other great electric ice augers like the ION, Jiffy, Landworks, Ryobi, and Razr ice augers.
Handles
There are two types of handles found on most hand Razr ice augers. Inline auger handles and offset auger handles.
Most hand augers use the more conventional inline auger handles. These handles have a free-spinning top handle that's in line with the main stem of the auger. The turning portion of the handle extends out to the side.
The inline auger handles are also extra comfortable, which is why we recommend you go with them. One of the best inline augers on the market is the Razr Ice Auger mentioned above, so make sure to check it out.
To operate an inline auger, grip the top handle firmly with your left hand, and with your right hand turn the auger clockwise until you've drilled through the ice.
Offset auger handles allow you to use both hands while operating them – making them more efficient than traditional inline auger handles.
If you need to drill a lot of holes quickly, offset handles are the way to go.
These handles have a top handle that's offset from the main stem of the auger.
To operate this type of auger, you grip both the top and bottom handles firmly and rotate them in opposite directions until you've drilled through the ice.
Length
Most hand augers feature adjustable handle lengths, allowing different-sized people to easily change the overall auger length to their preferences. An adjustable handle like the one on the Razr ice auger also comes in handy when drilling through really deep ice.
Accessories
While hand augers are pretty simple in their design, there are a few accessories that can really enhance their functionality and durability.
Most hand augers come with some sort of blade guard, but many are on the cheaper side and can be a pain to attach to the auger – especially in the cold. A good aftermarket cover like the Strike Master Lazer Blade Guard or the Cold Snap 8 Inch Auger Cover are easy to use and will protect your blades from accidental damage.
As mentioned previously, a cordless drill adapter can be especially useful, allowing you to turn your hand auger into an electric-powered drilling rig.
Lastly, a good pair of ice fishing gloves is key when using a hand auger. You want to have as much dexterity and control as possible, while still keeping your fingers warm in -20° temperatures.
As mentioned in the company reviews, several of the manufacturers included in this article also offer accessories. For budget and quality accessories, make sure to look into the Razr ice auger company.
Price
Obviously, price is an important consideration when you're buying ice fishing gear.
When it comes to hand augers, you can get a well-made and efficient auger for less than 100$, like, for example, the Eskimo or Razr ice augers. High-end hand-augers like Finnish-made Nils will run you 200$ or more but are extremely well-made and will cut through the ice like butter.
The question of whether to spend the extra money on a high-end hand auger ultimately comes down to how often you plan on using it. If you're out ice fishing every weekend during the season, then shelling out the extra money for a best-in-class auger would more than justify itself.
---
Hand Auger Maintenance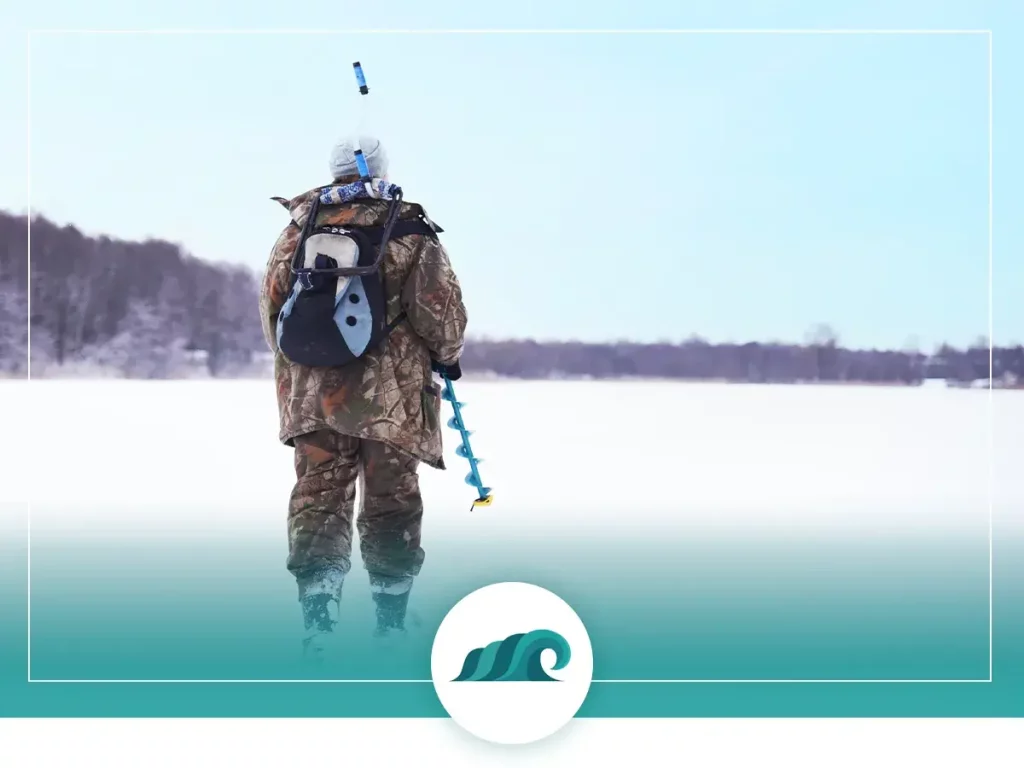 Keeping your hand auger in peak condition will not only extend its lifespan, but it also ensures it drills through the ice more efficiently.
To maintain your auger, make sure to:
Keep your auger blades clean and dry. Wipe them off thoroughly before putting away in storage. A quick coat of oil every so often will help to keep them from corroding.
Use a blade guard. When transporting or storing your auger, make sure to replace the blade guard over the cutting end. This will protect the blades from accidental damage, and also protect your other gear from getting shredded.
Sharpen blades when they start to dull. You can use a sharpening stone, take the blades into a tackle shop for re-sharpening, or just order replacement blades.