Ever since the introduction of lithium-ion batteries a few years back, electric ice augers have exploded in popularity – becoming major game-changers in the ice fishing world!
Back in the day, you only had two options: heavy, noisy, gas-powered augers, or lightweight but difficult-to-operate hand augers.
Enter the modern electric ice auger – it combines the power and torque of a gas-powered auger with the portability and convenience of a hand auger.
While they used to be fairly expensive, advances in battery manufacturing have made electric augers an increasingly appealing option – especially when compared to similarly priced gas-powered augers. The ability to quickly and quietly drill 100+ holes on a single charge – without the need for gas or pull-starting in the freezing cold – is an attractive option for many ice anglers.
If you're considering stepping up to an electric auger, you'll want to make sure you're getting a quality tool that will last for many years. I'll break down some of the best electric ice augers available right now, and how to pick the ideal one for your needs.
From the ION ice augers from Canada to the Strike Master auger, here are the top five electric ice augers you should know about!
Quick Answer: 5 Best Electric Ice Augers
---
Why Go Electric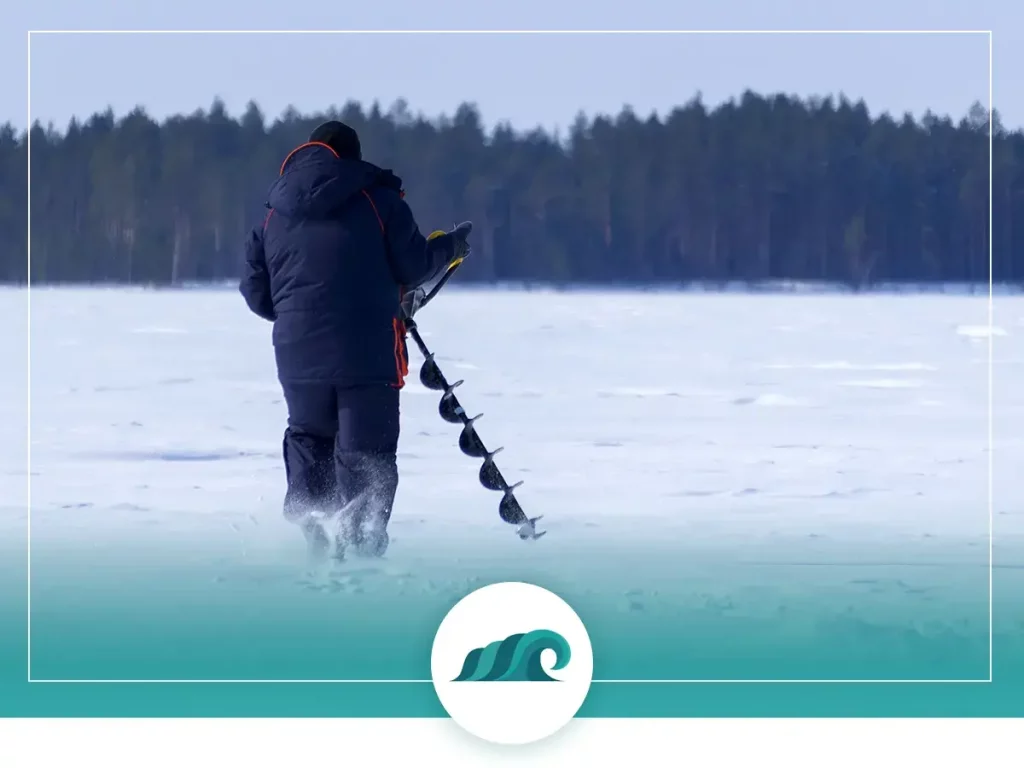 While both gas-powered and hand-augers certainly have their place, electric ice augers have several advantages that make them the superior choice in many situations.
Noise
Electric augers are ultra-quiet, especially when compared to noisy gas and propane-powered augers. They feature brushless electric motors, allowing you to drill multiple holes without scaring off nearby fish. This can be especially useful in early winter when fish are easily spooked.
Fumes
One of the major downsides to gas-powered augers are the fumes they give off. These fumes make drilling inside your shelter or hut a serious pain.
Electric augers don't give off any exhaust – and can be used inside your hut or shelter without having to worry about breathing in toxic fumes.
Instant Start
If you've ever had the misfortune of flooding an auger engine, then you'll know how much of a pain this can be. Gas and propane-powered augers have all the same problems as other small engines – including oil and fuel leaks, dirty spark plugs, gummed up carburetors, and flooded engines.
Battery-powered augers eliminate all of these issues. Flip on the power switch and you've got instant power at your fingertips. No more cursing and yanking on the pull cord like a maniac in -20° weather!
Power on Demand
Unlike older NiMH batteries, newer lithium-ion batteries don't lose power as they discharge. This means you'll have full power right up until the battery runs out of juice. Many also feature easy-to-read battery indicators, allowing you to see exactly how much battery you have left before needing to recharge or swap batteries.
Additionally, unlike gas-powered augers, there's no need to leave the engine in idle as you're moving from hole to hole. Doing this can actually present a serious hazard – in seriously cold temperatures, your glove can actually freeze to the auger shaft, which can jerk violently if the engine keeps turning in idle. Several ice fishermen have even broken wrists and torn ligaments from this happening!
No Fuel
Eliminating the need to mix your own gas/oil for a 2-stroke gas auger may be the biggest benefit of going electric.
Gas is dirty, smelly, and can spill on your clothes, shelter, or fishing gear – fouling up your whole outing. Additionally, a gas can is just more weight you'll need to haul around.
Lightweight
Modern ice fishing is all about mobility. Which is why your gear needs to be as light as possible.
While they're not as light as simple hand-augers, electric augers typically weigh less than their gas-powered counterparts.
A newer electric auger weighs between 17 – 22 pounds, while most gas-powered augers weight between 25 – 35 pounds.  This might not sound like much, but when you're hauling a sled with a shelter, cooler, bait bucket, and other gear, any weight reduction can make a major difference.
High Drilling Capacity
A common misconception about battery-powered augers is they don't have the power necessary for drilling numerous holes or deep ice drilling.
This simply is not the case anymore.
Modern electric augers like the ION X 40V can drill up to 1600 inches on a single charge. This translates into 100 holes on 16" deep ice – or 160 holes on 10" deep ice.
Extra Features
Electric auger manufacturers are constantly innovating, and as a result, they've come up with some handy extra features that can make your life easier.
Built-in LED lights make low-light and nighttime drilling a breeze, saving you the trouble of carrying flashlights, headlamps, or torches. If you're after nighttime walleye this can be a serious game-changer.
Reverse gear can also be extremely useful – allowing you to push slush under the ice – so you have a completely clean hole without any obstructions.
---
Best Overall: ION Ice Auger G2 10"
If you're looking for the cutting edge in ice auger technology – then look no further – 10-inch ION Ice Auger is the auger for you! ION's taken the leap to 6 amp-hour Gen 2 batteries, which can provide an astonishing 2000" of drilling power on a single charge. These Gen 2 batteries also feature single cell protection, which extends the battery's longevity and enhances its cold-weather performance.
Weighing in at just 18 pounds, the ION Ice Auger G2 is by far the lightest electric auger on the market – by a significant margin. This makes it perfect for hole hopping, run-and-gun fishing, or simply carrying out on the ice.
The powerhead is specifically designed for ease-of-use and ergonomics, with a powerful high-torque, high-efficiency motor and transmission. ION claims the auger can cut through a foot of ice in just 6 seconds – making it faster than anything else on the market.
Its aggressively-designed high strength polymer cutting head cuts through ice quickly and consistently – with a center point optimized for easy re-drilling of old holes.
An impressive 40" shaft length comes standard, making it capable of drilling through the thickest mid-winter ice. If you're looking to drill through even thicker ice, a 12" shaft extension is available separately. Like all newer electric augers, a reverse switch allows you to quickly flush any slush below the surface.
While it costs a fair bit more than other electric augers, you're also getting a serious jump in performance when compared to those models. Additionally, you're getting ION's excellent 3-year warranty on both the auger and battery.
View on:  [su_button url="https://www.amazon.com/ION-39350-Electric-Ice-Auger/dp/B07W86GF8Y/ref=as_li_ss_tl?keywords=ion+g2&qid=1568165178&s=gateway&sr=8-1&linkCode=ll1&tag=coastalside-20&linkId=26279396a33b4ae7861e14462208f34d&language=en_US" target="blank" style="flat" background="#d93f2c" size="8″ radius="5″ text_shadow="0px 0px 0px #000000″]Amazon[/su_button]
Key Features
Cutting edge Gen 2 6Ah battery provides up to 2000" of drilling capacity per charge
Gen 2 batteries feature single cell protection – extending the life and enhancing cold weather operation
Incredibly lightweight construction – weighing in at just 17 pounds
40" standard shaft length is capable of drilling through the deepest mid-winter ice. (Optional 12" extension sold separately)
Reverse function for quick slush-flushing
Backed up by ION's excellent 3-year warranty on both auger and battery
---
Reliable, lightweight, and built-to-last, the ION Ice Auger R1 is the successor to the vaunted ION Ice Auger X. It combines ION's new cutting-edge motor with a 5 Ah Gen 1 Battery, offering a 35% power boost over previous Gen 1 augers.  This results in an impressive 1600 inches of cutting capacity under normal conditions.
The new chisel-tip cast bottom is another major improvement. By creating a clear centering point to position the auger blades, it makes re-drilling old holes much easier. Additionally, two LED surface lights have been added, allowing for nighttime operation and easy drilling in low-light conditions.
The auger weighs an impressive 23 pounds (8" blade model), putting it on the lighter side for battery-powered augers. A slush-flush reverse function makes drilling slush free holes a breeze – removing the need to manually scoop slush and ice from drilled holes.
If you're looking to take the leap to lithium-ion, you'll have a hard time beating the functionality, precision, and durability of the ION Ice Auger R1.
Key Features
Available in 8-inch and 10-inch blade width configurations
New aluminum cast bottom with chisel-tip results in smoother cuts and easier re-drilling of old holes
Ergonomic, closely-positioned handlebars allow for easy drilling inside shelters and other tight spots
5 amp-hour 40V Max batteries provide up to 1600 inches of cutting capacity
Reverse function pushes slush underwater for slush-free holes
Special ION ice auger 3-year warranty on the entire unit
ION 39300 10″ R1 Ice Auger
5 AMP HOUR, GEN 1 BATTERY: This Gen 1, 5 Amp Hour battery offers a 60% higher storage capacity than the original ION battery. This extra capacity powers the 10 ION R1 through up to 800 of ice on a single charge.

30% FASTER CUTTING SPEEDS: A re-optimized power system makes the ION R1 more powerful, offering up to 30% faster cutting speeds than previous Gen 1 ION augers.

ION REVERSE: Reverse eliminates the need for an ice skimmer by flushing the slush ice down the hole.

HIGH-STRENGTH COMPOSITE POLYMER CUTTING HEAD: Ensures smooth and consistent cutting in all conditions and easily re-drills old holes. Aggressive design cuts through ice quickly with an incredibly smooth breakthrough.

AUGER CENTERING POINT: Allows for ultra-precise blade positioning when opening new holes, or re-opening frozen holes.

PLANETARY GEAR TRANSMISSION: ION offers the optimal combination of weight and high-powered delivery, giving you maximum efficiency at the lightest weight possible.

TWO LED LIGHTS: Positioned under the powerhead, two bright LED lights illuminate the ice surface, making the ION R1 ideal for night operation or drilling inside dark shelters.

LIGHTWEIGHT, EASY TO CARRY: At only 24 pounds, the 10 inch ION R1 weighs nearly 40% less than typical gas-powered augers. A lighter 10 inch auger than many traditional 8 inch augers.

COMPACT HANDLEBAR DESIGN: By bringing the handlebars closer to the powerhead, drilling next to walls in ice houses is easier than ever.

3-YEAR WARRANTY: ION offers a 3-Year Limited Warranty covering the entire unit—including the battery!
See Pricing On:
---
Also Consider: Strike Master Lithium 40v Electric Power Auger
The all-new 40V lithium auger from StrikeMaster features similar specs to some of the ION ice augers, making it comparable in terms of battery and performance. It's only slightly heavier than the ION Ice Auger G2, weighing in at 24 pounds for the 8-inch model, and 27 pounds for the 10-inch.
The 40V 5 amp-hour battery can drill up to 100 holes in 16" ice for the 8-inch model, and 70 holes for the 10-inch model. A 4 LED battery status indicator allows you to see exactly how much juice you have left, while a 2-amp rapid charge battery station fully recharges a battery in 2 ½ hours.
Two impact-resistant filament handles provide a secure and comfortable grip, while dual LED lights illuminate the drilling surface and allow you to drill safely at night.
StrikeMaster included their famous partially-serrated Lazer™ blades as in their gas-powered models – allowing you to mow through the ice like a knife through hot butter. A reverse switch allows you to quickly switch to reverse gear, allowing you to push any slush and floating ice down through the hole.
Key Features
40V 5 amp-hour brushless electric motor is whisper-quiet
Planetary gear system provides plenty of power and torque
Available in 8-inch and 10-inch blade width options
StrikeMaster's legendary Lazer™ blades make quick work of the thickest ice
Ergonomically placed power switch and safety kill switch
Easy to read LED battery indicator displays remaining battery charge
2-year manufacturer warranty on motor, battery, and charger
Lithium 40V 10″ Lazer
Tough, quiet, easy to transport

15.9:1 planetary gear system

Twin serrated stainless steel Lazer™ blades

Impressive torque and power at the push of a button

Maintains full power to the end of the charge

Includes 2A rapid-charging base

Both forward and reverse modes

Impact-absorbing handles

Ergonomic controls

Deadman safety switch and LED lights
See Pricing On:
---
Best Value: Landworks Electric Ice Auger
The Landworks Electric Ice Auger is a great device you can use to drill holes without much effort. All you need to do is charge the battery and go to your desired fishing spot – it is literally that easy!
What makes this ice auger worth the money is the durable battery that allows you to drill for hours on a single charge. In addition, the entire build is durable and convenient, with the ergonomic handles being very comfortable for the person doing the drilling. Their spacious position allows you to have a good balance while working with the auger. 
At only 22 pounds, this is a lightweight auger that you can easily take with you on all trips. No longer will you have to worry about having enough duel or a power source to plug your auger in – the cordless electric design will make things effortless for you. 
While it might not have the same quality as the ION ice augers, you can still rely on this auger to get the job done. 
Key Features:
Eco-friendly design that does not need any fuel, does not produce smog and does not need frequent charging. 
Smooth digging is made possible by the powerful brushless motor.
Option to choose between 2Ah and 4Ah batteries when purchasing. 
Lightweight design with ergonomic handles for better balance. 
Prices pulled from the Amazon Product Advertising API on:
Product prices and availability are accurate as of the date/time indicated and are subject to change. Any price and availability information displayed on [relevant Amazon Site(s), as applicable] at the time of purchase will apply to the purchase of this product.
See Pricing On:
---
Budget Pick: ION Ice Auger Alph
This is the third ice auger from the ION ice auger company in Canada. There is a good reason why so many augers from this company rate among the best ice augers ever – the pristine quality and good pricing are what draw people to them.
For anyone looking to get a more affordable ice auger from ION, we recommend looking into the Alpha. This is one of the products from the Alpha series or the company's third generation of ice augers. Its cutting diameter is roughly around 10 inches, making it the perfect size auger for anyone's needs. It is also very lightweight and easy to transport.
Unlike other augers, the Alpha from ION ice auger will give you tremendous power at a much lower weight. The high-speed cutting system makes it extremely easy to drill new holes, whereas the turbo option can also come in handy if you want to speed things up. The powerful 4Ah battery will also make things extremely convenient for you, allowing you to drill more than 1200 inches in just one charge.
If that was not enough to convince you to look into this ION ice auger more closely, it also comes with a 3-year warranty on the entire unit. So, the company has got you covered in case you have any kind of problem with the ice auger.
Key Features:
The lightweight design (below 22 lbs), is unprecedented in the world of electric ice augers.
Above-average cutting speed of up to 2.2 inches per second.
A powerful and quick-cutting system that allows drilling with little to no resistance.
Ion Ice Auger Generation 3 4Ah powerful battery.
It's compatible with various batteries, chargers, and adapters manufactured by the company.
LED drilling lights that allow you to see what you are doing. 
The auger features a steel auger bit along with an auger centering point.
ION® Alpha, 8-Inch, Gen 3, 40V Lithium-ion, Electric Ice Auger, 59150
WEIGHS UNDER 20 LB – Maximized power and minimized weight, the ION Alpha is the lightest 40V series of augers in the world—as much as 40% lighter than the competition.

BEST-IN-CLASS CUTTING SPEED – Delivers an average cutting speed up to 3.4 IPS (inches per second) based on over 10,000 test holes in varying ice conditions.

BEST-IN-CLASS 40V PERFORMANCE – The Alpha Series offers the best power-to-weight ratio of any electric auger ever made.

TURBO HIGH-SPEED CUTTING SYSTEM – An aggressive new cutting system that smoothly and efficiently bores through the ice to open new holes, or re-drill old holes with minimal resistance.

UP TO 2000 INCHES PER CHARGE – Includes (1) 4Ah ION Gen 3 battery, powering the 8 Alpha through up to 2000 inches of ice per char
Prices pulled from the Amazon Product Advertising API on:
Product prices and availability are accurate as of the date/time indicated and are subject to change. Any price and availability information displayed on [relevant Amazon Site(s), as applicable] at the time of purchase will apply to the purchase of this product.
See Pricing On:
---
How To Pick the Right Electric Ice Auger – Buyers Guide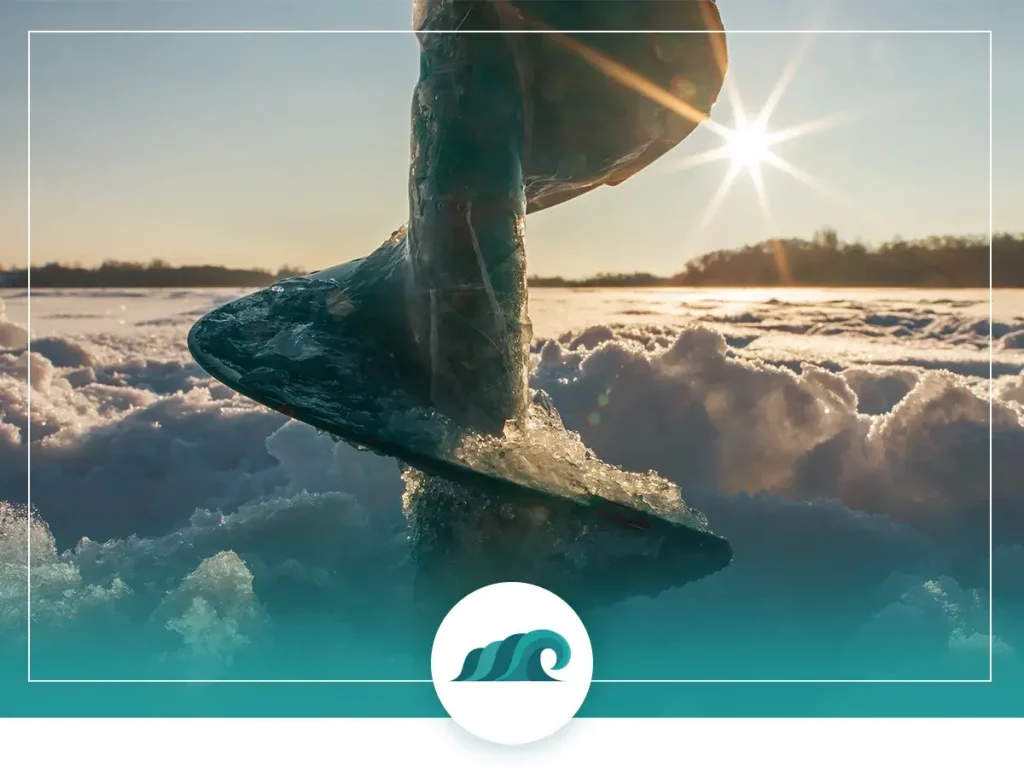 With so many options out there, choosing the best electric ice auger can seem like a tough task. Whether you go with one of ION's ice augers or StrikeMaster's, the ultimate choice will come down to the build and the features.
Weight
One of the major selling points of electric ice augers is their weight. Typical electric augers weigh 30 to 40 percent less than their fuel-powered counterparts. This can make a major difference – particularly if you're the type that tends to drill dozens of holes over the course of an outing.
Whereas in the old days, sitting over the same hole waiting for the fish to come to you was the norm, modern augers, fish finders, and sleds make run-and-run fishing increasingly feasible.
If you're looking for the lightest auger on the market, the 18-pound ION Ice Auger G2 blows away the competition. You can also look into the 22-pound ION Ice Auger Alpha or ION Ice Auger G2, which are extremely powerful and capable augers.
Cutting Diameter
Cutting diameter is another important consideration, as it determines the width of the hole. Most auger models are available in 8" and 10" diameters, with several also available in 6" diameters.
Unless you're only targeting smaller fish like yellow perch or crappie, you'll want to go with at least an 8" cutting diameter.
The choice between 8-inch and 10-inch comes down to personal preference and fishing style.
8-inch auger bits will consume less battery during operation than 10-inch bits – allowing you to drill more inches per charge. Most fish you're likely to encounter will fit through an 8" hole, but if you're after northern pike, muskie, or lake trout, then a 10-inch diameter will make pulling fish through the hole much easier.
Keep in mind that most auger bits will be compatible with any powerhead of the same brand. So if you go with an 8-inch model, you can also purchase a 10-inch auger bit to give you more versatility.
If you are looking for an 8-inch model, consider going with the ION Ice Auger R1. As for the best 10-inch model, we recommend that you look into the ION Ice Auger Alpha.
Blade Type
There are two common ice auger blade types – shaving blades and chipper blades.
Shaving blades have a smooth razor-sharp cutting edge and remove a small amount of ice with each pass. The blade sharpness allows you to melt through ice quickly. Because they're less durable than chipper blades, they're intended for cutting through clean, fresh ice.
Chipper blades have wide-set teeth – similar to the groves on a serrated knife. They're meant to chip through rough ice but are slower and less precise than shaving blades.
The design makes them ideal for re-opening old holes that have partially frozen over or cutting on surfaces with dirt, mud, or gravel above the ice.
Generally, a shaving blade will work well for most anglers – but if you're constantly re-drilling old holes, then you might want to consider investing in a chipper blade.
Shaft Length
The augers shaft length will determine the maximum ice thickness you can drill.
Your local ice conditions will dictate the length you'll need. If you're fishing in the Midwest, where ice thickness rarely exceeds 18", a 30-something-inch auger will be more than enough. If you're up in Northern Canada or Alaska, where lakes regularly see ice thicknesses of 3 feet or more, then make sure you get a shaft extension.
Reverse
Reverse gear is a super useful feature. It essentially eliminates the need for an ice scoop or skimmer.
Reverse gear allows you to flip a switch and quickly flush out any loose slush or ice still inside the hole. To clean out the hole, simply put the auger in reverse, drop the blade inside the hole and depress the throttle for 5 seconds or so.
Pretty much all newer ice augers have this feature, including all the models reviewed above, but the ION Ice Auger Alpha takes the first place with its quality slush-flushing reverse option.
Battery Capacity
With the increasing popularity of Lithium-ion batteries, electric ice augers are now able to drill an incredible number of holes before they need re-charging. Case in point, the ION G2 can drill up to 2000 inches before the battery needs charging – that's 200 holes in 10-inch ice!
Most electric augers will be able to dill far more holes than you'll need in a single outing. But, if you're worried about running out of power, you can always pick up an extra battery.
Warranty
Whenever you're shelling out serious dough on a high-end tool, you'll want to be sure you're getting a quality product backed up with a good warranty.
Most electric ice augers come with a 2 to 3-year warranty on the powerhead, and a 1 to 3-year warranty on the battery.
But if you decide to go with the Ion Ice Auger Alpha or the ION Ice Auger G2, you will get a 3-year warranty on the battery and the powerhead. Canada's Ion Ice Auger company also has amazing customer support, so if you ever face any difficulties with your product, you can contact them and have them tell you more about your warranty coverage.
Price
While electric ice augers generally cost a bit more than gas-powered ones, the increased performance, convenience, and versatility more than justify the higher price tag.
If you're not looking to break the bank, you can still get a high-quality electric auger for less than 500 dollars – which will give you give you years of comfortable and convenient drilling. Our favorite budget option is the Ion Ice Auger Alpha, so make sure to look into that one if you are on a tight budget or just do not want to spend a lot of money on an ice auger.
With so many factors to consider, buying an ION ice auger can be intimidating. We're here to help you through your ice fishing journey!