If you're new to fishing, you might be wondering what you should wear on a fishing outing. The right attire can have a major impact – and can be the difference between a great time on the water and coming back a sun and windburned mess!
Even if you're a seasoned angler, dressing appropriately for the weather is a major game-changer, and can lead to more fish in the boat. You'll want to match the color of your attire to your surroundings, as well as to the weather conditions on that day.
Whether it's your first time going fishing or your hundredth time, I'll break down what you need to know to properly prepare for a day of fishing – in both hot and cool weather.
What to Wear When Fishing in Hot Weather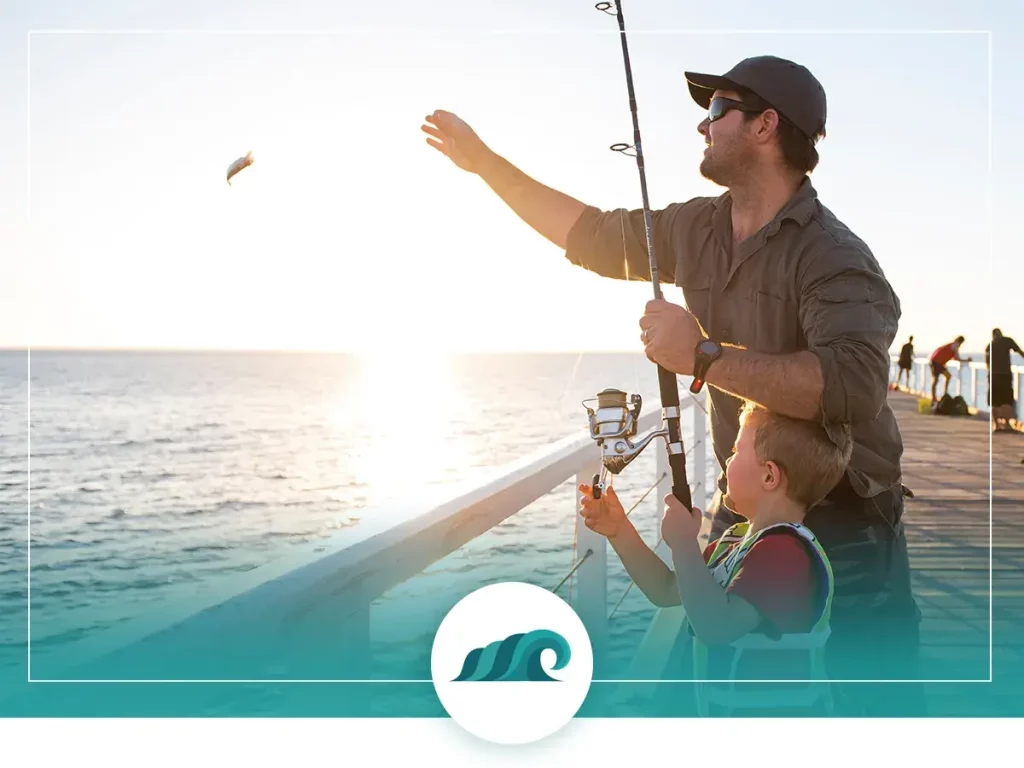 The most important thing to consider when deciding what to wear for fishing is the weather outside. Your clothing and other gear will depend on the temperature, amount of UV from the sun, as well as wind and cloud cover.
During hot summer weather, keeping your skin protected from harmful UV radiation is a top priority. This is especially true when your fishing in the ocean or from a boat, as UV rays will magnify and increase in strength when they bounce off the water. There's nothing worse than coming back from a sunny day on the water covered in painful sunburn!
Sunglasses
A good pair of polarized sunglasses is priceless when you're fishing in bright, sunny conditions. Not only will they protect your eyes from damage, the polarization helps you see clearer and greatly reduces glare from light reflected off the water. This will reduce eye strain and improve your vision and comfort on the water.
When picking out a pair of sunglasses for fishing, make sure the manufacturer states "100% protection against both UVA and UVB" or "100% protection against UV 400." If you're looking for a good pair of polarized shades at a reasonable price, check out the KastKing Skidaway Polarized Sport Sunglasses.
Headwear
Keeping your head, face, and neck protected from the sun is the key to prevent sunburn and fatigue from too much sun. While a baseball cap works better that nothing, it won't protect the back and sides of your neck like a full-brimmed fishing cap will.
As well as a good fishing hat, a fishing face mask will protect the skin on your face and neck from too much sun and wind. These masks are typically made from lightweight, fast-drying and breathable materials that wick away moisture from your skin. They also create a physical barrier between your skin and the sun, so you won't need to reapply sunscreen to your face and neck.
Check out my in-depth review of the best fishing face masks.
Sunscreen
We all know how important it is to protect your skin from harmful UV rays. A high-quality sweat proof sunscreen that absorbs quickly will protect your skin and won't impede your grip or run down and sting your eyes.
Make sure to reapply sunscreen every two hours when you're on the water, especially during the hours around midday. Keep in mind that once you feel sunburn on your skin, it's already too late to prevent it. So take precautions beforehand.
Footwear
The right footwear can vary slightly depending on where you're fishing. If you're fishing from a riverbank, a dock, or a pier, you're less likely to get your feet soaked, so any comfortable shoe or sandals with a sturdy grip should work well.
If you're fishing from boat, you'll want to wear lightweight, well ventilated shoes with non-slip soles that will give you traction on wet, slippery surfaces. There's a decent chance your feet will get wet, so make sure the shoes will drain quickly when their soaked – water shoes can work well for this.
Sandals and flip flops can also work well. Just make sure they have decent traction and are comfortable to wear for long periods of time.
Surf fishing can be a challenge as far as footwear is concerned. You're going to get your feet soaked, so you'll want shoes that drain quickly, but you also want to keep sand from getting inside the shoe. Additionally, you also need solid traction for walking on slippery rocks. Some dive shoes and socks can actually work well for this task.
Shirt
The right shirt for fishing in hot, sunny weather needs to fit several different criteria.
First, you'll want one that keeps you cool and wicks away moisture rather than retaining it. Synthetic fabrics like polyester and nylon work well for allowing air to pass through them – keeping you cool and allowing sweat to evaporate rapidly. Look for shirts with built in front and back vents for better airflow.
Second, protection from UV rays is important during those hot summer months. Go with a long sleeved shirt or fishing hoodie, as the sleeves will keep your arms from burning, and you can always roll up the sleeves if you need to. Look for a shirt with 30 UPF rating or higher.
As far as color is concerned, you generally want to match your shirt to the color of your surroundings. If you're fishing from shore, then darker colors and camos will prevent fish from getting spooked in shallow water. If you're fishing from a boat, then a greyish shirt will help you blend in on a cloudy day. A light blue one will do the same on a clear day.
Shorts
Shorts are ideal when the weather really heats up. Especially lightweight, quick-drying ones that can handle being soaked in the water. You'll want a pair with plenty of extra pockets for stashing gear, as well as being tear resistant.
Check out the Hook & Tackle Men's Barrier Reef shorts for a versatile and durable pair of shorts designed for summer fishing.
What to Wear When Fishing in Cool Weather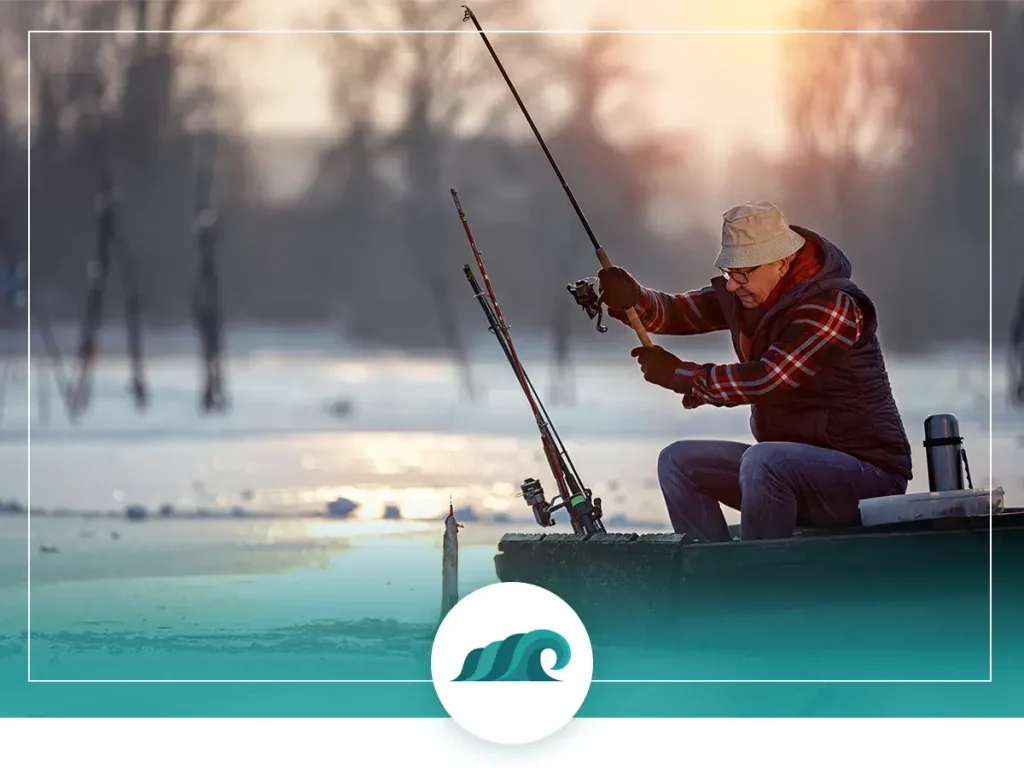 Dressing for fishing in cooler weather is a bit different than during the hot summer months. Protecting yourself from the sun is less of a concern, while keeping yourself warm and dry becomes more of an issue.
Layering is the name of the game when it comes to fishing in cool temperatures. Ideally, you'll want to utilize multiple layers to keep your body warm and dry. So you can remove layers as needed if the weather heats up.
Layers
Just like with other cold weather sports, layering with different materials enables you to keep your body warm, wick away sweat and moisture from your skin, and prevent water from seeping in. They're also highly versatile, as you can easily add or remove layers to match the conditions.
A good base layer should dry quickly and wick moisture away from your body quickly and effectively. Long sleeved nylon, polyester, and wool blends all work well as a base layer for your upper body. Long underwear made from the same materials work well for your legs.
A fleece mid-layer works well to keep you warm, and will dry fairly quickly should it get wet. Wool can also work well for this, as it will retain heat even if it gets wet.
Outer layers should be waterproof, tough, and lightweight. Let's take a look at this layer in more detail.
Waterproof Outerwear
A well-made waterproof jacket and trousers will ensure you stay dry no matter how torrential the conditions get on the water. Waterproofing is typically rated between 0 and 15,000 mm of waterproofing, although some jackets will feature 20,000 mm or more. If there's a good chance of getting caught out in some heavy rain, then you'll want to go with a jacket with at least 8,000 mm of waterproofing.
In addition to waterproofing, you'll also want to pay attention to a jacket's breathability rating. Breathability refers to a jacket or trousers ability to allow perspiration to escape from its interior. If a jacket isn't breathable enough, sweat will get trapped inside, leaving you damp and irritated. Breathability is typically rated from 0 to 20,000 g/m².
Check out this video for a detailed look at dressing for cold weather fishing:
Boots
A good pair of waterproof boots with non-slip soles are a key piece of cool weather fishing gear. They'll keep your feet dry and protected, while still being flexible and light enough to hop around a fishing boat in.
Rubber makes an excellent material for fishing boots, as its completely water proof, lightweight, and highly durable. Check out the XTRATUF Performance Series 6" boot for a highly versatile fishing boot.
Make sure to pair your boots with a good pair of wool socks if it's cold out, or you may wish to use several layers of socks.
Sunglasses
Just because its cold out doesn't mean the sun won't be shining! Glare can be just as big of a problem during the cooler months as it is during summer. This is especially true if there's snow on the ground, as sunlight bouncing off snow can be even more blinding than normal glare bouncing off water.
Gloves
Fishing gloves for cool weather need to serve several purposes. They need to protect your hands and fingers from cold and moisture, while still allowing you to maintain the dexterity needed to work a reel and feel the action in your rod.
Fingerless or convertible gloves tend to work well for this task. They'll keep your hands warm and dry while leaving your thumb, index, and middle fingers exposed for preforming more subtle tasks.
Check out my in-depth review of the best fishing gloves for cold weather.
Hat
Like the old saying goes, "if your feet are cold, put on a hat". In fact, leaving your head exposed when the rest of your body is wrapped up can result in losing up to 50% of your body heat. By keeping your head warm, you'll prevent yourself from losing too much heat, and help keep your extremities warm and comfortable.
Wool, polyester fleece, and other insulating materials all make good choices to keep your head warm. If it's also raining out, a hooded jacket will protect your head from getting soaked.
Many anglers also like to wear buffs or balaclavas for cool weather fishing. These versatile garments are great for keeping your face and neck warm and protected from the elements.
If you're interested in what to wear for ice fishing, check out my in-depth guide.