Much like the French, bass love a mouthful of fresh frog! In fact, frogs and other amphibians make up a large proportion of both largemouth and smallmouth bass's diet in many bodies of water. Because of this, soft plastic frog lures may be the most exhilarating way to fish for bass, pike, and other freshwater fish.
There are few things more exciting than slowly retrieving your lure in anticipation of a big topwater blowout.
There are several types of frog lures available, from sinking soft plastics to crankbaits, but this post will focus on the most popular type – soft plastic topwater lures. These have been around for years, and are increasingly popular among all types of freshwater anglers.
Read on for a detailed explanation on how to fish a frog lure, and some of the best frog lures for bass fishing.
Quick Answer: 4 Best Frog Lures for Bass Fishing
---
Topwater Frogging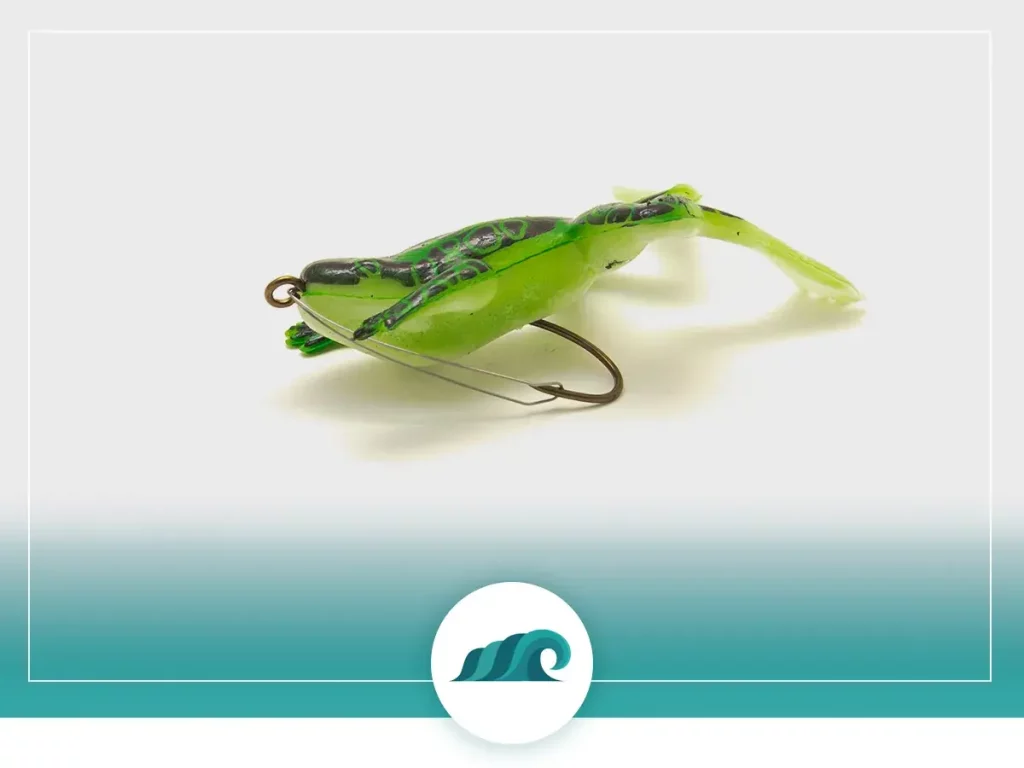 Fishing with a topwater frog lure (or "frogging" as it's often called) involves casting floating soft plastic frogs over heavy weeds, lily pads, and vegetation. Frog lures imitate the silhouette of a frog on the surface of the water, presenting an irresistible target to bass, pike, muskie and other freshwater fish.
When it comes to frogging, the name of the game is patience. Frogs don't hop around constantly in nature, so neither should your lure. A long slow retrieve with periodic jerks will imitate the natural movement of a frog.
Topwater frog lures utilize a collapsible soft plastic hollow body, allowing you to cast them into the thickest of weeds without getting snagged. The hooks face upwards and are shielded by the legs and body of the frog, preventing your lure from getting caught up in weeds or lily pads. When a bass strikes your lure, the soft plastic body collapses, exposing the hooks and allowing you to hook the fish.
---
Best Overall: Lunkerhunt Lunker Frog Series 2.5-Inch
When it comes to lifelike frog lures, you'd be hard pressed to beat the Lunkerhunt frog. At rest, the body of the frog drops down into the water, imitating the behavior of a frog on the surface. The legs extend forwards and backwards as you retrieve and pause, which replicates the swimming behavior of an adult frog.
The lure's hollow body utilizes super soft rubber, making it easy to collapse – and leading to better hookup ratios. A tapered nose and enlarged air bladder allow it to easily pass through the thickest weeds, reeds and lily pads without getting snagged.
Large, sized 4/0 hooks make it easy to set the hook, and high-quality construction ensures the legs stay on after many strikes.
The lure is available in a wide variety of lifelike colors and patterns, so you can experiment and find the best lure for your local fishing spot.
Key Features
Weight: 1/2 ounce
Lifelike swimming action imitates natural frog movements
High-quality construction
Completely weedless design
Lunkerhunt Lunker Frog, Bull Frog – Fishing Lure with Realistic Design, Legs Extend and Retract in Use, Great for Bass and Pike, Freshwater Lure with Hollow Body, Weighs ½ oz, 2.25" Length
At rest, the body of the Lunker frog drops down a little into the water perfectly replicating the action of a frog/bullfrog

The Lunkerhunt Lunker Frog is the most life like frog currently available in the industry

Used primarily for bass, pike and musky in freshwater

High quality components, a super soft hollow body construction, and a weedless design

Essential addition to any tackle box
View Pricing On:
---
Runner Up: Booyah Bait Company Pad Crasher Fishing Lure
This hollow body frog is perfect for throwing into the thickest of weeds and slop. The hollow body is completely weed and snag-free, with a V-shaped nose allowing for a smooth "walk the dog" retrieval.
The legs utilize rubber spinnerbait-style streamers, which imitate the frog's natural movement in the water. Their length can easily be adjusted or they can be replaced entirely in case they get too shredded up.
The rubber body is ultra-soft, leading to more hookups. It's still fairly durable though and holds up better than many other frog lures. A wide variety of colors are available, including albino white which many bass fishermen swear by in open water.
Key Features
Weight: 1/2 ounce
V-shaped nose moves smoothly on the surface
Durable and soft rubber body leads to a higher hookup percentage
Spinnerbait style legs imitate lifelike movement
Booyah Bait Company Pad Crasher Fishing Lure, Bull Frog, Booyah Pad Crasher Bullfrog 2 1/2 In
PAD CRASHER TECHNIQUE: Hollow-body frog perfect for throwing in the slop and weeds

BODY CONSTRUCTION: Body is structured enough to keep the bait 100% weedless to come over and across sloppy weedbeds, yet soft enough to ensure a solid hookset with a bass strikes

TOPWATER LURE: Mocks the frog apperance for hungry topwater bass eaters

HOOK STRUCTURE: Features a super-strong double hook and spinnerbait-style legs

INCLUDES: 1 Pad Crasher fishing lure
View Pricing On:
---
Frog Lures Multi-pack: RUNCL Anchor Box
This frog lure 5-pack gives you everything you need for some exciting topwater action! The realistic paint patterns look incredibly lifelike in the water, with a metallic shimmer that bass can't seem to resist. Flexible extending legs move seamlessly through the water, recreating the movement of a real frog as you retrieve and pause the lure.
The lure is weighted towards the tail end – which increases casting distance, stability on the retrieve, and provides the ideal resting angle on the water's surface. It also means they land facing upwards the vast majority of the time.
The attention to detail really sets these lures apart from the pack. Plus, at less than 20 bucks for a 5-pack you're getting a lot of frog for your dollar!
Key Features
Weight: 1/2 ounce
Lifelike movement and appearance
Tail-weighted construction increases casting distance and stability
5-pack with a variety of lifelike colors and patterns
RUNCL Topwater Bass Fishing Frog Lures, Weedless Tod Soft Floating Bait Lure with Tackle Box for Bass Pike Snakehead Salmon Trout Catfish Dogfish Musky, Freshwater Saltwater Fishing – Pack of 5
Lifelike Design: High-resolution body detail, life-like 3D eyes and almost real swimming actions, flawlessly replicates an actual frog or bullfrog, help anglers attract a bigger catch

Excellent PVC: The frog lures are produced with environmentally friendly PVC with amazing deliciousness, imitates the taste of an actual frog, hinders the fishing hook from getting spitted

Perfect Angle Sitting: The core of gravity for RUNCL frog lures are constantly checked to ensure best angle sitting inside the water, helps with the success of hook up

Weedless Design: With hooks embedded into the belly of the frogs, helps to expose the hooks better when the fish strikes, and no concern whatsoever about hanging up by lily pads or weed beds

Special Combination: The completely unique fishing tackle box in the marketplace is equipped with 5 different types of frog lures, perfect for all sorts of complicated fishing conditions
Prices pulled from the Amazon Product Advertising API on:
Product prices and availability are accurate as of the date/time indicated and are subject to change. Any price and availability information displayed on [relevant Amazon Site(s), as applicable] at the time of purchase will apply to the purchase of this product.
---
Also Consider: Spro Bronzeye Frog 65
Spro makes some of the best lures on the market and this frog lure is no exception. It's specifically weighted to land on its belly, which also helps with casting long distances. The legs are spinnerbait-style streamers, which emulate a frog's natural motion in the water.
The lure was designed to be fished in both heavy cover and open water, with durable rubber construction that holds up to the most aggressive of topwater strikes. Unlike many cheaper models, it won't get waterlogged, so you won't need to squeeze the water out of it after every cast.
There are a huge number of colors and patterns available, so you're bound to find one the bass will like.
Key Features
Weight: 5/8 ounce
Gamakatsu size 4/0 double hook
Designed to land on its belly
Huge variety of colors and patterns available
View Pricing On:
---
How to fish a frog lure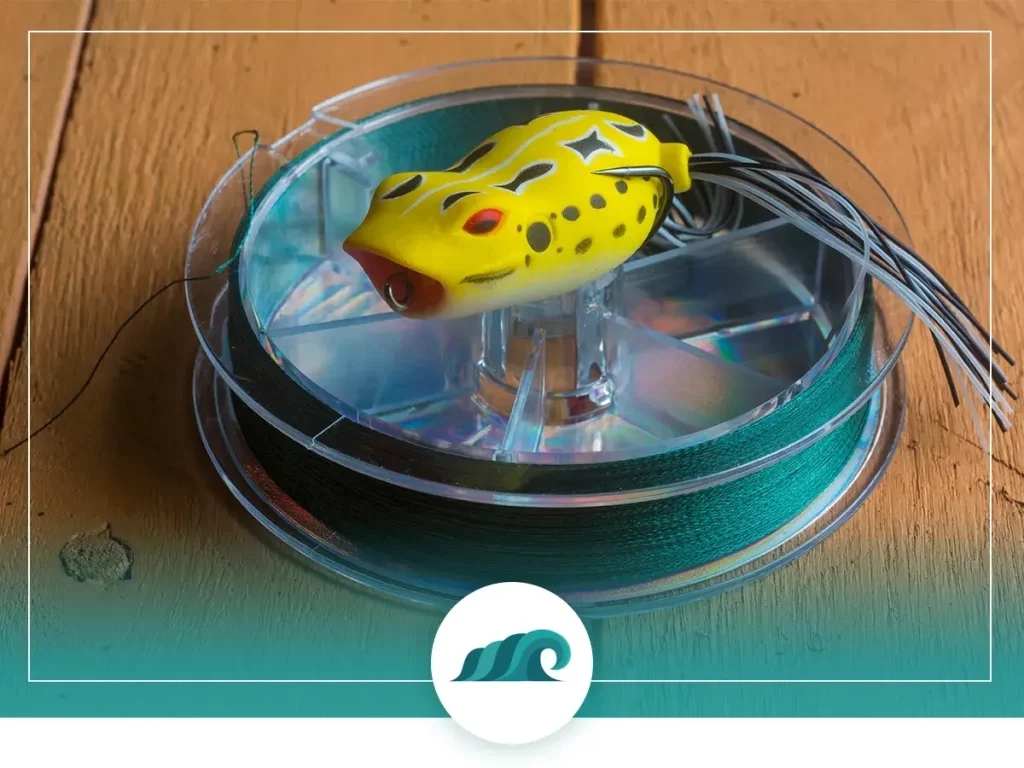 Fishing a frog lure is all about patience. Unlike fish or insects, frogs aren't constantly moving in nature, so neither should your lure.
Start out by casting into thick weedy areas or on top of lily pads. Many anglers like to cast directly onto the shore or nearby logs/rocks, and then begin retrieving by loudly flopping the lure into the water. The loud flop will act to attract nearby fish – imitating a frog's natural behavior.
Your retrieve should be slow – with frequent pauses to imitate the motion of a frog hopping from one lily pad to another.
Bass will generally strike on the pause, so make sure to pause for several seconds between each jerking motion. Try to place the lure in open spaces in between vegetation when you're pausing. This will allow any nearby bass to clearly see your lure and hopefully entice a strike.
When you do get a strike, don't try to set the hook immediately. The initial strike is typically used to stun the frog – which the bass will fully swallow after it's confident the bait is stunned. You'll want to wait until you can feel the line begin to move, indicating the bass has fully swallowed your lure.
Keep in mind that frog lures have lower hookup ratios than other lures. Don't get frustrated if you're not hooking bass right away – it often takes a little trial and error until you get the technique down.
While you might not catch as many bass as you would with Senko worms, the excitement of a bass absolutely blowing up your lure more than makes up for the lower hookup ratio. In fact, if I had to pick just one style of bass fishing, I'd probably go with topwater frogging!
---
Frog Lure Tackle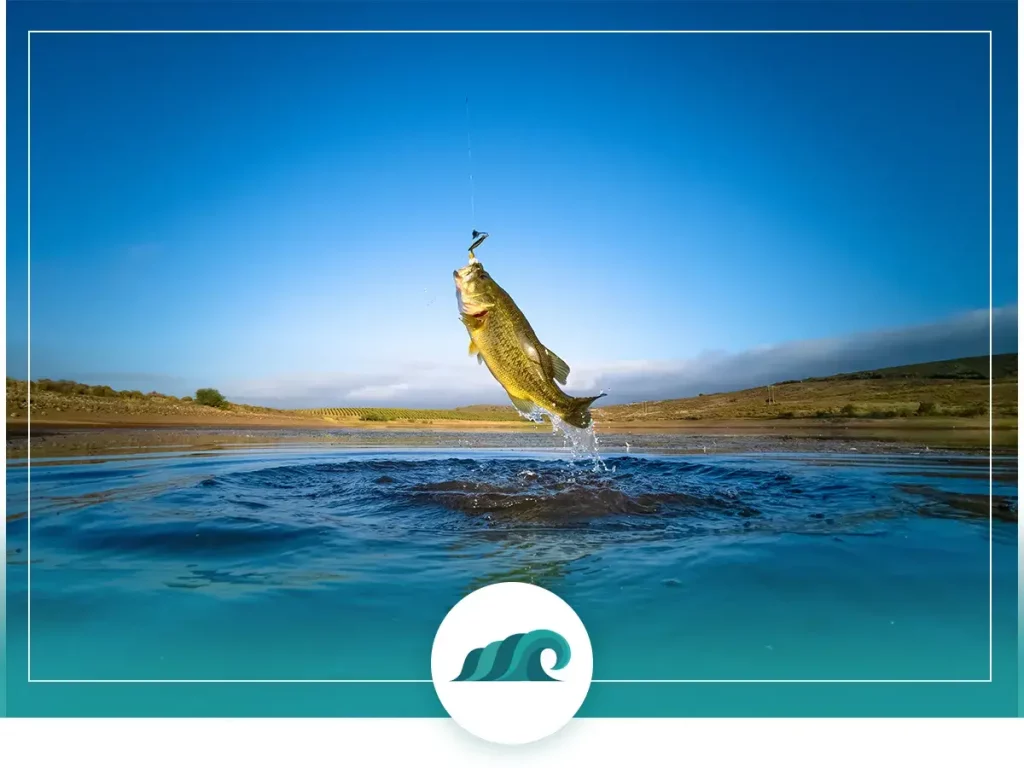 When fishing frog lures it's important to use the right tackle. Many anglers will blame their lure when they can't hook any bass, but in reality, they should be blaming their tackle.
You'll want a fairly beefy rod with enough stiffness to muscle fish out of thick weeds and vegetation. A good choice would be the KastKing Royale Legend Medium Heavy 7'3". Lengthwise, you'll want to go with a 7-foot rod or longer. The added length will give you more leverage and allow you to cast your lure further.
Pair the rod with a decent baitcasting reel and you'll have a pretty stout setup capable of long casts – allowing you to cover more surface area.
As far as line is concerned, heavier braid is the way to go. Whenever you're fishing around heavy cover and vegetation you'll want to use a line with good durability and abrasion resistance. Braids lack of stretch also helps with driving the hook into the fish's jaw.
50-pound test should suffice for most environments, but if you're fishing some serious slop then you may want to up it to 65 lb test. Power Pro Spectra 50 LB is an excellent overall option.
---
Frogging Tips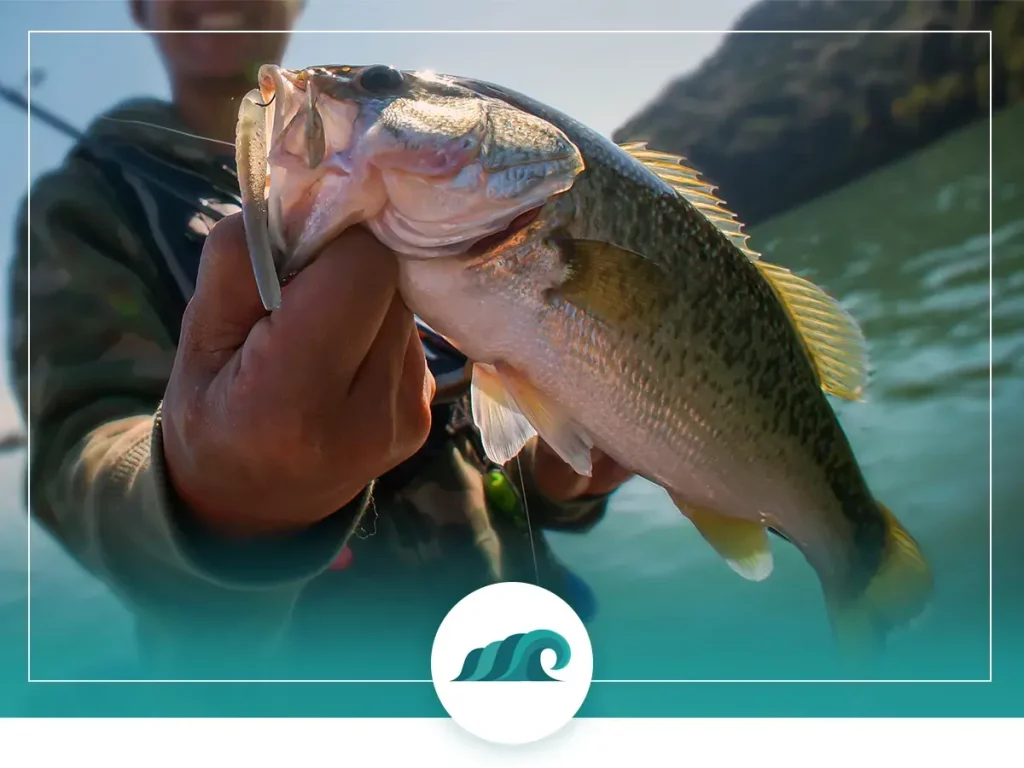 Fishing with frog lures can be a little challenging for beginners – these tips should help you get started catching more bass!
Reel the lure all the way back to your boat. Often times, bass will follow your lure away from cover and strike once you're in open water.
Frogs with legs work better than those without. The legs make your lure look more lifelike, increasing the number of strikes and hookup ratio.
If your frog's legs get destroyed (as will inevitably happen with enough use), you can replace them by gluing plastic tubing or streamers. Make sure to glue it well so no water can leak into the body of the frog.
Experiment with a few different colors. Generally, you'll want at least three main colors to test out. White, brown/black, and green should give you enough variety to entice bass in different weather and cover environments.
Play around with different leg lengths. You can easily modify the legs by trimming them shorter. This can increase you're hookup ratio, as the fish will be more likely to strike the body of the frog, rather than just the legs.
Check out this video for an in-depth look at topwater frog fishing: