I recently heard an unfortunate tale from a fishing buddy of mine. After fighting with a large, angry Jack Crevalle for what seemed like an eternity, he finally wrangled the fish within gaffing range. After what seemed like a clean gaff job, his telescopic fishing gaff came apart – resulting in a useless piece of aluminum, and a lost fish!
While it may seem like an afterthought to many anglers, a good fishing gaff is an important piece of fishing gear and can be worth its weight in gold in the right situation. When you've got a trophy fish on the end of your line, you'll need a solid gaff to successfully land it inside the boat.
Gaffs are also popular with kayak anglers and ice fishermen, due to their ability to land fish in tight spaces – where a net would be difficult or impossible to use.
I'll break down some of the best gaffs on the market, explain the various gaff designs and their uses, and help you pick the ideal one for your needs.
Quick Answer: 6 Best Fishing Gaffs
---
Fishing Gaff Types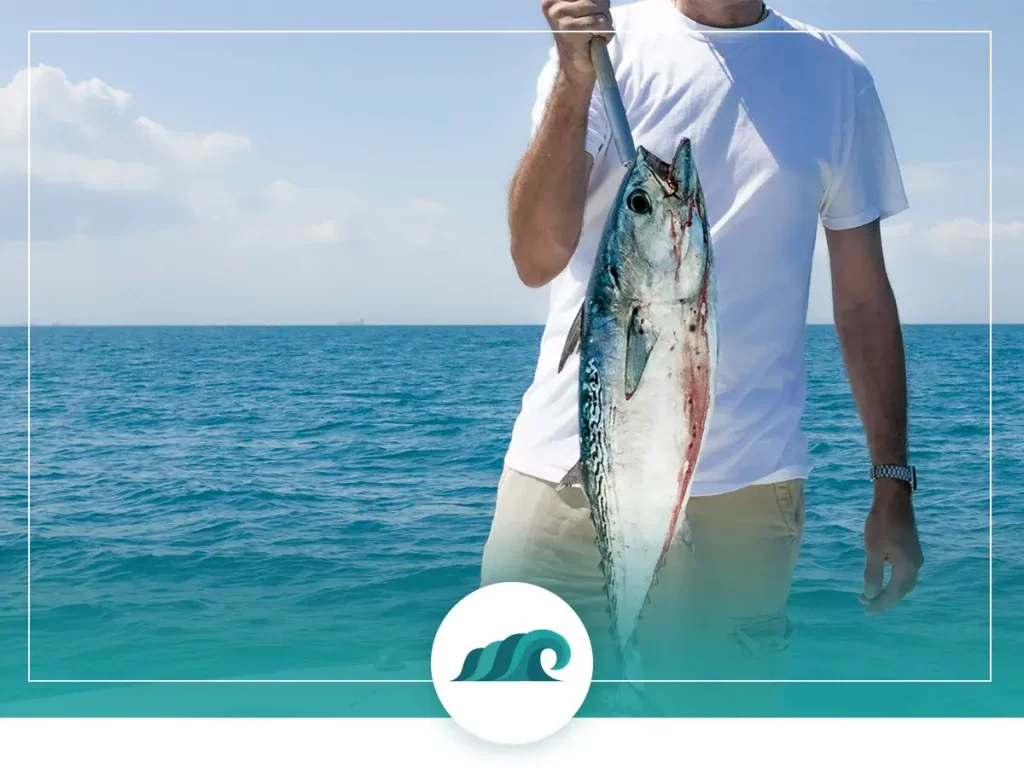 Gaffs come in a wide variety of lengths, hook shapes and sizes, and designs. Some are built for hauling in large offshore bruisers, while smaller hand gaffs are designed for use in compact spots.
Long Handled Gaffs
Long-handled gaffs typically measure 4 to 6 feet long and are used for landing larger saltwater fish like Wahoo, Dorado, Kingfish and Tuna. These gaffs are typically made from solid aluminum or fiberglass, making them durable enough for heavy-duty use.
Hook sizes typically vary from 2 to 4 inches, with larger hooks used to gaff larger species.
Many feature a tapered shaft that narrows out towards then hook end. This lowers the gaff's overall weight and decreases resistance in the water, which allows you to be faster and more accurate.
Hand Gaffs
Hand gaffs are smaller and lighter than long-handed gaffs. Many feature telescoping handles, allowing you to extend and retract them as needed. Many also feature wrist straps to keep them coming out of your hands due to a thrashing fish. Rather than gaffing the fish in the head, these gaffs are meant to hook the fish in its lower jaw.
These gaffs are generally meant for smaller fish weighing less than 15 – 20 pounds. Most are made from lightweight aluminum and can bend or break if you try to use them on heavier fish. The compact size and lightness make these gaffs an excellent choice for kayak and canoe anglers.
Flying Gaffs
Flying gaffs are a specialized type of gaff used for the largest offshore species like Marlin, Sailfish, Sharks, and big Tuna. They feature a hook and shaft designed to disconnect on impact, with a rope tied directly between the hook and one of the boat's cleats. When the pole and hook disconnect, you're left with a hand line that's easier to deal with than a standard gaff.
Harpoon Gaffs
Harpoon style gaffs are spear-shaped gaffs with long, straight steel tips. The design is ideal for kayak fishing, as you don't need to maneuver the gaff into the exact right spot – as you would with traditional hook gaffs. The spearhead allows you to gaff the fish anywhere on its body, and many harpoon gaffs feature ridges built into the spearhead that grip the fish and lowers your odds of losing it.
Ice Fishing Gaffs
When you're trying to pull a pissed off pike through the ice, a good gaff will make your job that much easier. These gaffs are typically shorter than other types, only measuring around 2-feet long. Many feature treble hooks rather than single hooks, making hooking fish behind their gills much easier.
---
Best Overall: Aftco GFA465GLD Gaff Hook
Aftco makes some of the best big game fishing gear on the planet, and this 5-foot long solid aluminum gaff is no exception.  The anodized aluminum shaft is tough-as-nails and will hold up to heavy-duty saltwater use. A four inch long hook with a razor sharp tip makes gaffing any sized fish a breeze, while non-slip molded grips provide a sure hold no matter how drenched it gets out there.
With an all-aluminum gold anodized shaft and a stainless steel hook, rusting and corrosion is a non-issue. The shaft is tapered towards the front end, making it lightweight and highly maneuverable both in and out of the water. It's also one of the best-looking gaffs on the market – you're bound to get some envious looks on the water!
The 5-foot overall length is highly versatile and can be used effectively in a variety of situations. It will work well for Dorado, Wahoo, Tuna, and many other species. One minor gripe is that no built-in hook protector comes included, but you can easily use a small piece of rubber hose to protect from accidental damage.
Key Features
Rock-solid aluminum and stainless steel gaff is functional and durable
Black molded grips provide non-slip hold
Saltwater corrosion resistant marine aluminum
Vinyl butt-cap prevents moisture from getting inside
Aftco GFA465GLD Gaff Hook, 5-Feet x 4-Inch
Dependable, flawless performance

Rigid quality Control

Made using the most durable materials

Gaff Hook with Non-Slip Grips, Gold, 5-Feet

AFTCO is a trusted and respected brand that has been producing quality big game fishing products for over 50 years

Quality craftsmanship and materials make this product a must have for any fisherman
View Pricing On:
---
Best Hand Gaff: Promar Telescopic Float Gaff 
This lightweight telescoping hand gaff is the perfect choice when you're looking for a compact gaff that works for a variety of applications. It extends from 29-inches when retracted up to 46-inches when fully extended. You can also set the length to anywhere in-between, making storage and on the go adjustments a breeze.
The entire gaff weighs about one pound, putting it on the lighter side. It also features comfortable EVA foam handles, which help it float on the surface if you happen to drop it. The aluminum shaft and stainless steel hook provide excellent corrosion resistance, while a lanyard on the butt end ensures you won't lose it in the drink.
A sturdy plastic safety tube covers the hook end, preventing accidental damage to your gear or boat. The tip has a 4 point edge, making it sharp and easy to sharpen on your own. Keep in mind this type of gaff is designed for fish in the 20/30 pound or less range. If you're planning on catching larger fish, then go with a solid-bodied aluminum or fiberglass gaff.
Key Features
Lightweight, telescoping hand gaff is versatile and affordable
Ideal for kayaks, canoes, and small boats
Pole extends from 29" up to 46"
Wrist lanyard on butt end
Razor sharp 4-point edge
Promar GF-301 Telescopic Float Gaff, 29-46-Inch
Promar premium products are designed, built, and customized to provide an enhanced experience for the outdoor enthusiast.

With over 60 years of manufacturing and product development experience, we currently manufacture more than 500 products under our brands
View Pricing On:
---
Best Flying/Breakaway Gaff: Aftco Flying Gaff Breakaway Hook
If you're looking for a gaff that can handle the biggest blue water monsters out there, then this flying gaff from Aftco makes an excellent choice. Its heavy-duty stainless steel construction is corrosion resistant and will not bend or break under heavy stress. The hook is available in 5 different sizes (5", 6", 8", 10" & 13"), allowing you to pick the ideal sized hook for your target fish.
The hook is designed to break away when a fish is gaffed, providing a clean and instant release, and leaving you with essentially a hand line to pull in the fish. All five hooks fit the same shaft and feature a 1.5" diameter tubing reinforced by a fully gusseted and welded bend. The triangular barbed points provide excellent penetration and are fairly easy to sharpen yourself.
Pair the hook up with Aftco's 6-foot FG6 Flying Gaff Handle, and you've got a deadly combination capable of taming the most ferocious offshore giants. This floating tapered handle is made from rock-solid anodized aluminum and fits into the hook with a tough plastic insert on the handle's tip. The hook is held in place by a length of 30-lb. test line tied to a post affixed to the shaft.
Key Features
Heavy-duty breakaway hook provides dependable, flawless performance
Available in 5 sized hooks: 5", 6", 8", 10" & 13"
Triangular point provides superb penetration
Corrosion-resistant stainless steel barbed hooks will not straighten out
Used in conjunction with Aftco's flying gaff handle
Aftco FGH5SS Flying Gaff Hook, 5-Inch Length, Gold Finish
Dependable, flawless performance

Rigid quality Control

Made using the most durable materials

Slim, tapered tip for greater accuracy

Swaged for uniform strength from end to end, thereby eliminating unnecessary weight

If dropped overboard, the gaff will float
Prices pulled from the Amazon Product Advertising API on:
Product prices and availability are accurate as of the date/time indicated and are subject to change. Any price and availability information displayed on [relevant Amazon Site(s), as applicable] at the time of purchase will apply to the purchase of this product.
---
Best Harpoon Gaff: Prokayker Kayak Fishing Spear Gaff
This unique harpoon-style gaff is an excellent option for kayak anglers, or anyone fishing from a small watercraft. It's designed to be used in spots with limited space to move around, where deploying a typical gaff would be difficult or impossible. The stainless steel tip and pressure treated wooden shaft create a lightweight and durable gaff that's completely unsinkable.
The spear measures 46" from tip to butt end, making it the ideal size to stash in a kayak's front or rear well. Using this gaff is a lot easier than using a conventional hook style gaff. Simply spear the fish anywhere you can, which stuns it and prevents it from thrashing excessively. Then either lift it by the tail or lift the gaff upwards and pull the fish on board.
The spearhead has built-in ridges, which provide an excellent hold, and minimizes the chances of a fish slipping off the gaff. An EVA foam handle on the butt end provides a comfortable grip, while a lanyard hole drilled into the base always you to tether the gaff to your wrist.
Key Features
Harpoon style gaff is ideal for kayak anglers
Ridged stainless steel and pressure treated wooden shaft
Completely unsinkable
46" length is perfect for smaller watercraft
Prices pulled from the Amazon Product Advertising API on:
Product prices and availability are accurate as of the date/time indicated and are subject to change. Any price and availability information displayed on [relevant Amazon Site(s), as applicable] at the time of purchase will apply to the purchase of this product.
---
Best Ice Fishing Gaff: HT Enterprises Polar Gaff with Treble Hook
This compact telescoping gaff is the ideal solution when you're looking for an ice fishing gaff. It measures 24" long when collapsed, making it one of the shorter gaffs on the market. Luckily, that's exactly what you need when extracting a toothy predator through the ice.
The treble hook features three compact hooks which are the perfect size for hooking a lake trout, pike, or walleye behind the gills. A stamped on ruler allows you to easily measure your catch, or even the ice thickness.
The comfortable EVA foam grips feature a built-in wrist lanyard, allowing you to tether the gaff to your wrist. Additionally, it will float on the surface should you drop it in the water. Beyond just ice fishing, this gaff works well for kayak fishing or anytime you have limited space.
View on:  [su_button url="https://www.amazon.com/HT-Enterprise-Treble-Yellow-24-Inch/dp/B0000AUTZR/ref=as_li_ss_tl?ie=UTF8&linkCode=ll1&tag=coastalside-20&linkId=8beb3a48609f5ca7b153fca51691dd83&language=en_US" target="blank" style="flat" background="#d93f2c" size="8″ radius="5″ text_shadow="0px 0px 0px #000000″]Amazon[/su_button]  |  [su_button url="https://cabelas.xhuc.net/c/2238743/132065/2623?prodsku=10009882&u=https%3A%2F%2Fwww.cabelas.com%2Fproduct%2FHT-Enterprises-Gaff%2F1672210.uts%3FproductVariantId%3D1319477″ target="blank" style="flat" background="#d93f2c" size="8″ radius="5″ text_shadow="0px 0px 0px #000000″]Cabela's[/su_button]
Key Features
Compact 24" aluminum gaff is ideal for ice fishing
Treble hook end
Foam grip with built-in wrist lanyard
Stamped on ruler for measuring catch
View Pricing On:
---
Also Consider: HalbeyGaff
This gorgeous looking club/gaff is not only eye-catching, it's also deadly effective. Originally designed for commercial Alaskan fishermen, the heavy ash and stainless steel design is capable of hauling 100+ lbs. halibut over the side of a boat. The 24" long gaff is milled from premium solid ash, which is well known for its strength and rot resistance in wet environments.
Wood sealer and spar varnish provide a reliable and beautiful finish, and ensure the gaff can withstand years of use and abuse. The gaff hook itself is made from tapered 304-grade stainless steel that resists bending and is easy to sharpen. The hook is secured to the gaff with a stainless steel locking nut, and is replaceable should it sustain some unspeakable damage.
Although it's built to handle massive halibut and lingcod, it will work well for any sized fish, and also doubles as a fishing bat to quickly and humanely dispatch a thrashing fish.
View on:  [su_button url="https://www.amazon.com/HalbeyGaff/dp/B00I9MQJGK/ref=as_li_ss_tl?ie=UTF8&linkCode=ll1&tag=coastalside-20&linkId=4850bfaf4c583ac75bf2413db9c03529&language=en_US" target="blank" style="flat" background="#d93f2c" size="8″ radius="5″ text_shadow="0px 0px 0px #000000″]Amazon[/su_button]
Key Features
Solid ash hardwood and stainless steel construction is tough and beautiful
Can withstand years of hard use
Doubles as a fish dispatching bat
24" long and 2" diameter at the gaff head
Made in the USA
---
How to choose the right fishing gaff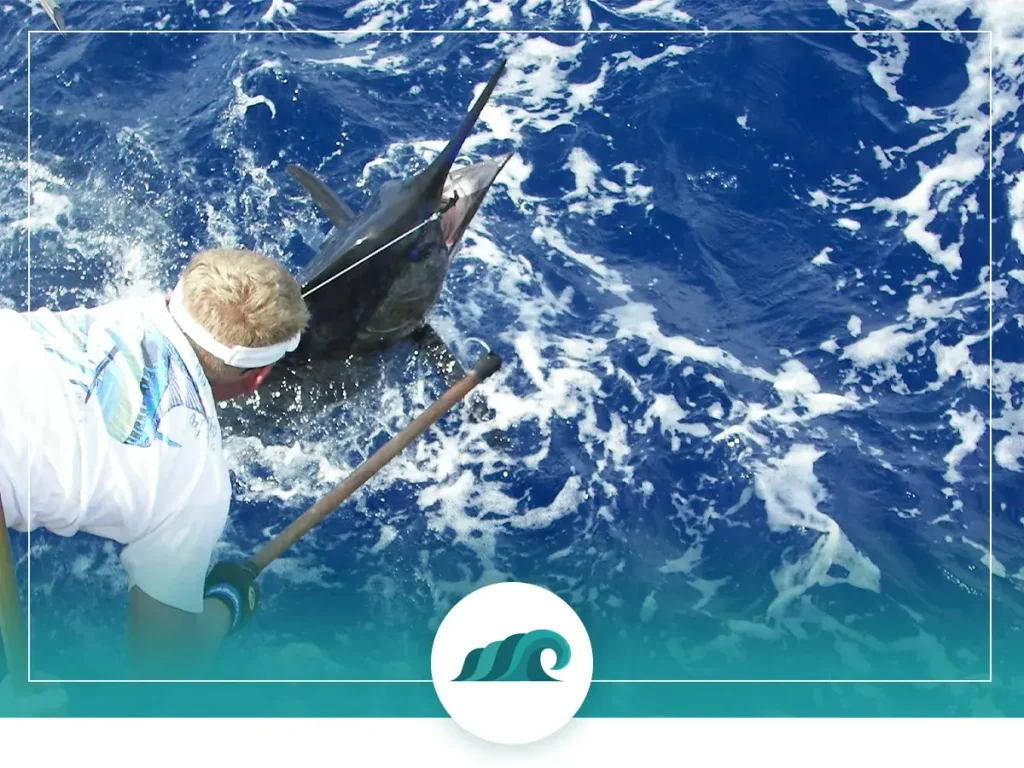 With so many different makes, models, and designs, picking the right gaff for your needs can be a challenging task. The best fishing gaff for a given situation will depend on the type of fishing you're doing, the available space, as well as your budget and preferences.
Length
It's important to match the gaff length and hook size with the fish species you intend to target. The most popular gaff lengths are between 4 and 6 feet, but gaffs in the 8-10 foot range are also popular with bluewater anglers targeting Marlin and Kingfish. 4 to 6 foot gaffs work well for most medium to large saltwater fish, such as Dorado, most Tuna, Wahoo and Cobia.
Also consider the boat size and gunwale height when picking out a gaff – a bigger boat with higher gunwales will necessitate a longer gaff.
Hook
Hooks come in variety of shapes, lengths, thicknesses and point types. They're generally made from corrosion-resistant stainless steel, and most are between 2 inches and 4 inches in size. This size is ideal for gaffing Tuna, which are the most commonly gaffed fish. As a general rule, a 2-inch to 3-inch gaff will work well for fish 50 lbs. and under, and a 3-inch to 4-inch gaff is ideal for fish 50 lbs. and up.
Hooks are designed for maximum durability and tensile strength. A large thrashing fish can easily bend or break a mismatched gaff, so it important to match the hook's gauge or thickness is directly in proportion to the size of fish you're targeting.
Hook points vary in design, with some having triple or quadrable point edges, and others being completely conical with no flat edge. Points with multiple flat edges will be easier to sharpen yourself, but you can still sharpen the conical type if needed.
In addition to traditional hook-style gaffs, there are also kage (spear) style gaffs with a straight spear point. These are ideal for kayak anglers, as the motion required is a spearing push motion, rather than the typical pull motion that can cause your kayak to become unstable.
Materials
Most gaff's handle materials are either anodized aluminum, fiberglass, or wood.
Aluminum: Aluminum is tough, highly corrosion-resistant, and lightweight. It's one of the most commonly used materials in high-end fishing gaffs. Many aluminum gaffs feature a tapered body, with a thicker butt-end for added grip, and slimmer hook-end to cut down on weight and provide better maneuverability in the water.
Fiberglass: Fiberglass is similar to aluminum in terms of strength, but is about 20% lighter. It's also fairly flexible, and will flex rather than bend or break under stress. Fiberglass is smooth and doesn't provide much grip, so these gaffs will usually feature cord-wrapped handles. Many also feature tapered bodies similar to aluminum gaffs.
Wood: Wood handles are cheap, fairly durable, but weigh significantly more than other types. They can also break down over time, especially if the varnish or coating wears off. If you're into DIY, you can fashion a decent wood-handled gaff out of basic supplies you can find at a hardware store.
---
How to use a fishing gaff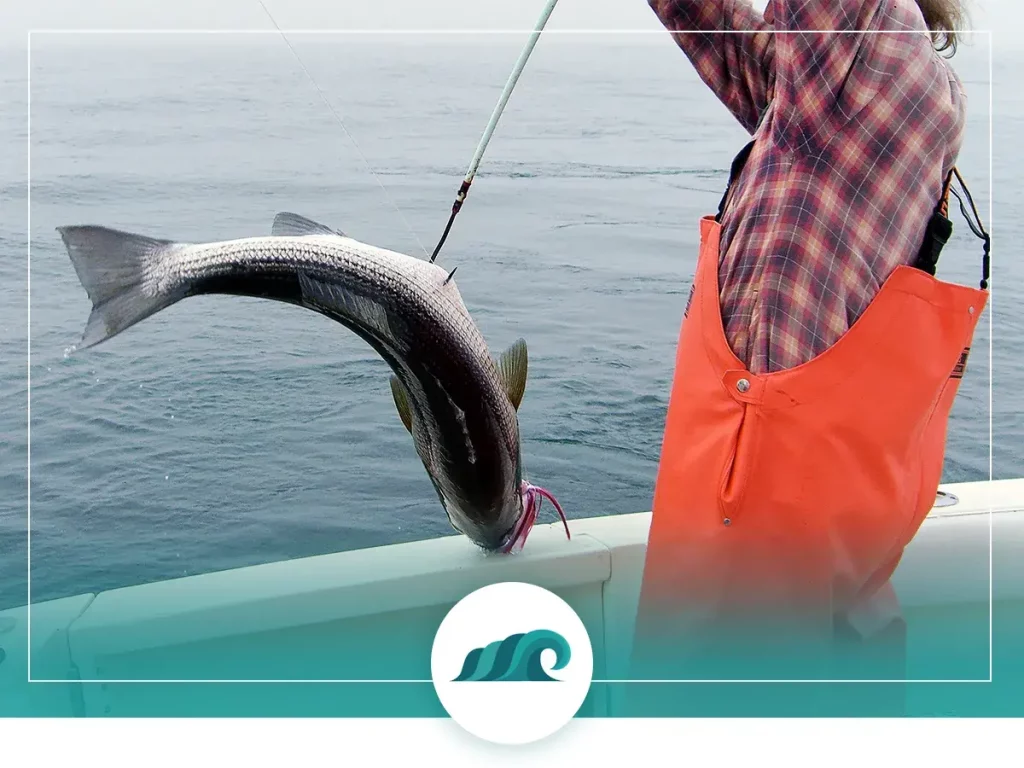 Successfully gaffing a fish requires patience, good technique, and practice.
Ideally, you want to gaff the fish right behind its head, as this will give you control over its body, and won't damage the meat. However, if the fish is thrashing around, and you can only gaff it in the tail, don't hesitate to take the shot – most of the time this will stun the fish and still allow you to pull it on board successfully.
To gaff larger fish, follow these steps:
Reel the fish in as close to the side of the boat as possible. The closer it is, the less you'll need to reach, and the better your odds of success.
Wait until the fish is calm and has exhausted itself, and isn't thrashing around excessively.
Make sure the hook is facing downwards with the hook towards the boat.
Align the hook with the area directly behind the fish's head (right behind the gills, and under the dorsal fin).
In one fluid motion, pull on the gaff pole, which will sink the gaff's hook the fish and lift it up out of the water.
Once it's hooked deep, use both hands to lift the fish out of the water, and into a cooler or fish box if possible. If you place it on the deck, it will often start thrashing around.