As anglers, we all like to tell tales about the fish we've caught – a good fish scale will enable you to back up your story with some hard evidence! While fish scales may not be the most important piece of fishing gear in your arsenal, they're indispensable if you want to get an accurate weight measurement of your catch.
Besides giving you an accurate weight reading of your catch, fish scales are great for tournament anglers, or anyone who prefers not to guess at the weight of a fish.
Most fish scales are also lightweight and compact and will take up minimal space in your tackle box or pants pocket.
Quick Answer: 5 Best Fish Scales
---
Why do you need a fishing scale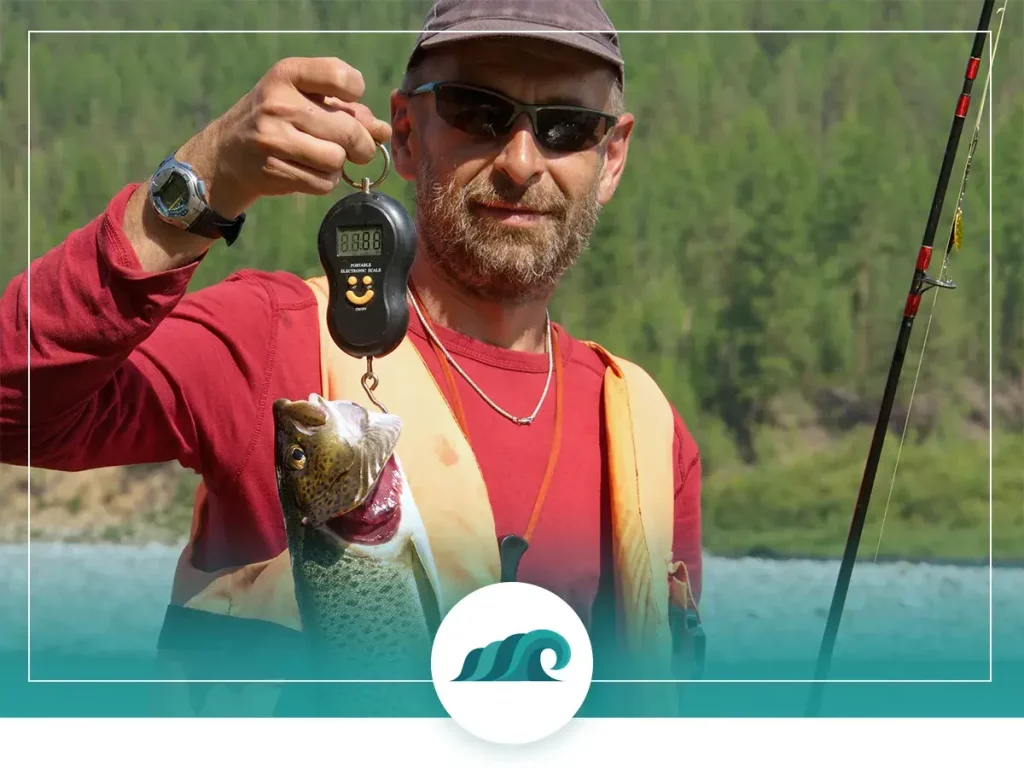 A fishing scale provides you with quick and accurate weight measurements while you're on the water.
We've all seen those silly photos where an angler tries to enlarge the size of their catch by holding it with outstretched arms and using a close-up camera angle. Don't be that guy!
Having a fish scale handy means you'll know the exact weight of any trophy fish you catch. So the next time you're retelling the story of how you caught that 20 lb. northern pike, you can easily silence any doubters.
If you're fishing in an area with slot limits, most fish scales have an included measuring tape to ensure you're abiding by local laws and regulations.
Fishing scales are also useful for other tasks besides weighing fish. Many anglers use them for setting the drag on their reels as well as weighing gear and luggage when traveling.
---
Best Digital Fish Scale: KastKing Water Resistant Digital Scale
This rugged, water-resistant digital scale can easily weigh fish (or anything else) up to 110 pounds or 50 kg. It's made out of lightweight and water-resistant ABS plastic and has a large slip-resistant polymer handle providing a firm grip.
The scale itself weighs in at just 6 ounces, so you can slip it in your pocket and forget it.
The digital display is large and easy to read. It comes with bright backlight – so it's easy to see even in low light conditions. The memory function can save up to 9 different weight measurements which you can display at any time.
A 38" tape measure comes included – which is particularly useful if you're fishing in an area with slot limits. The tape measure deploys from the bottom of the scale – which means you can measure a fish while it's hanging from the scale.
I particularly like the bright orange color, which makes it easy to spot among your gear.
Key Features
Tape measure allows you to weigh fish and measure at the same time
Sturdy, lightweight and water-resistant
Comes with 2 AAA batteries so it's ready to go out of the box
KastKing Water Resistant Digital Fishing Scale with Ruler, Dual Mode – Pounds/Ounces & Kilograms, Zero-110 LBs/50 Kg, Light, Strong ABS Frame, Non-Slip Handle, Retractable 38 inch Tape Measure
Water-Resistant Digital Scale w/Ruler – The new KastKing Digital Scale w/Ruler is great for fishing but is perfect for so much more. Use it to weigh your largest catch or to check luggage weight before your next flight. Includes a handy, retractable ruler so you can measure dimensions of shipping boxes and then verify the weight to save shipping cost.

Accuracy and High Capacity – The new KastKing Digital Scale w/Ruler is extremely accurate to 1/10th of a pound or in full ounce increments. The scale will also measure in KG to two decimal places. You will get accurate weight readings up to 110 LBs or 50 Kg. Measure fish length or package size with the 38" retractable tape measure.

Memory Function– Quickly and accurately weigh fish or other items in either pounds and ounces or in Kilograms. There is also a memory function where you can store up to 9 different weights and refer to them at any time.

Lightweight, Durable Handle – The handle is made of high-strength ABS so it is very light but incredibly strong. The handle and the sides of the scale are coated with a slip resistant TPR coating which gives you a firm grip when lifting and weighing fish or any other item. The wide handle opening makes it easy to hold for all hand sizes, with or without gloves. The scale weighs only 175 grams or just over 6 ounces and includes a strong stainless-steel hook to hold fish, luggage or packages.

Small In Size, Big In Features – The scale is only 5.6" long x 3.8" wide x 1.25" thick and weighs just over 6 ounces. Other important features include a back-lit digital display, memory function, Auto-Off after 4-minutes of non-use to save batteries and the scale includes 2 AAA batteries so it's ready to use right away.
Prices pulled from the Amazon Product Advertising API on:
Product prices and availability are accurate as of the date/time indicated and are subject to change. Any price and availability information displayed on [relevant Amazon Site(s), as applicable] at the time of purchase will apply to the purchase of this product.
---
Best Fishing Scale for the Money: Dr. meter FS01
If you're looking for a capable digital fishing scale without dropping some serious dough, then this is the scale for you. It has all the functions you would expect to find in a digital scale such as a tare/zero function, auto off, unit conversion and automatic memory storage.
The scale can measure anything from 0.2 lbs. to 110 lbs. which means it's useful for more than just weighing fish. Many people use these scales for setting the drag on fishing reels, weighing luggage and even packages for shipping.
It also has a handy summation function – which lets you add all of your catches weight together.
A handy measuring tape is also included, which lets you measure fish up to 3 feet long.
One downside is it's not waterproof, so you need to be careful not to get it too wet or drop it in the water.
Key Features
Excellent value digital scale
Can measure anything from 0.2 to 110 pounds
Automatic memory function records your nine most recent measurements
[Upgraded]FS01 Fishing Scale, Dr.meter 110lb/50kg Digital Hanging Scale with Storage Function and Numerical Comparison, Backlit LCD Display, Measuring Tape and 2 AAA Batteries Included
【Extreme Accuracy】: The Dr.Meter fishing scale can weigh both small and large catches alike, from a mere 0.2 lbs to a jaw dropping 110 lbs

【Memory Storage and Record Comparison】: Dont worry about writing your catches down. This scale automatically records your nine most recent measurements

【Easy Adding】: Not a fan of head mathlet Dr.Meter Do the work for you. Add all of your catches quickly and accurately with the handy summation function

【Compact and Convenient】: This scale is as user-friendly as it is precise. An extra-wide, soft plastic handle provides a comfortable grip, even when measuring heavy items

【Bonus Measuring Tape】: Dont just measure weight- measure length! the included measuring tape is ideal for measuring items in either cm or ft (up to 3 ft)
Prices pulled from the Amazon Product Advertising API on:
Product prices and availability are accurate as of the date/time indicated and are subject to change. Any price and availability information displayed on [relevant Amazon Site(s), as applicable] at the time of purchase will apply to the purchase of this product.
---
Best Mechanical Scale: Rapala Tube Scale 50lb
If you want a fishing scale that never needs new batteries, is completely waterproof, and doesn't use sensitive electronics then this is an excellent choice. Made by renowned fishing manufacturer Rapala, this scale can easily withstand the saltwater environment.
The rubberized grip is comfortable and easy to use, while the anodized aluminum housing provides a rugged exterior. The internal spring components are all stainless steel – so you don't need to worry about rusting or corrosion.
The spring tension style scale works well for other tasks as well. Many anglers use these scales for testing line strength and reel drag.
Rapala makes this tube scale in both 25 and 50-pound options.
Key Features
Durable and corrosion proof – no need to baby this scale
Solid stainless steel and aluminum construction
Aesthetically pleasing industrial style design
Reasonably priced
Rapala Tube Scale 50lb
Stainless steel hook,

spring & handle with aluminum tube.

Pounds and kilogram marks.

Marker slide for accurate measuring.
View Pricing On:
---
Best Fish Gripper Scale: Eastaboga Tackle BogaGrip
Bogagrips are legendary in the fishing world and have been used successfully by generations of anglers. They work incredibly well for landing, handling, weighing a thrashing fish – plus they can be deployed single handled.
Made in the USA of solid corrosion-proof stainless steel and acetal thermoplastic, the Bogagrips are at home in the saltwater environment.  The construction quality is top-notch and feels more like a surgical tool than a piece of fishing gear.
The weighing mechanism itself works by the fish's weight pulling an internal precision spring which then displays the weight on the outside of the main tube's embossed scale.
A swivel head means that a thrashing, wriggling fish rotates rather than injuring itself or you. This makes the Bogagrips ideal for catch and release fishing.
Don't forget to attach a float or use the wrist lanyard when you're on the water, you would want these grips to end up at the bottom of a lake!
Key Features
Corrosion-proof and extremely durable construction
Swivel head prevents fish from wriggling or thrashing free
Available in 15 lbs, 30 lbs, and 60 lbs configurations
eulumap Boga Grip 130 30lb Scale
The BogaGrip is designed to promote catch and release fishing, as it will land, handle, and weigh fish quickly and simultaneously without injury to the fish.

The BogaGrip is particularly good for handling fish in cold weather, or hard-to-handle fish such as toothy fish, slimy fish, or fish that are likely to fin or cut a fisherman. It also keeps a fishermans hand at a safer distance from hooks.

The BogaGrip is made in the USA of USA-made materials. All metal parts of the BogaGrip are made of 300 series stainless steel, with the exception of the precision scale spring, which is 17-7 PH stainless steel. All plastic parts are made from acetal, which is a high-performance engineering thermoplastic that is used in unlubricated bearing applications.

In use, the fisherman will hold the grip sleeve, and using his index finger or thumb will pull back the trigger sleeve, which causes the jaws to open.

The fishs weight is checked by reading the point that the main tubes embossed scale has been pulled down to inside the grip tubing. The fish is released by pulling back on the trigger.
View Pricing On:
---
Also Consider: Rapala High Contrast Digital Scale 50 lbs.
This directional pad digital scale is perfect for both tournaments and catch-and-release fishing. The included spring-loaded clip easily attaches to a fish's lip without causing any injury to yourself or the fish (like a hook attachment sometimes does). A traditional metal hook attachment also comes included as well.
The compact size makes it ideal for storing in a pocket or small pack, and it packs many of the same features as larger, full-sized models. 
The large display is convenient and easy to read, which makes weighing and tracking your catch a breeze. There are 8 storage spaces to record a fish's weight – plus a total catch weight function. The reverse backlit screen is ultra-clear and works well on bright, sunny days as well as dimly lit nighttime conditions. 
Two AA batteries provide hundreds of hours of run time – plus the scale will retain stored data in case the batteries die while you're using it.
Key Features
Ideal for tournament anglers as well as catch-and-release fishermen
Feature packed scale includes total weight and memory backup
The large reverse backlit screen is intuitive and easy to read
Water-resistant
Prices pulled from the Amazon Product Advertising API on:
Product prices and availability are accurate as of the date/time indicated and are subject to change. Any price and availability information displayed on [relevant Amazon Site(s), as applicable] at the time of purchase will apply to the purchase of this product.
---
What to look for in a fish scale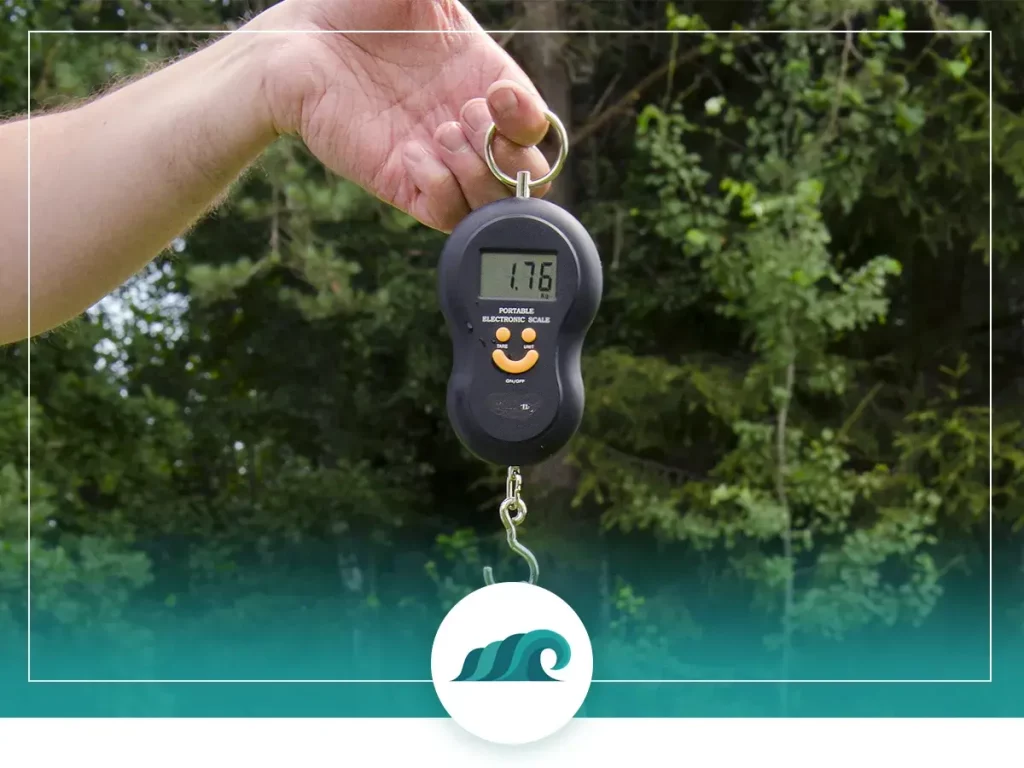 Picking the right fish scale will depend on how you plan to use it. Fish scales come in a variety of weight capacities, display types and attachment methods. Generally, the most important factors when deciding on a scale are accuracy, ease of use and durability.
Let's take a look at some of the key decision factors.
Digital vs. Mechanical
Both digital and mechanical scales have their place in an angler's arsenal and will perform adequately when you need to weigh a fish.
Digital Scales
Digital scales have come a long way since the early days when they were made of cheap rust-prone electronic components. Modern digital scales utilize tough, impact-resistant thermoplastics that can withstand being dropped on a boat's deck. They also feature excellent waterproofing – with better models being able to withstand the saltwater environment.
Most digital scales are also highly accurate and able to calculate weights down to the ounce (or even gram). Generally, these scales are able to weigh smaller fish better than mechanical ones.
Many modern digital scales have some form of memory function built in – so you can save several weight measurements without having to stop fishing and write them down. Tournament anglers tend to favor them for this reason.
Because digital scales have large LCD or LED screens, they're easier to read than most mechanical scales. This means there's no guesswork involved – which can be particularly useful when a fish is thrashing around.
Mechanical Scales
Mechanical scales are durable, completely waterproof, and never need their batteries replaced. Many anglers prefer the low-maintenance approach to fish scales and will opt for a mechanical scale.
If you fish in saltwater, then one of these scales may be preferable to the digital alternative.
Many mechanical scales are the lip gripper style – which enables you to lock the end of the clamp onto the fish's lip – preventing it from wriggling or thrashing away. The locking mechanism works in the same manner as a pair of vice-grip pliers. If you're dealing with particularly toothy or aggressive fish then this style will work better.
The downsides of mechanical scales are: they can't store weight recordings in memory, they're not as easy to read as a large backlit digital display, and small fish may be difficult to measure accurately.
Attachment Mechanism
There are two main attachment mechanisms found in most fish scale models – locking fish grippers and hooks.
Hooks
Hooks are found in many digital scale models and some mechanical ones. They're designed to be hooked through either the gill plate or the lip.
If you hook a fish through the gill plate be aware that it can wriggle its way off your hook if you're not careful. Hooking to the lip is better suited to already dead fish, as fish can easily wriggle free otherwise.
An advantage of this attachment mechanism is that you can attach netting or a container to the hook, and then use your scale's tare function to create an easy-to-use hanging scale.
Fish Grippers
Fish grippers have a built-in locking mechanism that clamps onto the fish's lip. This prevents your catch from getting away or injuring itself by thrashing around.
If you're more of a catch and release angler, then this style is the way to go.
Also, consider the fish species you typically fish for. Aggressive, toothy fish like snakehead, muskie and even walleye can cut up your fingers when you try to hook them to a scale, so a fish gripper style scale would work best.
Weight Capacity
Fishing scales come in a variety of weight capacities. There's no real advantage of going with a low weight capacity scale as the price is similar regardless of the weight capacity. Even if you mostly catch smallmouth bass, you never know when you'll need to weigh that monster pike you hooked!
Waterproofing
Whenever you're using sensitive gear around water you'll want it to be thoroughly waterproof.  Cheaper scales tend to have less effective waterproofing than more expensive models – you get what you pay for.
Keep in mind that even some of the water-resistant scales may crap out if they get submerged in saltwater. If you're a bit careless with your gear like I am, then go for a mechanical scale – or one with good waterproofing and make sure it floats!
Maintaining Your Fish Scale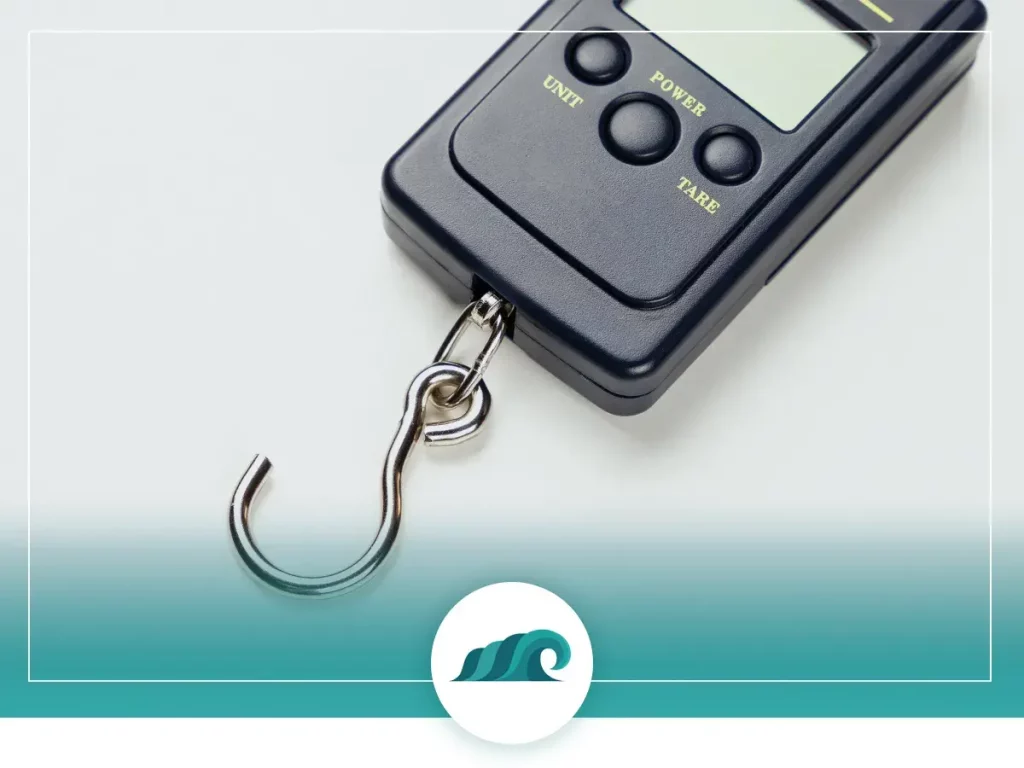 Maintaining your fish scale is fairly straightforward. Following these simple steps will ensure you get the most utility out of your scale:
Thoroughly dry your scale every time it gets wet – make sure to store it in a secure dry place.
Check the batteries are fresh before heading out.
If you won't be using the scale for a while, take the batteries out. Otherwise, corrosion can occur on the terminals.
Calibrate your scale with weights from time to time – if you're interested, you can also get your scale professionally certified by the IGFA for about 40$.
---
FAQ's
How do you weigh a fish without a scale?
Getting an exact weight measurement without a scale is not possible – but there are several ways to get a pretty good estimation.
If you don't feel like don't the math manually, then you can use one of these easy weight calculators for freshwater or saltwater fish.
How to use a fish scale?
Using a fish scale is pretty straightforward. For an electronic scale:
– Hold down the power button for at least 3 seconds until the scales zero themselves.
– Select lbs. or kg. as a unit of measurement.
– Hook the weigh hook under the gill plate of the fish. You can also hang the hook from the lure if it's still attached to the fish's lip.
– Lift the fish completely of the ground so it's completely suspended in the air and wait for the digital display to show the weight measurement.
How accurate are fish scales?
Depending on the model, fish scales are accurate down to the nearest ounce (some models are accurate down to the nearest 5-gram increment).