Keeping your gear dry when you're out on the water can be tricky business. If you're like me, then you've tried (and failed) to keep your cellphone, batteries and other sensitive gear dry in Ziploc bags or Tupperware containers.
Enter the dry bag.
A good dry bag will keep all of your sensitive electronics, clothing, and food from getting wet and soggy. No one likes the feeling of putting on damp, soggy clothes, so investing in a watertight bag makes sense.
I'll break down the different types of dry bags for kayaking, canoeing, and SUPing, what features to look out for and how to pick the right dry bag for you.
Quick Answer: 5 Best Dry Bags for Kayaking
---
Why do you need a dry bag for kayaking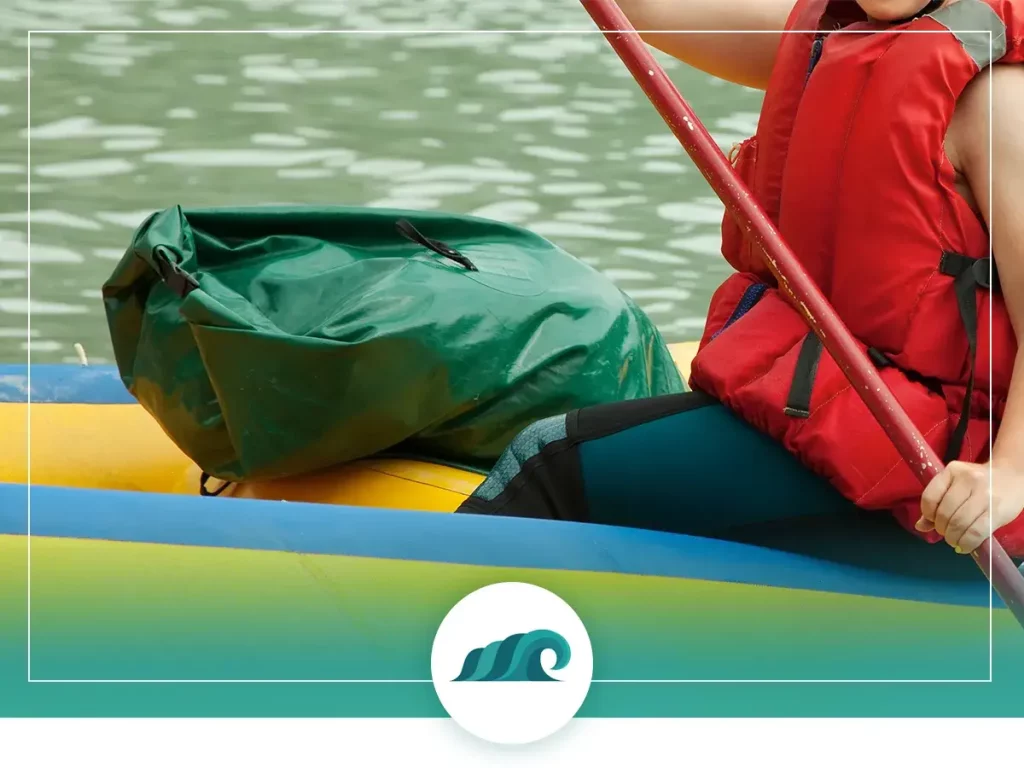 While they might not be the first thing you think of when it comes to kayaking gear, dry bags are highly versatile and a must-have for any serious kayaker.
Beyond just keeping your clothes dry, some dry bags will actually float on the surface when packed correctly. This makes it easy to recover in case you capsize. It also means you can use the bag as a makeshift float in an emergency situation.
Most kayaking dry bags come in bright high-viz colors, allowing you to easily spot your bag on the water's surface. They're also typically fairly light, which can be particularly useful when loading up your kayak or canoe for an extended camping trip.
Whether you're a recreational kayaker or an avid kayak angler, investing in a dry bag or two will give you peace of mind knowing your gear will stay dry and protected.
---
Best Overall: Piscifun Waterproof Dry Bag
Durable and versatile, this dry bag is ideal for kayaking, rafting, fishing, and other watersports. It's made of rugged and flexible 500D PVC – creating a fully waterproof enclosure. All the seams are fully welded, creating a stronger seal than traditional sewn and taped seams. The solid roll-top closure provides an excellent watertight seal.
The bag is available in 10L, 20L, 30L, and 40L sizes, giving you plenty of different storage options. Two backpack straps come included, making the bag easy to carry on your back while hiking or portaging.
The front portion of the bag has a convenient outer mesh pocket and bungee allowing you to stash items in an easy-to-reach location. Also included is a handy IPX8 certified waterproof phone case – which can safely store any phone up to 6.5 inches in screen size.
Key Features
Durable, thick vinyl construction won't wear out – this bag is a tank!
Wide variety of sizes and colors available
Versatile carry and rigging options
Works well in both hot and cold weather
Piscifun Dry Bag, Waterproof Floating Backpack with Waterproof Phone Case for Kayking, Boating, Kayaking, Surfing, Rafting and fishing, Orange 20L
【Durable and Heavy Duty】 Piscifun waterproof back pack is made up of 500D PVC which proves to be durable, safe and protects your items when outdoors.

【Sealed and IPX8 Waterproof Phone Case】 The backpack comes with a fully welded seal which helps in a stronger, durable waterproof construction. It also comes with a waterproof phone case, which is suitable for phones up to a diagonal screen size of 6.5 inches. They also have a touch friendly design as it helps you to operate your phone during water activities

【User Friendly Design】 Each of those super user friendly dry bags have adjustable shoulder straps. They also have an outer mesh pocket which helps you to hold things which gives you space for non-dry storage.

【Convenient Shoulder Strap】 These dry bags have adjustable double shouldered straps which provide safety and stability while wearing the bag. These sturdy straps help the bags in not slipping off the shoulders during the water activities.

【Multifunctional】 These waterproof bags also float on the water when rolled and buckled, which makes it visible to you all the time even on the water. are perfect for camping, beach, fishing, hiking, kayaking, rafting, skiing, snowboarding and boating. They also make the perfect gift for outdoor lovers.
Prices pulled from the Amazon Product Advertising API on:
Product prices and availability are accurate as of the date/time indicated and are subject to change. Any price and availability information displayed on [relevant Amazon Site(s), as applicable] at the time of purchase will apply to the purchase of this product.
---
Best Backpack Dry Bag: Relentless Recreation Dry Bag Backpack
If you're looking for a backpack style bag to pack all of your adventure gear into, then this is the dry bag for you. With its well-padded straps and industrial grade 500 Denier Polyvinyl construction, this bag is more than capable of handling anything you can throw at it.
The material is both tough and lightweight, making it ideal for kayaking or canoeing. The 30L size makes it big enough to fit an entire weekends worth of gear – but not too big to fit in a kayak.
Two straps allow you to comfortably carry the pack on your bag for hours at a time, and an adjustable chest strap allows you to configure the load comfortably.
A waterproof clear front pocket allows you to stash a cellphone or other important gear in an easy to access location.
View on:  [su_button url="https://www.amazon.com/Relentless-Recreation-Dry-Backpack-Waterproof/dp/B07BHFDFXV/ref=as_li_ss_tl?keywords=dry+bag&qid=1558028643&s=gateway&sr=8-30&th=1&linkCode=ll1&tag=coastalside-20&linkId=6f1b80c90f1e0513995a27298ea4027d&language=en_US" target="blank" style="flat" background="#d93f2c" size="8″ radius="5″ text_shadow="0px 0px 0px #000000″]Amazon[/su_button]
Key Features
Durable, lightweight and watertight construction
Two mesh bottle holders on each side of the bag
Available in red, olive green and gray colors
Perfect size for kayak camping
---
Duffel Dry Bag: Watershed Yukon Duffel
Ideal for multi-day expeditions, this rugged, well-made bag is built to withstand even the toughest whitewater conditions. The airtight ZipDry closure locks shut like a giant Ziploc bag – but with a lot more power. It's actually rated to endure up to 300 feet of underwater pressure.
The 420 Denier Cordura nylon fabric is abrasion resistant, rip proof, plus UV and chemical-resistant. The seam stitching is welded together with high pressure and radio waves to create a nearly indestructible bag. These bags are so tough they were actually developed on contract for the Navy Seals to haul their gear underwater!
If you're looking for a rugged dry bag that withstands hard use in and around water – while keeping your gear bone dry, then this is the bag for you.
View on:  [su_button url="https://www.amazon.com/dp/B00IKT8ZGE/ref=as_li_ss_tl?th=1&linkCode=ll1&tag=coastalside-20&linkId=2e4d44c8d49f59c1ea9ff1f7616725b2&language=en_US" target="blank" style="flat" background="#d93f2c" size="8″ radius="5″ text_shadow="0px 0px 0px #000000″]Amazon[/su_button]  |  [su_button url="https://www.avantlink.com/click.php?tt=el&merchant_id=95f93ecc-b5f1-436c-9c8b-0c48826bb3ff&website_id=fa8ead2b-1363-4b1f-bb72-fdc0af99c59f&url=https%3A%2F%2Fwww.outdoorplay.com%2Fwatershed-yukon-duffel-dry-bag" target="blank" style="flat" background="#d93f2c" size="8″ radius="5″ text_shadow="0px 0px 0px #000000″]Outdoorplay[/su_button]
Key Features
Dimensions: 14" x 27" x 13"
70-liter capacity
Excellent waterproofing – submersible up to 300 feet
Wide opening makes accessing gear inside a breeze
View Pricing On:
---
High-End Duffel Dry Bag: YETI Panga Submersible Duffel
From legendary cooler manufacturers YETI, this watertight dry duffel keeps your gear completely dry. As is typical with YETI products, it's totally over engineered – and able to withstand pretty much anything you can throw at it. The closure uses the same zipper seal as YETI's Hopper bag cooler so you can be confident nothing will get in or out.
Available in 50, 75 and 100-liter sizes, there's a size for every situation. The outer shell is made of high-density nylon with thick TPU lamination, making it both puncture and abrasion resistant. The bottom is lined with a thick rubber coating making it perfect for airline travel.
Two shoulder straps allow you to carry the bag on your back like a backpack when you need to cover some ground. The Metallock hardware is saltwater resistant and tough as nails so you won't need to worry about the zipper corroding like with cheaper bags.
Key Features
Built like a tank
Zippers and metal hardware are saltwater resistant
Available in 50, 75 and 100-liter sizes, as well as a smaller 28-liter backpack
Floats and can be fully submerged in water
YETI Panga 50 Airtight Waterproof Submersible Duffel Bag, Storm Gray
A 100% dry duffel. But definitely not a cooler. Hydrolok zipper makes sure water stays out so your gear stays bone-dry, no matter how torrential it gets.

U-dock the terminal end of your hydrolok zipper that ensures a completely airtight seal

Thickskin shell made of high-density nylon and thick tpu lamination to be puncture- and abrasion-resistant

Dryhaul straps in the hands or on the back, they're as durable as they are comfortable

Metallock hardware this hardware can take on smacks and whacks without breaking
View Pricing On:
---
Budget Pick: MARCHWAY Floating Waterproof Dry Bag
Perfect for kayaking, boating, surfing, and SUP, this lightweight bag will keep your gear dry without breaking the bank. It's made from thick and durable 500D tarpaulin, making it tough enough to resist tearing, abrasion and punctures.  Available in a wide variety of sizes and colors, there's a dry bag for every application.
The roll top closure works well to create a watertight seal and doubles as a carry handle. The bag is designed to float when a little air is left inside during closure. While the bag will prevent water from seeping in during a downpour, it's not designed to be fully submerged underwater.
The 5 and 10-liter bags come with a single shoulder strap, while the 20, 30 and 40-liter bags feature double straps – so you can carry them like a backpack.
Key Features
Lightweight and durable construction
Available in 5L/10L/20L/30L/40L sizes
Bright neon colors make the bag easy to spot on the water
MARCHWAY Floating Waterproof Dry Bag 5L/10L/20L/30L, Roll Top Dry Sack for Kayaking, Rafting, Boating, Swimming, Camping, Hiking, Beach, Fishing, Hunting (Blackish Green, 20L)
Durable and Compact: Made from ripstop tarpaulin with sturdy welded seam which is designed for years usage, tear, rip and puncture proof. Perfect for almost any extreme adventure you can imagine.

Waterproof Guarantee: Solid roll-top closure system provides secure watertight seal. Keeps your gear dry in any wet situation where the bag is not fully submerged. Protects your valuables from water, snow, mud and sand.

Easy Operation and Cleaning: Just put your gear in bag, grab top woven tape and roll down tightly 3 to 5 times and then plug buckle to complete seal, whole process is very quick. Dry sack is easy to wipe clean due to its smooth surface.

Multiple Sizes: 5 Liter to 40 Liter to meet your demands on different occasions. 5L, 10L include one adjustable and removable shoulder strap for cross-body, 20L, 30L, 40L include two straps for backpack style carrying.

Versatility: The dry sack can float on water after being rolled and buckled, so you can track your gears easily. Perfect for boating, kayaking, paddling, sailing, canoeing, surfing or having fun on the beach. A nice Holiday Gift for families and friends.
Prices pulled from the Amazon Product Advertising API on:
Product prices and availability are accurate as of the date/time indicated and are subject to change. Any price and availability information displayed on [relevant Amazon Site(s), as applicable] at the time of purchase will apply to the purchase of this product.
---
How to pick the best dry bags for kayaking, canoeing or SUP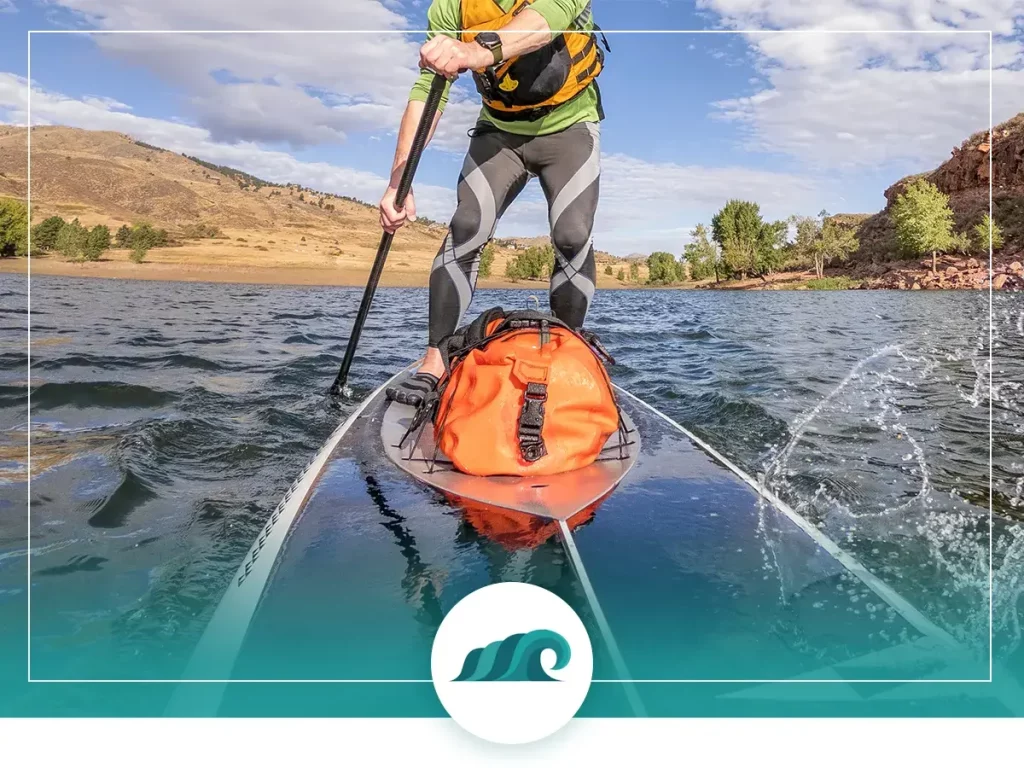 Dry bags come in a wide variety of shapes, sizes and intended use cases. Here are some of the key features to keep in mind when selecting the right one for you:
Closure
There are two main closure types used for sealing the top of the bag. Roll tops and zipper seals.
Roll tops are sealed by folding the top of the closure multiple times and then clipping the two ends together. These closures tend to have better waterproofing, plus the clipped buckle can be used as a handle.
Zipper Seals are similar to the seal on a Ziploc bag – but larger and more durable. The waterproofing is generally not as reliable as a roll top, because the seal has the potential to break. Be sure to double check these seals before getting on the water.
There are also bags that utilize both types of seals in conjunction. These provide excellent foolproof waterproofing.
Materials
The two main materials used to construct dry bags are nylon and vinyl. Many also use a combination of the two.
Vinyl is tougher, thicker and provides superior waterproofing. It's also usually has a grippy exterior surface, which makes the bag easy to grab when it's soaking wet. Vinyl is also easier to patch and repair yourself in case it gets damaged.
Coated nylon is lighter than vinyl, which makes it a good choice for backpackers or campers. Because nylon isn't inherently waterproof, it's typically coated in silicone or thin plastic to prevent water from getting in. The waterproofing won't be quite as good as vinyl though.
Carry Options
Depending on how you plan to use your dry bag, straps may be an important consideration. If you're going to hump your gear through long hiking trails, then getting a backpack style bag is a good option. If you only plan on using the bag to store gear inside your kayak, then a simple cylinder-shaped duffel should work fine.
Size
Size is another important consideration when choosing a dry bag. They come in a wide variety of shapes and sizes, from compact 5-liter pouches up to 120-liter behemoths.
If you're just looking for a day bag to stow your sensitive gear while you're paddling, then a smaller 10-liter bag should work. If you're planning on doing longer canoe or kayak camping trips then a larger 30 to 40-liter bag would be ideal.
Backpackers and campers who need to stash lots of gear and carry it from place to place should consider a larger 100 + liter bag with backpack straps.
Make sure to consider the available storage space inside your kayak's wells/hull to ensure your dry bag will fit inside.
Color
Your bag's color may not seem that important but could come into play in case your kayak or canoe capsizes. A brightly colored bag is much easier to spot on the water's surface than a dark one. This is especially important if you're paddling in choppy or whitewater conditions.
---
Dry Bag Alternate Uses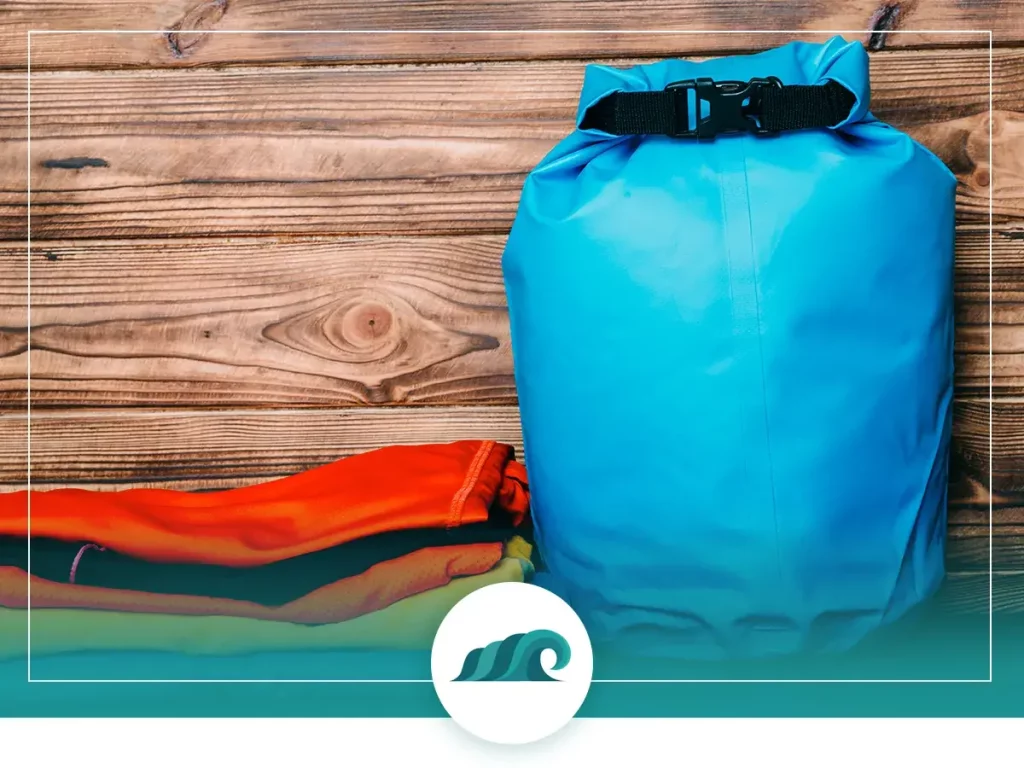 Besides keeping your gear dry, dry bags have tons of alternate uses – making them extremely versatile items to have on board while kayaking.
Here are just some of the many things you can do with a dry bag:
Makeshift Cooler
Fill it up with cold brews or even fish, crabs and lobster! Depending on your dry bags waterproofing, you may be able to fill it with ice and use it as a makeshift cooler. This works better with heavier duty vinyl bags.
Seat / Pillow
While it may not be the most comfortable pillow on the planet, it works fairly well in a pinch. If you're camping in the woods, then filling up your dry bag with leaves makes a pretty decent place to rest your head.
Carry Freshwater
Another useful camping application is carrying freshwater. If you don't have a bucket or other large container handy, you can fill your dry bag with water from a nearby stream or creek.
Separate Wet Clothes
Dry bags are great at keeping wet clothes separated from your clean, dry clothes. If you're doing some kayak camping, then getting a second smaller dry bag is perfect for this.
Laundry Bag
Yes, you can even do your laundry in a dry bag! While it's not as a good as your washer /drier at home, it will get the job done in a pinch. Simply fill up your bag with water, detergent and dirty clothes, and use it like you would an old-school laundry bucket.
Suspend Food Away From Animals
Another useful camping application is keeping food away from hungry critters. If you're camping in an area with bears, then it's especially important to prevent them from getting into your food supplies.
Float / Buoy
Depending on the type of dry bag you have, it may be able to float on the surface when submerged.
Obviously, this won't work as well as a real dive float, but it can be useful as a float bag in case of an emergency.
---
Maintaining Dry Bags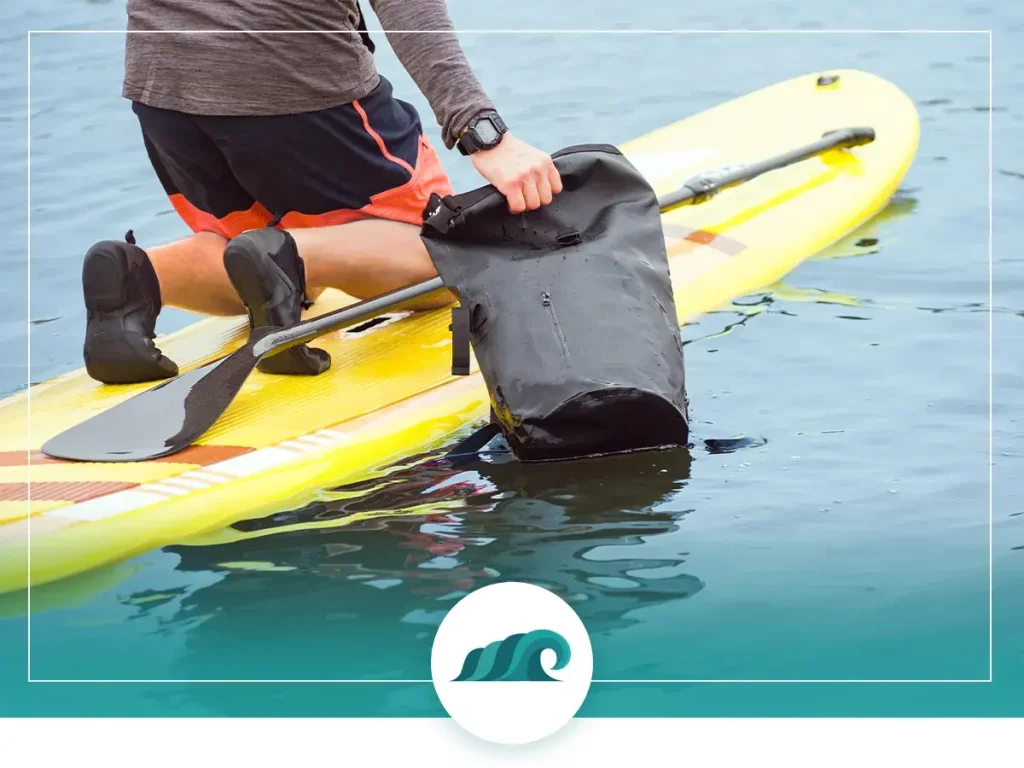 Maintaining your dry bag is pretty straight forward. To clean the bag rinse both the inside and outside with fresh water. If the bag is especially dirty, then add a little mild soap as well. Then hang the bag to air dry in a well-ventilated area.
Because they're used in wet conditions and sometimes get filled up with soggy clothing for prolonged periods of time – dry bags can sometimes develop a mildew odor.
To remove the mildew odor from your dry bag:
Take the bag outdoors to a well-ventilated area.
Fill a bowl with 1 part white vinegar and 1 part water.
Wipe all surfaces of the bag with the vinegar solution.
Wash both inside and outside with warm water and mild soap.
Allow the bag to air-dry for at least 24 hours.
---
FAQ'S
Are dry bags waterproof?
Yes, all dry bags are designed to be waterproof. Some have higher levels of water resistance than others though. Check with your manufacturer to see if your bag will withstand being submerged underwater.
The amount of time a dry bag can be submerged will depend on the brand and materials.
Do dry bags float?
Some dry bags are designed to float, while others will sink like a stone. Make sure you know which yours is before you get in the water!
Floating dry bags should only be loaded up to a maximum of 3/4 capacity. This traps air in the upper portion of the bag, keeping it afloat in case you capsize.
How to seal a dry bag?
Sealing a dry bag is pretty straightforward – simply fold the top of the bag three or more times and then clip the buckles together. This forms a watertight seal.
Check out this video on how to properly seal a dry bag: