If you're like me, then shopping for a dive bag is not something you really look forward to. Sure, you could get any old duffel bag from Walmart to throw your expensive dive gear in, but protecting the gear you've sunk hundreds of dollars into makes good sense. Getting the best dive bag for your needs is an excellent investment in the long run.
Dive gear can get expensive. Whether its carbon fiber fins, masks, or scuba regulators – the last thing you want is for your precious gear to get damaged on the way to the water.
A good dive bag will protect your gear, so an accidental drop on some rocks won't lead to shedding tears and disaster!
This article will take a look at why you need a dive bag, some of the best dive bags on the market, and how to choose a dive bag that's right for you.
Quick Answer: 7 Best Dive Bags
---
Why do you need a dive bag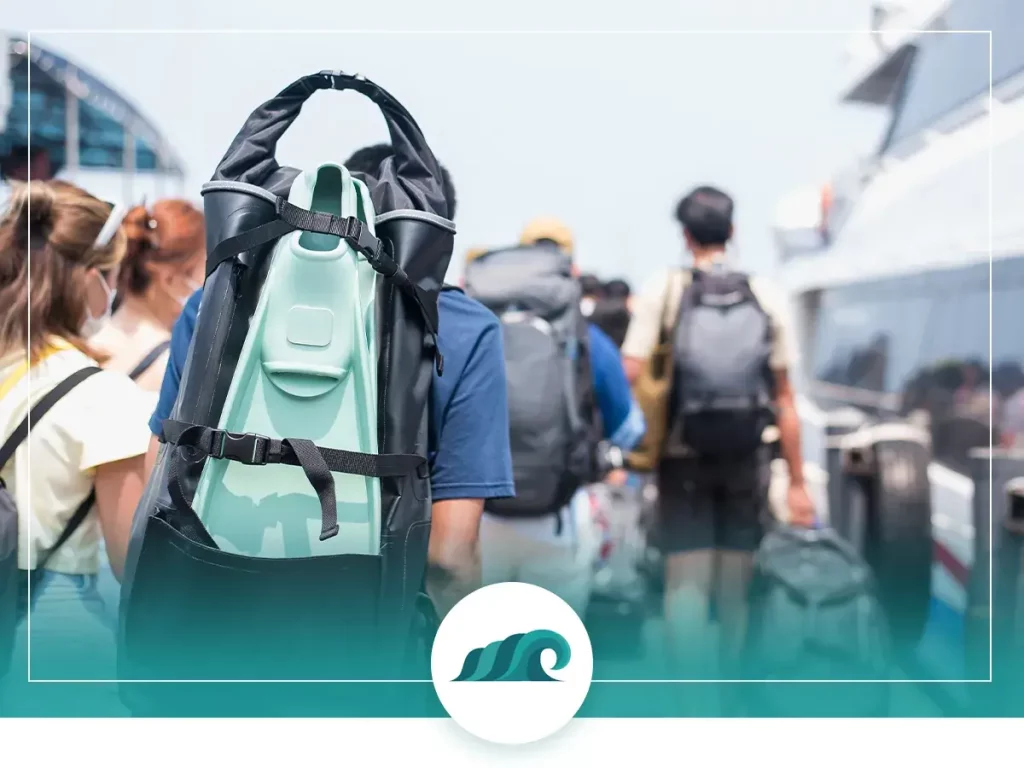 A high-quality dive bag will keep your gear organized, secure, and protected during travel.
Throwing all your gear in an old duffel bag will probably work fine if all you're doing is carrying it from your trunk down to the beach. If you're doing anything more than that, then a specialized dive bag will be beneficial.
We all know how careless airline baggage handlers can be – they've been known to throw bags around like a pissed-off quarterback. Luckily, there are plenty of dive bags perfectly suited to air travel which will keep your stuff safe from the most careless of airline employees.
An important feature found in most dive bags is saltwater corrosion resistance. Saltwater is tough on metal components like zippers, snaps, and buckles – it can easily eat through zippers on regular bags.
Diving bags are engineered to handle some serious weight. They have reinforced frames, wheels, and closures. Loading your gear into a properly designed dive bag will give you peace of mind knowing all your stuff is properly secured.
Most bags also feature a built-in drainage valve. This allows any moisture trapped inside the bag to escape – preventing mildew from developing. If you've ever had to pack away a wet swimsuit or wetsuit you'll know how important this feature can be.
A dive bag might not be the most exciting purchase you ever make, but a good bag will give you peace of mind and keep your diving gear safe and secure.
---
Best Diving Duffel Bag: Mares Attack Titan Bag
Tough and rugged, this waterproof duffel bag from Mares can store up to 220 lbs. (100 Kg) of dive gear. The bag is made of specialized 1100 Denier nylon and can hold up to 90 liters of internal volume.
The seams are heat-sealed with no stitching to prevent any water from seeping in or out. A side purge valve can be used as a drain port, allowing wet gear to drain out when opened. This allows you to use the bag as a makeshift rinse tank for your gear – which can come in handy when diving in remote locations.
A large U-shaped top-loading zipper opening allows you to easily load and unload heaps of gear. The opening is protected by a Velcro storm flap to keep any water splash from settling on top of the bag.
Mares back this bag up with a 24-month manufacturer's warranty.
View on:  [su_button url="https://www.amazon.com/Mares-Attack-Titan-Duffle-LITERS/dp/B0040PXBFW/ref=as_li_ss_tl?ie=UTF8&linkCode=ll1&tag=coastalside-20&linkId=924cf3b23be8667a7f931c7bc52134a0&language=en_US" target="blank" style="flat" background="#d93f2c" size="8″ radius="5″ text_shadow="0px 0px 0px #000000″]Amazon[/su_button]  
Key Features
Durable, tough waterproof 1100 Denier nylon fabric
220 lbs. weight limit
Dimensions: 35" x 17" x 9.5" (L x W x H)
90-liter internal volume
---
Best Mesh Dive Bag: Mares Cruise Mesh Backpack Deluxe
This large mesh backpack is great for throwing all your dive gear in after a day on the water. The heavy-duty silicone coated mesh is tough and doesn't tear easily. A large drainage hole on the bottom of the bag quickly drains any water out.
The bag itself is on the larger side – It's got enough room for a wetsuit, fins, regulator, BCD plus other diving gear. A zippered padded pocket on the front of the bag lets you store more fragile gear like regulators or cameras.
The top closure is opened and closed with a drawstring, allowing you to easily stow wetsuits and fins inside. There's also a side zipper – which lets you stow smaller gear inside the bag without opening the drawstring.
Key Features
Durable mesh construction lets you quickly dry your gear
The bag is large enough to accommodate a full set of dive gear
Access through top and side zipper
Mares Cruise Backpack Mesh Deluxe Bag, 2020
STURDY PVC MESH NET, ADJUSTABLE SHOULDER AND STERNUM STRAP, LATERAL ZIP AND STURDY HANDLE

BOTTOM PROTECTION,INTERNAL POCKET, WIDE EXTERNAL POCKET

BOTTOM EXTENSION WITH DRAINAGE HOLE, DRAWSTRING CLOSURE

Volume:7536in³ Dimensions:16 x 16 x 29.5 Weight:2.6lb
View Pricing On:
---
Best Dry Bag: Cressi Dry Gara Backpack
This waterproof dry bag by Cressi is made from highly resistant PVC material. It's ideal for long-distance traveling and tough conditions – the waterproof construction allows you to store wet gear inside without getting anything around you wet.
The backpack is designed similar to a traditional roll-up dry bag, but with backpack straps and a closure that doubles as a grab handle. A fin-holder front pocket lets you store long fins on the exterior and side fasteners on either side of the bag let you lash spearguns.
The internal volume capacity is a spacious 60 liters, which provides plenty of room for wetsuits and gear, but is not too bulky or uncomfortable to use as a backpack.
Key Features
100% full dry bag
Holds 2 x spearguns and long fins
Durable high-frequency welding
Dimensions: 15.5" x 9" x 26"
Cressi Dry GARA Backpack – Waterproof Freediving Scuba Diving Gear Bag Quality Since 1946, Black, UA925800, 60 liters
Padded and adjustable shoulder straps. Adjustable waist and sternum straps for load stability.

Waist & sternum straps equipped with "squeeze-style" side-release buckle closure.

Special front pocket for storing long fins as free diving fins like the Cressi Gara. Side fasteners for carrying spear guns.

Construction: black highly resistant PVC material. Internal capacity: 60 Liters (15.85 gallons / 2.12 cubic foot).

The Dry Gara Backpack is designed in Italy by Cressi and made in China. Cressi has been an Italian brand pioneer in scuba diving, snorkeling and swimming equipment since 1946.

Waterproof back pack made in long lasting material for protect your equipment in any situation.

Sport type: Outdoor Lifestyle
View Pricing On:
---
Best Roller Dive Bag: Cressi Moby 5 115L with Backpack Straps
This large roller style bag is lightweight yet robust enough for serious traveling. It's made from 300/400 denier material that's lightweight and extremely durable. The main compartment opens on all three sides for easy access.
The large diameter wheels roll well on rough surfaces and can be easily removed and replaced in the event of a breakage. There are two large pockets on the front of the bag, as well as two fin pockets on either side of the bag. The telescoping handle fully retracts into the bag for easier transport.
There are two backpack straps on the rear of the bag – which allows you to hoist the bag on your back if you need to cross dirt roads or tackle some stairs. They aren't super comfortable though, only meant as a backup.
Key Features
115 Liter capacity
Lightweight and tough 300/400 dernier material
Adjustable, padded backpack straps
Large diameter wheels can be removed and replaced
Cressi Moby 5, Black/Red, None
Large wheeled luggage ideal to carry scuba diving equipment and other water activity gear like long fins for freediving. Made with 300 and 400 Denier fabric that is light and very strong.

The main compartment opens on three sides allowing easy access. There are two large bellows pockets in the front with zip closures, two side pockets for fins and a small upper pocket that holds an address tag.

There are also two adjustable, padded, straps for carrying on the back that can be placed in special pockets when the backpack is being wheeled. The reinforced pull handle is telescopic and fully retractable.

The wheels have a large diameter and can be removed and easily replaced in the event of breakage. There are two carrying handles: a reinforced one at the top and one with Velcro closure at the bottom.

The back of the bag houses supporting rods to keep the Moby 5 in a vertical position. The Moby 5 measures 30 in (76 cm) height, 15.7 in (40 cm) long and 11 in (28 cm) wide. Capacity of 4 cubic feet (115 liters). Weight 10.6 lb (4.8 kg).
View Pricing On:
---
Best Carry-on Dive Bag: Cressi Vuelo 6.2lbs (2.8kg) Travel Bag
This bag is specifically designed to fit as a carry-on bag for airline travel. It's lightweight and durable, made from 300/400 Denier nylon fabric and weighing only 6.2 lbs when empty.
The 43-liter internal volume allows you to fit a surprising amount of gear, while still maintaining a compact profile. The bag has multiple easy-access pockets, reinforced durable zippers, a padded top grab handle and a retractable trolley handle.
The bag can fit a full set of dive gear if you pack strategically – it also works well in tandem with a dive backpack for holding your fins.
View on:  [su_button url="https://www.amazon.com/Cressi-Vuelo-6-2lbs-2-8kg-Travel/dp/B00GU6PIQO/ref=as_li_ss_tl?keywords=dive+bag&pd_rd_i=B00GU6PIQO&pd_rd_r=a1b4e54d-ca54-4689-b13a-2c312e9f9add&pd_rd_w=7g7VC&pd_rd_wg=s9Ib5&pf_rd_p=5c5ea0d7-2437-4d8a-88a7-ea6f32aeac11&pf_rd_r=YTMADPWKM8F3WE9XCGTW&qid=1551646778&s=gateway&linkCode=ll1&tag=coastalside-20&linkId=c967815158217c4f57f6f80a1797718e&language=en_US" target="blank" style="flat" background="#d93f2c" size="8″ radius="5″ text_shadow="0px 0px 0px #000000″]Amazon[/su_button]
Key Features
Perfect as a carry-on for airline travel
43-liter internal volume
Dimensions: 20.47″ x 14.17″ x 9″
Weighs just 6.3 lbs when empty
---
Best Spearfishing Bag: Beuchat Mundial 2 Long Fin Spearfishing Backpack
Specifically designed to hold an entire set of spearfishing gear, this backpack is ideal for hiking your gear into hard to reach spots. It's fairly spacious with 50 liters of internal storage volume.
Two fastenings on either side allow for stowing spearguns – each speargun is secured to the bag with two elastic cords. The main pocket comes with ventilation mesh and is designed to hold a full set of spearfishing gear: wetsuit, mask, snorkel, belt as well as full set of long fins up to 100cm (40 inches).
The secondary pocket is a cooler-type compartment for storing cold beverages or your catch. It also has an elastic zigzag cord for lashing extra gear to the outside of the pack. Lateral compression straps allow you to reduce the volume of the bag when empty for easier transport.
Key Features
Designed to hold a full set of spearfishing gear
The main compartment can hold fins up to 100cm (40 inches)
Secondary compartment is cooler-style to hold fish or drinks
Can lash 2 spearguns to either side
Beuchat Mundial 2 Long Fin Spearfishing Backpack with Insulated Cooler Compartment
Main compartment with a ventilation mesh

Secondary cool compartment (outside pocket) for carrying cold drinks or fish

Side fastenings for two spearguns

External elastic zigzag strip for quick stowing, e.g. for a towel

Side straps for reducing the size of the pack and Double shoulder strap adjustment

The Dimensions of the bag are 103x30x13 cm, the weight of the bag, while it is empty, is 1.63Kg (2.21 lbs)
View Pricing On:
---
Best Dive Backpack: AKONA Globetrotter Backpack
Built for the diver on the go, this backpack is large enough to stash an entire set of dive gear while still being compact enough use as a carry-on bag.
It has enough room in the main compartment for a regulator, wetsuit, BCD, gloves, dive boots, mask, and hood. Two sets of fin straps on either side allow you to strap your fins to the exterior of the bag. Two external pockets are sewn into the exterior of the bag, one with an earbud pass-through for storing a cellphone.
The bag also works well as a day excursion backpack once you've stowed your dive gear in a safe spot.
Key Features
Carries all your diving essentials in one backpack
Small enough to use as carry-on baggage for airline travel
Reasonably priced
Optional regulator bag fits perfectly in the bottom of the bag
AKONA Globetrotter All-in-One Carry-On Backpack – Blue
Bring all your diving essentials and most expensive equipment in your Carry-On.

The Globetrotter is specifically designed for the AKONA Pro Reg Bag to sit in the bottom of the bag.

With the Pro Reg bag at the bottom of the bag, there is room for your BCD, Mask, Snorkel, and neoprene accessories.

Compression Straps are designed to secure your fins to the outside of the bag.

The Globetrotter Backpack is made by AKONA, an American Sporting Goods Brand, specializing in Watersports since 1992.
View Pricing On:
---
Dive Bag Types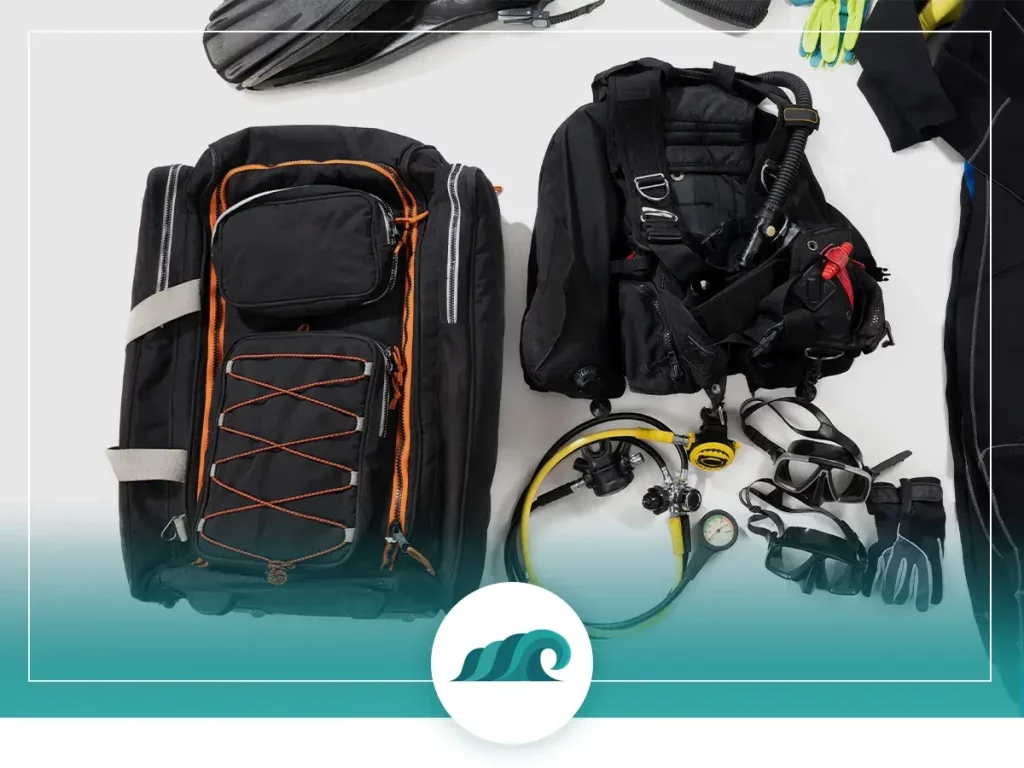 Duffel Dive Bag
These are the most basic and least expensive type of diving bag. Duffel bags are highly versatile as they can easily be packed away to save space when not in use. They're a great option for local travel or any situation where you don't need much-added protection.
Most duffel bags have one large pocket to store the majority of your gear, and several smaller side pockets for compact items. Some come with special waterproof side pockets for storing electronic gear.
The downside of a duffel style bag is that all of your gear is stored together in one large pocket. If you have delicate gear like electronics or carbon fiber fins they could knock into one another causing damage.
Some duffels come with wheels for easy transport over flat surfaces.
Dive Backpack
Dive backpacks are a great choice anytime you need to hump your gear over rough or sandy terrain. They give you the freedom to strap everything you need on your back – so you can access tough to reach dive spots.
The straps allow you to evenly distribute the weight over your shoulders – making them more comfortable than duffel bags for prolonged use.
Many newer bags are sort of a 'hybrid' style. They have shoulder straps so you can wear them like a backpack, but they also have wheels and a handle to use as a suitcase.
Mesh Dive Bag
Mesh bags are useful for warmer environments where you can let your dive gear air-dry. The mesh construction means that wetsuits, dive boots and other gear can drain quickly and dry while still inside the bag. If you're looking for a waterproof bag then look elsewhere.
These bags are extremely lightweight and not build for serious durability. The mesh material can tear on rocks or other sharp objects – so be careful during transport.
Mesh dive bags make great secondary gear bags as they're cheap, lightweight, and can be folded up into a compact size.
Roller Scuba Dive Bag
The mac daddy of scuba diving bags. Most roller dive bags are big, tough, and can handle the abuse that inevitably comes from traveling in planes, buses, taxis, and boats. They have large, robust wheels that allow them to store heavy gear without breaking under the weight.
If you need to transport lots of gear over long distances, you can't do much better than a roller dive bag. You'll be able to move the heavy load easily through airports, terminals, and ferries without breaking your back.
Roller bags are available in a variety of styles, from large suitcases to duffels and backpacks.
A large suitcase dive bag can easily store:
Carry-on Scuba Bag
Carry-on dive bags are specifically designed to fit the requirements for airline carry-on luggage. These bags allow you to transport your most valuable dive gear without checking it in. Carrying your gear onto the plane with you allows you to avoid the headache that can come from lost or damaged luggage – plus you won't have to pay the annoying checked bag fee.
Dry Bags
Dry bags are waterproof bags with a roll-up style closure to prevent any water from seeping in. They come in handy in a variety of situations – not only diving. They work great for kayaking, camping, paddleboarding and other outdoor pursuits.
A dry bag lets you keep clothing, electronics, and other valuables from getting wet. The roll-up and clip waterproof enclosure works extremely well – you can toss one of these in a whitewater river and nothing will get wet.
Spearfishing/Freediving Bag
Specialized spearfishing and freediving bags allow you to safely secure long freediving fins as well as masks, spearguns, and snorkels. Many of these bags are backpack style, with a large main pocket for storing your fins. Spearguns can be strapped to the sides of the bag so you can carry everything on your back during travel.
How to choose the best dive bag for you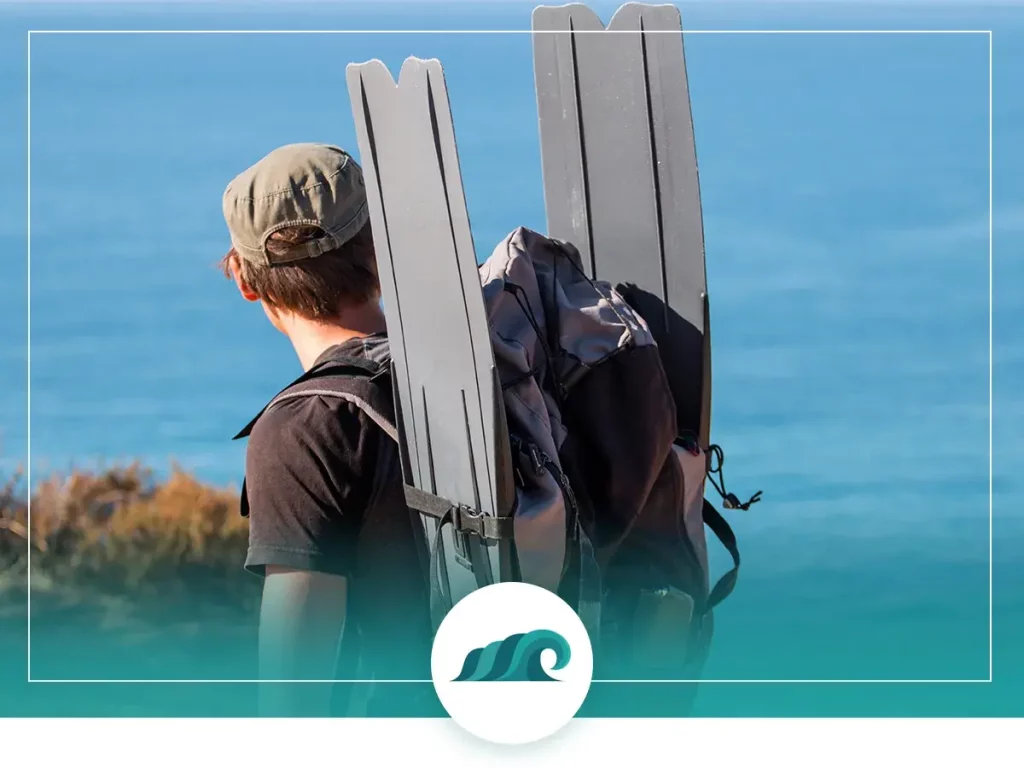 Choosing the right dive bag largely depends on your particular needs. Dive bags vary widely, so think about how you plan to use your bag.
Do you want a bag that can be checked-in during airline travel? Are you planning on carrying your bag through rocky or sandy environments? Maybe you need a waterproof bag for storing sensitive equipment?
Some factors to consider when picking a dive bag:
Air Travel. If you're planning on taking your bag with you during air travel, make sure it fits within the airline's size limits for carry-on or checked baggage. These size limits vary from airline to airline, so be sure to check with your airline before departure.
For checked baggage, a common maximum exterior dimension (length + width + height) is 62 inches (158 cm), including handles and wheels. For carry-on baggage, the common maximum dimensions are 9 inches x 14 inches x 22 inches (22 cm x 35 cm x 56 cm), including the handles and wheels.
Wheels are a big plus for airline travel; they let you easily wheel your gear in and out of the terminal and into a car or taxi.
Construction and Materials. Look for bags with heavy, reinforced stitching. A good dive bag should be able to withstand dragging over rocky shoreline without coming apart at the seams.
Corrosion resistance is another feature to look out for. Saltwater can easily eat through untreated zippers and other metal components, so you'll want to be sure your bag is saltwater resistant.
If you're interested in a waterproof dive bag, make sure the material is tough and won't wear out and lose its water-resistance. If the entire bag isn't waterproof, look for one with a smaller waterproof pouch for storing sensitive gear.
Wheels. Wheels are extremely handy and can make your life much easier during travel. Think about all the situations where wheeling your bag will save you time and effort – airports, train terminals, ferries, and getting in and out of vehicles.
Look for bags with large sturdy wheels that can support significant weight. A dive bag with both wheels and backpack straps will offer you the most versatile way to transport your gear.
Cold Water Diving. If you're diving in cold water, you'll need more storage space than during warm water dives. A thick wetsuit or drysuit takes up significantly more space in your pack than a thinner suit would.
Compartments. Separate storage compartments are super handy for extended dive trips. You can use one for wet, sandy gear and another compartment for your dry clothes. A waterproof compartment is crucial if you have sensitive electronics or documents you need to keep away from water.
Dimensions. Selecting a bag with the right dimensions is a bit of a balancing act. You want a bag big enough to store all your dive gear plus regular clothes and travel supplies. However, you don't want it too big that it won't easily fit inside a car trunk or an airplane's checked baggage.
Dive Bag Maintenance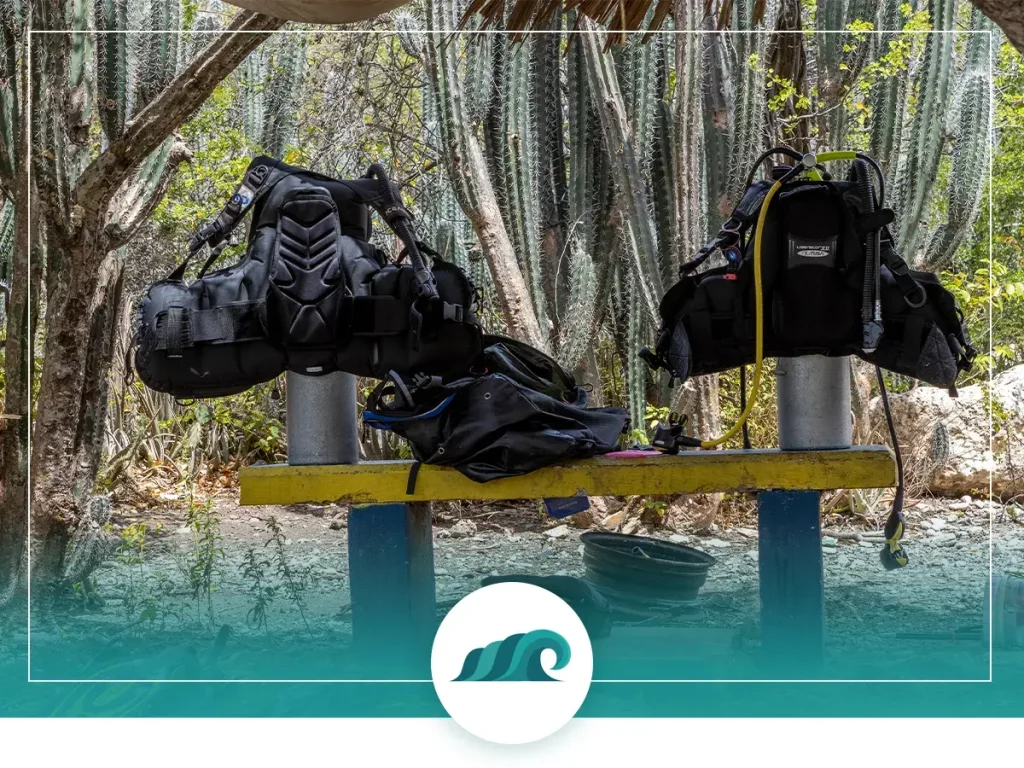 Maintaining a dive bag is pretty straightforward. To clean the bag simply hand wash with soap and water and then air dry in a well-ventilated room away from direct sunlight.
Just like any other luggage, dive bags can develop a mildew odor if you leave wet gear inside them for too long.
To remove the mildew smell from a dive bag:
Take the bag outdoors to a well-ventilated location.
Wipe all surfaces of the bag with a soft wet cloth until it's clean.
Fill a bowl with 1 part white vinegar and 1 part water.
Wipe all surfaces of the bag with the vinegar solution.
Fill a clean sock with baking soda and place it inside the bag.
After 24 hours the sock will absorb any remaining odors and can be discarded.