You have a wide variety of options to choose from for snorkeling in Spain. Here is a list of the best hot spots. hidden gems and tourist traps to snorkel in Spain.
The Mediterranean Sea bathing the country's 2,000 kilometers of coastline offers a broad range of underwater ecosystems, including rocky coves, sandbanks, salty lagoons, and meadows. There are numerous natural wonders hidden among the hundreds of prospective locations along and around the coast. 
Choosing the Perfect Spanish Snorkeling Locale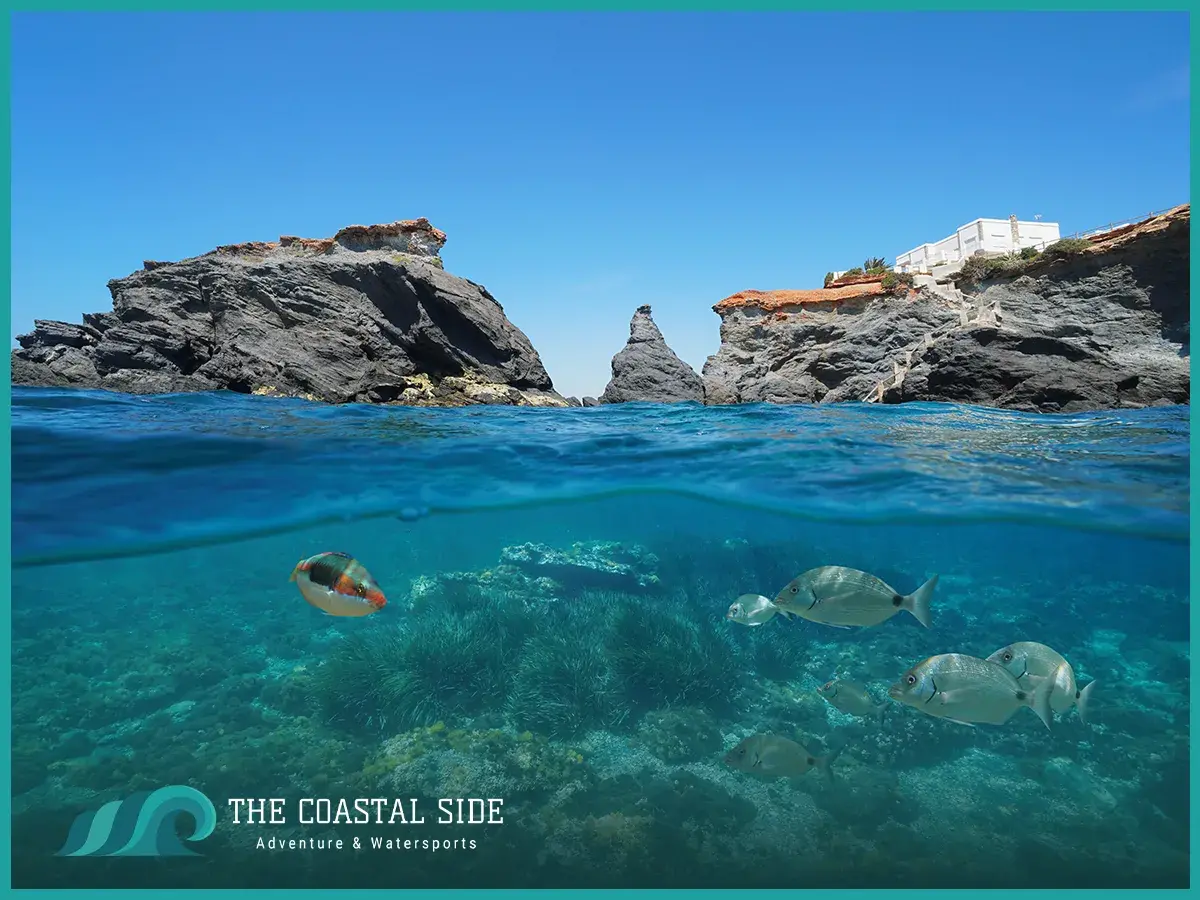 You can find these Spanish wonders in the country's Marine Reserves or close to the more popular beach resorts. When snorkeling in Spain, it is not uncommon to see schools of sea bream, red starfish, octopuses, moray eels, groupers, and even stingrays. 
The vast number of options available can make snorkeling in Spain a challenge. However, you needn't worry; we have a comprehensive list of snorkeling locations here. And to make choosing one easy, we have divided them up into 3 groups.
Hot Spots: these locations are known to be lively and entertaining, usually teaming a lot of aquatic life and or ancient wrecks.

Hidden Gems: these locations are not known by the general public and are great for those seeking a little time away from the crowd.

Tourist Traps: as the name suggests, you can expect this location to be full of tourists during the snorkeling season.
So, without further ado, let's get to the best locations to go snorkeling in Spain.
Hot Spots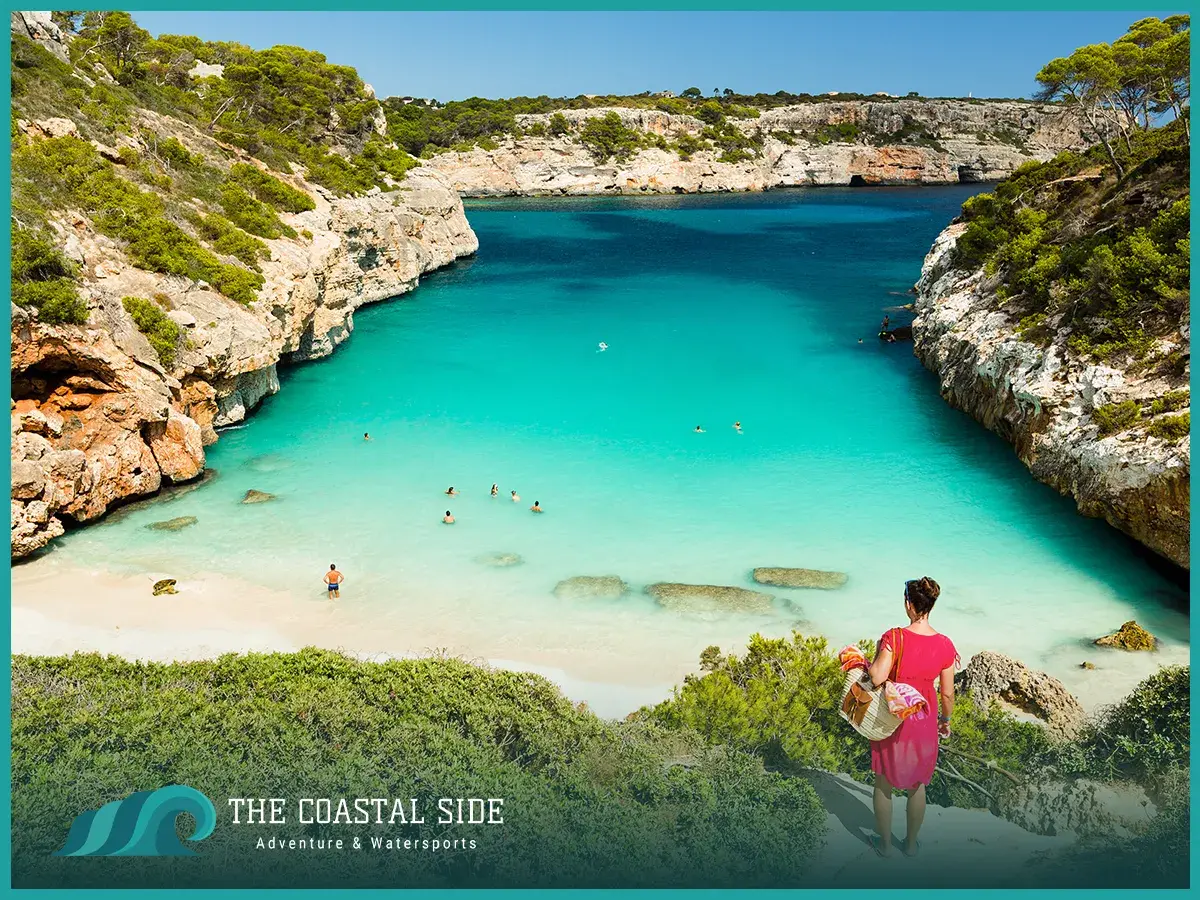 Mallorca  
Mallorca, located in the Balearic Islands, is encircled by the Mediterranean Sea on all sides. You will find numerous excellent snorkeling places in this region, including the Toro Marine Reserve and Cala Sant Pere Alcudia. 
The island is one of the best spots to go snorkeling in Spain since the water in the Mediterranean is incredibly clear and green, making it possible to see all of the fish and corals in exquisite detail. 
You'll be greeted by unrivaled views thanks to the surrounding pine trees and plants when you get out of the water on one of these beaches with fine white sand or rocky beaches. 
Since the waters of the Balearic Islands are so clean, snorkeling in Mallorca is sure to be an enjoyable experience. And if you want to live an experience that encompasses the entirety of your surroundings and explore the ocean's depths, you can always go diving in Mallorca.
Jávea 
One of the crowning achievements of the Costa of Alicante is Jávea. You will get a one-of-a-kind opportunity to experience the Mediterranean Sea in this location. 
If you are still looking for a place to go snorkeling in Spain, we would like to introduce you to the Sea Caves of Javea. These caves are found along the coast of Jávea, close to some of the most beautiful beaches in the area with clean and peaceful water. You can explore the Llop Mar and Cabo de la Nao caves on a snorkel or kayak tour in Jávea. This most recent cave is among the largest sea caves in Spain. 
What if caves aren't your thing? We are sure you'll love the beach at Granadella and the secluded coves of Ambolo and Caló. In a nutshell, Jávea's seaside beauty, which consists of clean, quiet waters and the area's generally pleasant weather, creates the ideal combination for a great experience for snorkeling in Spain.
Castellón, the Islands of the Columbretes 
Snorkeling at the Columbretes Islands is an excellent activity for people interested in marine life, free diving, and exploring the depths of the ocean. These can be found in the Castellón region, around fifty kilometers inland from the ocean. 
Because the Columbretes Islands are a natural reserve with high ecological importance, scuba diving permits are required to snorkel there; however, if we tell you that it is worth having the permits, you should believe us. 
You will be able to witness a large diversity of marine life and get an up-close look at the well-known red coral while you are here. There are many people who believe that these islands have one of the most beautiful seabeds in all of Spain. 
As a result of this, the Columbretes Islands are included on our list of the greatest locations to snorkel in Spain.
Playa de la Mar Menuda 
If you are starting in the world of snorkeling or scuba diving, the beach at Mar Menuda is an excellent location for you to go.That convenient location in Tossa de Mar, Girona, and the surrounding area is great and a convenient spot for snorkeling.
As for the bottom and its size, you can already reach a great depth in Tossa de Mar, just a few meters from the coast, making it a perfect location for scuba diving. You won't have any trouble taking in the fascinating sea life and the breathtaking rocky scenery. 
However, if you snorkel, not only can you see the surroundings, but you can also see small fish close to the shore; there is no need to go further out to sea. It would appear that those with the most anxiety have the most to gain.
Playa de Nuestra Señora, Cíes Islands 
Playa de Nuestra Seora is located in the Cés Islands, located in the province of Galicia. It is widely regarded as one of Spain's best places to go snorkeling. An aquatic paradise characterized by water that is crystal clear and very cold and home to a wide variety of marine life, including fish, starfish, and octopus. 
We are no longer in the Mediterranean; rather, we are now in the Atlantic; yet, the waters here are extremely clear, making this location an ideal one from which to study the surrounding seascape. 
The temperature of the Atlantic Ocean is significantly lower, and its activity level is far higher. It would be best if you felt comfortable in the water, had self-assurance, and had some swimming proficiency. You shouldn't hesitate to go snorkeling at this beach if you ever get to do so. 
Tourist Traps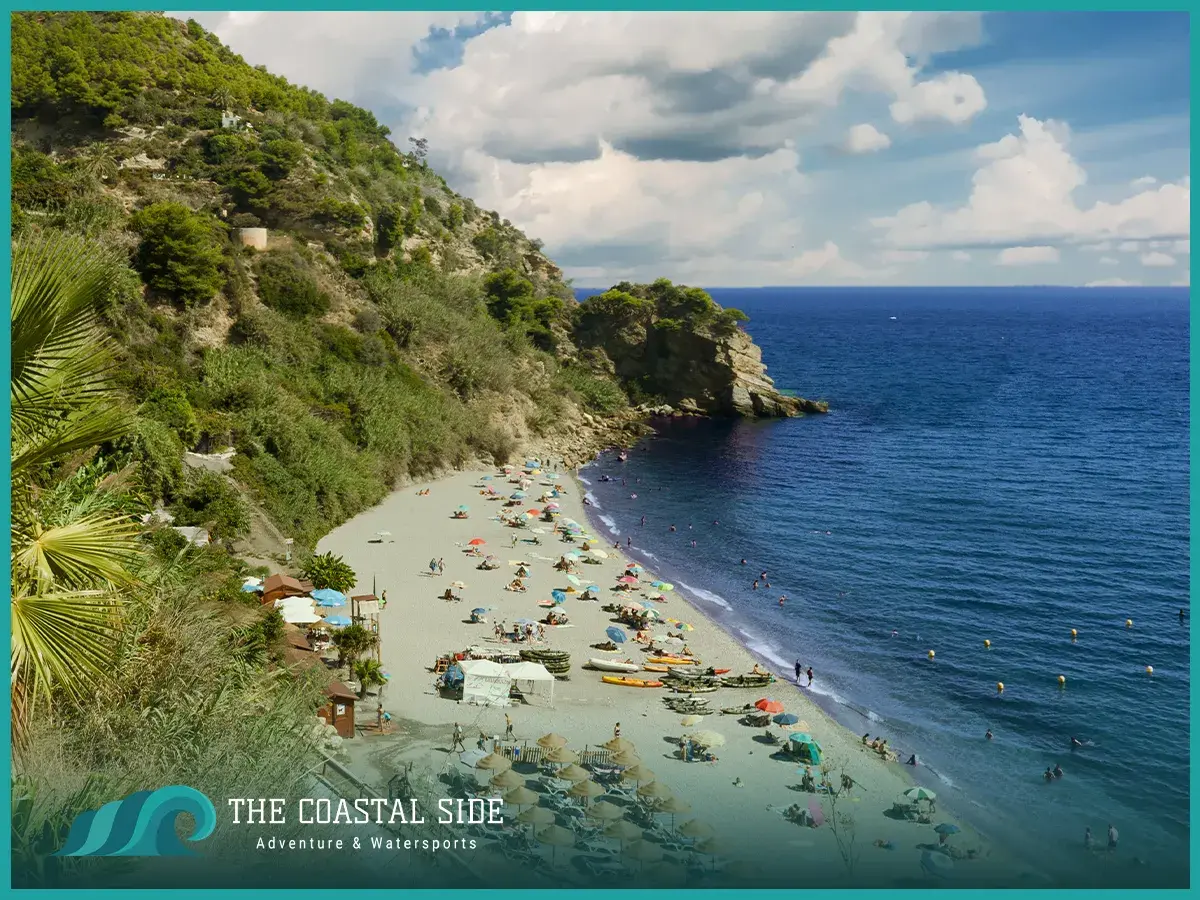 Islotes del Descargador 
One of the most well-known spots in Cabo de Palos for snorkeling is located on the Islotes del Descargador. While starfish, pipefish, and wrasses can be found in the shallow seagrass beds that border the shore, schools of seabream and damselfish frequent the rocky drop-offs located around the islets. 
The area designated for snorkeling encompasses both the beach and the islets to the seaward side. Snorkeling is not recommended on the opposite side of the islets, where the water is more likely to be turbulent. 
The broadnosed pipefish, also known as a moving blade of Posidonia seagrass, is a wonderful fish species to study and photograph. 
This location is home to a fascinating assortment of different marine environments. You can go snorkeling in the Cymodocea and Posidonia meadows less than two to six feet (0.5 to two meters) deep close to the beach.
You can find red starfish, brown wrasses, rainbow wrasses, and broadnosed pipefish in the meadows. The broadnosed pipefish is a kind of pipefish that completely imitates the shape of a Posidonia leaf. 
Sand steenbras and European seabass may typically be found in the deeper seagrass beds located in the middle of the cove. These beds range in depth from 6 to 12 feet (or 2-4 meters). The rocky drop-offs surrounding the islets (about 10-25 feet/ 3-8 meters) are also a good place to explore and are home to an abundance of species, including gilthead bream, sargo, and damselfish.
Cala Almadraba 
Cala Almadraba appears to be a world away from the commotion of the surrounding coastal resort despite its location at the base of Benidorm's tall buildings. Its waters are known for their clarity and calmness, which have contributed to the area's popularity as a location for snorkeling. 
When you snorkel above the rocky drop-offs, Posidonia meadows, and little sandy bottoms, you'll see much Mediterranean fish, such as seabream, Salema, and combers.
Both the left and right sides of Cala Almadabra have rocky bottoms. In the middle of the cove, which is sandy and close to the beach, huge Posidonia meadows begin approximately 50–60 meters from the water's edge. 
The tranquil waters of Cala Almadabra attract a variety of marine life, including small pelagic stingrays, which are known to make an appearance there. Your experience with this magnificent fish will surely leave you with a memory that will not easily be forgotten.
Maro Beach
Maro Beach, also known as Playa del Maro, is widely regarded as one of the gorgeous beaches in the region of Malaga, thanks to the captivating beauty both above and below the water.
Due to the numerous underwater caverns and rock formations that snorkelers may explore, this beach on the Costa del Sol, known for its cleanliness and awarded the Blue Flag certification, is a popular location for snorkeling.
Because Maro Beach is within Maro Cliffs Natural Park, a protected area, it has an exceptionally high concentration of marine life here. You might catch a glimpse of groupers, wrasses, or breams on the reef, among other kinds of fish. 
Traveling on the national road N-340 in the direction of Almeria will bring you to Playa del Maro. It would be best if you got off at the Maro exit. After passing the Hotel Playamaro, there will be a roundabout. Take the first right and continue straight. You will come across a barrier that requires you to pay a parking fee of one Euro to enter (note that prices can be different due to inflation). 
You will notice white-marked parking areas as you get closer to the beach; to avoid getting a ticket, be careful to park your vehicle in one of these spots rather than on the opposite side of the road. It may take anywhere from five to seven minutes to walk down to the real beach, but this entirely depends on where you park.
The beach is well-organized, with sunbed and kayak rentals available, restrooms, a shower, a beach bar, and a tiny restaurant that serves mouthwatering fare. The one drawback to visiting Maro Beach is that it is somewhat challenging to get to, especially during the high season, when there are typically many people there.
Menorca 
Menorca is yet another island in Spain that offers excellent opportunities for snorkeling. It is one of the Balearic Islands that has greater allure, seclusion, and positive energy when compared to the others. 
Menorca is becoming increasingly popular as a tourist destination due to its abundance of pristine paradises. The island is home to two important locations where individuals of all skill levels can participate in this activity, making it suitable for both seasoned snorkelers and novices. 
Masia Blanca in Costa Daurada 
The quiet, shallow beaches along the Costa Daurada coast in the Catalonia region are a major draw for thousands of tourists each year. This region is located in Spain.
Those interested in snorkeling in Spain will find that the circumstances in the numerous rocky coves that are located above Tarragona, the principal city in the region, are ideal. 
The protected natural area of Masia Blanca in El Vendrell, which is located close to Coma-Ruga, is home to one of the most well-known snorkeling spots in this region. Masia Blanca extends across 280 hectares and features a stretch of beach backed by sand dunes in addition to a marine reserve.
The water in the reserve is particularly nutrient-rich due to the thermal waters of the Brisamar spring that make their way into the reserve. That provides conditions that are excellent for the growth of marine life. 
You will find sandy surfaces and seagrass meadows in the shallower parts of the sea bed, home to a wide range of marine creatures such as eels, octopuses, mullets, and cuttlefish in the deeper parts of the sea.
There are also corral barriers on the sea bed in the deeper parts of the sea. Visit the Aquatic Classroom in the El Vendrell Tourism Office if you are curious about the species that reside on reserve and want to learn more about them. That is where introductions take place.
Hidden Gems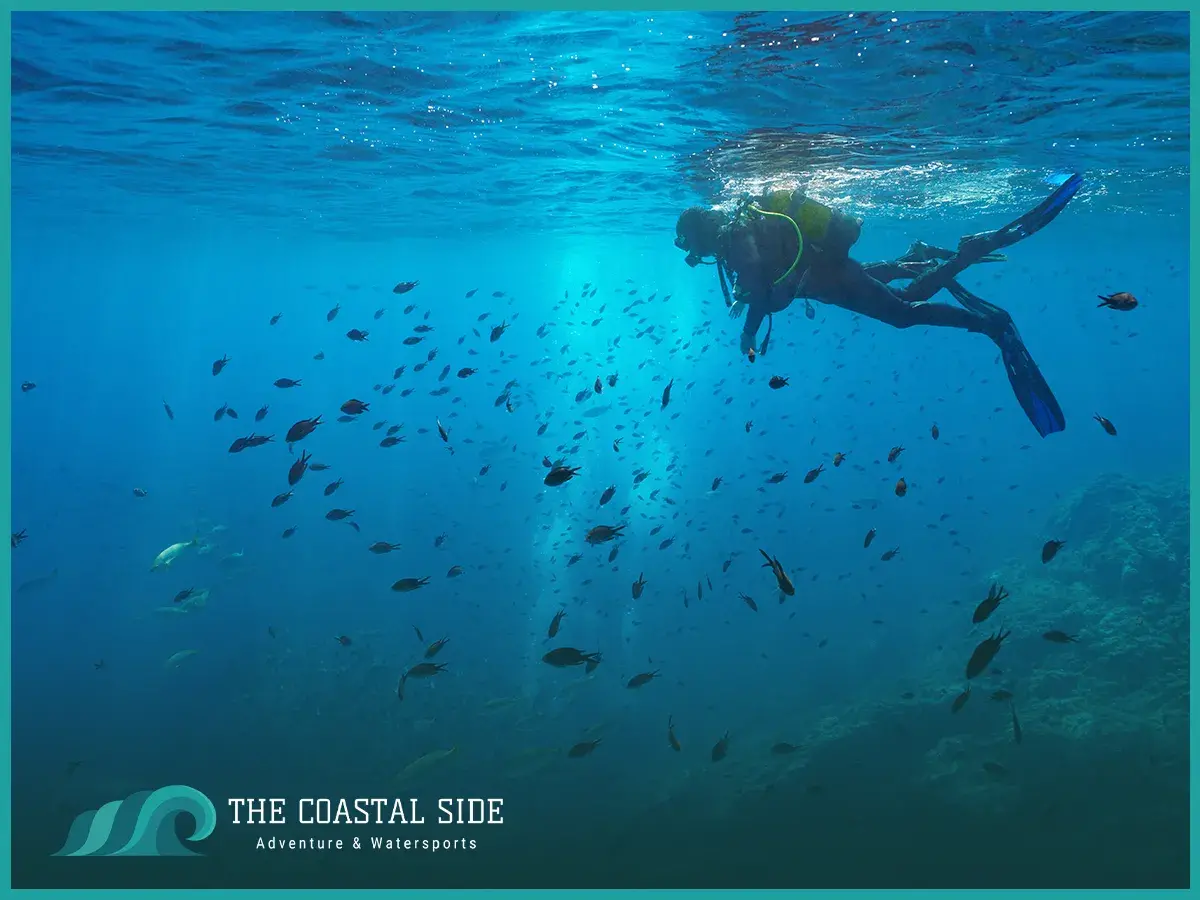 Macarella Cove 
Cala Macarella is located in the southwestern part of the island, and it is a breathtaking location that is just waiting for you to explore the marine life there, such as the starfish. 
If you go snorkeling in Spain, the best snorkeling adventures of your holiday might just be spent in this environment. It features waters as clear as crystal, is surrounded by natural scenery, and has caves hidden inside its depths. That makes it one of the best places to snorkel in Spain. 
Cala Maset, Sant Feliu de Guíxols 
Cala Maset is an haven in Girona that spans an area of 25 square meters and can be found in the province of Catalonia. Each of its nooks and crannies, encircled by rugged massifs, conveys a sense of calm and serenity. 
This location is ideal for snorkeling due to the lack of strong currents in the water, the breathtaking scenery of the Mediterranean, and the climate that is typically favorable for outdoor activities. Who could argue that this is not one of the best locations in Spain to go snorkeling. 
Islands of the Medes 
The Medes Islands, which are part of the Costa Brava and can be found in the municipality of Montgri in the province of Girona, are recognized as one of the most significant natural parks in the Mediterranean. Divers and anyone interested in nature often visit these seven islets. 
Since this is protected terrain, you are only allowed to get within 4.5 meters of the seabed, and you are required to make reservations for a guided tour to get any closer.
Cabo de Gata, Almeria 
Cabo de Gata in Almeria is another location in Spain that offers snorkeling opportunities. This region is a natural park and is considered one of the seven wonders of Spain. 
When you visit the region, you will realize why it has been given these names: you will be able to take pleasure in azure waters and breathtaking underwater landscapes teeming with marine life that is particularly interested. 
So, you know, grab your snorkel, goggles, and fins and get ready to dive into the beautiful sea of Almeria to uncover its mysteries, such as the ship that sank there.
Papagayo Beach in Lanzarote
When considering snorkeling in Spain, the Papagayo beach in Lanzarote is one of our hidden gems. It is a paradise of nature that has not been tampered with and is included in the Natural Park of Los Apaches. 
To get to this beach, you will have to drive along a road that is not surfaced, and parking will cost you three euros if you choose to do so. Once you've traversed this path and found a comfortable spot on the golden sand, it's time to don your gear and plunge into the water. 
You will see an explosion of color from the little fish swimming around you as you explore the rocky seabeds and sandbanks that Papagayo beach has to offer. You will find these and many other features along and around the coastline.
Cape Palos in Murcia 
A cape in the Cartagena neighborhood of Mar Menor, Cape Palos is also known by its Spanish name, Cabo de Palos. Since this section of Spain in the Murcia region has been classified as a marine sanctuary (together with the nearby Islas Hormigas) to safeguard the species native to this area, it is widely regarded as one of the best places in Spain for snorkeling. 
The waters are crystal clear and teeming with marine life, making them ideal for snorkelers and divers who want to investigate shipwrecks. Snorkelers will have a great day. 
You technically need to walk around and pick a place you like the most to go snorkeling along the coastline of Cape Palos, but we recommend checking out the less-visited spots such as la Cala Fria, Cala Reona, and Cala Tunez. There are numerous small beaches and secluded coves along the Cape Palos coastline, ideal for snorkeling.
Playa Calaceite 
Playa Calaceite is the beach to visit if you're looking for some of the best snorkeling in the Malaga area. This snorkeling area in Nerja is rather underrated, and there is not a great deal of information about its main draw, a large shipwreck that is simple to get to and can also be observed from the coast. 
Playa Calaceite The beach in Torrox Calaceite is located just outside Torrox and is immediately adjacent to the national road. It is called a wild beach because it does not have any amenities, which may not be good for people who prefer urban beaches with services available but may be ideal for people looking for a calm area away from crowds. 
It is not difficult to get into the water; nevertheless, you should be careful not to injure your leg on the rocks. After only a few meters, the water in the sea is incredibly clear, and it is deep enough that swimming is safe.
The steamer tank used to bring food to Malaga's inhabitants is now a wreck that is about 100 meters off the shore and is about 5 meters deep. The wreck is marked with a buoy.
The ship's ruins are covered with sponges and anemones, which attract much fish to the area; as a result, Playa Calaceite is popular among spearfishermen. The ship became home to a diverse diversity of marine animals. 
Playa de las Alberquillas 
Alberquillas Beach is a haven of tranquility for those who find the urban beaches too congested. Alberquillas Beach is never crowded, not even during the high season. Next to the N-340 highway is where you'll find this expansive and roughly 400-meter-long stretch of dark sand beach. At the kilometer 299 marker, you'll find the entrance to Playa de las Alberquillas. 
Even though the beach is located within the Parque Nacional de Los Acantilados de Maro nature preserve, which means that it does not have any facilities, it still provides everything you could need to have a wonderful day basking in the sun and swimming in the calming waters of the Mediterranean Sea.
There are some beautiful rock formations and underwater tunnels that you can explore, and there is many fish in the area. And the greatest part is that if you stroll down the shore or swim in the ocean, you can come to another wonderful beach called Playa del Molino de Papel, where you can view the remains of an old watchtower.
Wrap Up
Visitors to Spain who are interested in exploring what lies beneath the sea's surface during their trip will find that the country's waters are exceptionally clear and home to some of the most impressive coral reefs seen anywhere in Europe. 
If you go snorkeling in the Mediterranean Sea from the shore or a boat, you have a decent chance of seeing some of the abundant marine species. The Mediterranean Sea is home to more than its fair share of its marine biodiversity. 
In addition to being a distinctive feature of the waterways around the Spanish mainland and islands, you will also find the rare Neptune grass meadows there.