When it comes to ice fishing, few things are more exhilarating than wrangling a monster northern through the ice. Pike are notoriously aggressive predators – and are just as much fun to catch during the dead of winter as they are in the springtime.
These fish can be caught on early, mid, and late ice, and don't slow down significantly during the winter season like other common game fish. They can be caught using live bait, tips ups, or using a jigging rod and a handful of lures.
Pike by no means shy when it comes to attacking larger lures. If you want to catch a trophy pike, don't be afraid to throw out a heavyweight lure.
I'll break down some of the best ice fishing lures for pike on the market now – so you can make the most out of your time on the hardwater!
Quick Answer: 8 Best Ice Fishing Lures for Pike
Best Spoon: Eppinger Dardevle Spoon
Also Consider: Bay de Noc Swedish Pimple
Best Jigging Swimbait: Rapala Jigging Rap
Also Consider: Salmo Chubby Darter
Best Blade Bait: Heddon Sonar
Also Consider: Blitz Blade
Best Lipless Crankbait: Rapala Rippin Rap
Also Consider: Rat-L-Trap
---
Types of Pike Ice Fishing Lures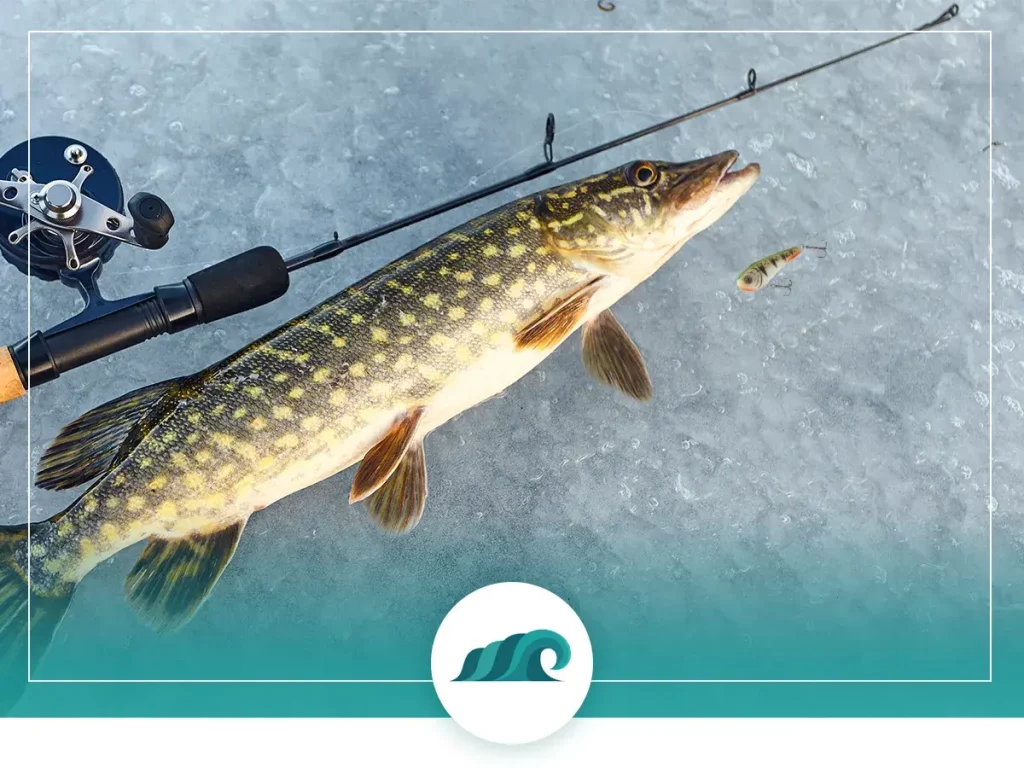 As your limited to vertical fishing when your ice fishing for pike, you'll want to use a lure that works well when jigged vertically. There are a number of highly effective lures that will work for winter pike, let's take a look at them in more detail.
Spoons: Spoons are about as classic as it gets when it comes to ice fishing lures for pike. They flutter and dart around as they sink, imitating the behavior of an injured baitfish moving through the water. There is a huge variety of spoon colors and patterns out there, so tailoring your presentation to mimic the local forage is an easy task.
Jigging Swimbaits: Jigging swimbaits are a newer development that allows you to create a lure that moves laterally as it's jigged vertically. These lures feature a mounting location in the middle of the back, which makes lateral motion possible when jigged.
Blade Baits: Blades are sort-of a hybrid between spoons and jigging swimbaits. They are often made of metal like spoons but attach at the middle of the back like jigging swimbaits. This combination results in a lure that both flutters and vibrates as it's jigged.
Lipless Crankbaits: Last, but certainly not least, lipless crankbaits are a dangerous weapon to have in your pike fishing quiver. These bad boys make plenty of noise and vibration and have a distinctive teeter-totter wobble that drives predatory fish wild. When spoons and swimbaits aren't being productive, it's time to give the lipless crank a whirl.
Best Spoon: Eppinger Dardevle Spoon
It doesn't get any more classic than the original Dardevle spoon. This well-made spoon has been used by generations of anglers and for good reason – it works! It creates a unique wiggle-wobble motion when it's jigged or trolled through the water that freshwater predators find irresistible.
The 1 ounce, 3-5/8" length is the perfect size for targeting pike, although a wide variety of other sizes are also available for targeting smaller species. The red-and-white color pattern may be the most iconic in the lineup, but it's now available in a plethora of different colors and patterns.
What really sets the Dardevle spoon apart from the competition is its high-quality construction, reliability, and ability to draw the pike bite no what the conditions are like. If I had to pick a single spoon to bring along with me – this would be it.
Key Features
Back and forth wiggle-wobble action is irresistible to pike
Proven track record and highly reliable durable construction
Also works well for trolling during fair weather conditions
---
Also Consider: Bay de Noc Swedish Pimple
No list of Northern Pike lures would be complete without the legendary Bay de Noc Swedish Pimple. These handsome looking spoons are specifically designed with the ice angler in mind and have a proven track record of drawing in the pike bite.
The spoon creates an enticing flutter-flicker movement when jigged, which perfectly mimics an injured baitfish moving through the water. The lure works well on its own or tipped with bait, and comes in a wide variety of colors and patterns.
Gold, nickel, as well as a variety of fluorescent colors create plenty of flash in low light environments, while the florescent colors are a good option in murky, stained waters.
Key Features
Flicker blade creates an enticing flutter-flicker that drives pike wild
Blade is easy to control and jig with
Also works well for walleye, perch, trout and other freshwater species
---
Best Jigging Swimbait: Rapala Jigging Rap
The Rapala jigging rap is a serious game-changer in the ice fishing game. Its unique finned design enables you to swim circles under the ice while jigging vertically.
The balanced design means you'll have no problem creating lifelike lateral movements under the ice, while the ultra-realistic silhouette makes an irresistible target for hungry pike.  Two reversed hooks on the nose and tail, as well as a belly-mounted treble hook, give you a variety of options for snagging a pike no matter what direction it strikes from.
The lure is available in five different sizes – from a diminutive 1 ¼" all the way up to the impressive 3 ½" size. For targeting pike you'll want to go with one of the larger sizes.
Key Features
Balanced, weighted minnow profile works well for vertical fishing
Swims enticing half-circles under the ice
Can also be bottom bounced with great effectiveness
---
Also Consider: Salmo Chubby Darter
The Salmo Chubby Darter is the original vertical wobbler – while it's been imitated by everybody and their mother, it remains one of the best performing jigging swimbaits on the market. The darter creates a lifelike wobbling motion, and due to its low sink rate, imitates an injured baitfish struggling through the water.
The durable high-density foam body is wrapped around a sturdy through-wire, with two VMC treble hooks mounted at the tail and belly. The lure is a long-time favorite amongst walleye anglers, although it will also work well for pike, bass, and smaller panfish.
Salmo makes the darter in a variety of realistic and high-viz colors, so you'll have no problem enticing the pike bite when other lures aren't producing.
Key Features
The original lifelike vertical wobbler perfectly mimics a struggling injured baitfish
Sinks slowly through the water
High-density foam body is reinforced with a durable through-wire
---
Best Blade Bait: Heddon Sonar
Highly versatile, durable, and unique, this lure is one of the only lures that allow you to adjust the line-tie position to tailor your presentation for the bite. It features three line-tie holes on the back of the lure, which allows you to adjust the level of wobble according to the conditions.
The frontmost hole creates a faster, more aggressive wobble action, while the rear hole provides a slower more methodical action. The slower action can work well when the fish aren't responding to a more aggressive presentation.
The blade is versatile enough to use on a wide variety of freshwater species, with its vibration provoking an aggressive feeding response in many species. It can be jigged just as effectively as trolled, so you can use it year-round in a variety of different scenarios.
Key Features
Three adjustable line-ties provide unique wobble action-adjustability
Flutters and vibrates as you jig
Part spoon, part swimbait
Dual treble hooks mounted to tail and belly
---
Also Consider: Blitz Blade
Featuring a similar design to the Heddon Sonar above, these blade baits feature a realistic and lightweight design with unique offsetting fins on each side of the head. These fins allow the lure to spiral downwards when the lure sinks.
The lure is made from a 100% zinc alloy, which is much lighter than traditional lead blades. This causes a slower descent that more closely approximates the descent speed of an injured fish. Zinc is also safer for the environment than lead lures.
Three small holes on the back allow you to make adjustments to the lure's action, while an optional hole between hooks lets you attach a spinner. Two VMC treble hooks attach near the tail and below the head for excellent hook setting ability.
The blade comes in ¼ oz. up to 3 ½ oz. sizes, with the larger sizes being suited to northern pike fishing.
Key Features
Realistic and lightweight zinc alloy construction
Adjustable-action holes on back
Unique offsetting fins create a spiral effect as the lure sinks
Slower descent than comparable lead blades
---
Best Lipless Crankbait: Rapala Rippin Rap
Rapala's Rippin Rap is absolutely legendary when it comes to lipless crankbaits – and for good reason – it's absolutely deadly at attracting pike and enticing them to bite. It features a distinctive BB rattle that creates plenty of noise and vibration in the water, which is sure to get the attention of any pike in the area.
The tall, deep belly profile creates a serious flutter on the drop, with vibrating action on both slow and fast retrieves. Its lipless design makes using it in areas with heavy cover worry-free, while textured scales, gills, and holographic 3D eyes mimic forage fish to a tee.
The combination of noise, vibration, and fluttering action makes this lure ideal for both clear and stained water, and it works just as well for casting along weed beds during spring and summertime.
Key Features
Distinctive BB rattle creates plenty of noise and vibration
Tall body with a deep belly creates serious flutter on the drop
Vibrating action with both slow and fast retrieves
Excellent year-round lipless crankbait
---
Also Consider: Rat-L-Trap
The Rat-L-trap may be the most imitated lure over the past 30 years – and for good reason – it's proven deadly effective at imitating the sound of distressed schooling baitfish. The lure is designed to target larger fish, making a perfect ice fishing lure for northern pike.
Interior rattles make plenty of noise as you reel in the lure, while a tight wiggling action helps to seal the deal with reluctant pike. It's constructed from rock-solid durashell, which can withstand the rough and tumble of repeated pike strikes.
The lures are available in a vast variety of colors and patterns, so picking up a few different configurations makes sense.  The 1 ½ oz. to ¾ oz. lures are an ideal ice fishing lure for most pike, although smaller sizes also work well for targeting other species.
Key Features
Lure designed for larger fish
Imitates the sound of distressed schooling baitfish
Tight wiggling action
Rock-solid durashell construction
Razor-sharp treble hooks