A quality surfboard for avid surfers averages around $1000, but that doesn't mean you can't find a great ride for less or a custom-carved unit for even more.
Others have snapped up good beginner surfboard bargains for $200 to $250 and dip under the liquid-glass arches and emerge safely on the other side.
If you're looking to entertain the kids, you can save on a surfboard cost in a mass-chain store that sells everything from lipstick to dog food and spend $100.
Bargains for a new board exist but aren't always in stock.
Avid surfers understand the nuances of designing and crafting a quality board. A hand-crafted fiberglass board makes a statement and conforms to the water and your surfing style. But this craftsmanship comes at a cost.
What Makes a Quality Surfboard?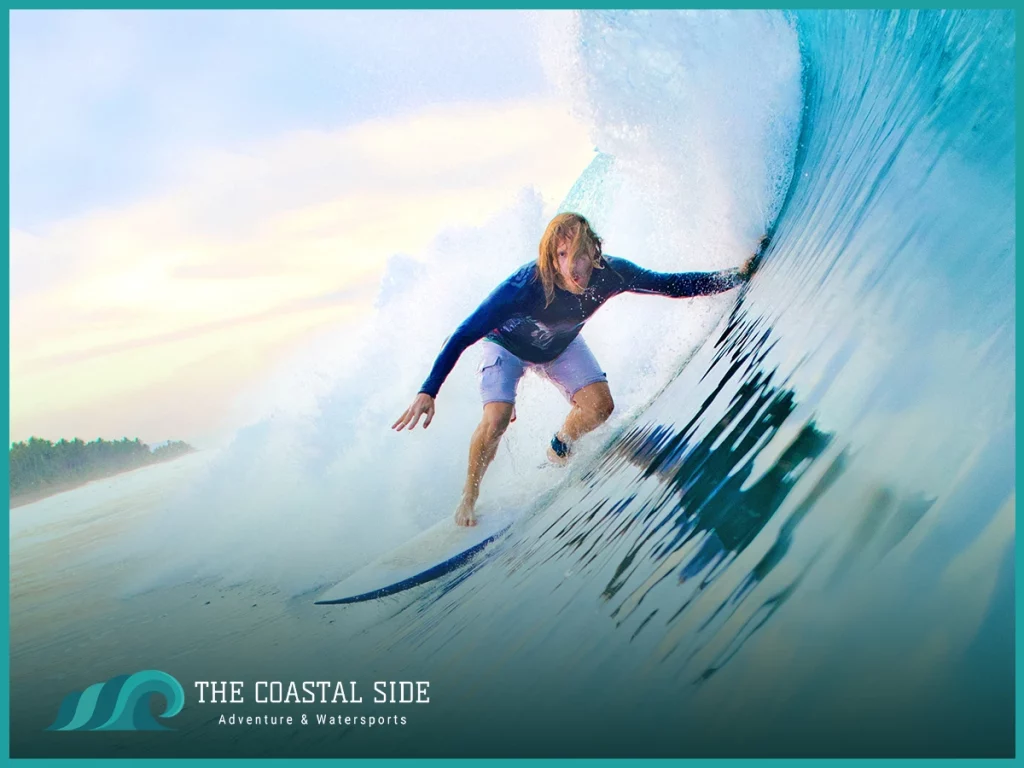 If you plan on surfing the killer waves at Nazaré, Portugal, like Gerry McNamara, you're already in a different league. The quality of your surfboard defines your skill and passion, which will influence your surfboard cost.
If you're into surfing, you already know that a custom board is the way to go. It supports the local industry, the surf culture, and repays you with a hand-made board sculpted to fit your skillset and lifestyle.
An expert can craft a custom surfboard to match your physique, which will give you a better overall performance on the water. 
They can tweak a wood or foam board to:
Add more buoyancy

Adapt the single fin to twin fin set

Recommend a wide nose or wide tail

Suggest pointed nose or swallowtails
Of course, you shouldn't discount brand names like California Board Company (Jerry Lopez) or the world's best Kelly Slater SurfOntario, who represent icons in the industry. These companies also have a great selection of surfing gear.
Regardless of which route you choose, a local craftsman or a brand-name foam board will have you catch the big wave in an endless summer of fun.
A few things that factor into the quality and surfboard costs:
Material

Length for ease of paddling and speed

Thicker boards increase buoyancy or floatability

Width provides stability and less balancing effort

Does it match your skill level
Material Choices
Material choices are varied. Fiberglass, soft-top foam boards, wood, polyurethane (eps core), and epoxy are some of the most popular material terms. Every experienced surfer has a favorite board for riding big waves on the beach break.
Softer boards can accommodate beginners and intermediate surfers. The deciding factor is often what the surfer wants the board to do for them. Softer boards are durable, make paddling easier, and reduce injuries in crowded surf hot spots.
A fiberglass board contains a polyurethane inner wrapped in fiberglass, making it more flexible than an epoxy board. Not a bad introduction for a first surfboard.
Whenever you can, test drive the board before buying your own surfboard. Many local shops have that option.
Wood is a classic option for skilled surfers who are in tune with their bodies, the ocean, and skill set. They're also the root of our surfing fascination.
How to Determine Surfboard Condition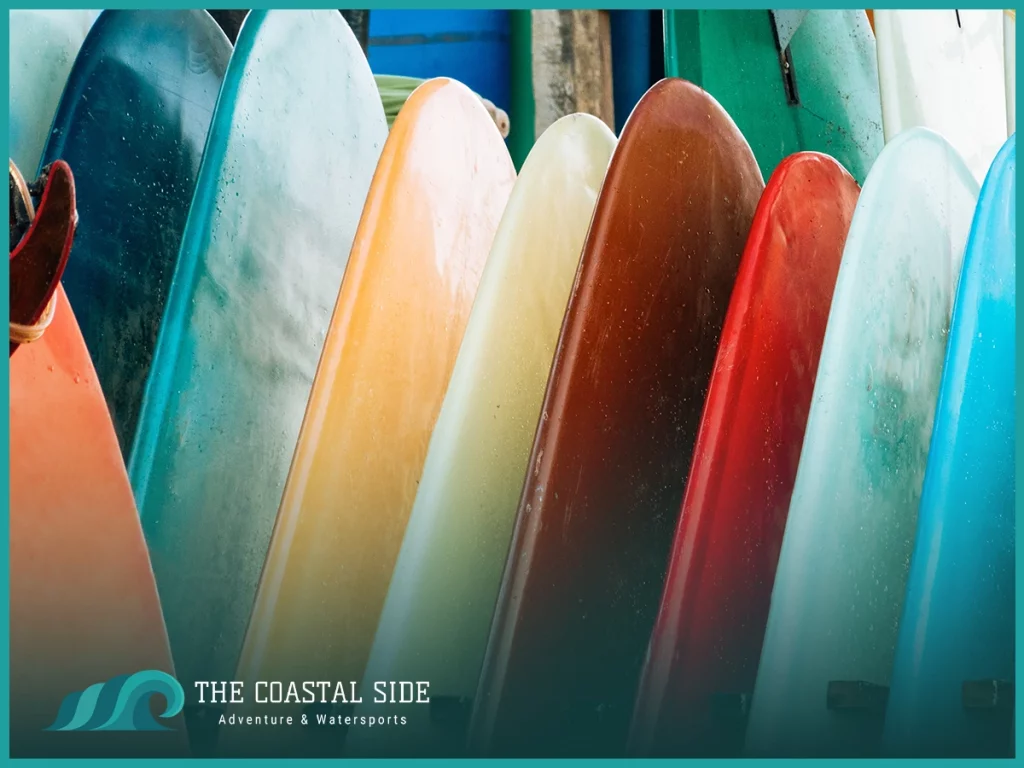 Excellent surfboards surface at garage sales, classified ads, and swap meets. Having a keen eye and what to look for can land you a good beginner surfboard.
Here's what to look for in a fiberglass board and foam board:
You can get dings, holes, and cracks repaired professionally or DIY 

Avoid boards with stress marks near the fins or tail 

Avoid boards with buckles in the middle or tail

Buckles in the nose aren't as serious/repairable

Tail cancer & delamination are fatal for a quality surfboard (feel for a soft texture and hairline cracks)

Do the underarm check to see how the board feels
Surfboard Price Ranges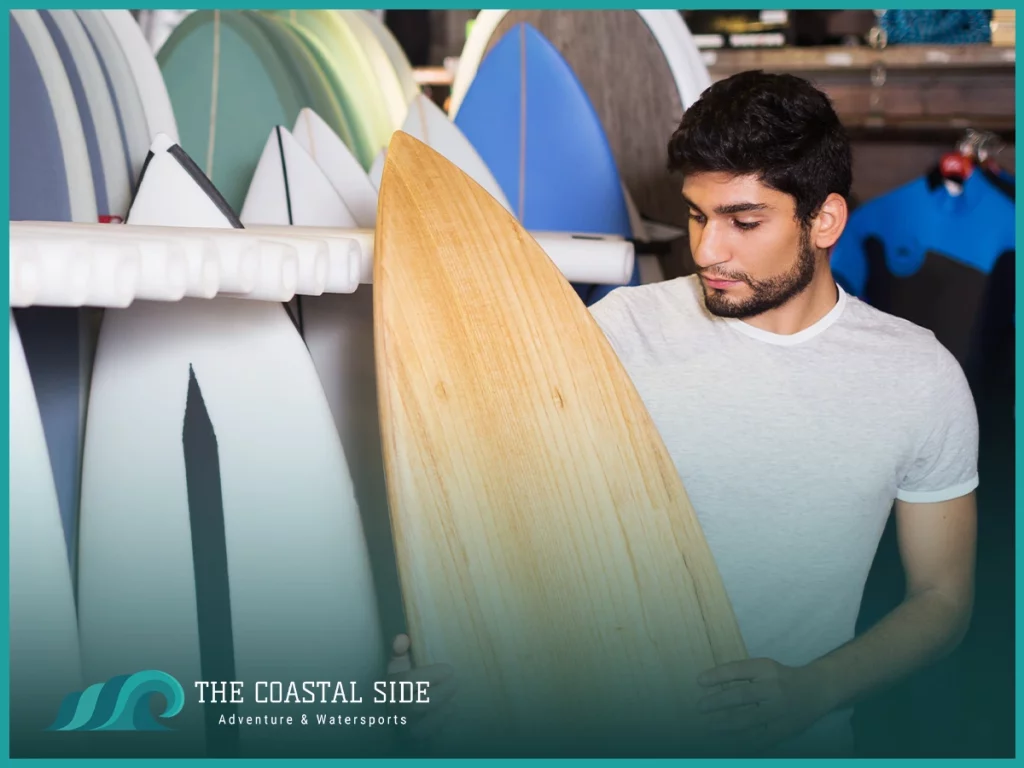 The answer to this question is as vast as the deep swells of the Pacific.
While it's possible to find bargain boards for $100, the average price in retail shops is closer to $200. Specialized shops range from $400 to $700 for a new surfboard.
For high-spec hand-crafted board design, be prepared to dish out over a grand. 
Different Board Styles & Respective Costs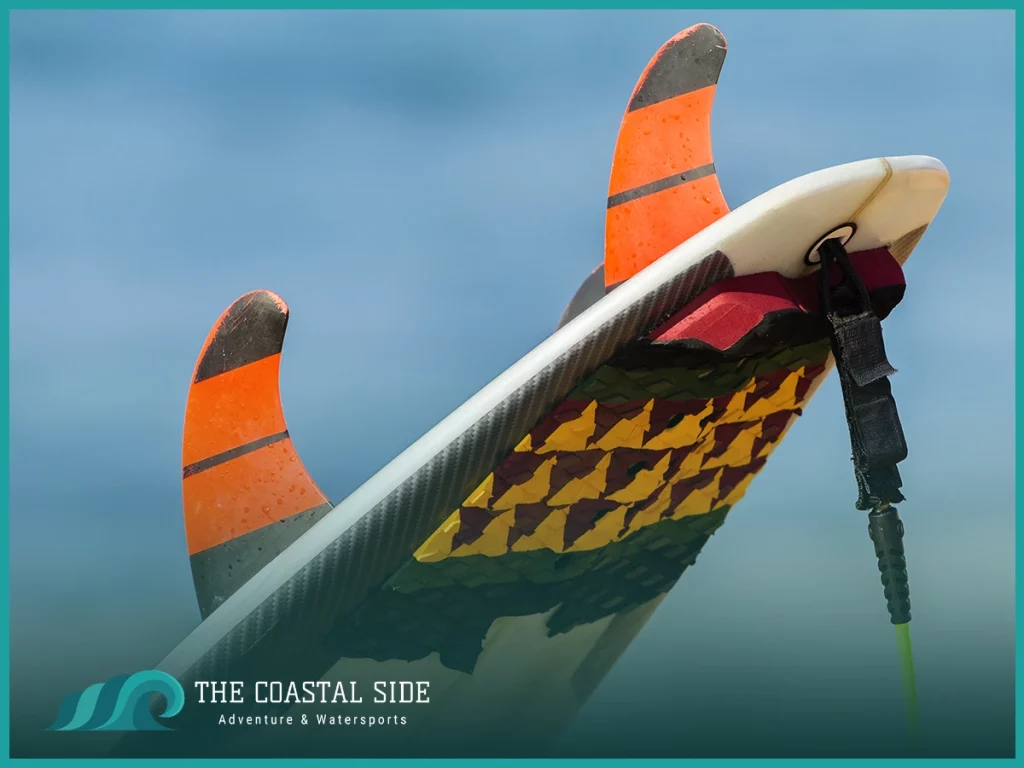 Shortboards
High-performance boards used by intermediate and expert surfers. This shortboard navigates the ocean swells quickly and in a snap. They're produced from various materials and have an adaptable fin setup. Probably not the best surfboard for beginners.
Fishboard Surfboards
Made wider, with a thicker base than traditional shortboards, ideal for riding on weaker push waves (mushy) and making paddling easier. Some surfers prefer fish boards with swallowtails for speed and sacrifice maneuverability.
Fun Shape Surfboards
Mix between a longboard surfboard and shortboards. Fun-shapes measure between 7'2″ to 8'6″ and maximize the easy paddling abilities of a longboard and blend it with the versatile maneuverability of a shortboard. These boards are a great method when beginners learn to switch from a longboard but aren't experienced enough to manage a shortboard.
Longboard Surfboards
An ideal board for beginners who need the stability of a longer board, but intermediate and expert surfers enjoy them too. They're synonymous with 'hang 10' and a favorite style board all around.
Soft Top Surfboards
These have a soft deck and are a great learning board to catch waves. The soft deck is forgiving of dents and makes paddling easier and more enjoyable for beginners. They're produced in many materials and sizes.
Gun Boards
Have a pointy nose for surfers with an advanced skill level who catch waves and steeper waves.
Tail Design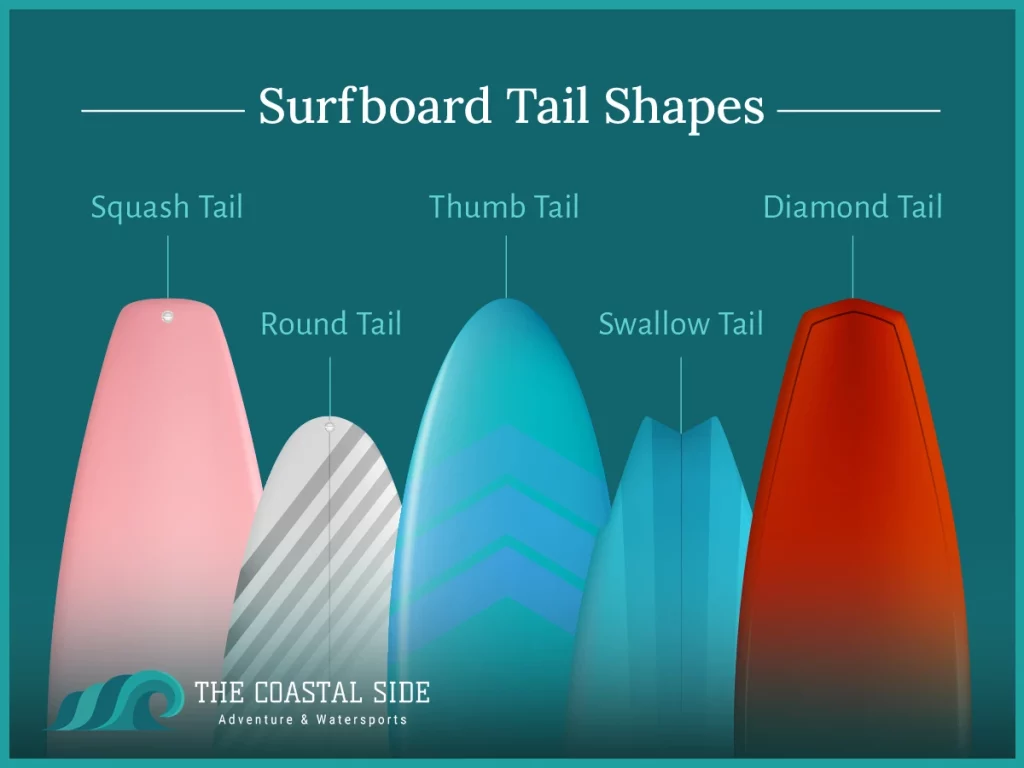 Squash Tail Surfboards
Perfect for everyday surfing conditions. Their sleek design allows surfers to release without effort, is easy to turn, and is easy to drive. Compact but versatile, the squash tail is the most common tail shape.
Round Tail Surfboards
Designed to provide the surfer with a board capable of smooth turns. They're infamous for their smooth and liquid turns and carving up the waves. They slack a bit in the pocket but deliver a well-rounded ride. Not for groveling.
Thumbtail Surfboards
A fat roundtail. It has more punch in the pocket but less drive than other boards.
Swallowtail Surfboards
Have a distinguished V-shape cut into the design to provide the surfer with the tightest turning arc. As a result, swallowtails perform well in clean waves, quads, and twin fins and pivot effortlessly and spin on a dime.
Diamond Tail Surfboards
Closely match squash tails but turn easier because of their shortened rail line while maintaining the power and drive of taller boards. Tight on the rail and lots of release.
Rail Impact on Design:
Full rails provide tons of flotation; ideal for big boys or short wave boards

Hard rails are about drive but less mobility for heavy fitted surfers

Soft rails are easy to drive; they are great for beginners
Surfboard Rocker Design:
Less nose provides rocket take-off but tame pocket radius. Ideal for grovelers & point break

More nose is about maneuvering waves and sacrificing speed. Good for hollow waves

Less tail delivers speed, but sacrifices challenging to turn

More tail is maneuverable but slow through turns. Suited for average but fast-breaking water
Surfboard Fins:
Pretty basic means big fins for big guys and vice versa

More rake fins turn easier while less rake implies a wider base for drive

Narrow tip provides release, and wider tips hold during turns 

Foil fins grip through rail turns, and flat foils release. Lighter fins mean lighter tail and increased maneuvering power. For skatey-boards, add fiberglass fins to compensate for increased drive.
Surfboard Buying Guides
You're ready to buy a board. Here are a few board samples to get you started, whether you're looking for a good beginner surfboard or a used board.
Beginner Boards
Jerry Lopez foam boards are a perfect board designed by the legend pipeline master for $189.99, exclusively available at Costco. Kit includes a swivel surf leash, traction pad, and tri-fin setup.
South Bay Board Co. Guppy sells for anywhere from $179 to $279 and falls into the 8′ to 9′ range recommended for beginners (long or funboard), rounded nose, 22″ chest, wide squash tail, and 3 fins for performance.
Catch Surf Odysea Skipper sells for $299. 5'6″ is a versatile board ideal for spur of the moment and comes with high-performance fins, and delivers tons of float.
Channel Island Happy 5'11 Used– You can find this type of board in good condition for $599 and is ideal for athletic beginners. This board delivers performance in the used surfboard category.
Costway 6′ Surfboard Foamy is a bargain board for $89. It's a great way to test the water and if surfing is for you. If you search the web, hundreds of deals like this surface daily.
For intermediate and professional boards, check out the California Board Company to get inspiration.
Anyone interested in testing their skill in steeper waves or low waves should also understand that boards need to be waxed regularly. Used surfboards also benefit from wax. You'll also need to look into a wetsuit if you're surfing in cooler waters.
How to Find the Best Board Deals for Beginners and Intermediate Surfers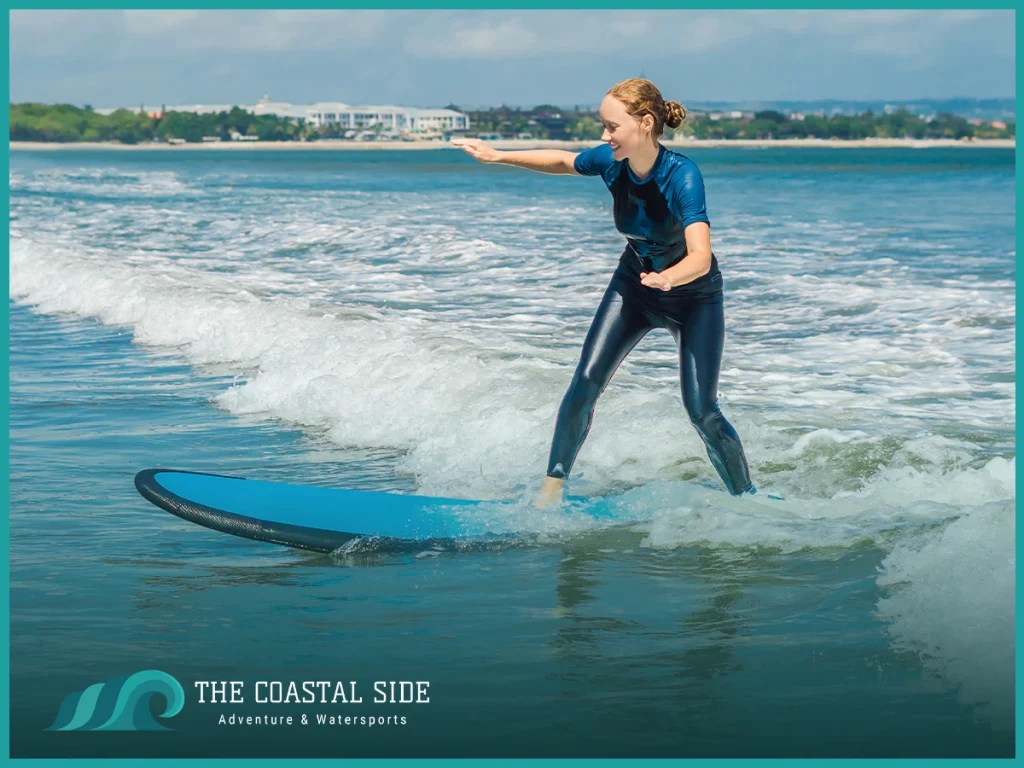 The best piece of advice is to rent a board. Renting allows you to experience different board styles for a minimal fee. The beginner cost may seem like a big wave, but surfing is an expensive sport. Once you start, though, you'll find it's an incredible experience and you may even want to go surfing at night.
Any surf teacher worth their salt can talk you through the basics. A surf shop may be a bit intimidating for inexperienced surfers. However, meeting like-minded people is a great way to break into surf culture.