If you love fishing and don't mind colder temperatures, ice fishing might be the sport for you. There is a huge difference between fishing in the winter and the summer. Ice fishermen must be prepared for extreme cold weather, and anglers must dress appropriately for cold conditions. Cold weather ice fishing is a challenging yet rewarding experience. But how cold is too cold for ice fishing?
What Is Ice Fishing?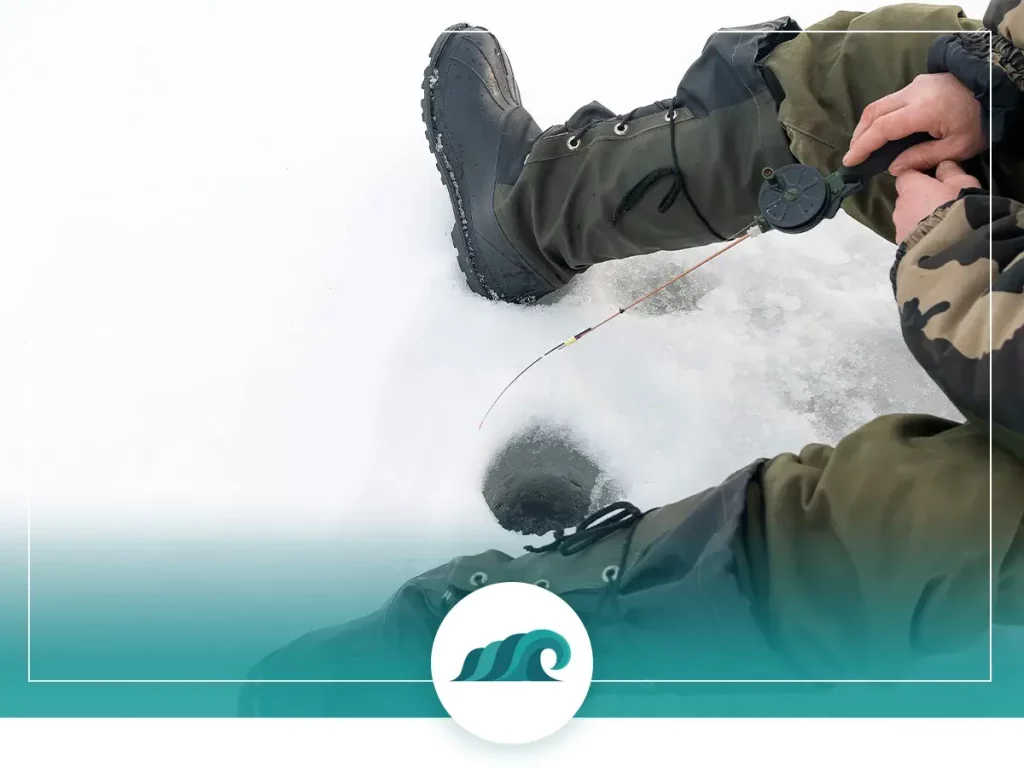 Ice fishing is the activity of catching fish through holes in the ice on a frozen body of water. It can be traced back to Native Americans who used spears for ice fishing before the advent of fishing rods. Another popular ice fishing method is using tip-ups, devices that suspend the bait and feature a flag that tips up or down when a fish takes the bait.
Ice anglers can catch fish out in the open, or they may use an ice fishing shelter. These shelters often have a portable heater to keep anglers warm and protect them from arctic blasts and snow in the colder areas.
Ice fishing was stationary in the past, but that has changed in recent years due to technological advances. Nowadays, it is much easier to drill a multitude of holes in a single day. Moreover, various fish-finding gadgets help fishermen pinpoint the location of the fish.
How Cold is Too Cold for Ice Fishing?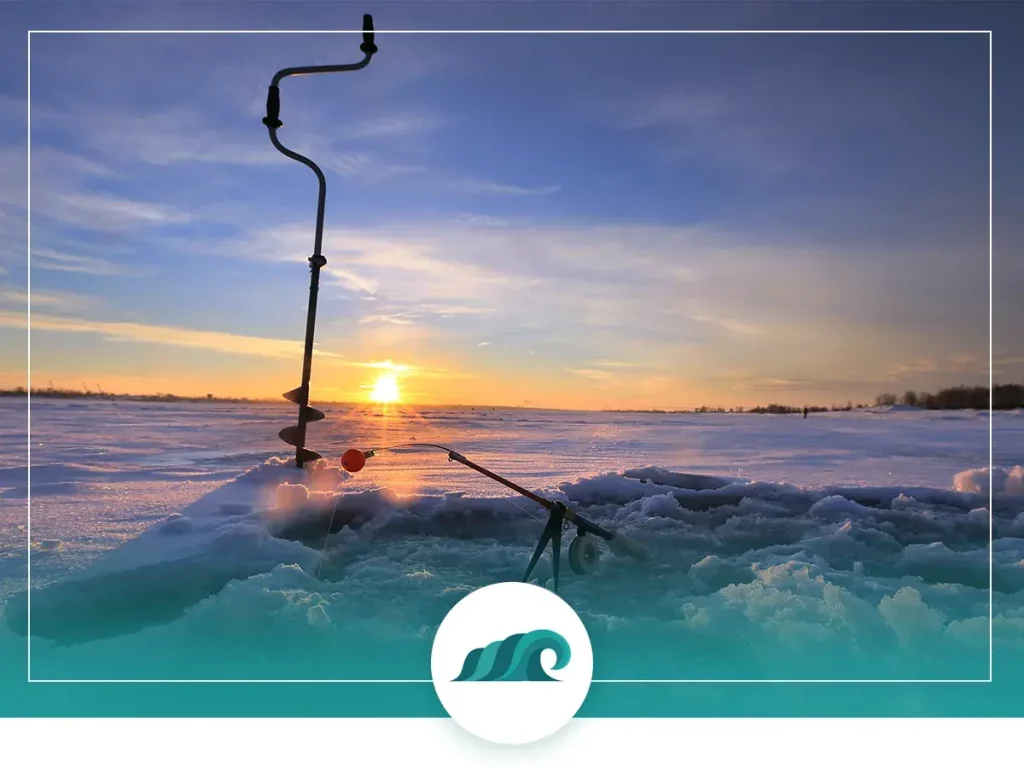 When the temperature is dipping below 18 degrees below zero, it is dangerous to fish out in the open, and skin is at risk for frostbite in a matter of minutes. Even in adverse conditions, using an ice shelter is the safest and most comfortable way to fish in the winter. This leaves many hardwater anglers wondering exactly "how cold is too cold for ice fishing?"
A shelter might seem quite warm, but it is still essential that fishermen wear the appropriate clothing. Those choosing to brave freezing temperatures are a hardy breed, but they must take precautions. You must dress warmly in layers. It would be wise if you had a hat, gloves, boots, a good winter jacket, and sweaters for layering. You should include hand warmers in your gear.
The two main concerns regarding ice fishing are frostbite and hypothermia.
Frostbite
Frostbite is damage that can happen to any exposed skin. Frostbite usually starts with a cold feeling, followed by the appearance of white skin, and then you may feel a burning sensation. The tips of fingers are often affected because they are sometimes exposed when you try to tie a lure or bait your line.
Hypothermia
Hypothermia will happen slowly without you noticing when you lose more body heat than you produce. You may shiver when the sun goes down and the winds pick up, which is the first indication that hypothermia is possible. If you're asking yourself "just how cold is too cold for ice fishing", take that as an indicator that you should be aware of the signs of hypothermia.
When you feel yourself shivering, you need to get warm. The danger with hypothermia is that it affects your decision-making. If you are starting to shiver, it's time to head inside to find a heater.
Fishing in Extreme Cold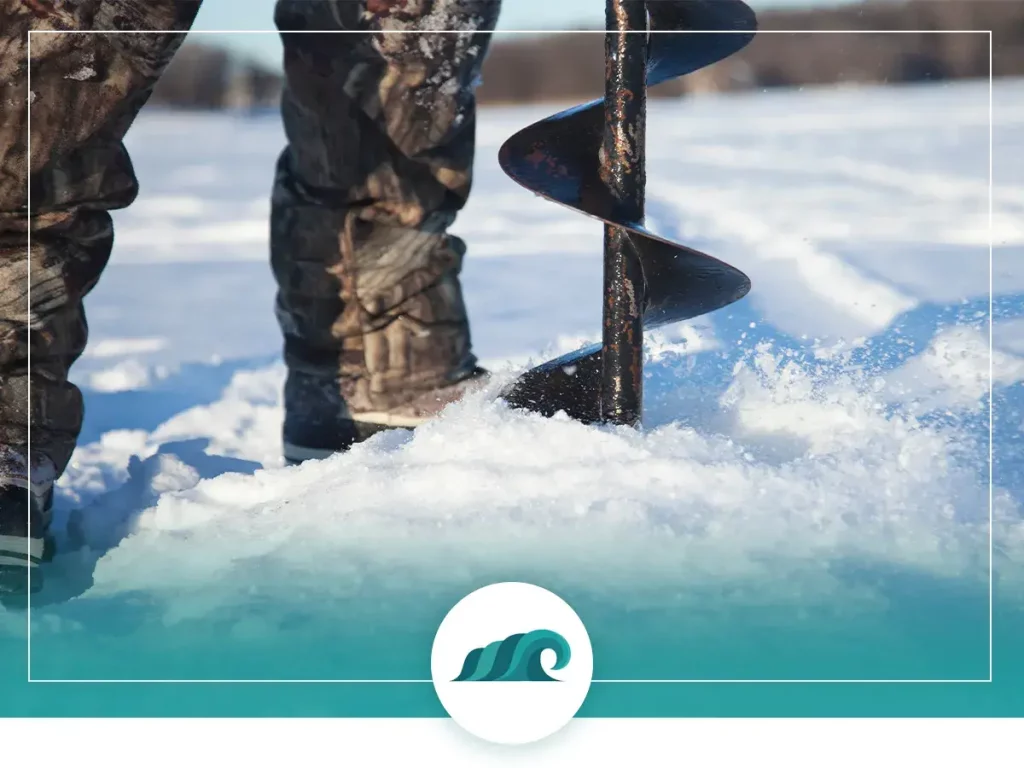 You can still get out there and catch fish when the weather changes and it is bitter cold. Packing the right gear can determine the success of your ice fishing experience if it's your first time. You will need all the proper winter attire, and foot warmers are a bonus you will appreciate when your feet get cold.
It is wise to bring extra batteries when you know it will be frigid. It would help if you always had a backup in case you need extras for your equipment. You don't want to get caught on a lake on a windy morning with no power for your tip-ups. The fish are finally biting, and you have no power. It definitely would take the fun out of your fishing experience.
Shelters for Fishing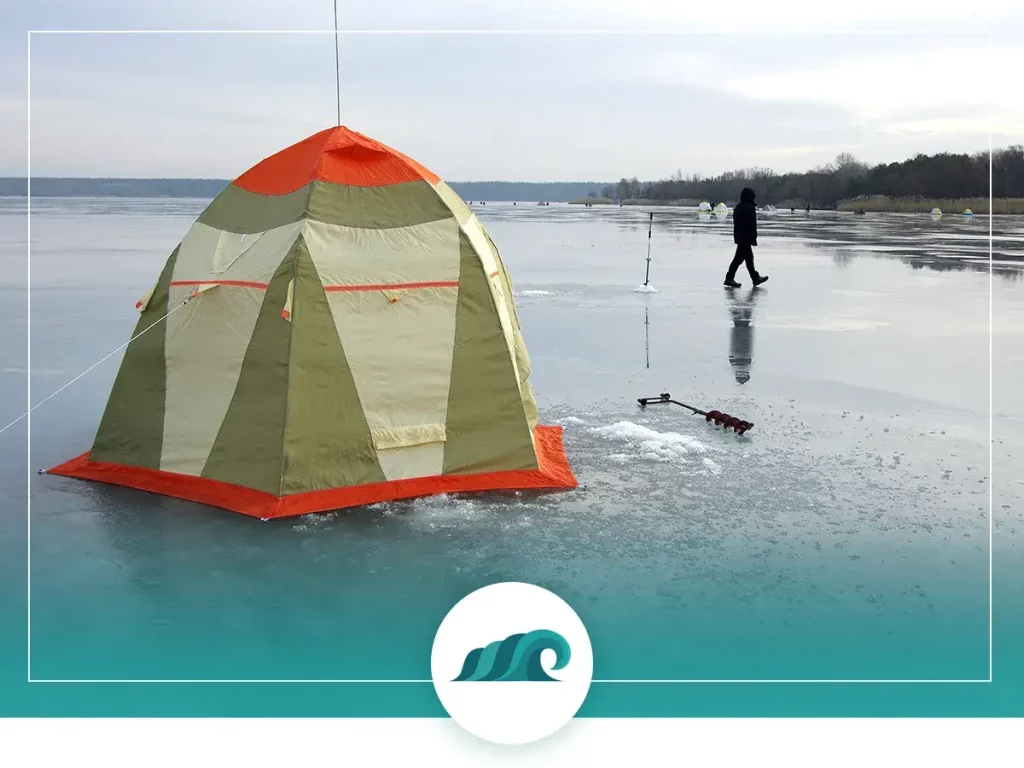 Serious anglers have a shelter because they know just how cold is too cold for ice fishing. They don't necessarily use the shelters every time, but they have one. There are portable pop-ups and flip-overs, and you can also find tent styles that are a little more time-consuming.
You can have heat in your shelter to create a cozy area to hide from the cold weather and wind.
How Do You Keep Fish From Freezing When Ice Fishing?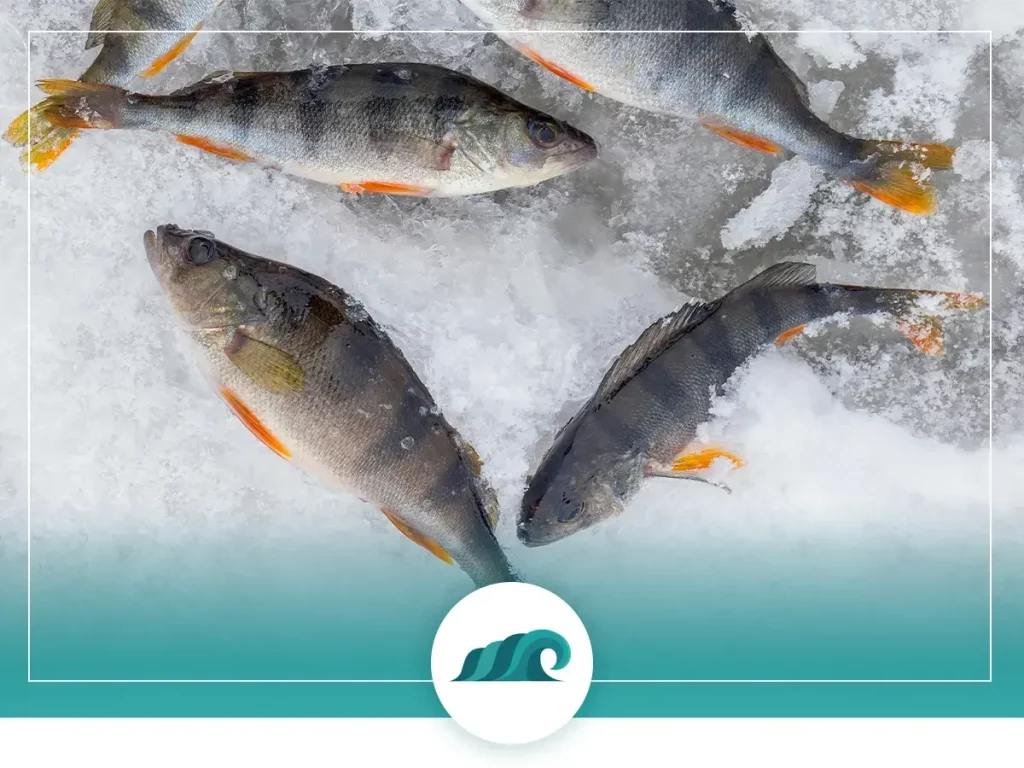 The best way to keep your fish from freezing is to put them in an insulated cooler, and the cooler will keep them fresh for several days. Never add warm water to the fish because this can breed bacteria, and it will also slosh around when transporting it and make a mess.
When Is it Cold Enough To Go Ice Fishing?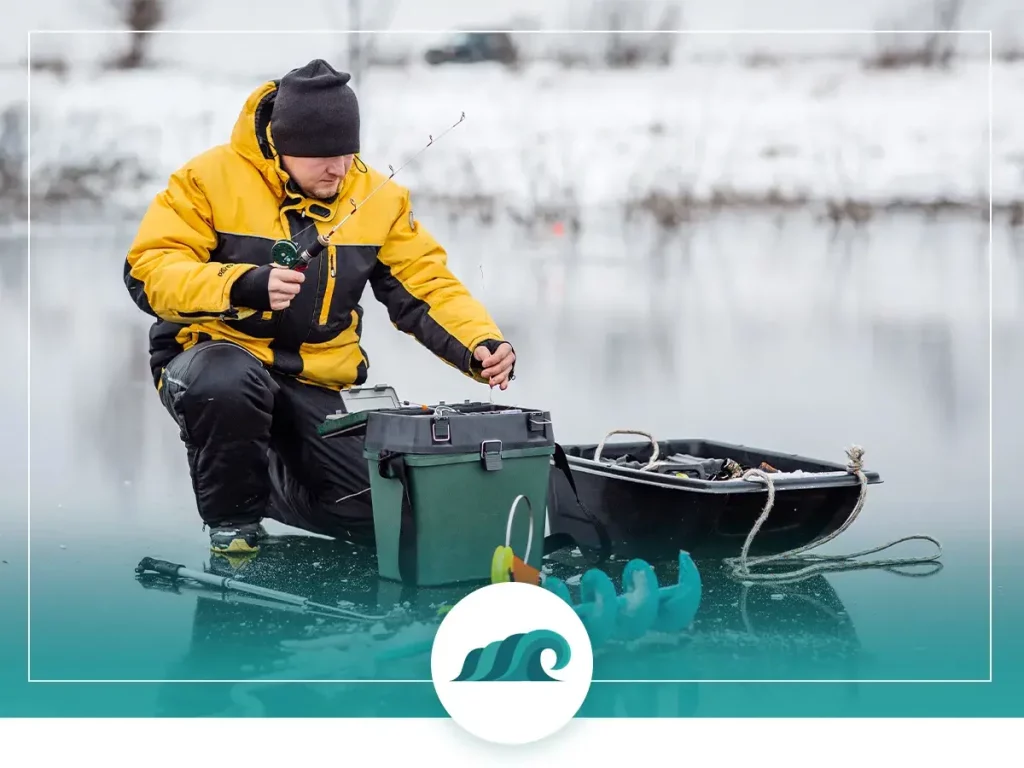 When you want to ice fish, you hope the ice is thick enough to support your weight. The weather must be cold enough to freeze the water. Some signs will help you determine if the ice is safe.
The thickness of the ice will determine which activities will be safe. You must have a minimum of four inches of ice to support ice fishing on foot, and you need five to seven inches for a snowmobile or ATV. Cars and trucks can be supported by eight to twelve inches, and a large truck can be supported by twelve to fifteen inched of ice.
The most substantial ice has a bluish appearance. It is vital to remember that the thickness of the ice can vary from one area to another. Newer ice will be much more substantial than older ice.
Does Wind Affect Ice Fishing?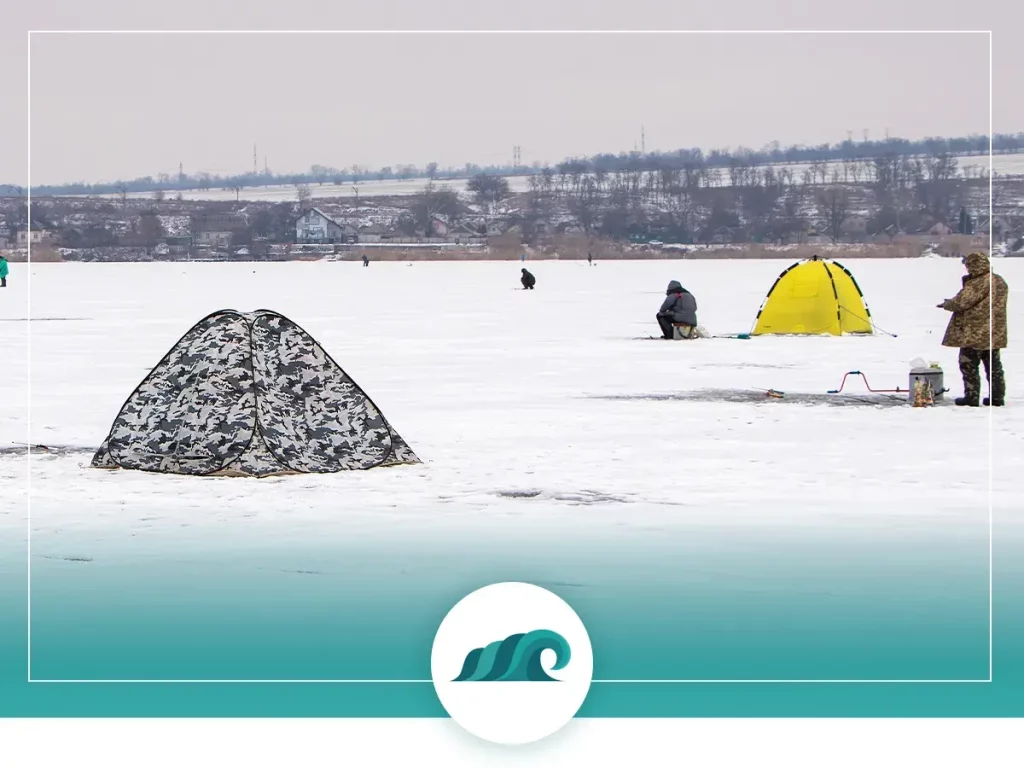 Wind does not necessarily affect fishing, but the barometric pressure certainly does. You will find the best fishing when the weather worsens and a storm comes in.
When there is a storm approaching, the barometric pressure will fall. Catching fish won't even have you breaking a sweat as they will be aggressively feeding. Once the storm arrives, the feeding frenzy will end. It is probably best to head home during a storm.
What Is the Best Time of Day for Ice Fishing?
The most successful time of the day for ice fishing is early morning and at night. This is when the fish usually feed, and you will have the most luck. Many experienced fishermen claim that the best times they have ever ice-fished are one hour before sunset and an hour after sunset.
Conclusion
Cold weather is not a deterrent to a true fisherman. Even though you may wonder just how cold is too cold for ice fishing, challenges of fishing through the ice are exhilarating, and overcoming the difficulties of extreme weather makes the catch that much sweeter. Once you have braved the cold and found the fish biting, you will be hooked, just like the fish.